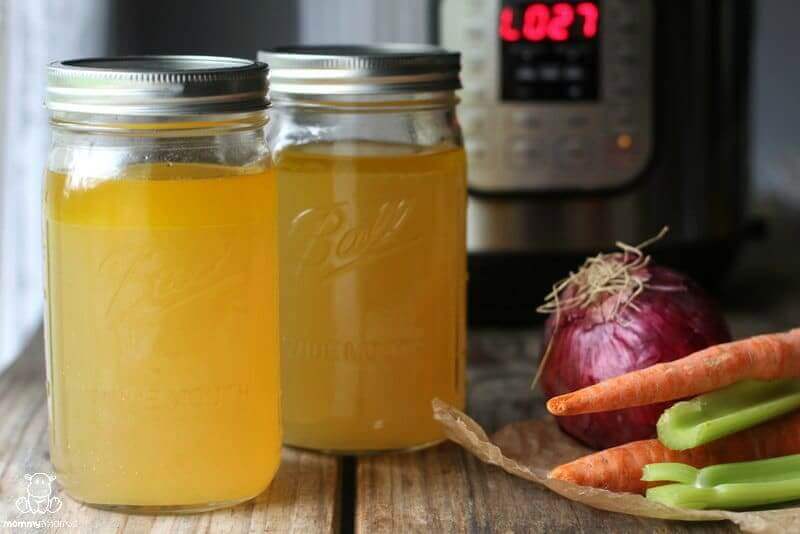 I thought I had it figured out. Before my son's birthday a few weeks ago, I suggested a deal in which he'd get presents and cake and a party, but he'd stay five instead of turning six. Genius, right? Unfortunately, when the day came he explained the fundamentals of biology to me and insisted on actually turning six. Bah!
Cherishing as much time as possible with my littles can be quite a challenge, because they're determined to savor second breakfast, elevensies and every other possible designated eating time to the utmost of their ability. Seriously, how do such small people eat SO MUCH?
Fortunately, I've developed quite the collection of quick, uncomplicated recipes, like chicken nuggets with five minute ketchup and these sour gummy snacks.
This Instant Pot bone broth recipe is just about as easy as it gets, and it's the perfect way to make use of bones from a leftover roast chicken or this Instant Pot chicken soup. When it's ready, use it to make egg drop soup, coconut lime chicken curry soup, or "mommy is tired," which is not technically a recipe. 🙂
BENEFITS OF BONE BROTH
As I mentioned in this tutorial on making bone broth in a slow cooker, it contains:
Nutrients that keep you moving, pain-free: Specifically, I'm talking about glucosamine and chondroitin, which support joint function. (You can often find expensive supplements featuring these two nutrients at health food stores) (source)
Anti-aging components: Gelatin supports healthy digestion and strengthens hair, skin and nails. It also nourishes connective tissues, which helps to prevent premature skin sagging and cellulite. Broth also contains the amino acid proline, which is necessary for the production of collagen.
Detoxification support: The amino acid glycine helps the liver with detoxification. Glycine is also essential for the production of glutathione, a powerful antioxidant that helps prevent premature aging
It's budget-friendly, too. Not only is it inexpensive to make, regular consumption may reduce the amount of meat you need to consume for optimal health. (source)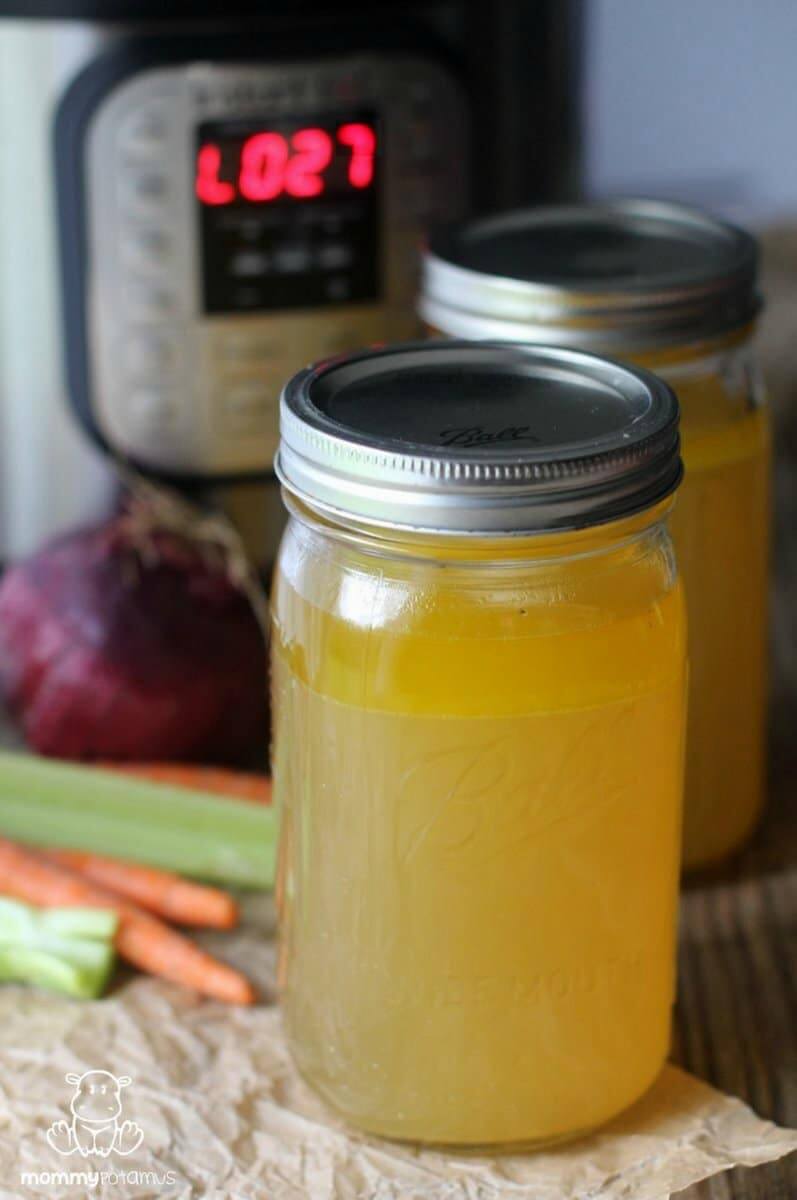 Instant Pot Bone Broth Recipe
Instant Pot Pressure Cooker Bone Broth
Instructions
If you're using beef, lamb, or pork bones, roast them in the oven at 350°F for half an hour before starting the next step. It does wonders for the flavor.

Place bones in Instant Pot and top with veggies, apple cider vinegar, and salt.

Add water until the pot is 2/3 full. If you have time, let the pot sit for 30 minutes so the vinegar can begin to pull minerals out of the bones. I almost never wait. (Shhhh!!)

Select the 'Soup' button and set the pressure to "low" while increasing the cook time time to 120 minutes. (I actually decrease the time because the timer resets at 120 after you decrease to zero.)

After two hours, allow the Instant Pot to depressurize naturally.

Strain the broth and discard the bones and vegetables. Pour broth into jars and store in the fridge.
Nutrition
Calories:
69
kcal
|
Carbohydrates:
15
g
|
Protein:
2
g
|
Fat:
1
g
|
Saturated Fat:
1
g
|
Sodium:
2467
mg
|
Potassium:
588
mg
|
Fiber:
5
g
|
Sugar:
7
g
|
Vitamin A:
10729
IU
|
Vitamin C:
11
mg
|
Calcium:
81
mg
|
Iron:
1
mg