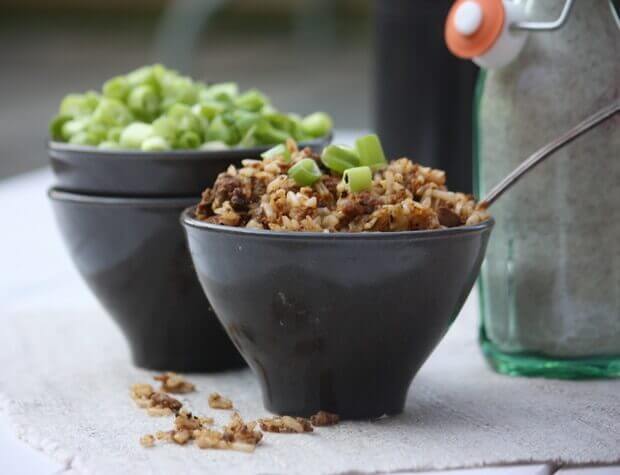 Does My Love Of Soul Food . . .
Come from the thimble-full of cajun blood coursing through my veins? Maybe, maybe not. I'll tell you this, though: This perfect meld of spices and sausage will have you saying "laissez les bon temps rouler" no matter where you're from.*
Oh, and here's the best part: This is my family's FAVORITE way to eat liver. They don't just tolerate it, they ask for it! Are you ready to get started? Okay then, don't faint when you see the recipe. The long list of ingredients is mostly made up of spices you already have in your kitchen and it's fairly simple to make. Try it with baked chicken, zesty shrimp creole or blackened salmon with pineapple mango salsa!
Thank you Donna Patton for inspiring this recipe!
* Let the good times roll!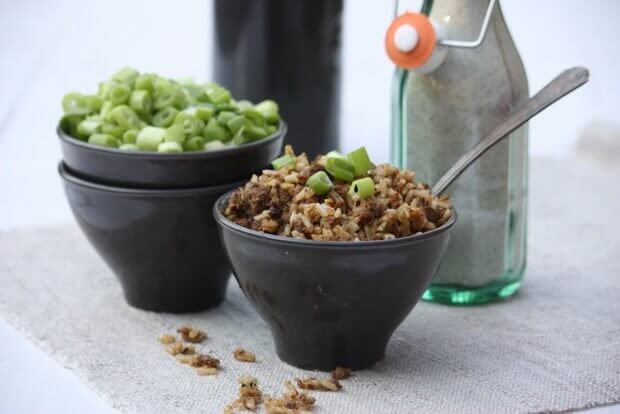 Cajun/Bayou Dirty Rice
Ingredients:
2 cups white rice (yes, it's okay!), whole grain rice or sprouted rice (buy some here or make your own)
2 cups chicken broth (substitute water if needed)
2 cups water
3 Tbsp coconut oil, lard or tallow (here to buy pastured lard, how to render lard)
1 pound ground pork, unseasoned
1 cup chicken livers, diced into small pieces
3-5 slices of raw bacon, chopped
1 cup onion, chopped
1/2 cup celery stalks, chopped
1/2 cup green bell pepper
2 green onions, chopped
cajun seasoning (see below)
sea salt to taste. It will depend on how salty your bacon is. (where to buy sea salt)
4 tablespoons whey, lemon juice or apple cider vinegar if using un-soaked rice
Easy Cajun Seasoning:
5 teaspoons paprika
3 teaspoons garlic powder
3 teaspoons onion powder
3 teaspoons ground dried thyme
1 teaspoon ground black pepper
1/8-1/4 teaspoon cayenne pepper (optional)
1 teaspoon dried basil
1 teaspoon dried oregano
Directions:
The night before:
Place chicken livers in a bowl, cover with filtered water and add lemon juice, whey or apple cider vinegar and place in the fridge.
If you are using unsprouted rice, place 2 cups of rice and 4 cups of warm filtered water in a bowl and add 4 tablespoons of one of the following: whey, yogurt, kefir, lemon juice, apple cider vinegar. Let the mixture sit at room temperature for at least 7 hours.
On the day you plan to serve your dirty rice:
1. Prepare the rice.
For white or sprouted rice, simply prepare it according to the instructions on the package with chicken broth instead of water.
For rice that has been soaked overnight, it's time to change out some of that water for homemade chicken broth. Because the rice has absorbed some of the water it's not an even exchange to pour the water out and add 4 cups of broth back in. I recommend measuring what you pour out and then adding back in only that amount. I usually do 2 cups. It adds a lot to the depth of flavor in the dish.
OR – to reduce naturally occurring arsenic (a substance which is in lots of foods including vegetables, fruit and chicken), try the pasta-style cooking method.
2. Drain liquid from chicken livers and set aside.
3. Heat 1 tablespoon of coconut oil/lard/tallow in a large pan over low/medium heat. Add bacon and sautee until slightly crispy.
4. Add the remaining oil and onion (but not green onions), celery and bell peppers. Continue to sautee until the onions are beginning to soften
5. Add diced chicken livers and sautee until they begin to brown, then add the pork and spices and continue to sautee until the sausage is cooked through
6. Remove from heat and add in rice, allowing flavors to meld as it cools. Enjoy!
7. Garnish with green onions
Love This Recipe?
Then you'll also probably like these recipes for Chicken Liver Pate With Bacon and Ultimate Beef & Liver Chili.