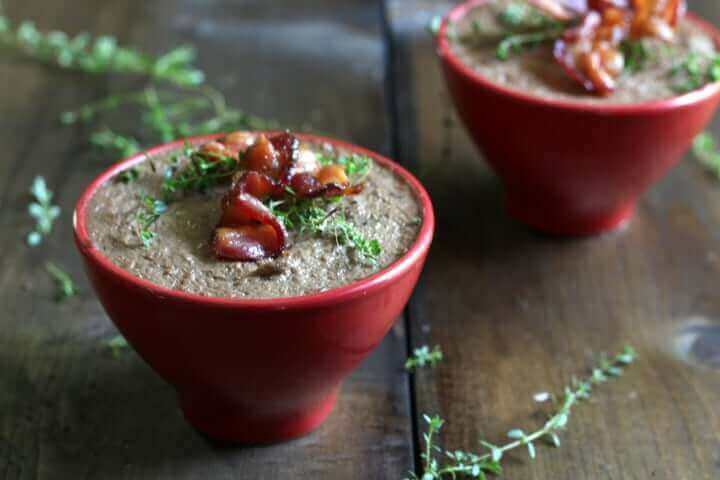 If liver is the Cinderella of traditional foods, bacon is its fairy godmother. Over the years I've failed more times than I've succeeded in getting my family to love liver. This homemade chili and bayou dirty rice have gone over very well, but it's not like I personally jumped out of bed in the morning and thought, "YAY, it's liver day!"
Until now.
A few months ago I came across a Bacon-Beef Liver Pâté recipe in The AutoImmune Cookbook. Since I didn't have all the right ingredients on hand, I adapted the recipe and – BIPPITY BOPPITY BOOP! – magic happened. I'm telling you, m-a-g-i-c.
This chicken liver pâté made with bacon is now one of the meals I most look forward to every week. I always notice bump in energy on pâté day, and that's no surprise considering it's one of the most nutrient-dense foods available.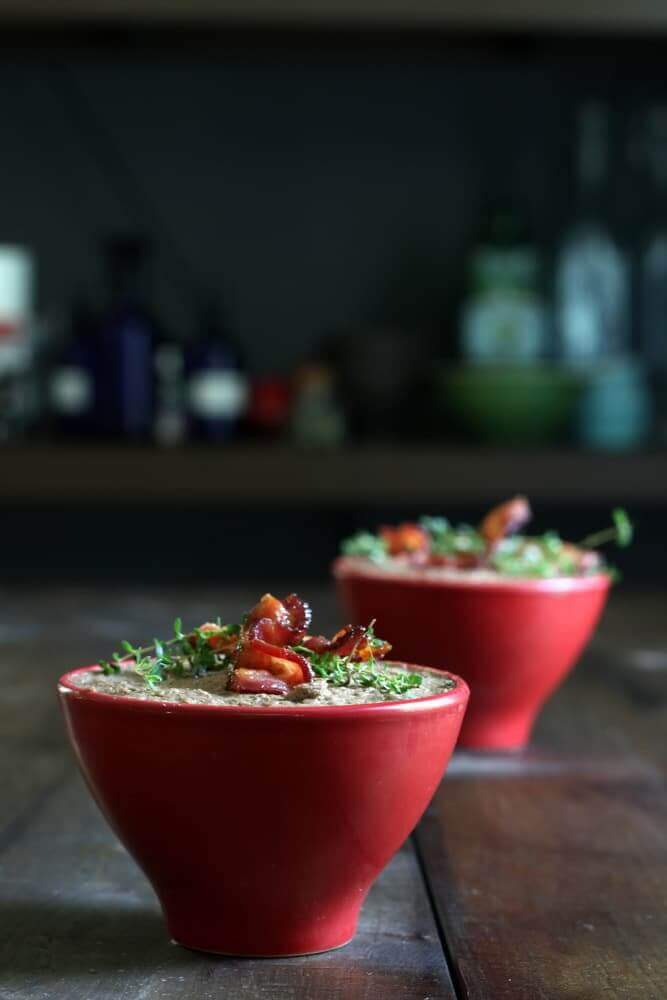 Why Liver is A Superfood
According to this article by Chris Kresser, liver is "between 10 and 100 times higher in nutrients than corresponding muscle meats,' especially vitamins A, D, E, K, B12, and folate, plus minerals such as copper and iron. It's Vitamin A content is known to help reduce the effects of stress, and as I wrote about here it's also been shown to have anti-fatigue properties.
But what about toxins . . . aren't they stored in liver? According to Kresser, "A popular objection to eating liver is the belief that the liver is a storage organ for toxins in the body. While it is true that one of the liver's role is to neutralize toxins (such as drugs, chemical agents and poisons), it does not store these toxins. Toxins the body cannot eliminate are likely to accumulate in the body's fatty tissues and nervous systems."
Of course, he also adds that "it is essential to eat meat and organ meats from animals that have been raised on fresh pasture without hormones, antibiotics or commercial feed. Pasture-raised animal products are much higher in nutrients than animal products that come from commercial feedlots. For example, meat from pasture-raised animals has 2-4 times more omega-3 fatty acids than meat from commercially-raised animals. And pasture-raised eggs have been shown to contain up to 19 times more omega-3 fatty acids than supermarket eggs!"
If you're a liver skeptic or hater, I suggest you give this recipe a try.
Bacon And Chicken Liver Pâté
Instructions
In a medium pan, cook all the bacon until crisp and set aside on a plate. Pour most of the bacon grease into a measuring cup, but leave enough behind to leave the bottom of the pan well-coated.

In the same pan, add the garlic and sautee for a couple of minutes over medium heat.

Add the chicken livers, thyme and rosemary. Cook until the livers are no longer pink in the center. Remove everything from the pan and set aside to cool for a few minutes.

While you're waiting for the livers to cool, add enough coconut oil (or oil of your choice) to the bacon grease to equal ⅓ cup.

Add liver mixture, bacon, salt and ⅓ cup fat to the food processor. If desired, you can keep a few pieces of bacon out to use as a garnish.

Process the mixture until it forms a paste. Transfer to bowls, add garnish if desired, and serve immediately. We love to cut carrots in to long "chips" and use them as crackers.
Notes
If you don't serve right away put the pâté in the fridge, then remove when needed and allow to warm to room temperature before serving.
Nutrition
Calories:
0
kcal
|
Carbohydrates:
0
g
|
Protein:
0
g
|
Fat:
0
g
|
Saturated Fat:
0
g
|
Polyunsaturated Fat:
0
g
|
Monounsaturated Fat:
0
g
|
Trans Fat:
0
g
|
Cholesterol:
0
mg
|
Sodium:
0
mg
|
Potassium:
0
mg
|
Fiber:
0
g
|
Sugar:
0
g
|
Vitamin A:
0
IU
|
Vitamin C:
0
mg
|
Calcium:
0
mg
|
Iron:
0
mg