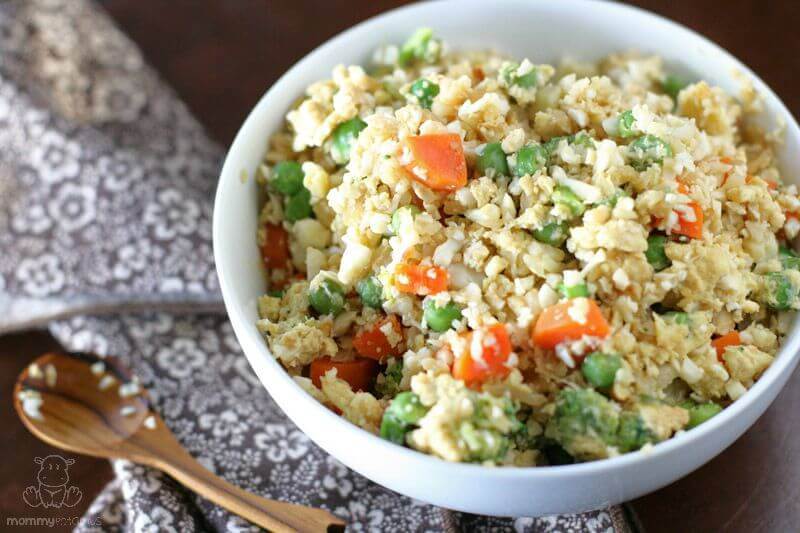 Note from Mommypotamus: I think Loriel was peeking in my kitchen window when she decided to send over this recipe, because I forget to thaw meat more often than I'd like to admit. That usually means breakfast for dinner, or egg drop soup if I have homemade chicken stock on hand. Today Loriel is sharing one of her "backup recipes" for days when things don't go as planned – you can check out more of her delicious ideas over at Naturally Loriel.
What do all pregnant women with children have in common?
Ok, that's a trick question because there could be a lot of different answers — but one thing I can be sure of is that we all want the last meal of the day to be quick, easy, and kid-friendly.
And honestly, you don't even need to be pregnant with children to want a dinner with all those qualities because let's face it, at the end of the day you're tired and that's when you're most tempted to order takeout if you don't have anything planned (or don't have any meat defrosted).
I've been there a time or two — or possibly even more times than I can count on my hands — and the dish that I always pull out is fried rice. We tend to always have eggs on handy, thanks to our flock of 13 ladies, and more than likely we have rice in the fridge. Rice cooked in homemade bone broth is a staple in our house because it seems like if I mix just about anything with it Andrew will eat it. That's always a win for Mom — especially tired, pregnant mom who just wants everyone to eat and then put everyone to bed — including herself.
If you're trying to stay away from rice or don't have any day-old rice in the fridge, you can easily substitute the rice for a couple cups of cauliflower. This is also a great way to get even more veggies into everyone.
One of my very favorite things about fried "rice" is that it is so versatile. Don't have any onion or carrots? That's okay! You can basically make it out of whatever you have in the refrigerator (and whatever you know your little one will like). I've put zucchini, squash, mushrooms, leeks, sweet corn, and I've even put bok choy in it. Seriously, whatever you have, throw it in that pan and you've got yourself an easy, delicious, healthy, and kid-friendly meal.

Fried Rice with Cauliflower "Rice" option
Ingredients
3

cups

cauliflower

(or 2-3 cups cooked)

2-3

tbsp

olive oil

(or butter)

3

garlic cloves

(minced)

1

small onion

(diced)

1

cup

green peas

2

carrots

(diced)

2

cup

broccoli florets

(in small pieces)

6

eggs

1-2

tbsp

naturally fermented soy sauce

(or coconut aminos)

sea salt

(to taste)

black pepper

(to taste)
Instructions
Cut cauliflower into chunks and then pulse a few times in your food processor. You want the pieces to resemble little peas (or little grains of rice).

In a large pan on medium heat, add butter or olive oil, minced garlic, and diced onions; cook for about 3-4 minutes. Add in carrot, broccoli, and peas; cook for 5-7 minutes (placing a lid on the pan will help cook the veggies quicker if you have a little one that likes softer veggies versus al dente). You may want to add more butter or olive oil at this point.

Meanwhile in a bowl, scramble 6 eggs and season them with salt and pepper. Once the veggies are done cooking, make a little hole in the middle of them and pour your eggs. Scramble the eggs like you normally would. Next, add in the cauliflower and soy sauce; stir until well combined. Let cook for 2-3 minutes, stirring occasionally and remove from the stove.

Add more soy sauce/coconut aminos if desired, and season with salt and pepper.
Nutrition
Calories:
0
kcal
|
Carbohydrates:
0
g
|
Protein:
0
g
|
Fat:
0
g
|
Saturated Fat:
0
g
|
Polyunsaturated Fat:
0
g
|
Monounsaturated Fat:
0
g
|
Trans Fat:
0
g
|
Cholesterol:
0
mg
|
Sodium:
0
mg
|
Potassium:
0
mg
|
Fiber:
0
g
|
Sugar:
0
g
|
Vitamin A:
0
IU
|
Vitamin C:
0
mg
|
Calcium:
0
mg
|
Iron:
0
mg
About Loriel
Loriel (pronounced Lor-E-elle) is on a journey to a more natural life and hopes to inspire those around her by writing about her stories on her blog, Naturally Loriel. She lives an abundant life with her husband Scott, toddler Andrew, a crazy little Lilly cat and a flock of 8 chickens. She's a dreamer of self-sufficiency, a lover of all things sweet, and has a knack for storytelling.