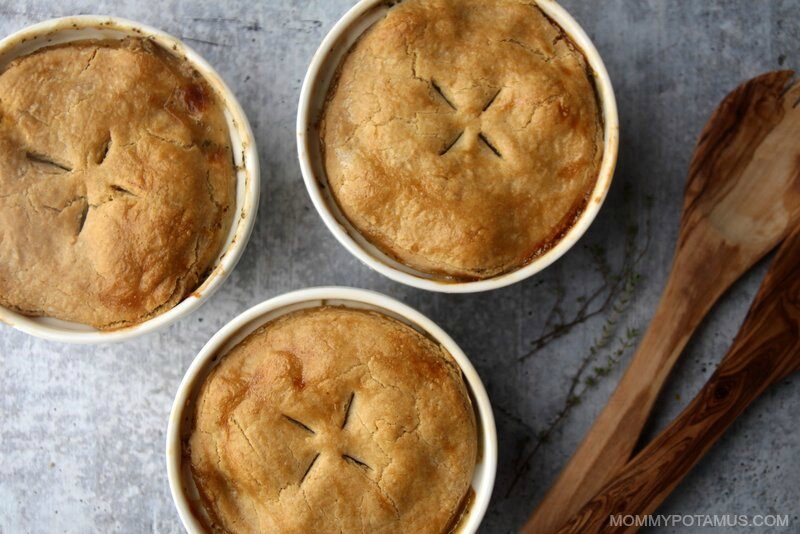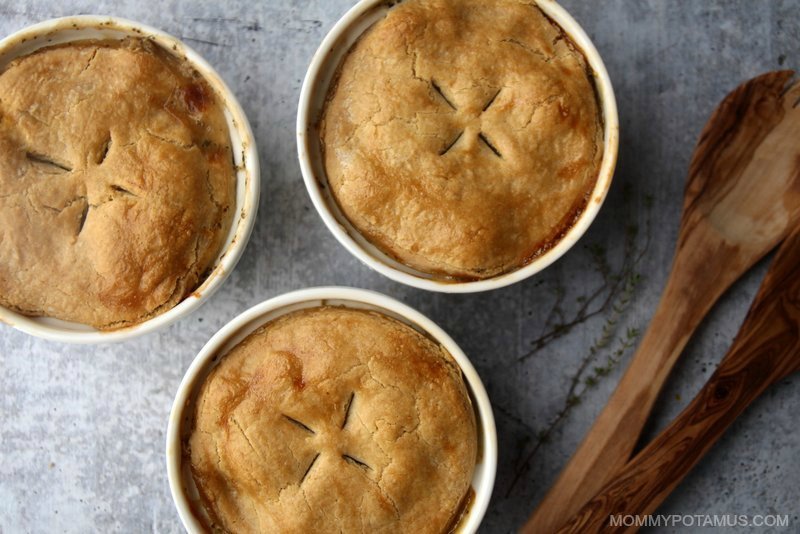 "WELCOME TO WAFFLE WEEK!" <– This is an actual thing I said to my kids a few years ago. They'll be the first to tell you that they're much more likely to get kale chips than waffles on any given day, but every once in awhile I feel compelled to figure out healthier versions of old favorites. Homemade chicken pot pie, for example.
My reason is simple: When my daughter was around eight, she overheard my husband teasing me that we should stop by a fast food joint and pick up chicken nuggets instead of bothering with our home cooked meal. As I was rolling my eyes I heard a little voice from the backseat: "Mama, what are chicken nuggets?"
Whoa. In that moment I realized that even though we'd introduced all kinds of amazing dishes to our kids, we hadn't included some of the most popular cultural staples. I don't want my kids to head into adulthood with a feeling that they've missed out, so I make a point to figure out healthier versions of old favorites to share with them.
I want them to experience the foods their friends tell them about, and also know that it's possible to make almost anything with wholesome ingredients. (Almost.)
Anyway, I started with chicken nuggets, and have been slowly working my way through some of my favorite childhood recipes. There are usually quite a few recipe fails before I get it right – waffles took a week and this pot pie recipe took much longer. It was SO WORTH IT, though.
Why We Love This Homemade Chicken Pot Pie Recipe
The combination of buttery crust, creamy chicken, and veggie filling make this chicken pot pie one of our favorite comfort foods. My kids literally cheer when I tell them I'm making it, and pile up their plates with salad or veggies so they can talk me into getting a whole mini-pot pie of their own. (In our house we try to keep a ratio of veggies to protein and carbs on our plates.)
Since we're gluten-free, I've replaced the all-purpose flour in the crust with a blend of almond flour and tapioca starch with a smidge of coconut flour blended in. It yields a beautiful and scrumptious golden brown top crust – I don't make a bottom crust because I find that it's usually soggy and makes the meal feel a bit too heavy.
If you've never made a chicken pot pie from scratch before, here's a quick overview of the process.
How To Make Chicken Pot Pie
1. Cook the chicken
2. Make the pie crust
3. Make the filling
4. Put it all together and bake until golden brown
5. Stake your claim before your family eats it all
A few quick notes:
If you're dairy-free, I've included substitutions that I've found work well in this recipe.
This recipe can be made with leftover Turkey from Thanksgiving, a rotisserie chicken, or baked and shredded (or cubed) chicken breasts.
This pot pie can be made two ways: In one big baking 8×8 casserole dish . . .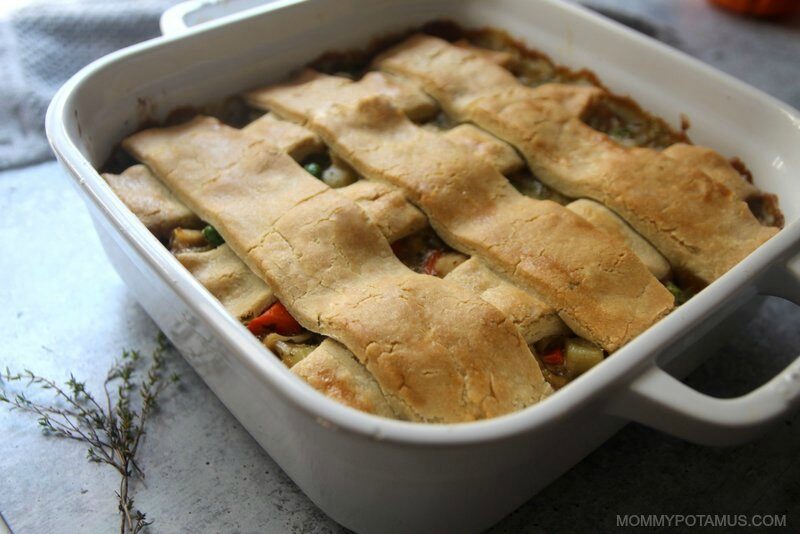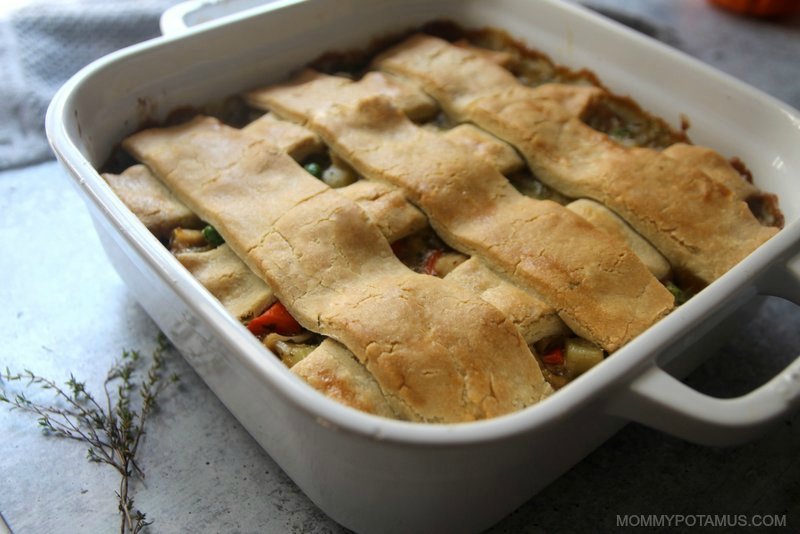 or in these 12 ounce ramekins for five individual pot pies.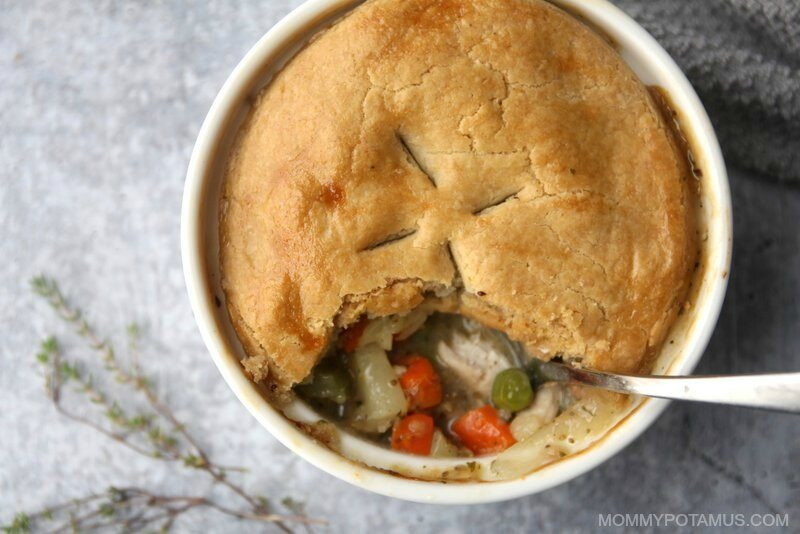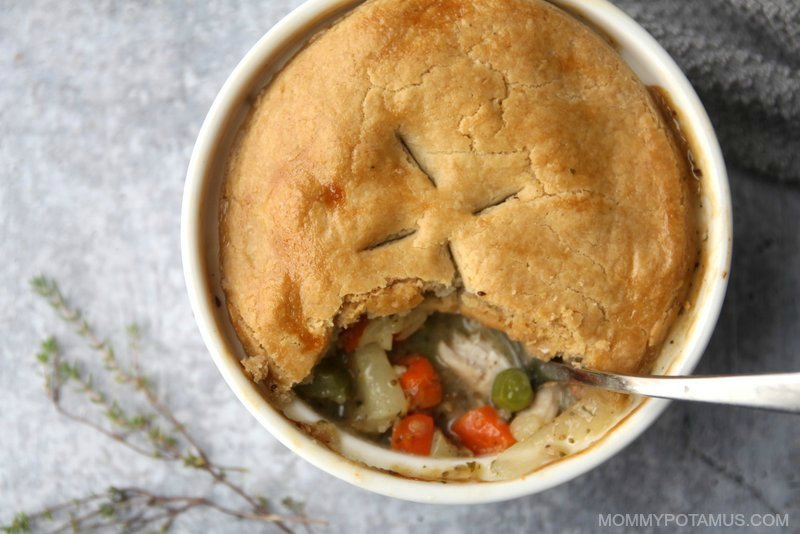 You'll find instructions for both versions in the recipe below.
Homemade Chicken Pot Pie Recipe (Gluten-Free)
There's quite like the warm buttery crust, creamy chicken, and veggie filling of a chicken pot pie fresh out of the oven. Here's how to make a gluten-free version.
Ingredients
For the Filling:
¾

cup

onion

(chopped)

¾

cup

celery

(chopped)

1

cup

carrots

(chopped)

1 ¾

cups

yukon gold potatoes

(chopped)

2

cloves

garlic

(minced)

1

tbsp

dried parsley

1 ½

tsp

dried oregano

½

tsp

dried rosemary

1

tsp

organic dried celery seed

1 ½

tsp

sea salt

(to taste)

½

tsp

black pepper

(to taste)

3

tbsp

butter

(or sustainably harvested palm shortening)

1 ¾

cups

chicken stock

¾

cup

heavy cream

(or coconut cream)

1

cup

organic peas

(frozen)

1

pound

chicken

(cubed or shredded – can be leftover rotisserie chicken or chicken breast)

7

tbsp

tapioca starch

(plus more for rolling out the dough)

1

egg white
Instructions
Start by freezing the unsalted butter/palm shortening needed to make the pie crust. Line a freezer-safe container or baking sheet with a small piece of parchment paper. Cut butter into 1 tablespoon chunks and place it on the baking sheet. If using palm shortening, scoop 1 tablespoon mounds onto the baking sheet. Place the baking sheet in the freezer.

While you're waiting for the butter to get cold, chop your veggies (onion, celery, carrots, potatoes and garlic) and place in a large bowl.
To Make The Pie Crust:
Place the almond flour, tapioca starch, coconut flour, salt, baking soda and frozen unsalted butter/palm shortening in a food processor. Pulse until well combined.

Add the eggs and apple cider vinegar and pulse again until mixed.

Scoop the runny dough onto the parchment paper you used to freeze the butter. Bring all four corners of the paper together so that the dough is squished into a ball, then place the dough in the fridge while you make the filling.
To Make The Chicken Pot Pie Filling:
Preheat your oven to 425F.

Shred your cooked chicken and set aside.

Measure out your chicken broth and heavy cream/coconut cream and set aside.

Measure out the spices (parsley, oregano, rosemary, and celery seed) and place them in a small bowl. Add the salt and pepper to the bowl and set aside.

In a large skillet, add the unsalted butter/palm shortening and saute the veggies over medium heat until slightly softened. I eat a carrot to check doneness – it should be firm but not as crunchy as a raw carrot.

Add the spices, heavy cream/coconut cream and broth.

Bring to a boil, then add the tapioca starch and reduce to low/medium heat. Simmer for 1-2 minutes, then remove from heat.

Stir in the chicken and frozen peas, then divide the chicken mixture equally between five 12 ounce ramekins. Or, if desired, place it all in one 8×8 casserole dish.
Bringing It All Together:
Sprinkle the surface you're going to roll your dough on with some tapioca starch.  Place the pie crust dough on the surface and sprinkle it with a bit more tapioca. Dust your rolling pin with tapioca and roll it out until it's about 1/4 inch thick.
Instructions for Mini Pot Pies
Next, cut a piece of dough so that it will fit inside one of the ramekins. I do this by taking an extra ramekin, flipping it over, and using it like a cookie cutter to get the size just right. I've found it's easiest to transfer the dough from the rolling surface using a spatula.

Repeat the process until all the ramekins have a pie crust topping. Cut a few slits in the top of each pie so that steam can escape while it is baking.

Use your basting brush to apply the egg wash (egg white) to the top of the crust.
Instructions for 8×8 Casserole Dish
Cut the dough into long, thin strips and arrange them over the filling. I recommend using pizza roller if you have one on hand.

Use your basting brush to apply the egg wash (egg white) to the top of the crust. 

Place the casserole dish in the oven and bake at 425 for 15 minutes, then reduce the heat to 350F and bake for another 15-20 minutes. Remove from heat and allow to cool a little before serving.
Nutrition
Calories:
662
kcal
|
Carbohydrates:
54
g
|
Protein:
23
g
|
Fat:
42
g
|
Saturated Fat:
17
g
|
Cholesterol:
176
mg
|
Sodium:
1303
mg
|
Potassium:
716
mg
|
Fiber:
8
g
|
Sugar:
7
g
|
Vitamin A:
5472
IU
|
Vitamin C:
24
mg
|
Calcium:
154
mg
|
Iron:
5
mg
More Chicken Recipes
Easy Chicken Salad Recipe With Apples – This light and easy chicken salad recipe is my favorite ways to keep mealtime simple. It's sweet with a bit of tang, and the apples and nuts give it just the right amount of crunch.
Chicken Tortilla Soup – This is one of my favorite cool weather soups. Poblano peppers, lime and cilantro . . . . so yummy and a great way to use leftover chicken.
Crispy Paleo Chicken With Creamy Mushroom Sauce – This recipe from Paleo Running Momma can be made in just one skillet and is Whole30 friendly.