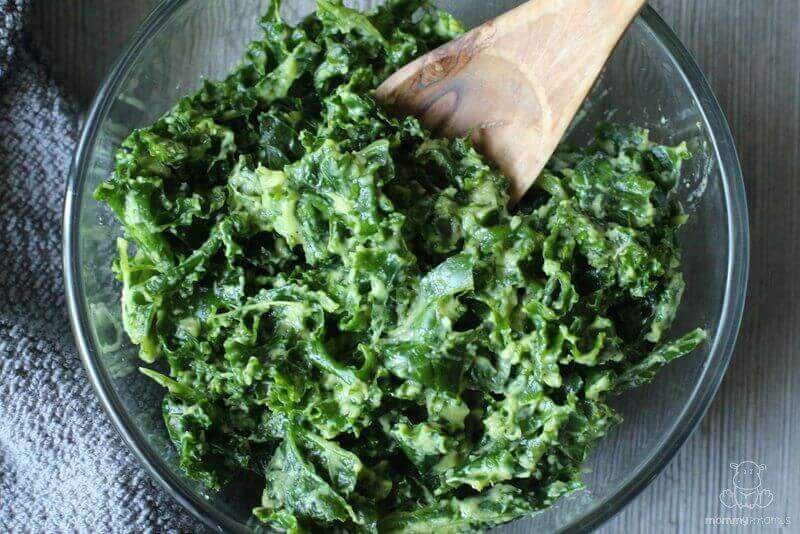 So, true story: Once upon a time I greeted my kids in the morning by shouting "Welcome to waffle week!" Because frankly, there are "family favorite" recipes and then there are recipes that have been tested six ways from Sunday to make sure that:
They're the yummiest, best possible version
I've pinpointed anything that can go wrong and made sure to write my instructions so that everything works well
So we've had waffle week. And stuffed sweet potato week. Unsurprisingly, when I announced kale week my kids weren't quite as excited as usual. BUT – this easy massaged kale salad won them over.
Light and lemony, it's a surprisingly delicious way to enjoy one of the most nutrient-dense veggies available. It's rich in betacarotene (a precursor to Vitamin A), Vitamin C, Vitamin K1 and folate, which is a nutrient that's especially important for those of us with the MTHFR mutation.
Although in general raw kale is not easily digested, the addition of salt in this recipe and the scrunching done during preparation improves digestibility. Often referred to as massaging the kale, this technique breaks down the cell walls of the plant so that nutrients are more bioavailable.
But enough nerdiness for now – what you need to know is that it's simple and kid-approved. Pinky swear and everything.
Creamy Massaged Kale Salad With Lemon
This light, lemony kale salad is a surprisingly delicious way to enjoy one of the most nutrient-dense veggies available.
Instructions
Place the kale in a medium bowl and sprinkle it with salt.

Using clean hands, pick up the kale and scrunch it with your fists several times.

Let the kale sit for about five minutes while you slice the avocado and get the other ingredients ready.

When the five minutes is up, add the rest of the ingredients to the bowl and continue scrunching with your hands until the avocado is evenly blended.
Nutrition
Calories:
193
kcal
|
Carbohydrates:
12
g
|
Protein:
4
g
|
Fat:
16
g
|
Saturated Fat:
2
g
|
Sodium:
321
mg
|
Potassium:
631
mg
|
Fiber:
4
g
|
Sugar:
1
g
|
Vitamin A:
6781
IU
|
Vitamin C:
89
mg
|
Calcium:
110
mg
|
Iron:
1
mg
More Yummy Recipes
Kale Chips – Crispy and salty, these chips make a delicious healthy snack or side dish.
Easy Greek Salad – If you've ever picked at your go-to salad because you've had it one too many times lately, this fresh Greek salad recipe is for you.
Bursting with crisp cucumbers, plump tomatoes, creamy avocado, crunchy bell pepper and the all important flavors of feta and kalamata olives, it's tossed in a super yummy vinaigrette that will wake up your tastebuds for sure.
Mexican Chopped Salad – My kids devour this avocado salad like a pack of adorable wolves . . . maybe yours will like it, too! And if not, I promise you'll have no trouble finishing it off all by yourself. That might be preferable, actually.
Creamy Broccoli Salad – Made with bacon, sunflower seeds and cheddar cheese, this is one of my family's favorites.