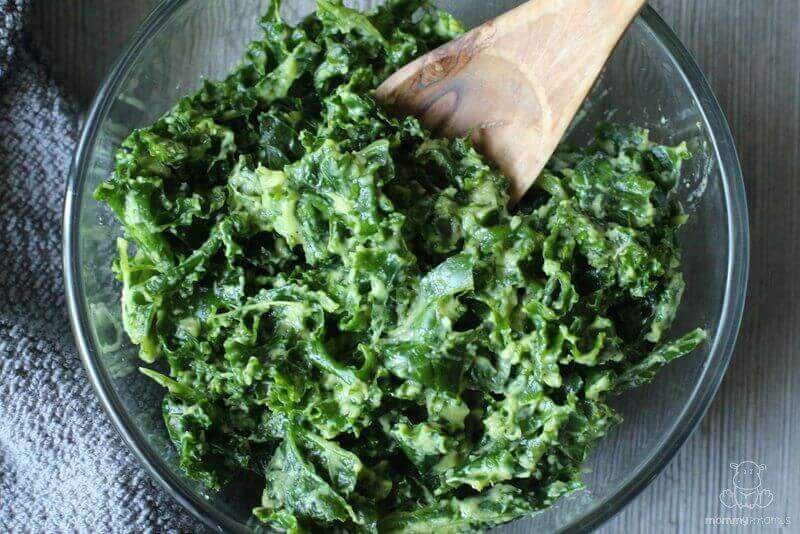 "I love this!" — That's a direct quote from my oldest child after tasting this creamy kale salad. Although we've been fans of homemade kale chips for a long time now, I haven't really known what else to do with all the bunches that keeps arriving in my CSA box. Fortunately, that means I've had quite a bit to tinker with lately!
This simple salad is rich in betacarotene (a precursor to Vitamin A), Vitamin C, Vitamin K1 and folate, which is a nutrient that's particularly important for those of us with the MTHFR mutation. Although in general raw kale is not easily digested, the addition of salt in this recipe and the scrunching done during the preparation method improves digestibility. Often referred to as massaging the kale, this technique breaks down the still cell walls of the plant so that its nutrients are more bioavailable.
But enough nerdiness for now – what you need to know is that this light, lemony kale salad is a surprisingly delicious way to enjoy one of the most nutrient-dense veggies available. Pinky swear and everything.
Creamy Kale Salad Recipe With Lemon
Instructions
Place the kale in a medium bowl and sprinkle it with salt. Using clean hands, pick up the kale and scrunch it with your fists several times. Let the kale sit for about five minutes while you slice the avocado and get the other ingredients ready. When the five minutes is up, add the rest of the ingredients to the bowl and continue scrunching with your hands until the avocado is evenly blended.
Nutrition
Calories:
0
kcal
|
Carbohydrates:
0
g
|
Protein:
0
g
|
Fat:
0
g
|
Saturated Fat:
0
g
|
Polyunsaturated Fat:
0
g
|
Monounsaturated Fat:
0
g
|
Trans Fat:
0
g
|
Cholesterol:
0
mg
|
Sodium:
0
mg
|
Potassium:
0
mg
|
Fiber:
0
g
|
Sugar:
0
g
|
Vitamin A:
0
IU
|
Vitamin C:
0
mg
|
Calcium:
0
mg
|
Iron:
0
mg