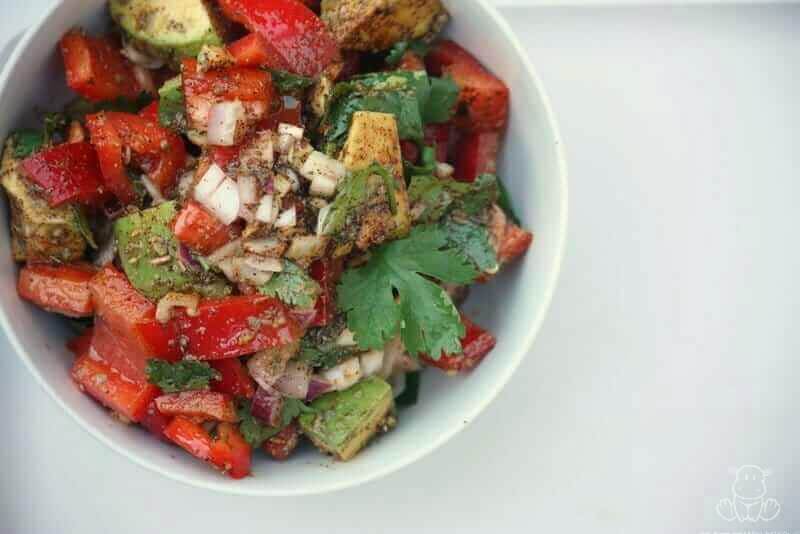 For years I considered salad an obligation . . . a nod to "doing what's good for me" when what I really cared about was the gluten-free chicken fried steak on my plate. Not anymore, at least not when this chopped salad is on the menu. When there's a batch in the fridge I find myself returning to it over and over . . . even as a snack. Who considers salads snack material? Not me . . . at least not usually.
Once you try this recipe you'll understand, though. Pinky swear.
Drizzled with a vinaigrette made with olive oil, tangy lime and the earthy flavors of cumin and cilantro, this dish pairs creamy avocado with crisp bell pepper and other veggies. You won't find romaine lettuce on the list, though. I'm a huge fan of it in this easy chicken salad and other recipes, but despite the kitchen credo I was raised with lettuce is not needed to make a mouthwatering salad.
On the nutrient-density scale this recipe rates well. Packed with folate, vitamin K1, potassium, copper, vitamin E, vitamin B6 and phytonutrients, avocados bring a lot to the table in terms of nourishment. They're also rich in oleic acid, which is the monounsaturated fatty acid responsible for many of the health benefits of olive oil.
Also, the vibrant colors of the other veggies indicate high antioxidant content, and also vitamin C for the red bell peppers.
My kids devour this chopped salad like a pack of adorable wolves, so I usually make a double batch. (For a potluck or dinner with guests, I triple or quadruple the recipe.) It's so fresh and colorful, and pairs well with everything from roast chicken and 8 layer dip to burritos with homemade tortillas.
Chopped Salad Ingredient Notes
Slightly firm avocados are best for this recipe. If they are too soft they won't hold their shape when tossed with the other salad ingredients.
There's a lot of flexibility in this recipe. If you don't like red onion, use yellow or leave it out and add a little more garlic. Love cilantro? Add more! And if your kids detest anything spicy, dial back the chili powder. (It's not super spicy, though, even with the full teaspoon.)
I hope you love it as much as we do!
Mexican-Style Chopped Salad Recipe With Avocado, Red Bell Pepper, Cilantro & Lime
Instructions
Combine the avocado, red pepper and onion in a medium to large bowl.

To make the salad dressing, combine the olive oil, minced garlic, lime
juice, cumin, oregano, chili powder and cilantro together in a small
bowl.

Pour the vinaigrette over the veggie mixture and toss everything
together. Taste and add salt and pepper as needed, then serve or store
in the fridge.
Notes
Store in an airtight container. This recipe will last for 2-3 days in the fridge, but if you're family likes it half as much as mine does it will be long gone by then.
Nutrition
Calories:
911
kcal
|
Carbohydrates:
42
g
|
Protein:
8
g
|
Fat:
85
g
|
Saturated Fat:
12
g
|
Sodium:
76
mg
|
Potassium:
1499
mg
|
Fiber:
20
g
|
Sugar:
10
g
|
Vitamin A:
4870
IU
|
Vitamin C:
197.5
mg
|
Calcium:
107
mg
|
Iron:
5.6
mg
More Yummy Salad Recipes