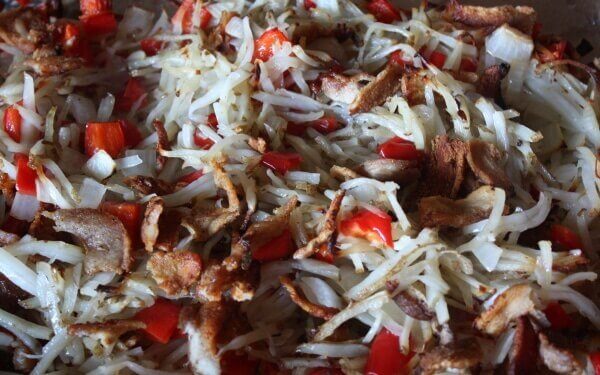 This Southwest Potato Hash recipe is one of our favorites for Saturday brunch. It takes a little while to make, but it is oh-so-worth it. Goes great with scrambled eggs!
Ingredients:
2 large potatoes
1 red bell pepper
1 large onion
2-4 tbs bacon drippings or coconut oil
½-1 lb pastured bacon
Instructions:
Preheat oven to 415 degrees
Shred potatoes using a cheese grater or mandoline
Coarsely chop red bell pepper and onion
Add potatoes, bell pepper and onion to an 8X10 pan
Mix drippings/coconut oil with potato mixture until everything is thoroughly coated.
Place in oven for 45 minutes or until thoroughly cooked
While potatoes are baking fry the bacon in a pan. Once the bacon has cooled break it into small pieces and sprinkle over the potatoes. You an also add the bacon grease from the pan if you'd like. We do ; – )
If you try this potato hash recipe, let me know in the comments below what else goes well with it.