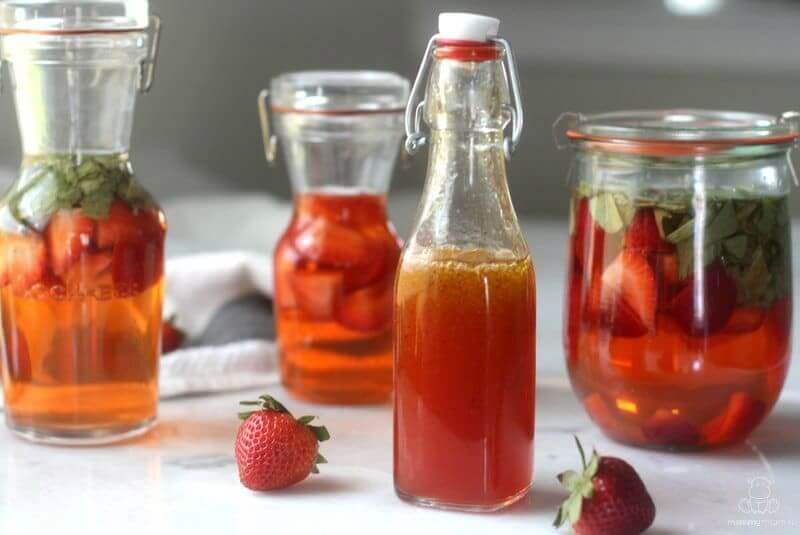 If you grew up on ranch dressing just about everyday Thousand Island or Italian vinaigrette mixed in occasionally, you know it's possible to have too much of a good thing . . . or at least have it too often. That's why when my kids started balking at their salads recently, I knew we needed to give our tried-and-true staples a break.
Juicy summer strawberries are overflowing at the farmers market right now, so I decided to make up this tangy and sweet vinaigrette. Now, there are two ways to make berry-flavored vinaigrette – with pulp or without. If you don't mind the pulp, you can just blend the berries with a few other dressing ingredients (oil, honey, etc.) and call it a day.
Personally, I love the light, refreshing consistency of a pulp-free version because the pulp version feels a little like pouring a smoothie on my salad. I start by infusing the sweet, juicy strawberries in the vinegar along with some herbs (basil or mint) for additional depth of flavor, then mix the flavored vinegar with honey, olive oil salt and pepper.
It's a simple process,  and my kids are devouring their salads right now so I'm calling it a win. Below is a quick tutorial for making infused strawberry vinegar along with an easy strawberry vinaigrette recipe. Some people love it with baby spinach, but my favorite way to serve it is over lettuce with sliced strawberries, feta cheese, slivered almond and sweet onion. I hope you love it as much as we do!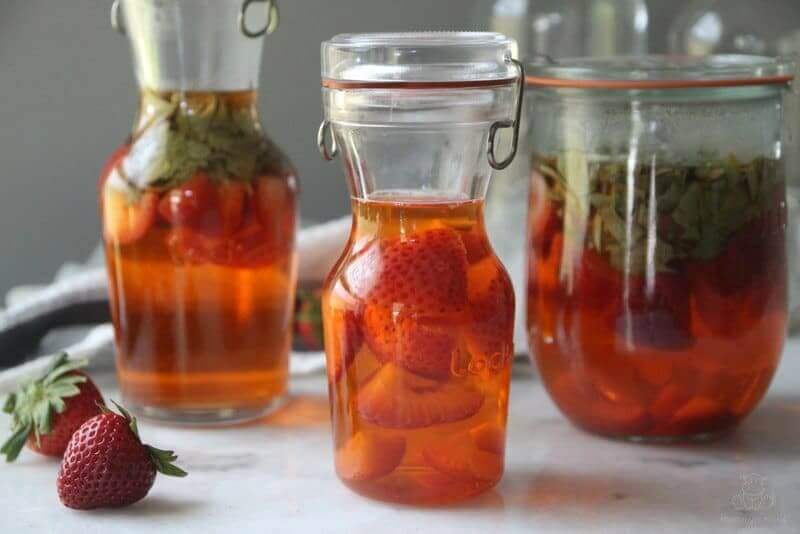 How To Make Strawberry Vinegar
The recipe below makes about 2 cups and will fit in one 32 ounce mason jar. It comes with a few different flavor options: The strawberry basil combination turned out to be our family favorite, but both the pure strawberry and strawberry mint vinaigrettes were close behind!
Ingredients
1 cup strawberries, cut into quarters
1/2 cup gently packed fresh basil or mint leaves, roughly chopped (or an additional 1/2 cup strawberries if you prefer)
2.5 cups white wine vinegar, or a little more if needed to cover strawberries and herbs (acidity should be at least 5%)
Instructions
Preheat your oven to 225F, then wash your jar with soap, place it on a cookie sheet, then put it in the oven for 20 minutes to sterilize it. Remove the jar and place it on a hot pad to cool. Wash and dry the lid thoroughly.
While the jar is cooling, wash the strawberries and herbs (if using) and remove any moldy or damaged parts. Allow the strawberries/herbs to dry fully, then cut the strawberries into quarters. Place them along with the herbs into your jar. Heat white wine vinegar in a pan until it is steaming, then pour it into the jar. Leave at least 1/2 inch of space between the top of the vinegar and the lid. Allow the vinegar to cool before sealing the jar.
Place jar in a cool area that is not in direct sunlight and allow to infuse for up to two weeks. Strain out the berries and herbs and then simmer the vinegar on low for 10 minutes. Allow to cool and then pour it back into the jar. Refrigerate and use within 3 months.
Note: Using sterilized jars and clean produce I've never had an issue with mold, but if your strawberry vinegar "starts to mold at any time, or show signs of fermentation such as bubbling, cloudiness or sliminess, discard the product and do not use any of it that is left." (1)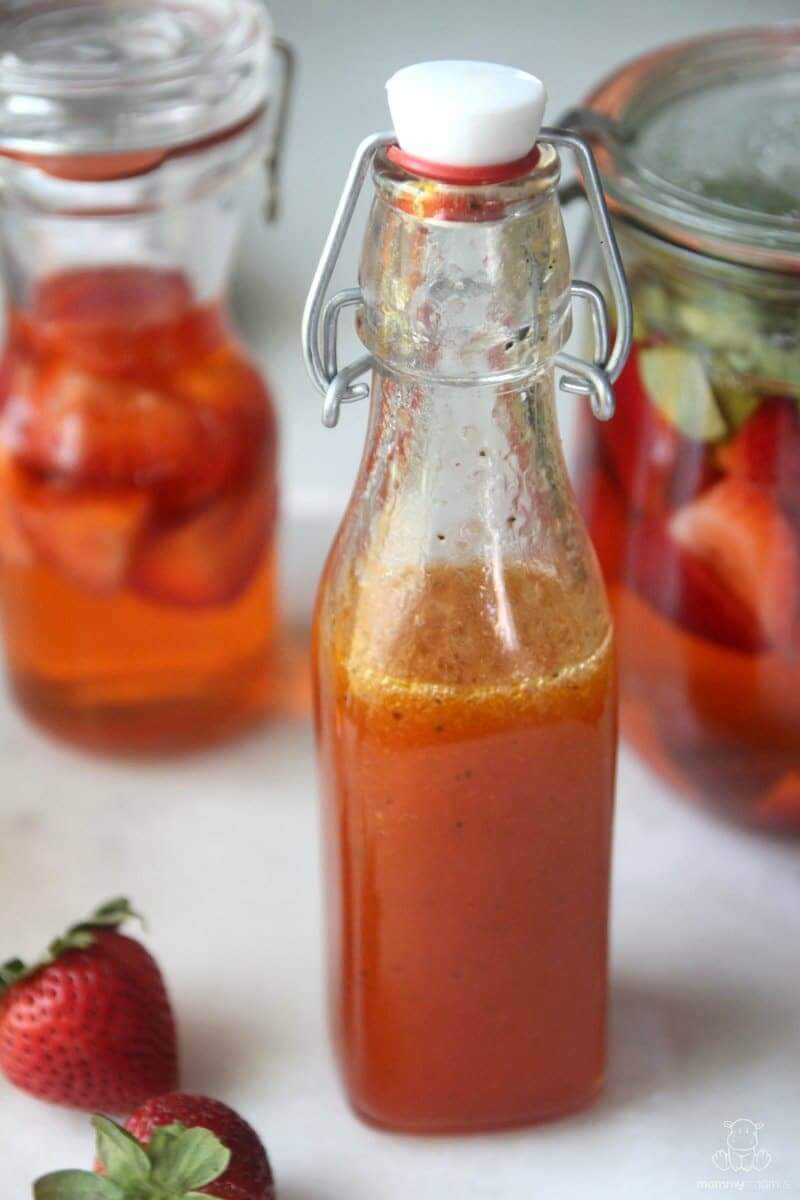 Strawberry Vinaigrette Recipe
This dressing is amazing over fresh salads - I love to serve it over lettuce with sliced strawberries, feta cheese, slivered almond and sweet onion. Makes 1 cup. 
Instructions
Place all ingredients in a jar and stir with a fork to combine. Shake before using.
Nutrition
Calories:
761
kcal
|
Carbohydrates:
71
g
|
Protein:
1
g
|
Fat:
54
g
|
Saturated Fat:
7
g
|
Sodium:
301
mg
|
Potassium:
131
mg
|
Sugar:
70
g
|
Iron:
0.9
mg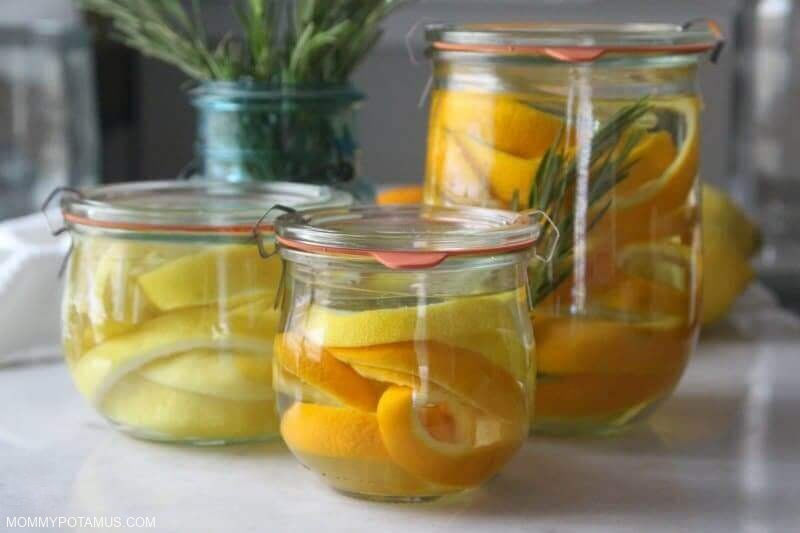 Other Ways To Use Infused Vinegar
This citrus-infused vinegar is a quick way to turn your leftover peels into an inexpensive, all-purpose cleaning vinegar that's perfect for kitchens and bathrooms, removing buildup and grime, and more.
Fire Cider Vinaigrette – Mix 1/2 cup avocado or olive oil with 3 tablespoons homemade fire cider. Whisk in 1 teaspoon raw honey and 1/2 teaspoon pepper. Taste and add more fire cider or honey if desired.
Sources for this article:
1. The University of Maine. Let's Preserve Herbal Vinegar. Retrieved from https://extension.umaine.edu/food-health/food-preservation/lets-preserve-herbal-vinegar/
2. Whole Foods. Herb Infused Vinegar. Retrieved from https://www.wholefoodsmarket.com/recipe/herb-infused-vinegar
3. The Kitchn. Fruit Infused Vinegar. Retrieved from https://www.thekitchn.com/early-fall-project-make-fruit-129567
4. Jackson, Rosa. The Best Fruit Vinegars. Retrieved from http://www.rosajackson.com/blog/the-best-fruit-vinegars.shtml
5. Eating Well. Raspberry Thyme Vinegar. Retrieved from http://www.eatingwell.com/recipe/250614/raspberry-thyme-vinegar/