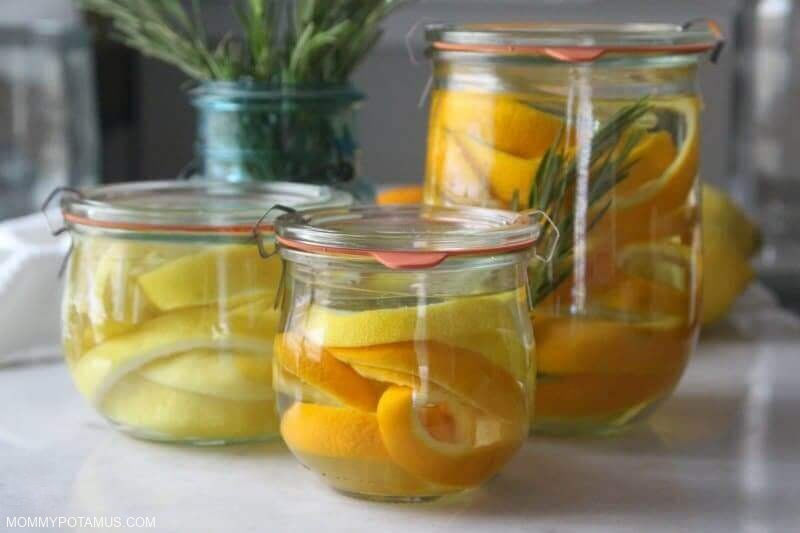 Making up a batch of lavender lemonade, orange julius smoothies, sour gummy snacks or some other kind of citrus goodness soon? Here's a quick way to turn your leftover peels into an inexpensive, all-purpose cleaning vinegar that's perfect for kitchens and bathrooms, removing buildup and grime, and more.
So, what is cleaning vinegar?
It depends on who you ask. I lean towards the traditional definition of cleaning vinegar, which is just vinegar that you clean with. 🙂
However, some companies sell vinegar that is slightly more concentration (6% acidity instead of the standard 5%), and market it as cleaning vinegar.
Personally, I don't see a benefit to increasing the acidity slightly since several studies (like the one I mention in this homemade veggie wash post) have found 5% to be effective. Also, I don't know of any commercial "cleaning vinegars" that use non-GMO ingredients, so I prefer to buy plain old organic white vinegar at my local health food store instead.
Since my husband doesn't love the smell of plain vinegar, I infuse mine with citrus peels and herbs, or sometimes essential oils if that's what I have on hand. Here's a spray cleaner recipe using essential oils if you'd prefer to use that method.
In addition to making my cleaning vinegar more aromatically pleasing, the peels also increase its cleansing and degreasing properties – that's a win/win in my book.
Should I add castile soap to cleaning vinegar?
Remember that volcano experiment from elementary when we mixed baking soda with vinegar and "lava" flowed everywhere? While that combination makes a pretty epic science project, it's not helpful for spray cleaners. Sometimes you'll find castile soap added to vinegar in a homemade cleaning spray recipe, but that's not an approach I recommend.
Here's why: Baking soda – and castile soap which is what we're discussing here – are both bases, while vinegar is an acid. Acids and bases both have their uses (baking soda make a fantastic homemade scouring powder, for example), but they need to be kept separate or they will neutralize each other. If you add castile soap to vinegar it doesn't add any cleaning power – it just lowers the acidity level of the vinegar.
What to buy if you don't want to DIY
When life gets busy and you don't want to DIY, here's one of the best store-bought options I know of: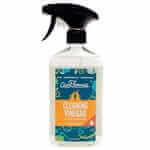 Aunt Fannie's Cleaning Vinegar – This cleaner earns an A from the Environmental Working Group. It's made from food-based ingredients and comes in four scents: Sweet Mandarin, Lavender, Fresh Lime Mint, and Eucalyptus
Other Ways To Use Leftover Lemon And Orange Peels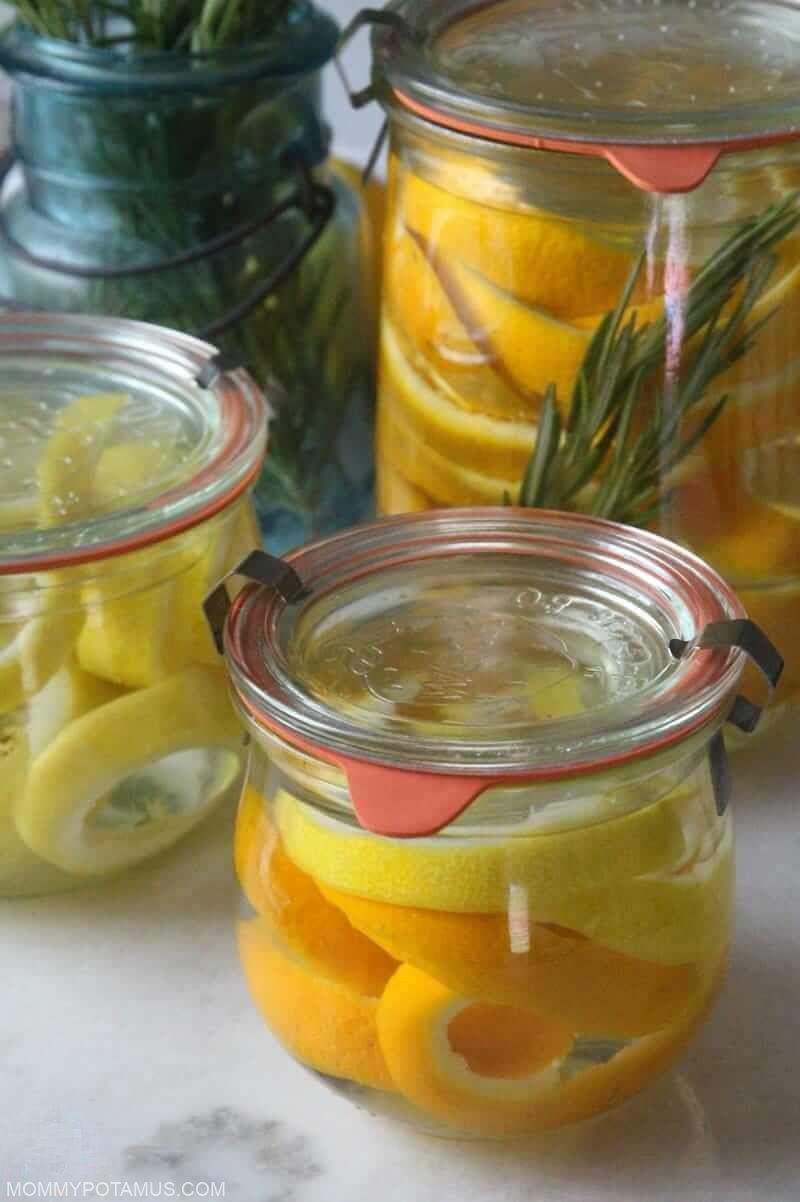 How To Make Citrus-Infused Cleaning Vinegar
This recipe is wonderful for cleaning countertops, backsplashes, shower doors and windows, removing buildup and grime, and more. It can even be used to repel ants – more info on that here.
Ingredients
Citrus peels

(lemon, lime, orange, grapefruit or a combination of these)

A sprig or two of fresh rosemary, mint or thyme

(optional)

White vinegar

(enough to cover the peels)
Instructions
Scrub the lemons/oranges/limes gently and then peel them.

Set the juicy flesh aside for use in another recipe and place peels in a clean jar.

Pour vinegar into the jar until the peels are completely submerged. If desired, you can use a fermentation weight to keep the peels from floating on the surface, but it's not a problem if they do float.

Screw the lid on tight and let the jar sit for a few weeks (out of direct light) while shaking occasionally. 

When you're ready to use it pour the mixture through a mesh strainer.
To Use Citrus-Infused Cleaning Vinegar
To make up a cleaning spray, add a 50/50 mix of cleaning vinegar and purified water to a spray bottle – I like these glass spray bottles.
Want a FREE ebook of non-toxic cleaning recipes that WORK?
I've created a free ebook for you as a gift for signing up for my newsletter. 7 Non-Toxic Cleaning Recipes That Really Work covers seven recipes that you can make in just a few minutes each for squeaky clean windows, sparkling dinnerware, lemon-fresh countertops, and more. Subscribe to my newsletter below and you'll be redirected to a download page for immediate access to this PDF ebook.