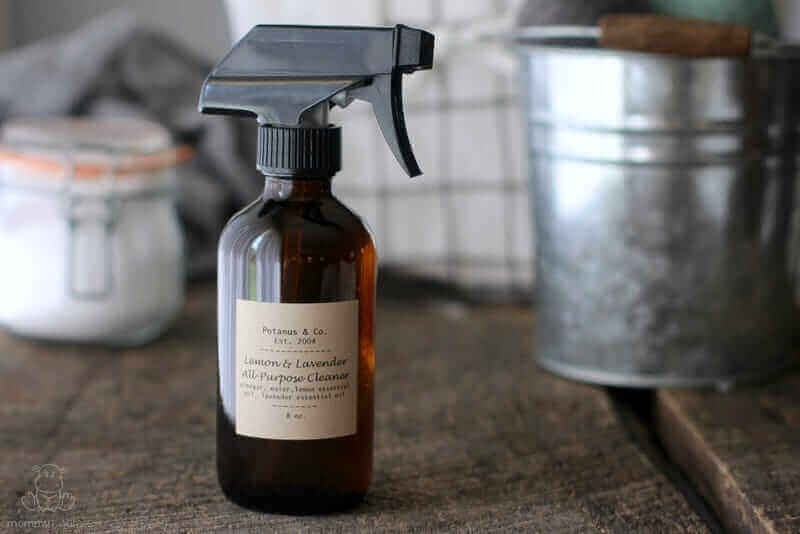 "If your house is really a mess and a stranger comes to the door, greet him with, 'Who could have done this? We have no enemies."' – Phyllis Diller- That's my Plan B.
Plan A, of course, is to stay on top of the thousand fingerprints that appear on my fridge and the thin layer of who-knows-what on bathroom counter with this all-purpose cleaner. Mood lifting, stress-busting essential oils are the superstars of this recipe, but the cheap-yet-effective white vinegar is a close second. Contrary to its humble reputation, vinegar has been found to be effective against a variety of bacteria, viruses and mold. (source 1, source 2)
Quick note: Almost any cleaning project can be tackled with either vinegar or baking soda, which has 20+ cleaning, personal care, and natural remedy applications. However, this dynamic duo needs to be used separately, because they cancel each other out.
Vinegar is an acid, while baking soda is a base, so when you mix them together they neutralize each other. They do fizz up when mixed which kids tend to think is pretty cool, but it's not so great if you actually want to clean things. So, when using this recipe to clean counters, don't use a powdered scrubbing powder that contains baking soda along with it.
This all-purpose cleaner makes a great housewarming gift, especially when paired with wool dryer balls, homemade beeswax candles, and/or homemade soft scrub.
When bottling my DIY cleaners, I use these labels and this 8 ounce spray bottle or this 16 ounce spray bottle.
What to buy if you don't want to DIY
When life gets busy and you don't want to DIY, here are two of the best store-bought options I know of:
Meliora All-Purpose Cleaner uses the absolute purest ingredients. When you buy the glass spray bottle found here it comes pre-loaded with one batch of powder, so all you have to do is add warm water and shake until dissolved. You can order 18 refills on the same page for the cost of about $0.71 per 16 ounce bottle including shipping.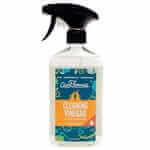 Aunt Fannie's Cleaning Vinegar – like Meliora, this cleaner earns an A from the Environmental Working Group. It's made from food-based ingredients and comes in four scents: Sweet Mandarin, Lavender, Fresh Lime Mint, and Eucalyptus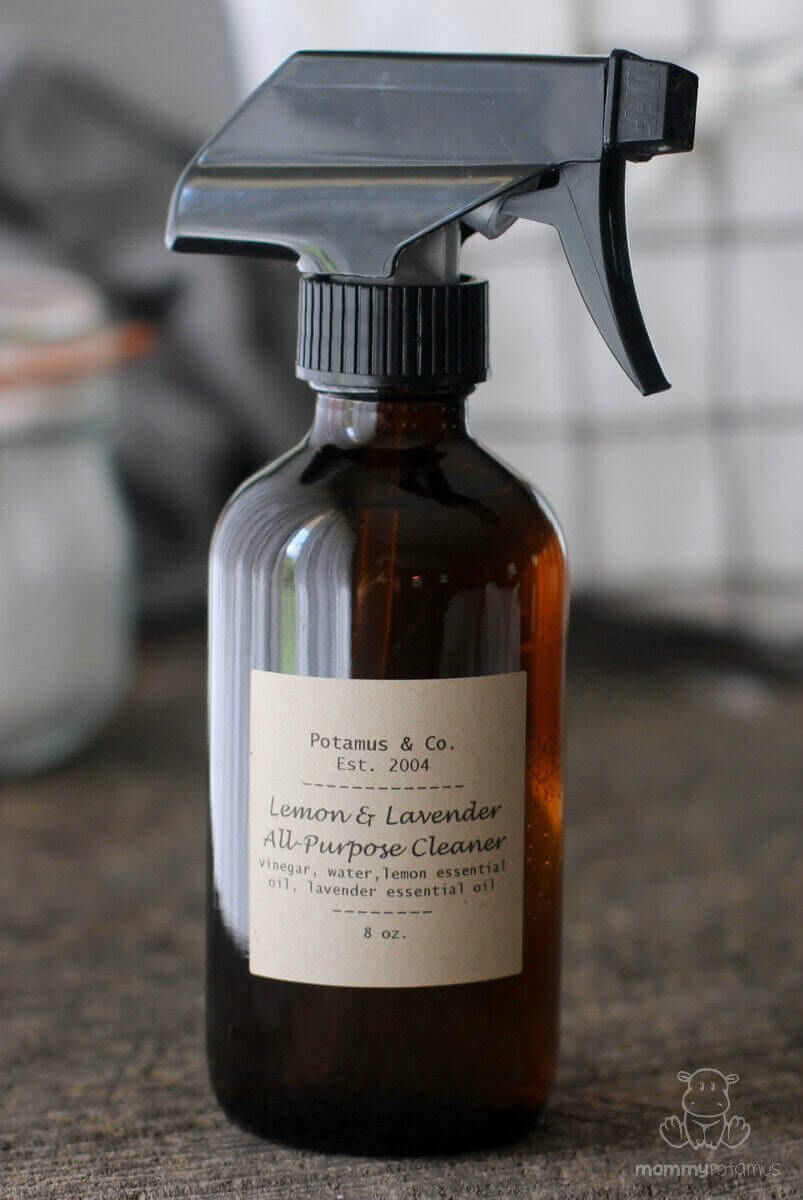 DIY All-Purpose Cleaner With Lemon & Lavender
This recipe will make one 16 ounce bottle or two 8 ounce bottles of spray cleaner.
Ingredients
To Make
Add essential oils and vinegar to a glass spray bottle and shake well. Add water and shake again.
To Use
Shake before using, then spray on surface and wipe clean with a soft cloth.
Packaging Suggestions
Dark amber or cobalt blue glass spray bottles are ideal because they filter out UV light, which can damage essential oils.
Want a FREE ebook of non-toxic cleaning recipes that WORK?
I've created a free ebook for you as a gift for signing up for my newsletter. 7 Non-Toxic Cleaning Recipes That Really Work covers seven recipes that you can make in just a few minutes each for squeaky clean windows, sparkling dinnerware, lemon-fresh countertops, and more. Subscribe to my newsletter below and you'll be redirected to a download page for immediate access to this PDF ebook.