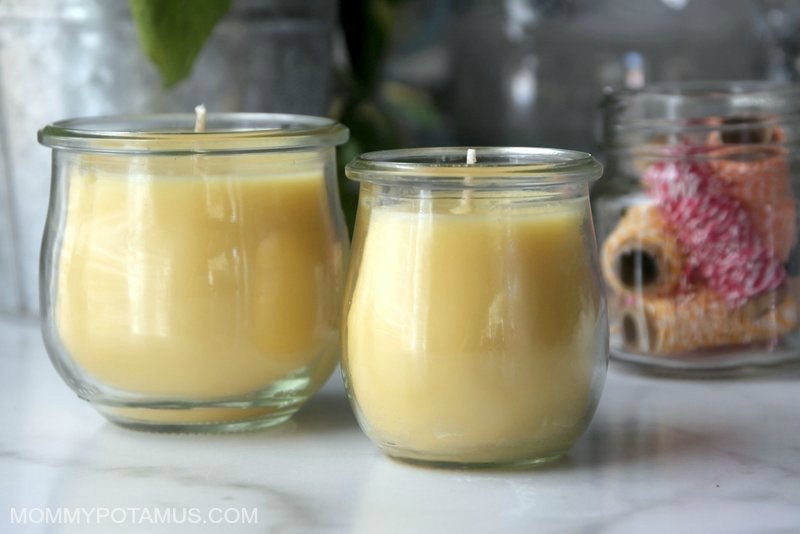 I'm a huge fan of candles, especially homemade beeswax candles. There's something incredibly soothing about the soft warm glow of a candle at night after the littles are in bed that makes the world seem a little bit simpler and more pleasant.
But the golden glow and long burn time are just the beginning of a handmade beeswax candle's charm. Unlike paraffin candles – which release carcinogens like toluene and benzene into the air– they burn clean and bright while releasing a faint honey scent.
Even better, making beeswax candles at home – either as a gift or for yourself – is little more than a melt and pour process. In the tutorial below I'll show you just how easy it is. Now, you may be wondering . . .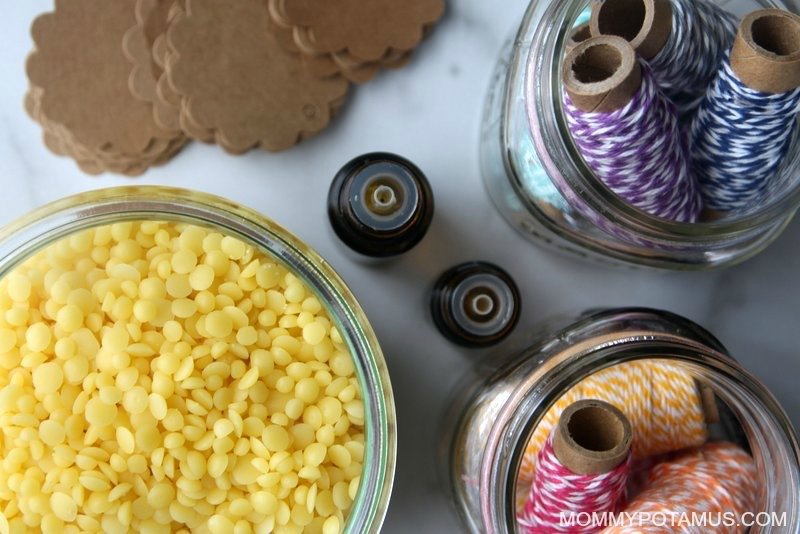 Can I add essential oils?
Yes, you can, however beeswax does not hold on to scent as well as some other waxes. For that reason, I blend a little coconut oil into my candles to give the scent more staying power. Even with the addition of coconut oil, I've found that only very strong scents (peppermint, lemongrass, vetiver etc.) do well in beeswax candles. Fortunately, most beeswax smells faintly of honey, which is delightful all by itself or when blended with essential oils.
(Also, quick note: If you are planning to burn the candles around children make sure that the essential oils you select are kid-friendly – here's a list to get you started.)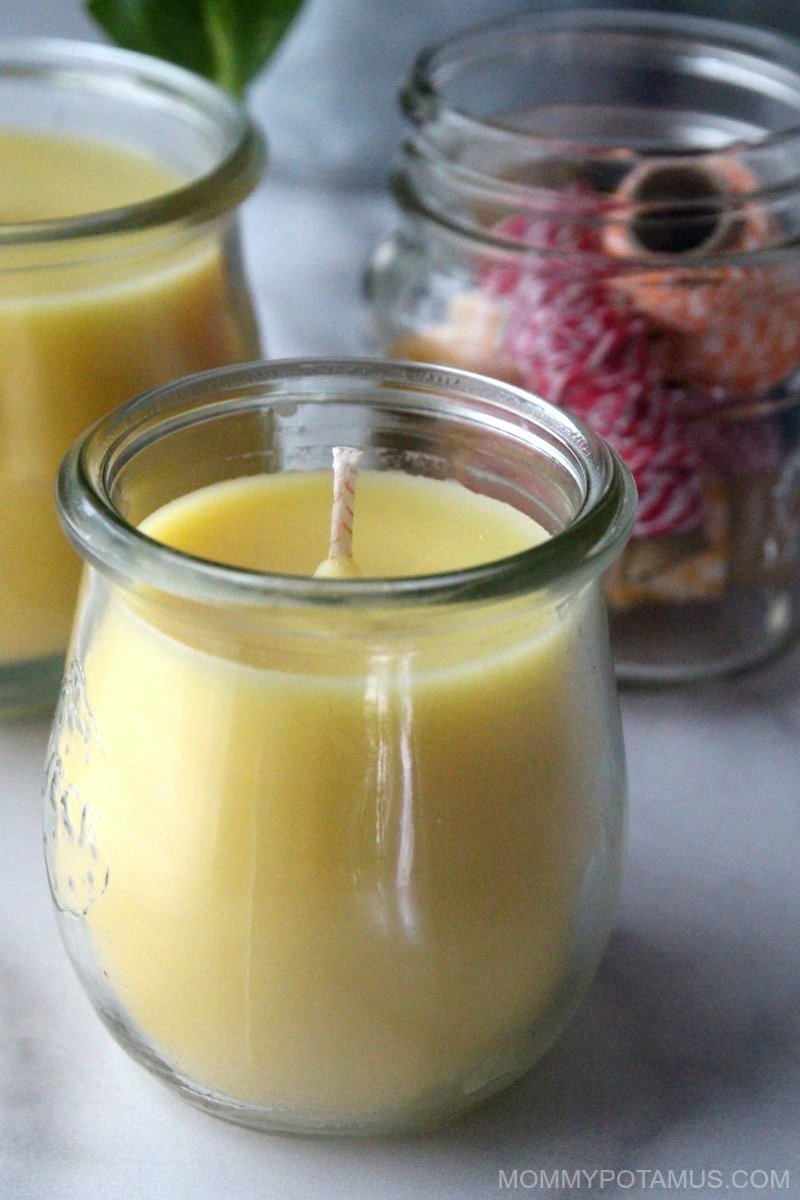 How To Make Beeswax Candles
This recipe will make two 12 ounce candles, three 8 ounce candles or six 4 ounce candles.
Ingredients Needed
1 pound beeswax (This store used to offer five pound bags of organic beeswax pearls, but now they only offer 8 ounce bags so you'd have to buy two. This is another option.)
1/2 cup coconut oil, melted
1-2 tablespoons essential oil – optional (I tend to go with inexpensive ones like peppermint and lemongrass)
Jars – This recipe will make three of these 8 ounce jelly jars or these square mason jars, which are identical to the ones in the photos except they have no writing on them. Another option is to use these 4 ounce jelly jars, which will yield six candles with this recipe.
*Because beeswax candles are slow burning, they require thicker, sturdier wicks than what is used for paraffin candles. Keep in mind that the way a wick burns will vary based on many factors, including the size of the container and how refined the beeswax is. I've shared which wicks have worked for me using refined beeswax and the jars above, but it may take a little experimentation to find the perfect size for your wax/container combo.
Instructions
Step 1: Pick up your wick (with wick tab attached) and wick stickers)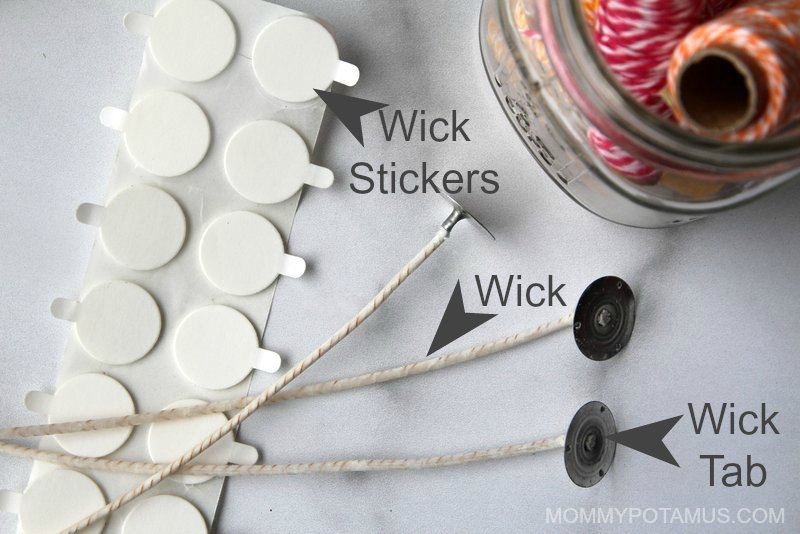 Pull one of the wick stickers off the roll and place it on the wick tab, then peel the paper off the exposed side of the wick sticker.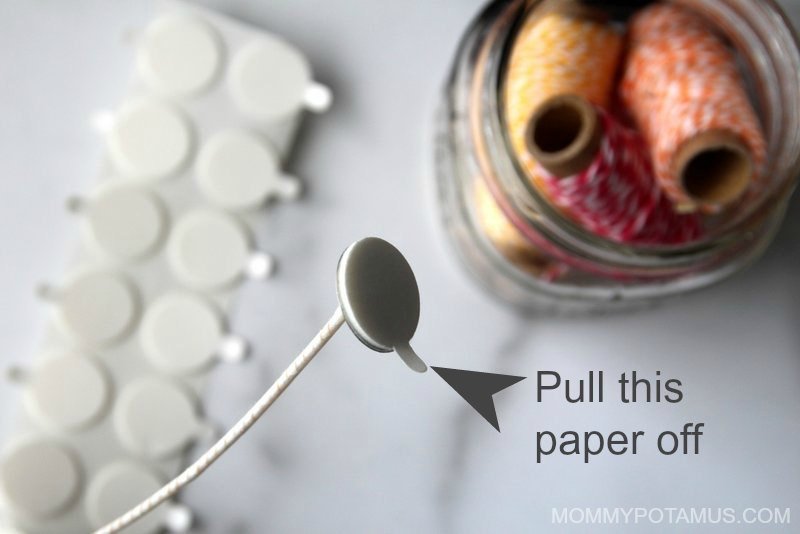 Step 2: Attach the wick to the bottom center of the jar.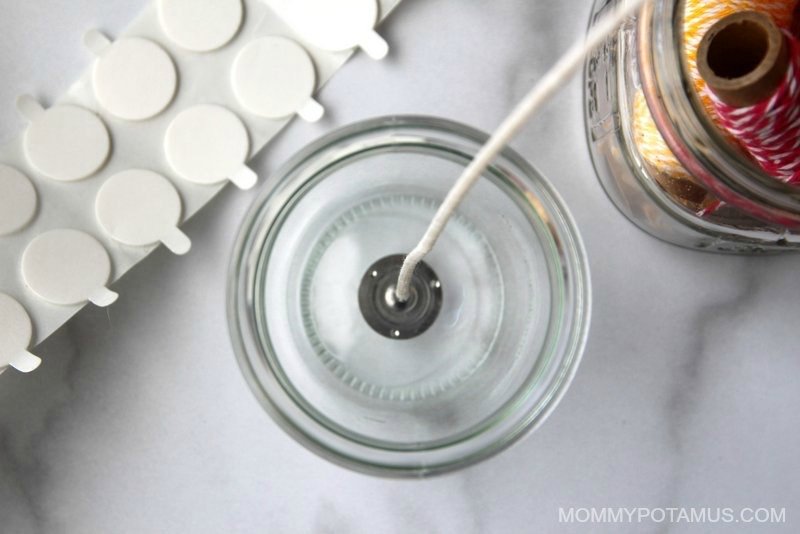 Step 3: Melt wax and oil in a double boiler. If you don't have a double boiler, you can create one by placing one inch of water in a pot, placing a smaller pot or stainless steel bowl inside, and bringing the water to a low simmer.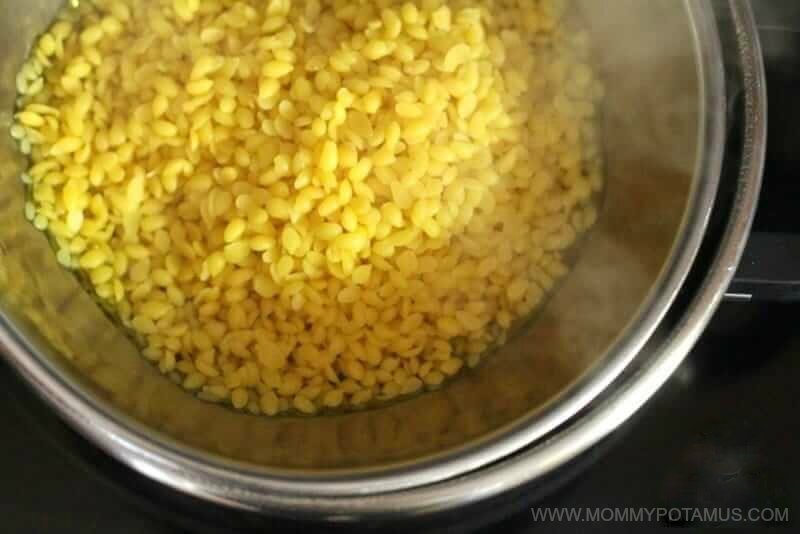 Step 4: When the beeswax is melted, add essential oils if desired.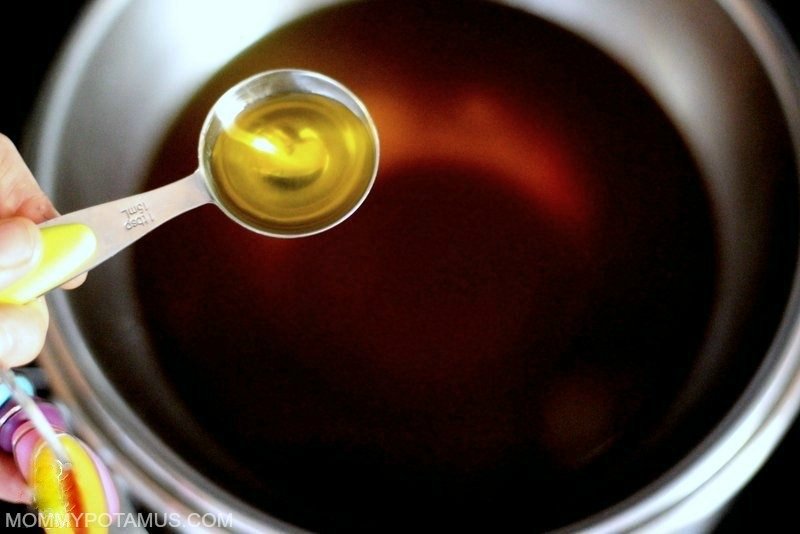 Stir the beeswax, coconut oil, and essential oils (if using) together. I use a wooden chop stick that I keep just for this purpose so I don't have to clean it.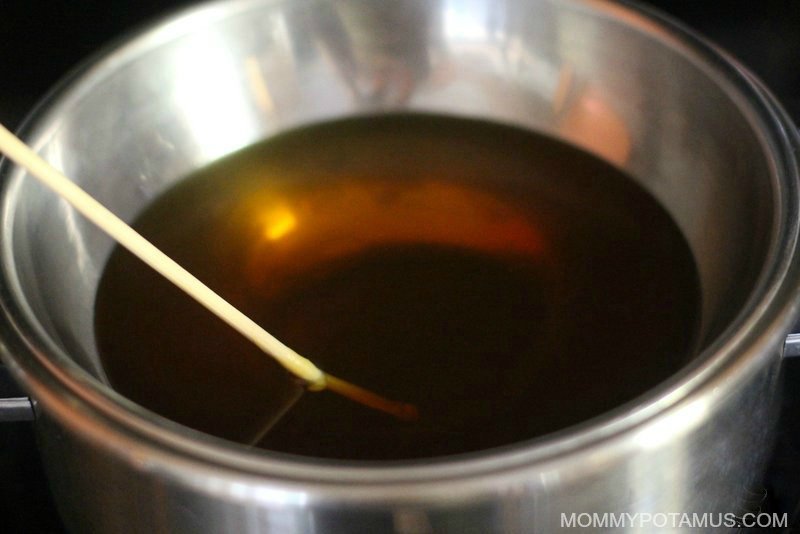 Step 5: Pour wax into jars.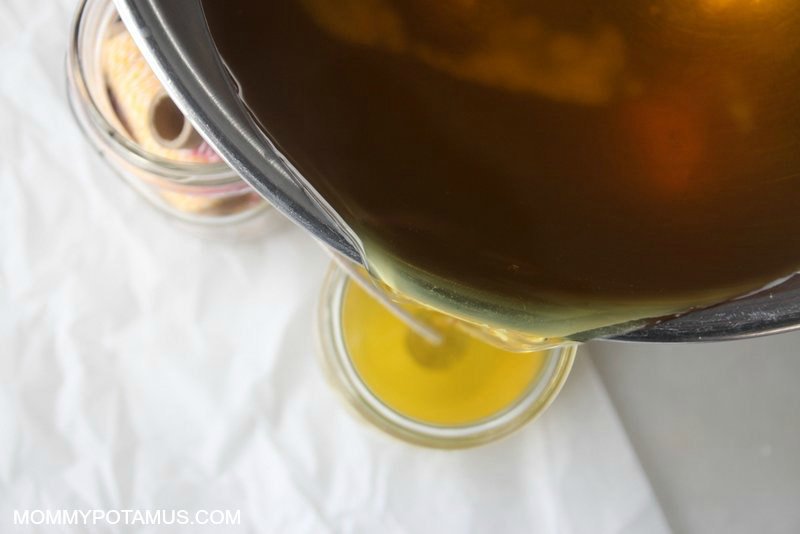 Step 6: Set the wick so that it's in the center. You can do this by placing a pencil across the jar and taping the wick to it, or use my favorite method, which is to thread the wick through the center of a clothespin.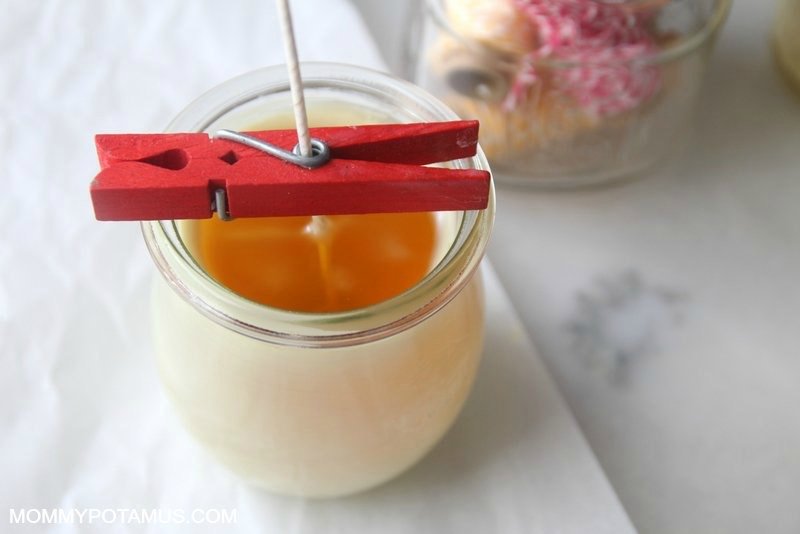 Step 7: Place the candles in a warm area to harden, because if they cool too quickly the wax will sometimes crack. I usually preheat my oven to 170F while I'm pouring the candles, then turn the oven off and place them inside.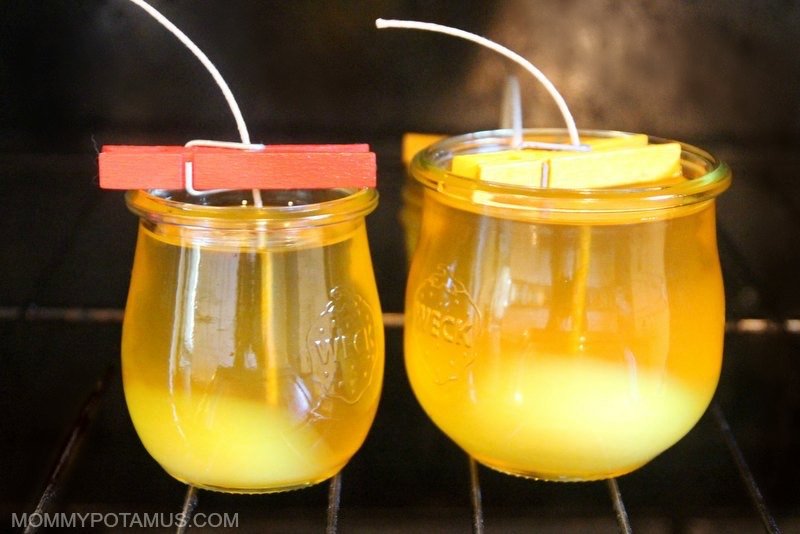 Allow to cure for two days, then trim the wick to about 1/4 inch. When lighting your candle, direct the flame at the base of the wick so that some of wax melts and is drawn up into the wick – this helps it burn properly. Allow candle to burn long enough so the wax melts out to the side of the jar. This helps to prevent tunneling (when the middle melts down with lots of wax left over around the edges). Never leave a candle unattended.
Cleanup Tip:
Beeswax is usually difficult to remove from the bowl it was melted in, but I've learned a little trick that I want to pass along. I preheat my oven to 200F, then turn it off and place the bowl inside. Within a few minutes the wax is completely melted, making it easy to wipe away with paper towels. After that, I just scrub with soap and water as usual.
Want non-toxic cleaning recipes that WORK?
I've created a free ebook for you – 7 Non-Toxic Cleaning Recipes That Really Work – as a gift for signing up for my newsletter. We cover seven recipes that you can make in just a few minutes each for squeaky clean windows, sparkling dinnerware, lemon fresh countertops, and more.