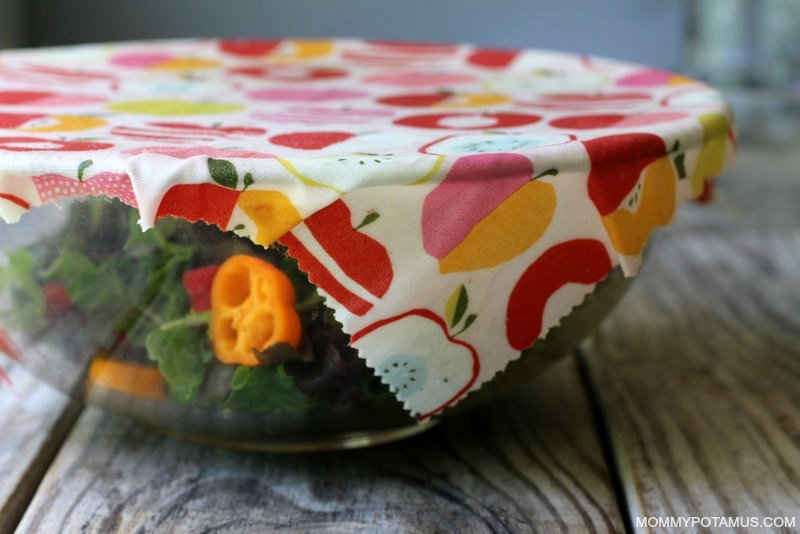 If you're like me, there's probably no love lost between you and plastic. Most food-related plastics – including cling wrap and so-called "BPA-free" containers – "can release chemicals that act like the sex hormone estrogen," concluded a study published in Environmental Health Perspectives. (source 1, source 2)
Reasons To Love Reusable Food Wrap
Fortunately, there are so many amazing alternatives available now – these leakproof glass containers, and Lékué silicone lids that stretch to fit a variety of container sizes, and of course Bees Wrap.
Why Beeswax Wrap is the BEES KNEES
As I wrote in this review,  beeswax wraps are an eco-friendly, reusable alternative to plastic wrap that hugs bowls with just the right amount of cling.
It's perfect for wrapping snacks, fruit, veggies, cheese, bread and even bowls, and the beeswax + sandwich wrap can be sealed by winding a string around an embossed wooden button. (Psst! If you're grain-free and thinking sandwiches are a thing of the past, check out this real deal sandwich bread recipe.)
So, why make a DIY version?
Bees Wrap is a great investment because it's long lasting, but it is an investment. This DIY version is much more affordable, especially if you buy in bulk and have a make-and-take party with friends. You can also choose beautiful prints – the reusable wrap pictured is an organic cotton from Monaluna that I got a great deal on. There are normally a lot of beautiful fabrics to choose from.
Oh, and if you can sew a button – which is just about the extent of my sewing skills –  you can make reusable wrap into these adorable snack bags. You'll find a tutorial for them at the bottom of this page.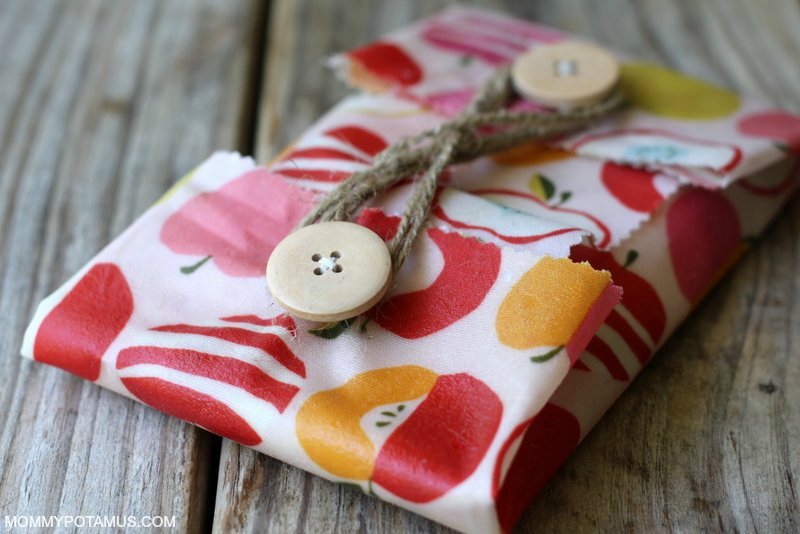 Is reusable food wrap difficult to care for?
Nope. Just wash them in cool water with mild dish soap and allow to air dry.
Now, a few notes:
To use, just place over a bowl or container, wrap around food like cheese, or fold into a snack bag. The warmth from your hands will mold the wrap into the desired shape.
They can be washed with cold water and a mild soap ( I use castile soap)
Since they cannot be washed with hot water they are not recommended for meat
Items like cheese, vegetables, fruits, nuts, sandwiches, etc. can be wrapped up. Items that contain a lot of moisture (like jello) should not be placed in snack bags
Depending on how frequently they're used, they can last for up to a year. After that all you need to so is re-wax them in order to keep using them.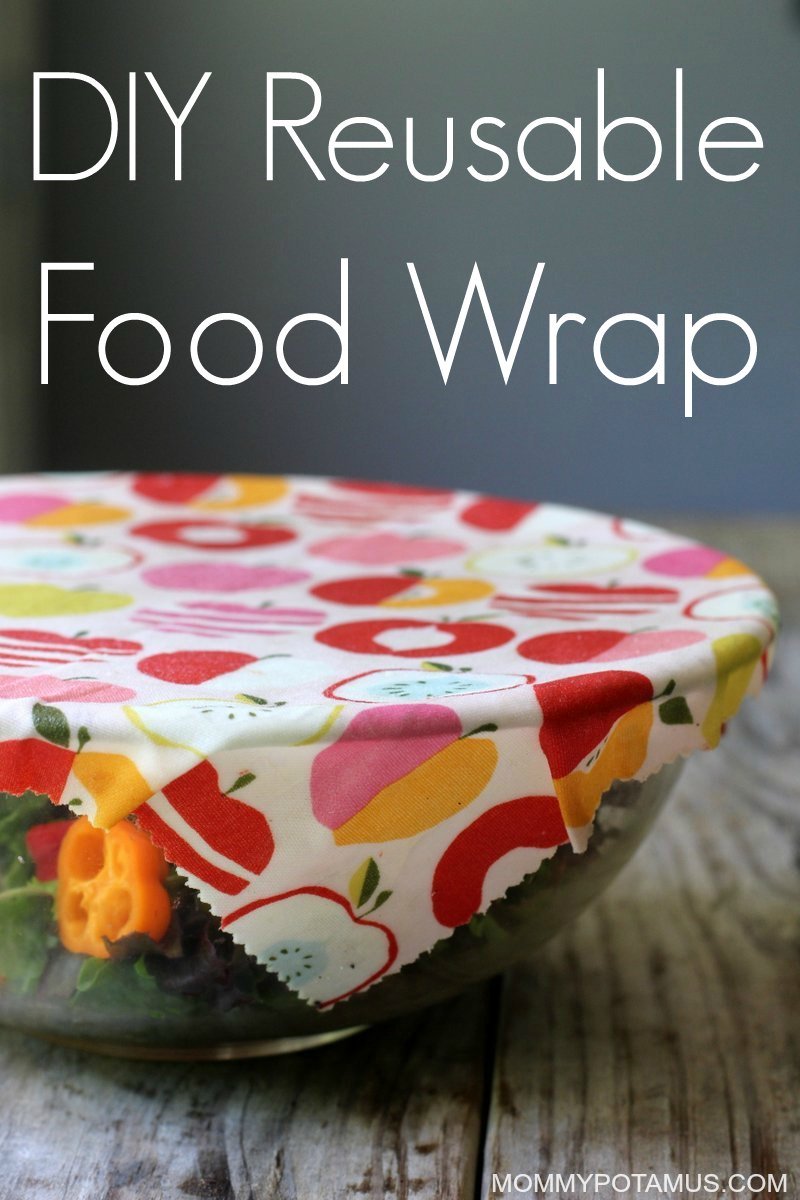 DIY Reusable Food Wrap
Update: If you'd rather not buy each ingredient individually, there is now a kit available that pre-blends the beeswax, pine rosin and jojoba oil for you in just the right amounts. It also includes coconut oil, which is not in my recipe, but I've heard it works really well. 
Equipment:
beeswax – see below for info on how much you'll need (where to buy beeswax)
powdered pine rosin (this is what gives the wrap it's "cling" factor) – see below for info on how much you'll need (this was the best deal I found – it will make A LOT of reusable wrap, so I recommend doing this project with friends or planning to make extra as gifts)
jojoba oil – see below for info on how much you'll need (this is what I used, but I bought it at my local health food store for less that it sells for online)
100% cotton fabric – Needs to be very thin, like a sheet. (I found a good deal on organic cotton fabric from Monaluna)
scissors – pinking shears will prevent fraying (where to buy pinking shears)
paintbrush (can only be used for this purpose)
cheese grater
baking sheet (I use this stainless steel one)
parchment paper (like this)
thread, needle, string and buttons (optional)
ruler or tape measure (optional)
oven
makeshift clothesline – binder clips make fantastic "clothes pins" if you don't have any on hand
How much beeswax, resin and jojoba do I need?
It really depends on the size and number of sheets you want to make. I wanted a small, medium, and large assortment, so I cut mine into 8×8, 11×11, and 14×14 inch squares. Here's how much I used for one sheet of each size:
8×8 Sheet
11×11 Sheet
14×14 Sheet
Directions:
1. Preheat your oven to 225F
2. Cut your fabric into the sizes you prefer. I wanted to have a small, medium, and large assortment, so I cut mine into 8×8, 11×11, and 14×14 inch squares.
3. Lay parchment paper over the baking sheet, then place your fabric on top. Sprinkle your beeswax/resin/jojoba oil mixture evenly over the top.
4. Place sheet in the oven and bake until the mixture is fully melted. This should take between 5-10 minutes.
5. Using the paintbrush, spread the mixture evenly over the fabric. In order to take this photo I took the sheet out of the oven, but usually I just pull the sheet slightly out of the oven, brush, and then pop it back in to let the mixture even out for another minute or so. Fyi, the mixture will adhere to the paintbrush just like it does with the cloth. I bought an inexpensive brush that I keep just for this purpose.
6. When the mixture is evenly melted, remove the baking sheet from the oven and lift the sheet with tongs. I wave mine in the air to allow it to cool enough to touch (it doesn't take long it all) then hang it somewhere so that it can "set." This can be your laundry area if you have clothes pins in there. I just waved mine around until they were mostly cool, then hung them over the back of a chair to cure. Keep in mind that it will feel very tacky at first. That mellows out fairly quickly. The end result will have grip but not be super sticky.
How To Make Reusable Snack Bags
Step 1: Start with a 14×14 inch piece of reusable food wrap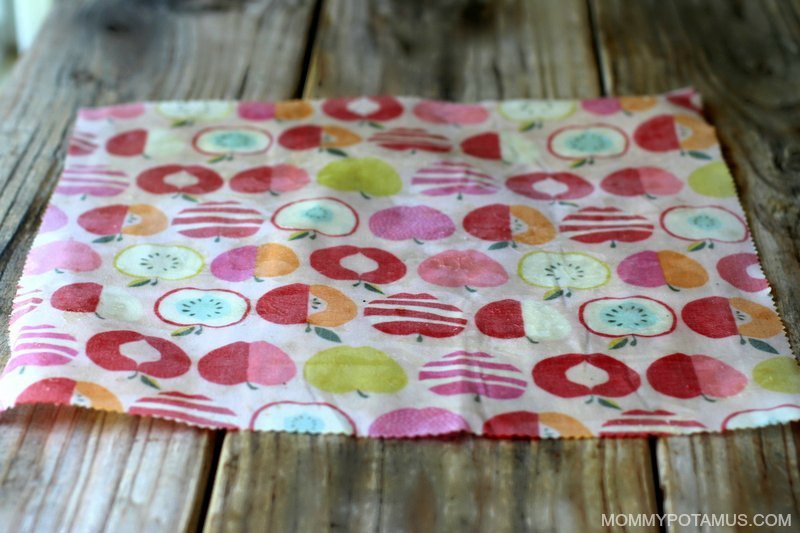 Step 2: Fold it into thirds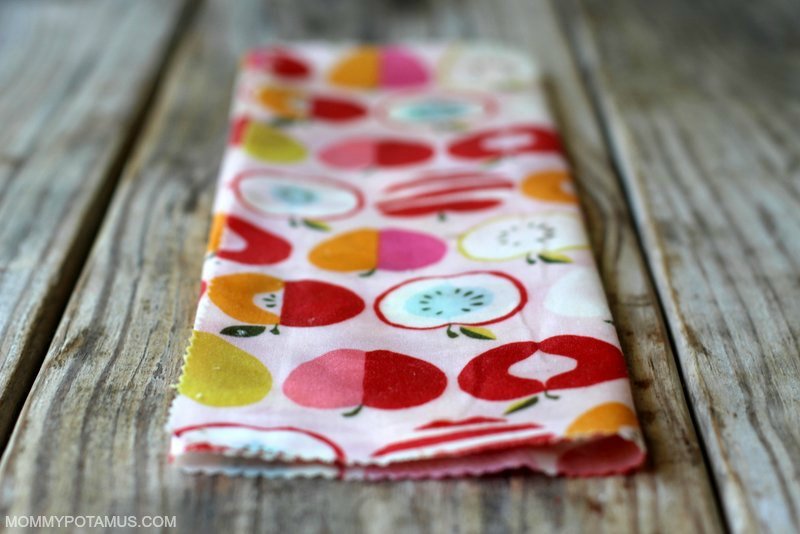 Step 3: Fold the top and bottom to create flaps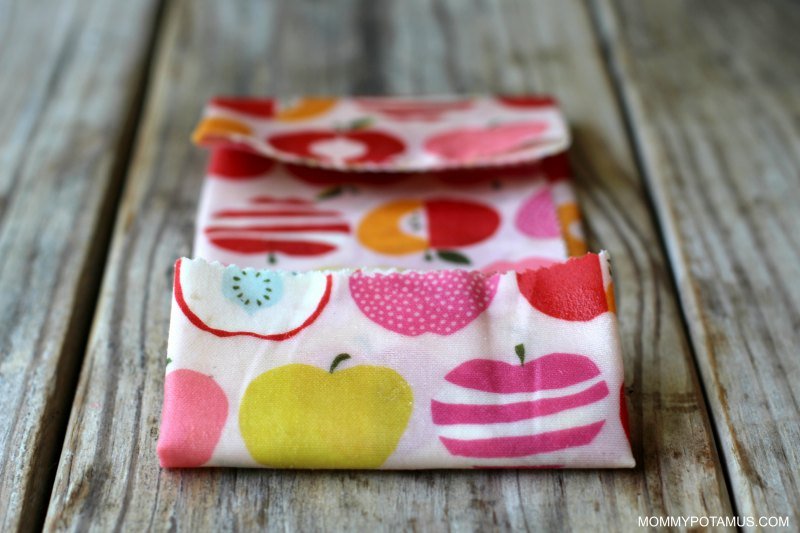 Step 4: Unfold the fabric and sew on buttons as shown below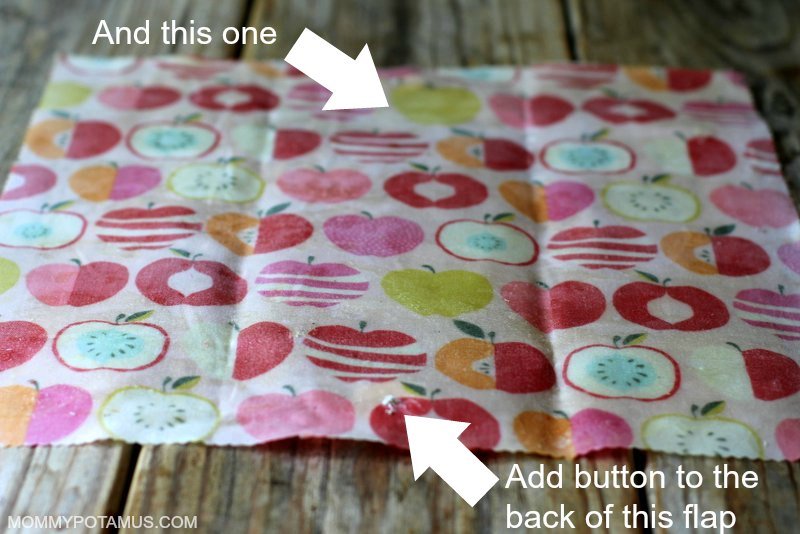 Step 6: Re-fold into thirds, then fold over the flaps and attach a string to one of the buttons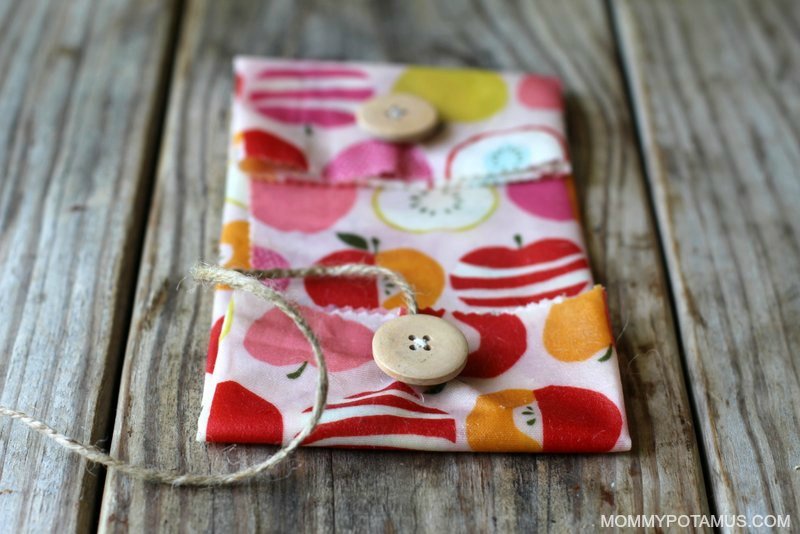 To close the snack bag, just wrap the string around both buttons in a figure eight pattern.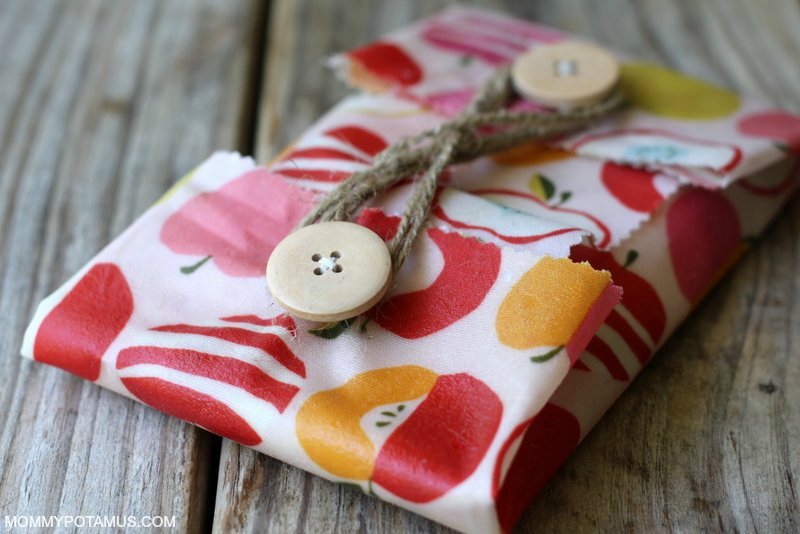 Don't want to make it yourself but prefer to purchase it instead? I've found these pre-made beeswax wraps to be great quality and work really well.
Ever tried to make your own wraps like these? What other DIY projects do you love?