Sometimes real food gets a bum wrap. But it doesn't have to!
What do you get when your favorite cling wrap manufacturer replaces hormone disrupting PVC and DEPA chemicals in their formula? Most likely, just a new formula with different hormone disruptors. Unfortunately we'll have to guess what those chemicals might be, because although many companies have recently reformulated, they're not required to tell us what's in their products.
What we do know for sure is that those mysterious chemicals leach into our food, and that's just sad considering how hard we work to keep our food as chemical free as possible. But real food doesn't have to get a bum wrap – if you'd like to ditch the toxic stuff but don't want to make your own healthy version, here are some options I use and love:

Bees Wrap
You guys, Bees Wrap is the BEES KNEES. It's reusable, and it hugs bowls with just the right amount of cling thanks to a mix of organic cotton muslin, beeswax, jojoba oil and tree resin.
It's perfect for wrapping snacks, fruit, veggies, cheese, bread and even bowls, and the beeswax + sandwich wrap can be sealed by winding a string around an embossed wooden button.
Oh, and have I mentioned how easy they are to care for? Just wash in cool water with mild dish soap and allow to air dry. Bees Wrap comes in sets of small, medium and large sheets. There is also a pre-made snack bag /sandwich wrap option.

Lékué Silicone Lids and Stretch Tops
Never heard of Lékué lids? Here's what you need to know – they save you time washing dishes.
Made from food grade silicone, they can be used as a cover on pots to help retain heat after cooking, for leftovers, and for outdoor use to keep bugs away from food.
And while that's great, lets get back to the "saving time washing dishes" part. Lékué lids form a vacuum seal that keeps food fresh, so you can make a pot of soup and pop it directly into the fridge instead of shlepping it into mason jars. Not only will you not have to dirty extra dishes, it makes reheating easier. Plus, they're great for keeping salads and prepped veggies fresh.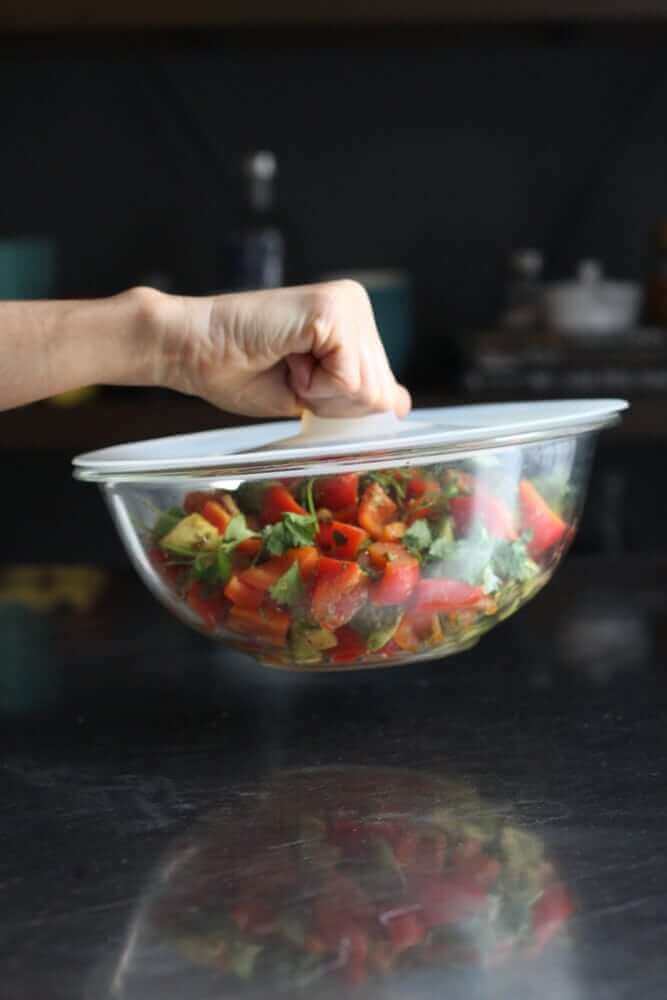 When you're done with a lid, just run it through the dishwasher. Easy peasy.
Now, have you ever found yourself digging through a pile of jar lids because you can't find the right size? Then you totally get the genius of Lékués' other sanity saver – stretchy lids. They fit a variety of sizes, including standard mason jars and that one wonky jar you can never find the lid for. They can even be wrapped over fruit and vegetable halves and some bowls, depending on which size you have.
Oh, and they have the same vacuum seal suction effect that helps keep your food super fresh. Pretty neat, huh?
I hope you find these recommendations helpful!
Want a FREE ebook of non-toxic cleaning recipes that WORK?
I've created a free ebook for you as a gift for signing up for my newsletter. 7 Non-Toxic Cleaning Recipes That Really Work covers seven recipes that you can make in just a few minutes each for squeaky clean windows, sparkling dinnerware, lemon-fresh countertops, and more. Subscribe to my newsletter below and you'll be redirected to a download page for immediate access to this PDF ebook.