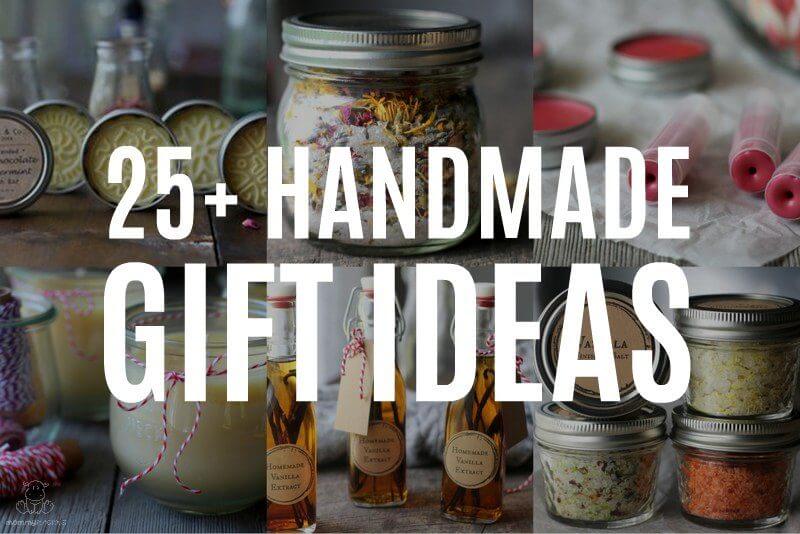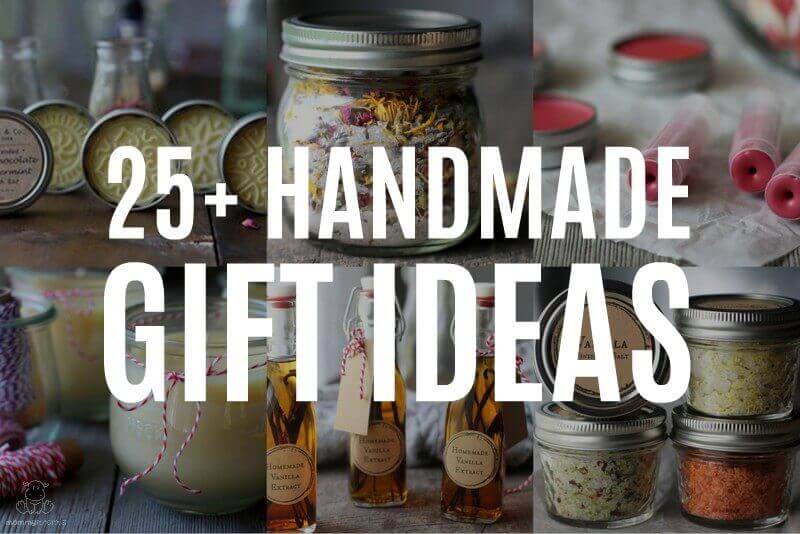 Do you want to make gorgeous, handcrafted gifts without stressing yourself out? I've got you covered. These easy DIY gift ideas require no special skills and turn out beautifully. There's something for everyone, including body care gifts, homemade candles and other gifts for the home, culinary gifts like vanilla extract and chai tea mix, and more.
But first, I have a few tips based on my successes (and failures!) in DIY gift making:
Tip #1: Plan 2-3 projects at the very most
That way you can enjoy the gift making process without feeling overwhelmed. Plus, thoughtfully purchased gifts are a joy to give as well – here are 100+ ideas for everyone on your list.
Tip #2: If you can, make plans to sip something delightful with friends or family and make gifts together
In other words, plan a gift making party. Use these instructions and substitute gift recipes for food recipes.
Bottom Line: Stick to a few gifts to keep things simple and – most importantly – have fun making them. Now that we have that covered, here are some of my favorite homemade gift ideas.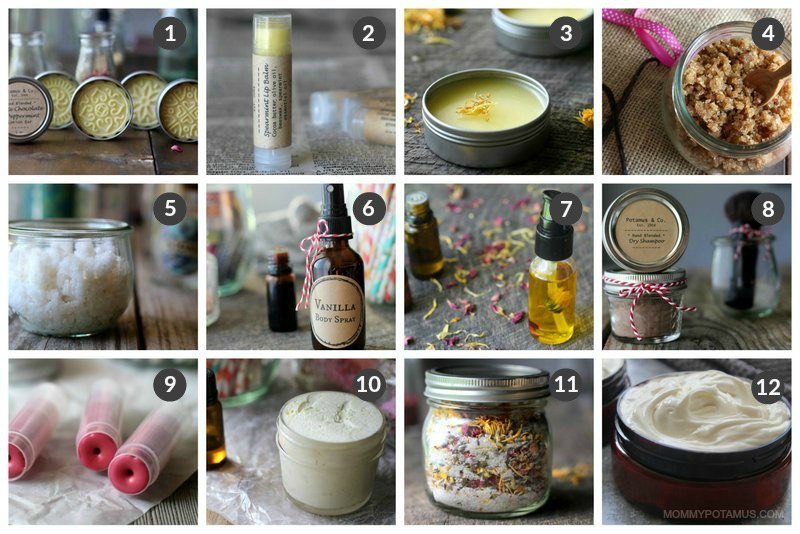 Body Care Gifts
These ideas will nourish your body (and soul) with wholesome, natural ingredients. Oh right, we are talking about gifts to give away. In that case, make a double batch and reward yourself for your thoughtfulness by taking some time in the bathroom ALONE (if you're a mom you know what I mean!).
1. Lotion Bars – Luxurious and silky smooth, lotion bars melt slightly when rubbed against the warmth of your skin, leaving a layer of moisture that softens and protects. They are perfect both in the dry winter months and as a summertime after-sun soother. Many people find them especially helpful for dry patches on elbows, knees, feet and hands. I keep one in my purse, another one in a soap dish next to the kitchen sink for after I wash dishes, and a few in my pantry to give away.
2. Lip Balm – This tried-and-true, super easy lip balm recipe moisturizes and protects with beeswax, natural cocoa butter and coconut oil. While it's very soothing to chapped lips, it's also light enough to be worn year-round.
3. Calendula "Everything" Salve – Because it's so versatile, I call this easy formula my "everything" salve. I use it as a face moisturizer, chapped-lip balm, baby bottom balm, owie salve, burn salve and bug bite balm. Makes a great gift for a mom to keep in her purse!
4. Sugar Cookie Body Scrub – Sugar contains naturally occurring glycolic acid, which dissolves old, dead skin and makes exfoliating that much easier. This sugar scrub exfoliates beautifully and smells delicious.
5. Dead Sea Salt Scrub – This lime-infused scrub feels amazing, and it leaves skin soft and dewy. Unlike regular salt, which can be drying, Dead Sea Salt contains minerals which actually hydrate and support skin health.
6. Vanilla Body Spray – This particular recipe has three different variations: One that blends vanilla with the sweet, tropical aroma of ylang ylang, another that contains a hint of sweet orange, and one that incorporates the rich aroma of coffee.
7. Nourishing Rosehip Face Serum – This blend contains ingredients that support skin repair and renewal, elasticity and firmness, and even skin tone.
8. Dry Shampoo – This technique for "washing" my hair on days I technically have to skip the suds is one of my favorite tips to share with busy moms. It's called dry shampoo, and it can transform greasy, lifeless hair into locks that are fresh and full of body. It works by absorbing excess oils on scalp and hair, leaving hair looking freshly washed. It's good for all hair types: oily, normal, and even dry when used sparingly – and makes a great gift for busy moms. I love giving this gift with a nice makeup brush for easy application.
9. Tinted Lip Balm – This sheer, blush-colored tinted lip balm moisturizes and protects, but is light enough to be worn year-round. It's super easy to make, too, and you can use your leftovers to make powdered blush in under 5 minutes.
10. Whipped Tallow Balm – Tallow balm is uniquely compatible with our skin's biology, leaving it supple and nourished after use. It's perfect as a daily face and body moisturizer, or as a soothing balm for dry/chapped skin, diaper rash, sunburns, and eczema.
11. Relaxation In A Jar (Bath Salts) – This easy homemade bath salt recipe is made with magnesium, the "Magic Mineral" that helps with stress, detoxification & maintaining healthy energy levels.
12. Whipped Body Butter – After testing countless variations and hearing "Mama, can I eat that?" on more than one occasion, I'm sharing my absolute favorite whipped body butter recipe with you. It's not greasy, leaves skin feeling so soft, and is super simple to make.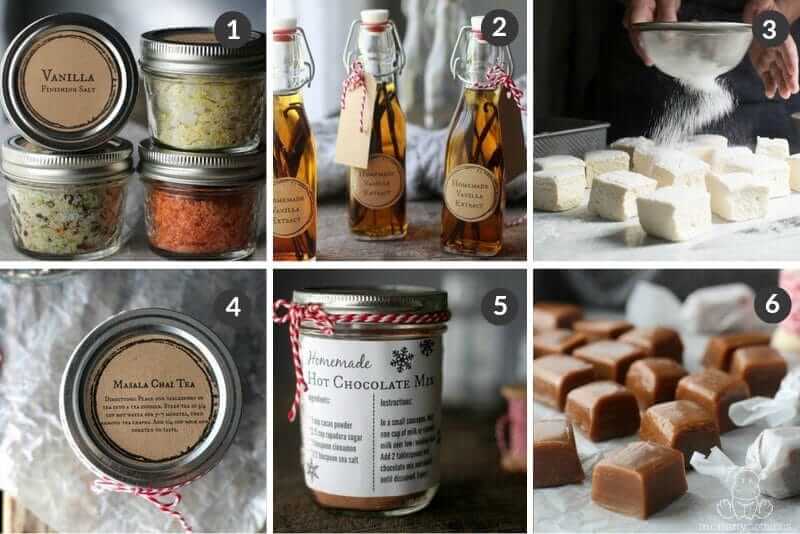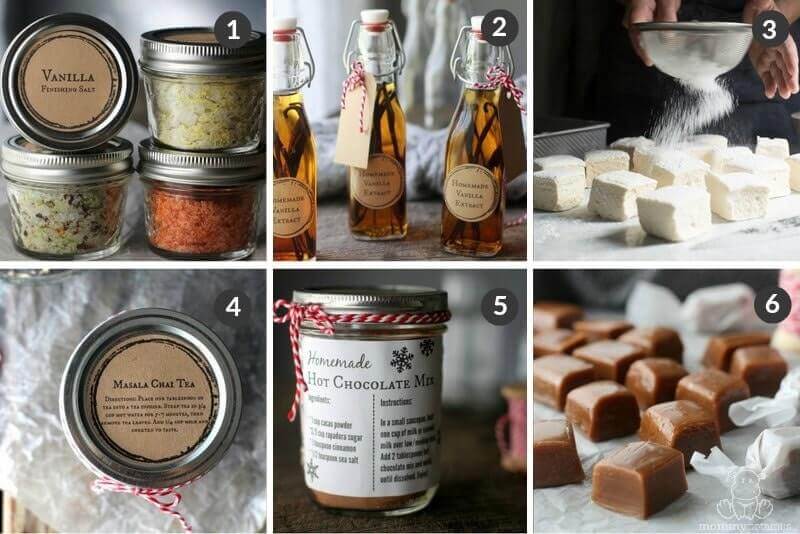 Gift Ideas For People Who Love Food
1. Flavored Finishing Salts – Tuck these in a box for a simple and elegant edible gift, or wrap a single jar in brown craft paper with a simple bow. Give as a housewarming gift, hostess gift, or holiday set, but make sure to keep some for yourself as well!
2. Homemade Vanilla Extract – With just a few minutes of your time now and six weeks for the extract to ripen, you'll have amazing homemade gifts that will bring warmth and joy to special events. Tip: Although it's ideal for the vanilla to be completely ready when given, sometimes it's not practical. If the extract needs a few more weeks, I sometimes give it with "Open me on January 1st" (or whatever date is appropriate) written on the gift tag.
3. Homemade Marshmallows – These light, fluffy marshmallows are made with real, wholesome ingredients, and they're SO GOOD! I like to package mine in a pastry box wrapped with red and white baker's twine.
4. Masala Chai Mix – Makes a great gift with a tea infuser basket or mug infuser. There's a free printable gift label included in the post, too. You can also make a powdered version that can be mixed with black tea to make instant chai.
5. Hot Chocolate Mix – Put this hot chocolate/hot cocoa mix in a mason jar with some butcher's twine wrapped around the lid and – voila! – you have an instant gift that just about everyone will love.
6. Homemade Caramels – Soft and chewy, these homemade caramels are made with just 2 ingredients.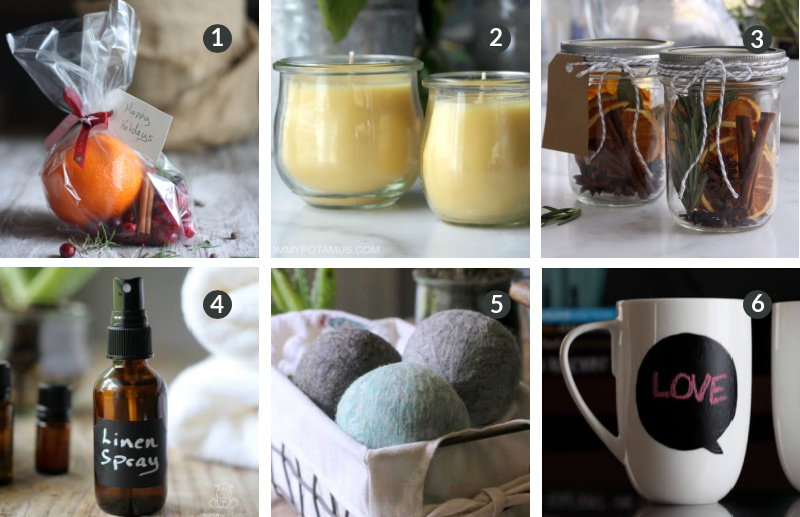 Homemade Gifts For The Home
1. Simmering Holiday Stovetop Potpourri – Infused with cranberries, oranges, cinnamon and more, this recipe makes a thoughtful, simple gift for a holiday or housewarming party. Just tie up a batch with a bow and voila, you're done!
2. Beeswax Candles – These candles are so much easier to make than they look and they smell like honey (and essential oils if you add them) when they're lit.
3. Simmering Stovetop Potpourri for Fall – Beautiful when packaged in a simple mason jar, this recipe creates a lovely, cozy scent that smells like freshly baked autumn deliciousness.
4. Linen Spray – This homemade air freshener and linen spray is reminiscent of line-dried sheets, ripe lemons and lavender, plus deeper notes like pine and sandalwood.
5. Wool Dryer Balls – They reduce drying time, soften clothes without chemicals, and save money.
6. Chalkboard Mugs – These cozy coffee mugs are perfect for the odd game of tic-tac-toe. an inspiring word for the day, or a whimsical doodle. These erasable chalk pens are my favorite to write with.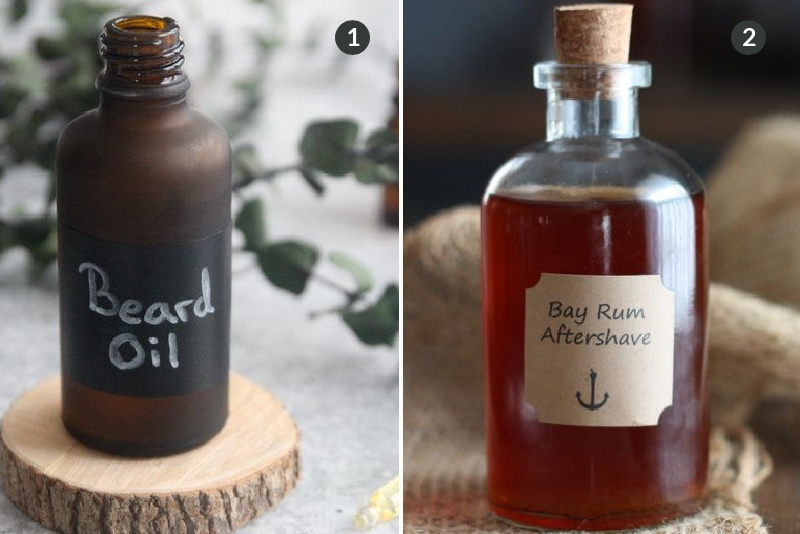 Gifts For Men
1. Beard Oil – There's no Hallmark card for "I want to kiss you every day of my life but your beard is giving me road rash, " but there is this beard oil.
2. Bay Rum Aftershave – Clean and woodsy with spicy notes and a hint of citrus.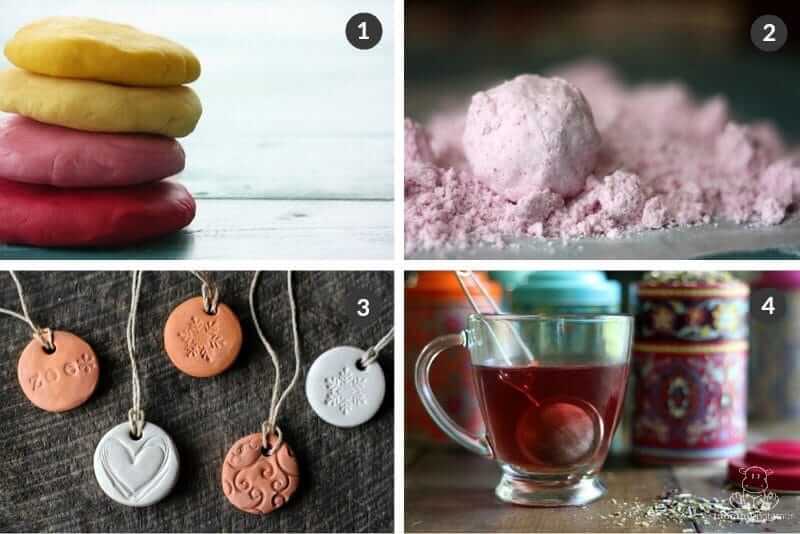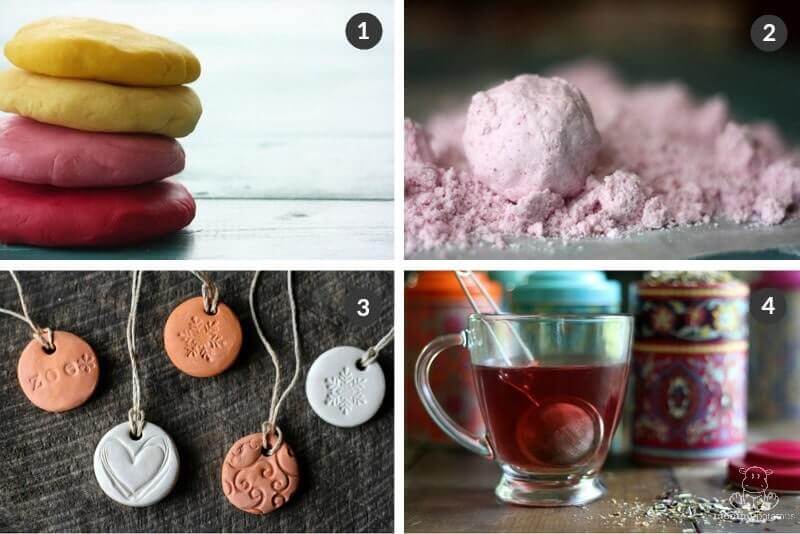 Handmade Gifts For Kids
1. Play Dough – Made with natural dyes found in your kitchen, this easy recipe makes a great stocking stuffer or kid's holiday gift.
2. Moon Sand – It's squishy yet crumbly. You can mold with it or smash it to smithereens. Kids love it, and you can make it in under 10 minutes from stuff you already have in your pantry.
3. Essential Oil Diffuser Necklace – Use kid-inspired stamps to decorate this necklace and – if desired – include a bottle of lavender essential oil.
4. Sweet Dreams Tea – This blend contains calming herbs that help kids drift off to sleep gently.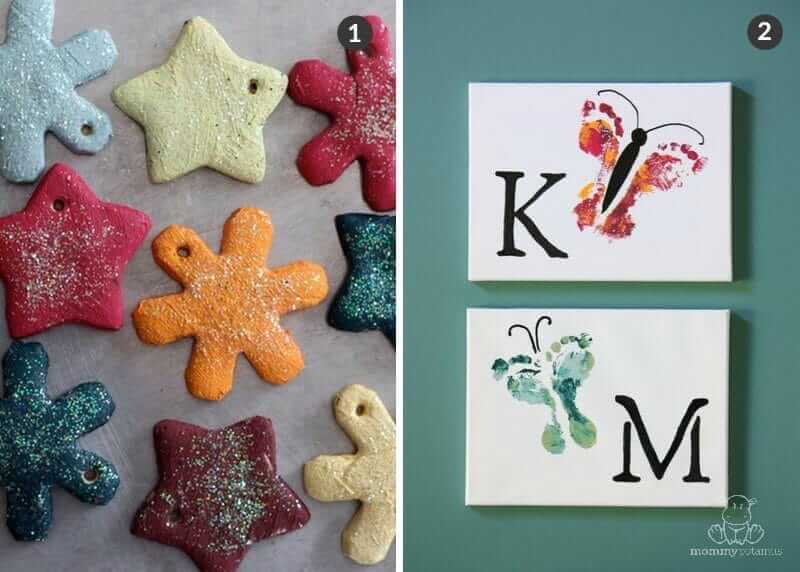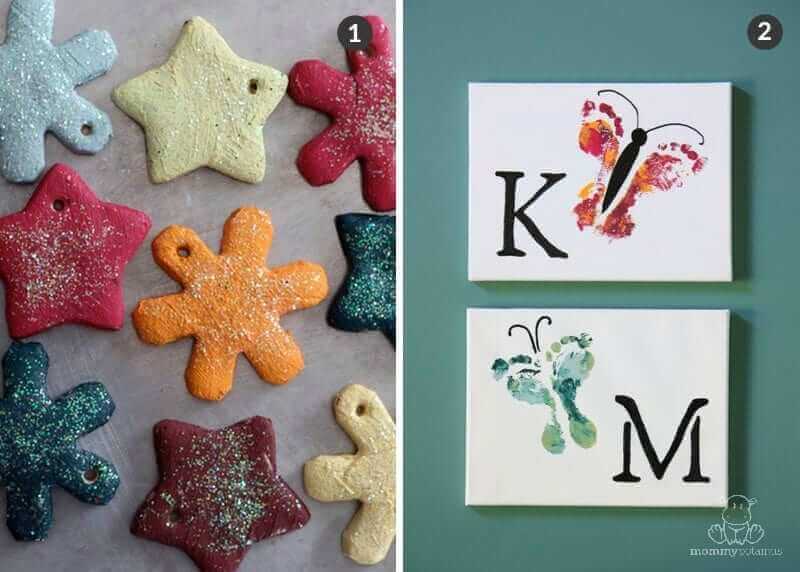 Gifts For Grandparents
1. Salt Dough Ornaments – A boxed set would be perfect for grandparents, and you can make a few extras as a keepsake for yourself. If someone in your family is sensitive to gluten, you can find a gluten-free salt dough recipe here.
2. Butterfly Footprint Art – Turn your little ones footprints into canvas wall art.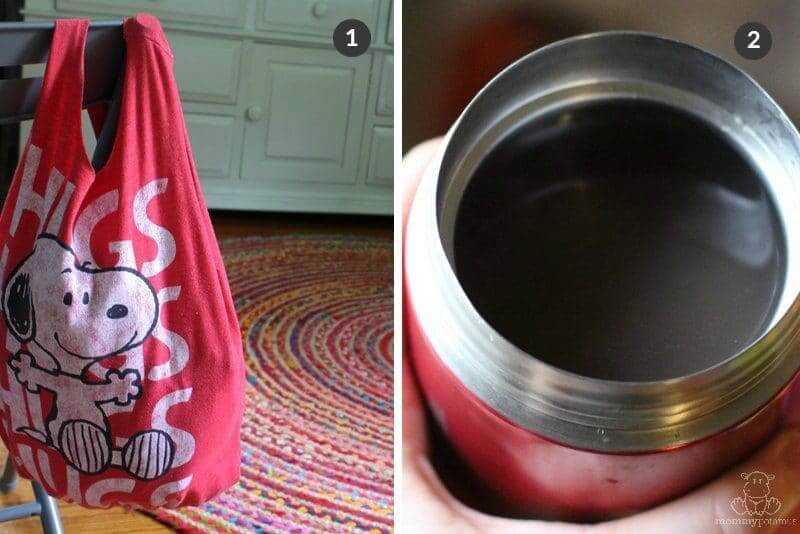 Miscellaneous Gifts
1. T-Shirt Tote – I like to use this tote as a gift bag filled with candles, my favorite salami, a bottle of wine, etc. You'll find a step-by-step photo tutorial for making it in the article.
2. Happy Adrenal Tea – This blend contains herbs that help the body adapt to stress and are considered beneficial for all personality types.