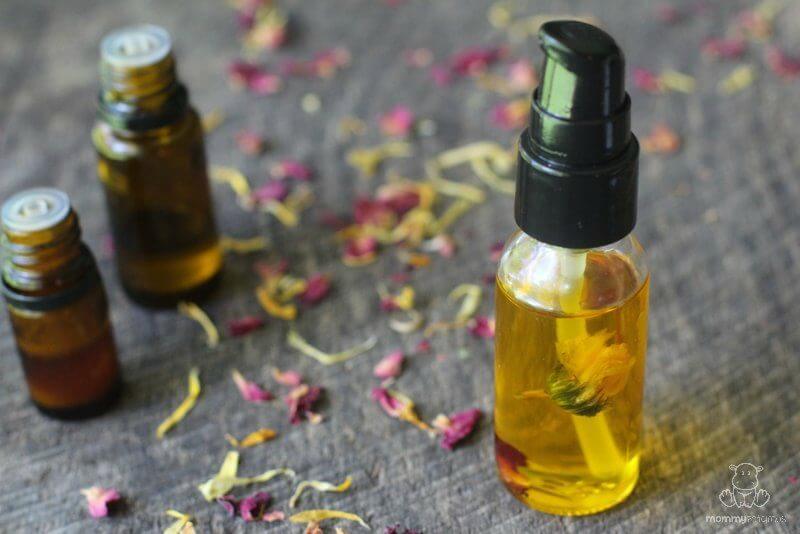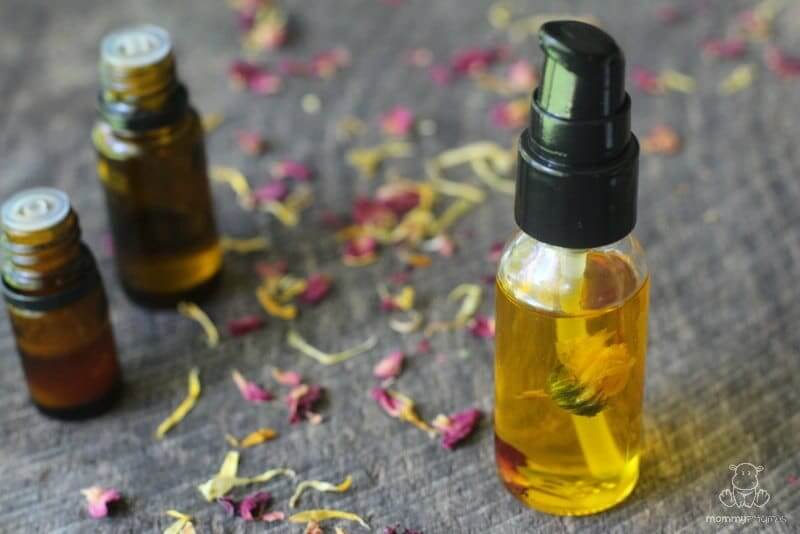 "Be your own kind of beautiful" <- I'd never heard those exact words until a few years ago, but thanks to my mom I've seen them lived all my life.
So, I am beautiful when I'm laughing till I cry with my toddler . . . even when I haven't showered in two days. And I am beautiful when I'm crying with my eight-year-old over the last chapter of Anne of Green Gables, or (yes I'm admitting it) a sappy commercial, mascara smears and all.
So, before I share an amazing face serum recipe with you that promotes collagen production, hydrates and plumps skin, helps to even skin tone and fade brown spots, supports scar healing, soothes eczema and psoriasis, and makes skin glow, let's just get one thing out of the way.
You are beautiful.
Yes, this is really good stuff, but I am so over ads telling us we need x,y, or z to feel beautiful, so I wanted to clear that one thing up before we jump in. I hope you love this serum as much as I do, and that it makes you feel like the best version of yourself: radiant and nourished. Ready now? Good.
This two-ingredient recipe is so easy to make, and because it's a "dry" oil that absorbs easily, it's ideal for both morning application (before makeup if you're putting some on) and in the evening before diving into bed. Here's what it contains:
Ingredient #1: Rosehip Seed Oil
Cold-pressed from the seeds of a wild forest rose found mostly in Chile, rosehip seed oil has been shown in studies to support skin repair, elasticity and firmness. (1)
It also helps even out skin tone, particularly brown spots, say researchers from the University of San Marcos (2) This is probably no surprise to locals in the Chilean Andes mountains, who have long regarded it as a healing oil.
So what makes rosehip seed oil so exceptional?
The short version: It promotes collagen production, hydrates and plumps skin, helps to even skin tone and fade brown spots, supports scar healing (including stretch marks), and soothes eczema and psoriasis.
The long version: It contains trans-retinoic acid, which is a derivative of vitamin A. If you're not familiar with the benefits of topical vitamin A for skin, one worth mentioning is that it stimulates collagen production. (3) So yeah, it's kind of important.
Although synthetic vitamin A (in the form of retinol, retinyl palmitate, etc.) is sometimes touted as an "anti-aging miracle worker," I don't consider it a good option for many reasons. Before we get into the details, I just want to say that I don't personally embrace the term anti-aging. I am pro feeling beautiful at every age. For me, part of that means taking care of myself inside and out.
Okay, back to the problems with synthetic vitamin A. First, it often comes with side effects like burning, redness, itching and peeling. Second, according to The Environmental Working Group, a US government study recently found that a synthetic form of vitamin A – retinyl palmitate – may actually accelerate free radical damage when applied to the skin.
In contrast, the natural vitamin A derivative found in rosehip seed oil comes with complementary cofactors that prevent it from being irritating – quite the opposite, actually! Rosehip seed oil is so gentle it's considered appropriate for all skin types, even acne prone and very sensitive skin, and it's often used to support healing for sun damaged skin. (1)
Why the difference? According to Dr. Campbell McBride, author of Gut & Psychology Syndrome, the body "has been designed to use natural forms of these nutrients and often does not recognize the synthetic forms and does not know what to do with them."
Now back to those cofactors I mentioned earlier: Rosehip seed oil is incredibly rich in essential fatty acids. Over 70% of the oil is comprised of two in particular – linoleic and linolenic acid – which improve hydration and skin elasticity. (4)
It also contains a significant amount of vitamin C, which is essential for collagen synthesis. (5)
To recap, these vitamins and and nutrients work synergistically to:
Support scar healing (including stretch marks)
Promote the production of collagen
Help skin maintain moisture and plumpness
Even skin tone, particularly brown spots
Soothe eczema and psoriasis
Ingredient #2: Essential Oils
For this recipe I've selected oils that support skin repair and renewal, elasticity and firmness, and even skin tone. Some, such as helichrysum italicum, carrot seed, geranium, frankincense, rosewood and myrrh are also considered helpful for scars.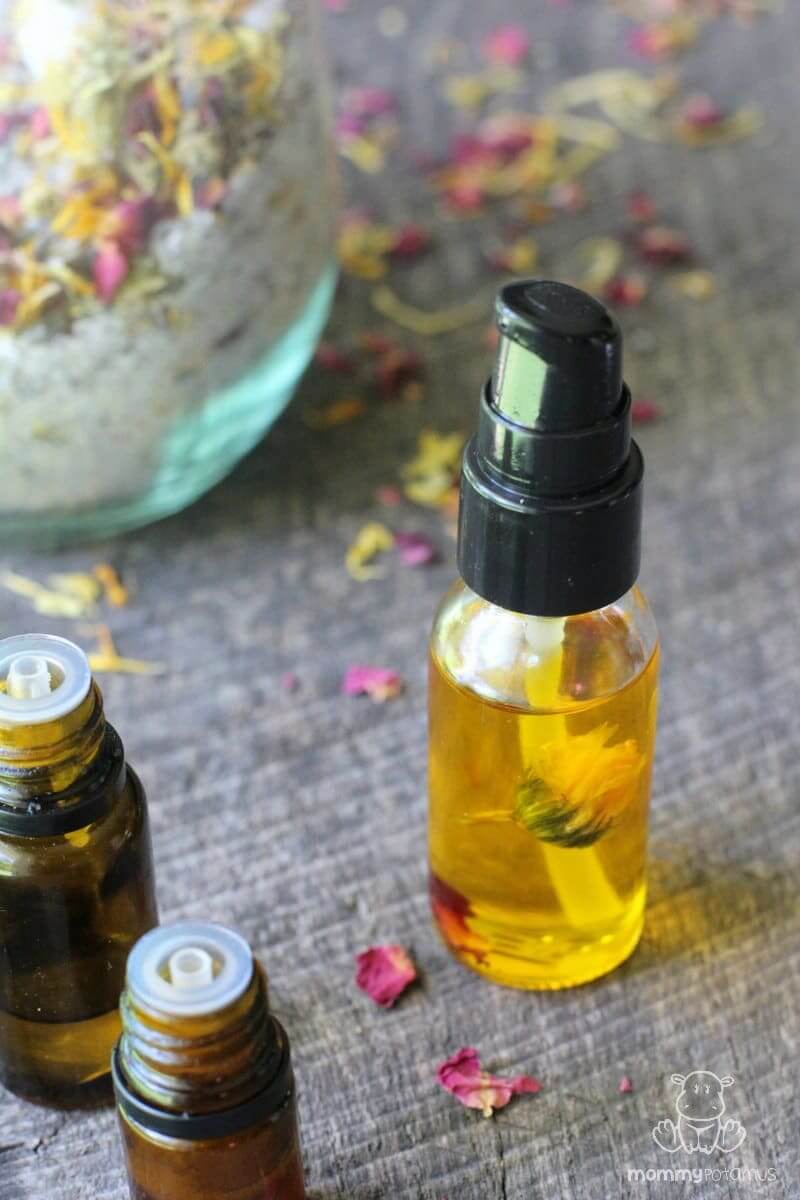 DIY Hydrating Face Serum Recipe
This face serum recipe contains cold-pressed rosehip seed oil, which researchers say promotes collagen production, helps to even skin tone, fades brown spots, supports scar healing, and makes skin glow.
Ingredients
6-12 drops (or a combination of) one of the following essential oils or essential oils:
Instructions
To Make
Add rosehip seed oil and essential oil drops to a container – I prefer a measuring cup because the spout makes it easier to pour.

Stir the oils together and transfer your serum to a small, clean, airtight bottle. I use a 1 oz. glass bottle with treatment pump that I recycled, but you can find similar ones here and here.
To Use
Apply to your face and neck before bed. Because it is a dry oil that absorbs quickly, you can also apply it in the morning if desired.
FREE Ebook: DIY Body Care Gifts Made Simple
Do you want to give gorgeous, handcrafted gifts for family and friends, without spending a bunch of time on them?
Then I'd love to give you a free copy of DIY Body Care Gifts Made Simple – my step-by-step guide to making gorgeous handcrafted gifts without stressing yourself out – as a gift for signing up for my newsletter. I'll show you how to make vintage labels, luxurious lotion bars, lip balms, sugar scrubs, body sprays and more like a pro. Sign up for my newsletter and you'll be redirected to the download page immediately!
Sources