What's 6,000+ years old, known all around the world
. . . and directly tied to your cerebral cortex? Why aromatherapy, of course. The first documented form of aromatherapy comes from ancient Egypt, where aromatic plants were infused into oil to produce perfumes and medicine. (source)
As we talked about in my post about how to make diffuser necklaces, smells are not only linked to our cerebral cortex (which controls higher functions like cognitive performance, learning, and focus), but also to our limbic system. The limbic system is the intuitive part of our brain that holds our emotions and memories, which is why we can pick up a box of Crayola crayons and instantly be transported back to childhood.
Because of their ability to motivate and inspire us, stores often pipe in fragrances to put us in the mood to buy things. While I'm not a huge fan of that approach, especially considering how toxic synthetic fragrances are, I'm more than happy to use essential oils to motivate and inspire myself, help calm my children, and support health.
In this post I'm going to show you how to make a diffuser bracelet so that you can carry the benefits of essential oils wherever you go. But first, you're probably wondering . . .
How do I use a diffuser bracelet?
To use your bracelet, place a small amount of essential oil on 1-3 of the clay beads. Make sure to apply the oil on the part of the bead that faces away from your skin. Because essential oils are very concentrated, it's best to avoid applying them directly to skin undiluted except in very specific situations. For example, lavender can sometimes be helpful when applied neat to a small, minor burn.
Here's my method: I place one drop of essential oil on a plate and dip the outside of each clay bead in it. When the smell fades I add more essential oil to the bracelet. Some oils have quite a bit of staying power and can last for several days, while others will fade more quickly.
How To Make A Diffuser Bracelet For Essential Oils
Supplies
Air dry clay in the color of your choice – Find terra cotta here and white clay here
Decorative beads ( I used these Amazonite stone beads in the 14 mm size. They come in 15 inch strands.)
Small stamps (Optional – I used some alphabet letter stamps to add initials to my bracelets)
Memory coil (use the thickest possible coil that will fit through your beads)
Needle-nose pliers for jewelry (Mine are similar to this and worked fine, but these would work even better)
Wire cutters (like these)
Glue (Superglue or hot glue would work. Even clear Elmer's might work)
Wax paper
Toothpicks or skewers (Optional, only needed if you are making beads)
Directions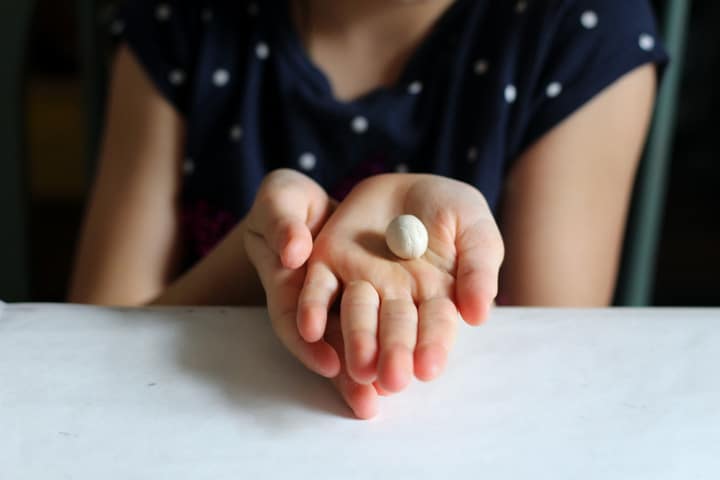 Take a pinch of clay and roll it into a ball that is about the same size as your other beads.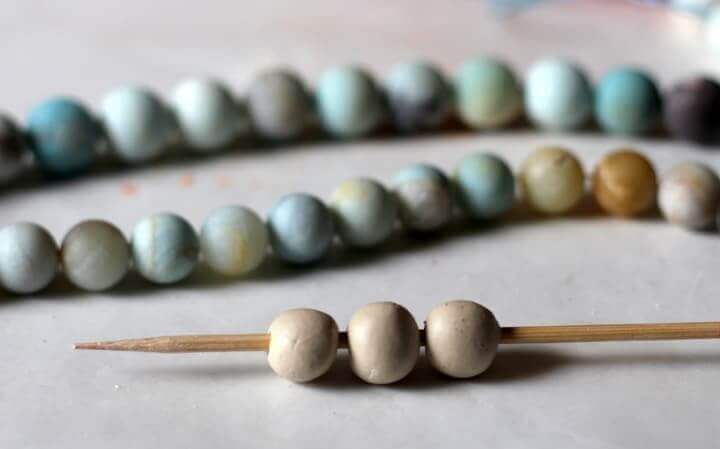 Using a toothpick or wooden skewer, poke a hole through the center of the bead. If desired, press gently with stamps to add design. I used some alphabet letters to add initials to the beads. Allow beads to dry for 24 – 48 hours.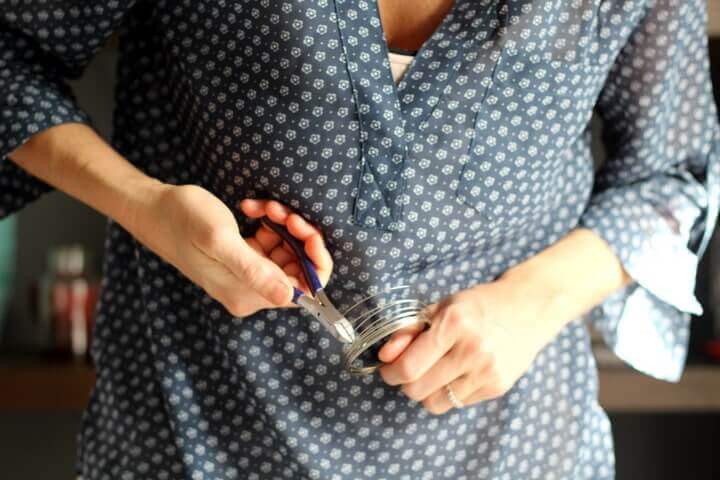 Measure your wrist (or guesstimate wrist size if this is a gift). Then use the wire cutters to trim off a piece of memory coil for your bracelet. Make it a little longer than you think you need because the beads will slightly reduce the overall circumference of the inside of the bracelet.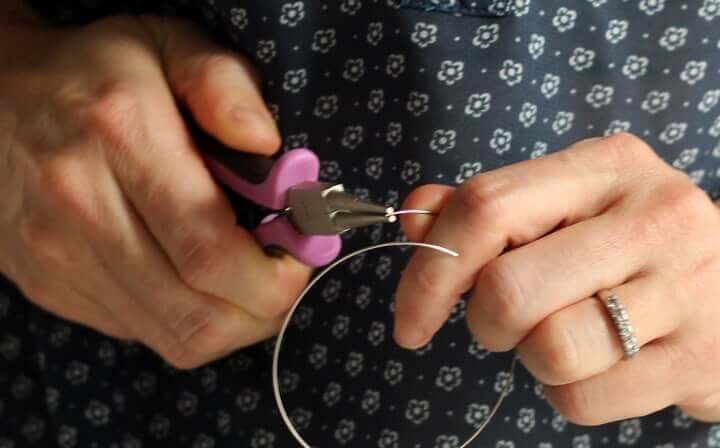 Now grab your needle-nose pliers and use the very tip of the plier to grab the very tip of the memory coil.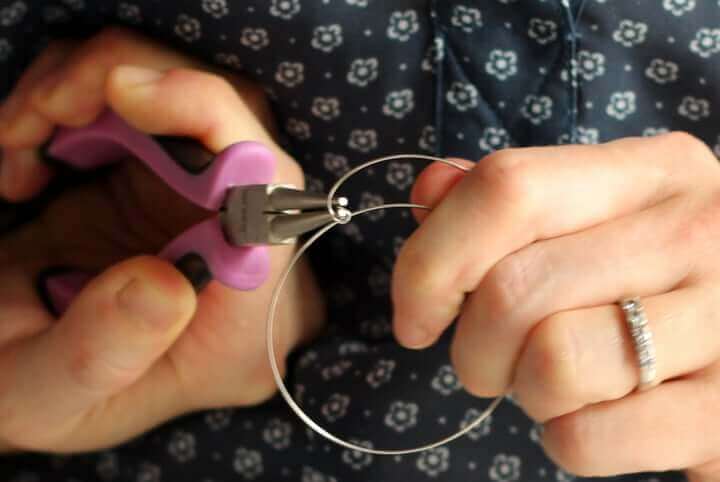 Next, curl the coil into a small circle/oval.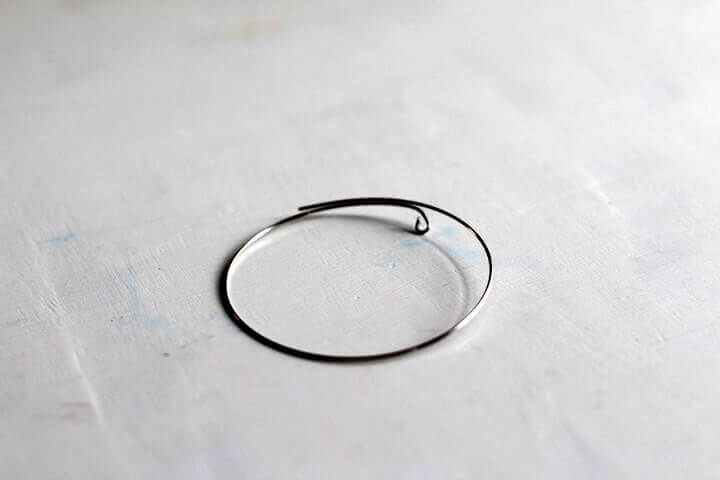 This is what it should look like when you're done.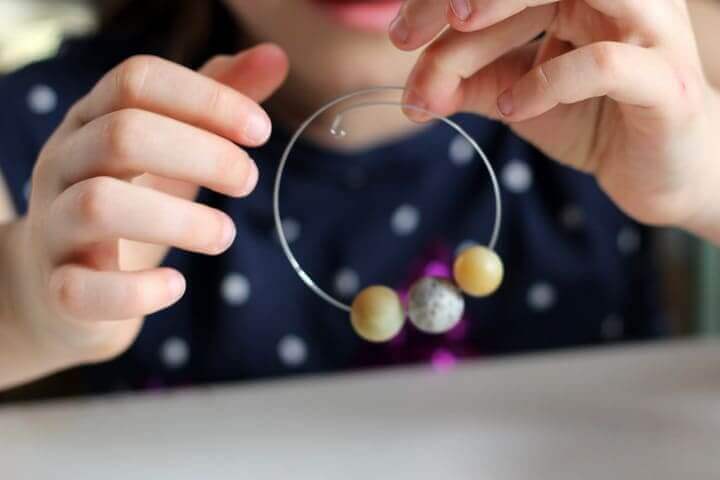 String on your beads, adding the clay beads throughout.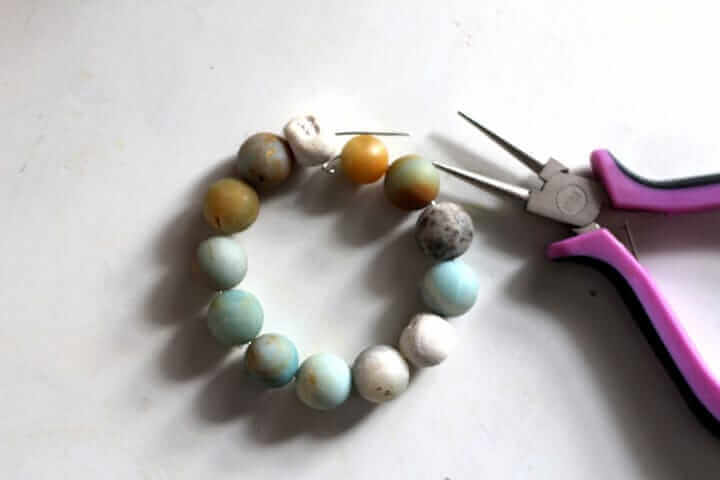 When all your beads have been added your bracelet should look something like this. Now use your needle-nose pliers to create a hook to go through the loop. For a bracelet situated like the one in the photo above, you'll want to bend the wire down toward the table so that the loop easily and naturally slides through the loop.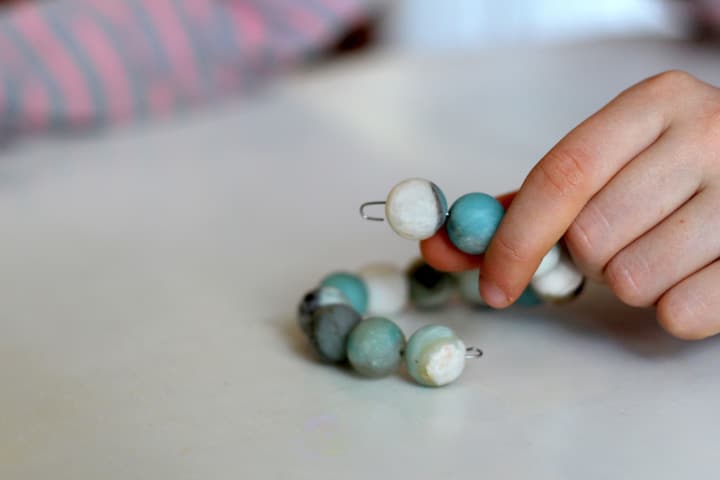 The first time I made these bracelets the memory wire was so thick that they held the beads in place when worn. However, the second set rolled around a little, so I placed a dab of glue between the clay beads and the beads that surround them. To make the glue discreet, I applied it toward the inside of the bracelet where the beads touch. The glue prevents the beads from rolling around when worn. Elmer's clear glue might work, but we make our own craft glue so I didn't have any on hand to test with. We keep superglue for emergencies, so that's what I used.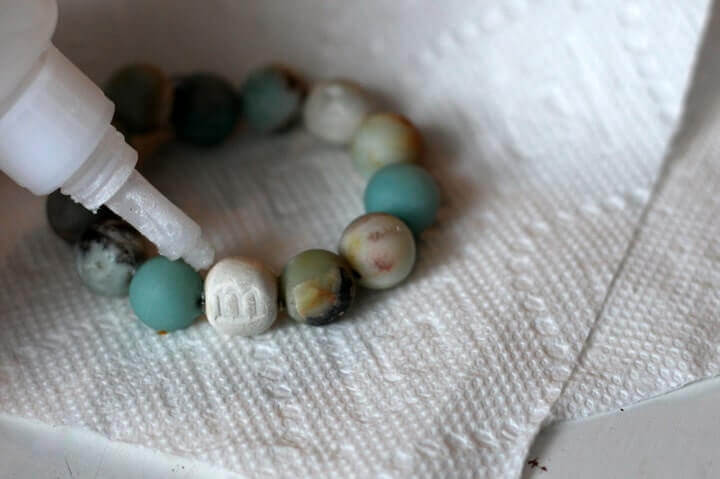 Care Instructions
Do not allow bracelet to come into contact with water.