Warming, slightly spicy, and ready in under five minutes, this homemade chai mix can be made with just a handful of ingredients you probably already have right now. Brew it into a creamy cup of comforting tea in cooler weather, sprinkle it into vanilla ice cream as it churns on your kitchen counter in the summer, or use one of the many other ideas below to bring masala magic to your kitchen.
And now that I've said masala, a quick note on chai, masala chai, and chai tea.
In India, chai is the hindi word for tea, and it refers to a blend of black tea, hot milk and a sweetener like jaggery or cane sugar. The spiced-infused version most of us think of as chai is actually masala chai, or "mixed spice" tea.
So chai means "tea," masala chai mean "spiced tea," and chai tea means "tea tea" which is weird so I try not to say it.
Just like with many beloved recipes, there are spicier and sweeter versions of masala chai. The exact spices used – and their proportions – vary from recipe to recipe, but in general they usually include some mix of ginger, cinnamon, cardamom, cloves, coriander, nutmeg, allspice, fennel, black pepper, and star anise.
Some blends are made with whole spices, but the version below is more of an "instant tea" powder that doesn't require a long steeping time or the need to strain loose tea and spices.
We'll get to the recipe in just a moment, but first here are a few more ideas for incorporating it into your kitchen.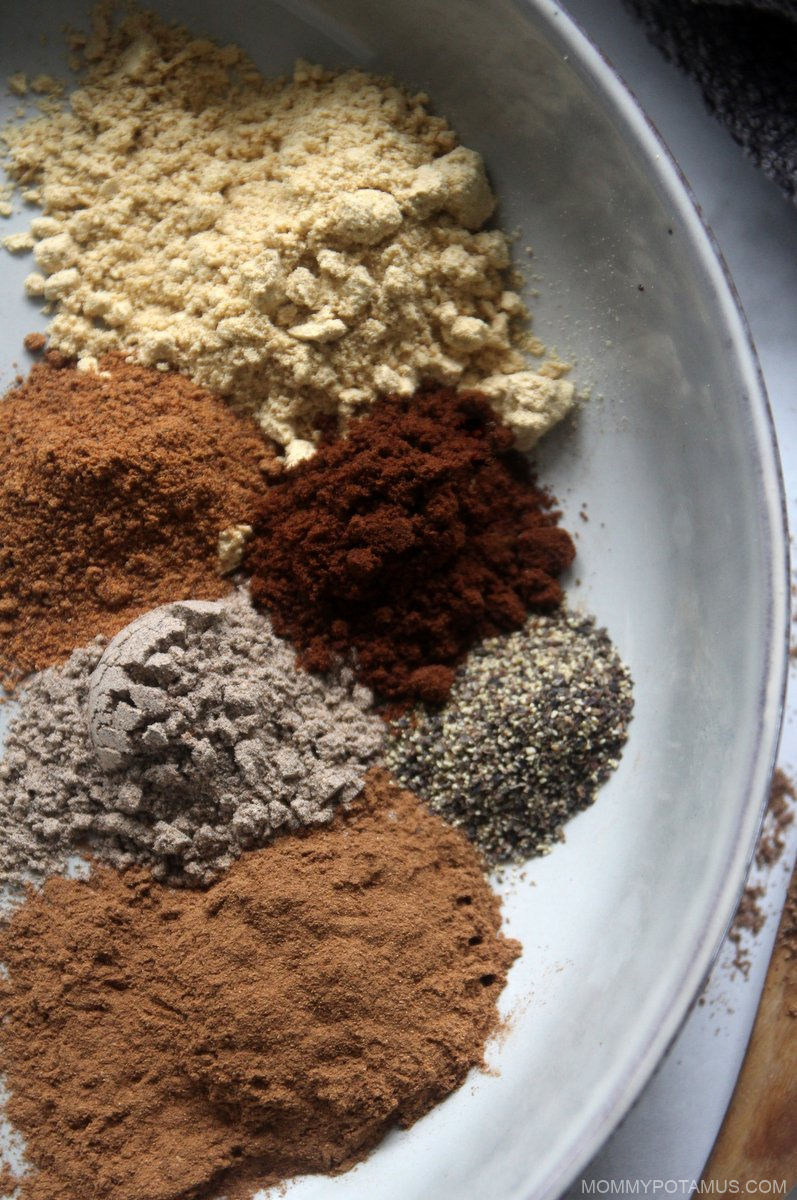 11 Ways To Use Chai Spice Mix
DIY Chai Spice Mix Powder Recipe
This masala chai mix is spicy, warming, balanced in flavor, and ready in under five minutes.
Instructions
Add all ingredients to an airtight container – I usually use a mason jar. 

Mix with a fork until well-combined. 

Store in a cool, dry place. Spices tend to lose flavor over time so I try to use blends within 3-6 months. 
Nutrition
Calories:
78
kcal
|
Carbohydrates:
19
g
|
Protein:
2
g
|
Fat:
2
g
|
Saturated Fat:
1
g
|
Trans Fat:
1
g
|
Sodium:
13
mg
|
Potassium:
232
mg
|
Fiber:
9
g
|
Sugar:
1
g
|
Vitamin A:
56
IU
|
Vitamin C:
4
mg
|
Calcium:
154
mg
|
Iron:
3
mg
Vanilla Chai Latte Recipe
3/4 cup milk of choice (cow's milk, almond milk, coconut milk, or cashew cashew milk. If making iced chai, you can also use oat milk, too.)
1/2 cup water
1-1.5 tsp chai spice mix
1-2 black tea bags (depending on how strong you like your tea)
1/4 teaspoon vanilla extract
Maple syrup or preferred sweetener to taste
Cinnamon stick or star anise for garnish (optional)
Hot Masala Chai Instructions
1. Add water and milk to a small saucepan. Sprinkle 1-1.5 teaspoons chai spice mix (depending on how much flavor intensity you prefer) evenly over the surface. It doesn't have to be spread perfectly, it just helps to prevent clumping when you whisk.
2. Whisk everything together until well combined.
3. Heat pan to a simmer. As soon as it starts simmering, remove it from heat and add vanilla extract and 1-2 black tea bags.
Cover the pan with a lid and allow the tea to steep for 5-10 minutes.
Once the tea is done steeping, remove the tea bag or strain the liquid into a mug.
5. Add sweetener to taste.
Optional Step: Optional step: Froth with a milk frother and/or garnish with a cinnamon stick or star anise if desired.
Iced Chai Instructions
1. Boil 1/2 cup of water and pour it over the black tea bag (or bags if you're using two). Cover the mug with a small plate and allow it to cool to room temperature.
2. Add brewed tea, milk, 1 teaspoon chai mix, and vanilla to a blender and blend until well combined.
3. Add your preferred sweetener and blend again, adding more chai mix or sweetener if needed.
4. Pour over ice and serve.
More Delicious Tea Recipes
Roasted Dandelion Root Tea – This rich, creamy tea is so delicious that I always make a double batch – one cup for me, and one to replace that cup when my littles steal away its deliciousness. It's helpful for balancing hormones and detoxification, and it's also rich in minerals and other nutritive compounds.
Elderberry Tea – Here's how to make dried elderberries – which contain flavonoids and anthocyanins that support the immune system, help the body absorb vitamin C, and more – into a nourishing tea.