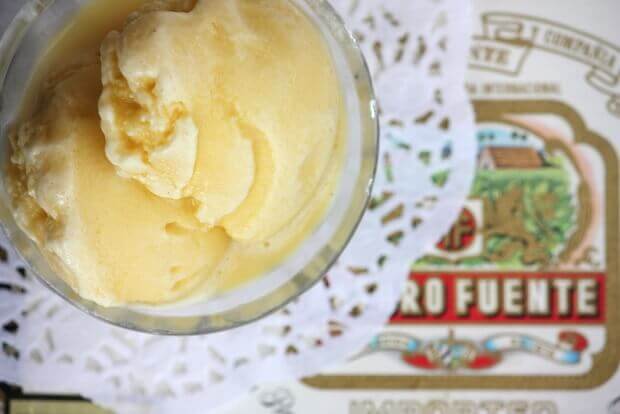 This freshly churned delight . . .
Is rich in wholesome fats, lauric acid (a nutrient found in mother's milk that is anti-viral, anti-bacterial, anti-microbial and anti-fungal), collagen replenishing copper plus manganese, phosphorous, iron, magnesium, selenium and more.
It has a soft-serve consistency that kids – and adults – love, so go ahead and indulge. Let your mind wander back to hot summer days by the pool, or lazy afternoons in the hammock with a soft breeze, sun-dappled light and a good book. Relish each spoonful . . . and by all means feed it to your kids! Phosphorous and magnesium are vital in helping growing bodies absorb and use calcium. And as a bonus your kids just might start introducing you to random strangers with the phrase "This is my mommy. She makes ICE CREAM!" So yeah, there's that. 🙂
Coconut Milk Ice Cream Recipe
Instructions
Method 1 (Extra creamy version):
In a medium pot whisk egg yolks, honey, and salt together. Add coconut milk and whisk again until well combined.

Place pot on stove over medium heat, stirring constantly, for 8 minutes. Be sure not to let the mixture boil. Remove pot from the heat and stir in vanilla.

Transfer contents of pot to a bowl and chill until cold. Process mixture in an ice cream maker (

like this one

) according to manufacturer's instructions then transfer to a container with a lid and freeze until firm (1-2 hours).
Method 2 (Soft serve version - ready in a jiff!):
In a large bowl whisk yolks, honey, vanilla and salt together. Add coconut milk and whisk again until well combined.

Transfer mixture to an ice cream maker and process according to manufacturer's instructions.
Bon appetit, y'all!