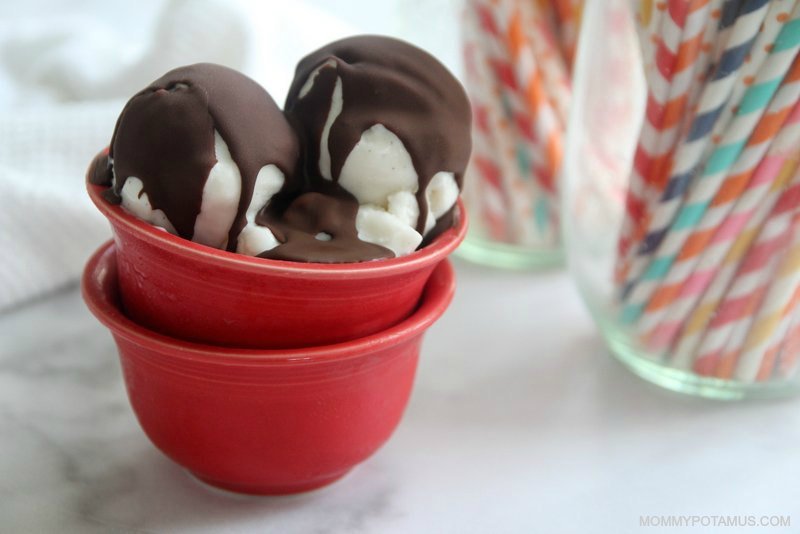 Remember Magic Shell, the chocolate syrup that hardens when you pour it over ice cream? This copycat magic shell recipe is deliciously rich and smooth. I love drizzling it over a scoop of coffee or vanilla ice cream, but it also makes a great chocolate shell dip for frozen bananas, strawberries and popsicles.
Making magic shell is super easy, too . . . just melt 2-3 ingredients together and you're done!
So, what's in homemade magic shell?
There are two ways to make it, and I'm going to share both so that you can hopefully use the ingredients you have on hand.
Semisweet chocolate chips + Coconut oil = Pure chocolate shell deliciousness
Cocoa powder + Maple Syrup + Coconut oil = Also pure chocolate shell deliciousness
Basically, the difference between these two is that in the first one you're thinning chocolate with coconut oil, which is what helps it harden, and in the second one you're making a slightly runny chocolate syrup that doesn't need to be thinned.
I personally like the one made with chocolate chips a bit more, but I've had NO complaints about either version from my little taste testers.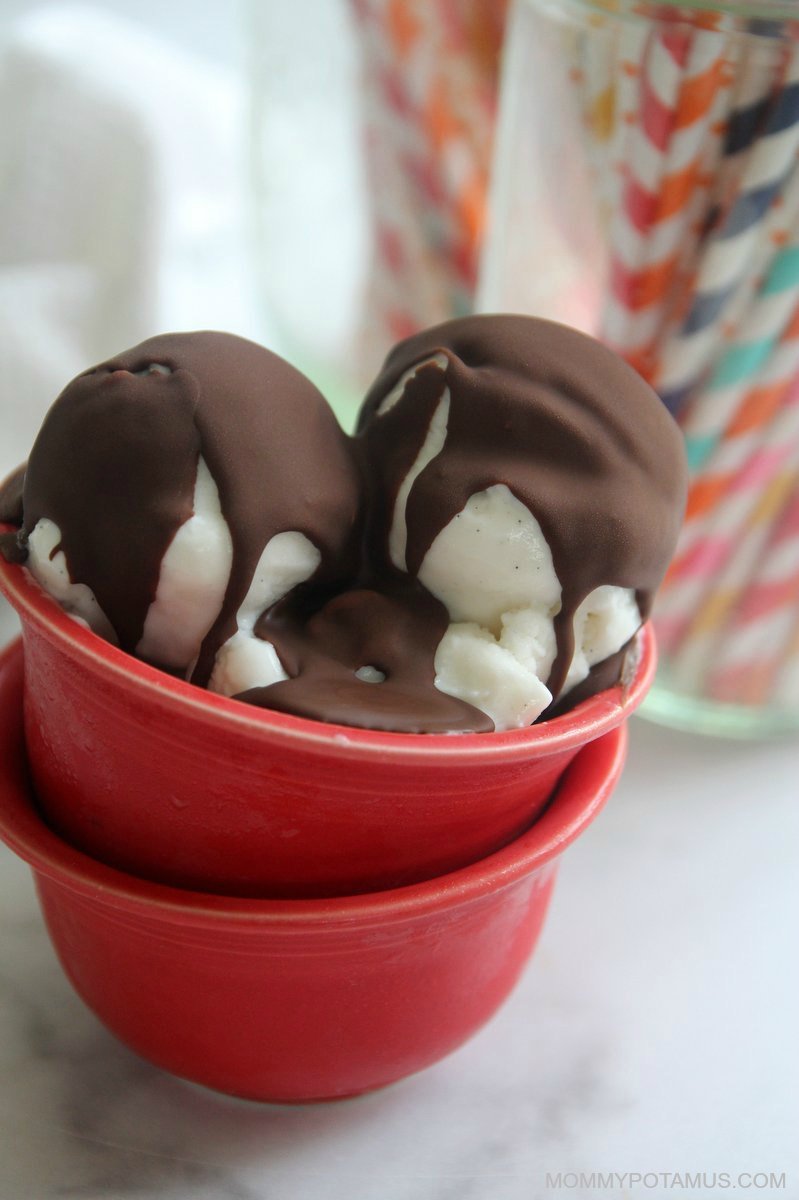 Homemade Magic Shell Recipe
This easy magic shell recipe hardens into a deliciously rich and smooth chocolate shell when drizzled over ice cream. You probably already have  the ingredients to make it in your pantry right now!
Equipment
double boiler (or stainless steel bowl and a pot large enough to set it in)

fork

ice cream scoop

airtight storage container
Instructions
Create a double boiler by placing a stainless steel bowl or small pot inside a pan of simmering water. Put the chocolate chips and coconut oil in the bowl (or small pot) and stir with a fork until the coconut oil is mixed in.

Continue stirring every 20-30 seconds until the chocolate and coconut oil are fully melted. Remove the pan from heat and lift the bowl/small pot out of the pan and set it aside to cool a little.

Scoop ice cream into bowls. When the ice cream is ready, drizzle the magic shell over the ice cream. If you have any left over, you can store it in an airtight container at room temperature for up to one year.
Notes
Magic Shell Recipe (Version 2)
Ingredients
Instructions
Place  the coconut oil in a pan and melt over low heat.
Remove the oil from heat and add the cocoa powder and maple syrup.
Stir until thoroughly mixed.
Pour over ice cream and serve.
Nutrition
Calories:
145
kcal
|
Carbohydrates:
10
g
|
Protein:
1
g
|
Fat:
11
g
|
Saturated Fat:
8
g
|
Cholesterol:
1
mg
|
Sodium:
2
mg
|
Potassium:
109
mg
|
Fiber:
2
g
|
Sugar:
7
g
|
Vitamin A:
10
IU
|
Calcium:
12
mg
|
Iron:
1
mg
More Ice Cream Inspired Recipes
Caramel Sauce – This 4-ingredient recipe makes a yummy ice cream topping. If you're dairy-free, I have another caramel recipe created just for you.
Cookie Dough Ice Cream Bars – Grabbing a spoonful of cookie dough before it gets popped into the oven is the BEST part of making cookies, right? In this egg-free, grain-free recipe, I've skipped the baking part and paired chocolate chip cookie dough with creamy vanilla ice cream because, YUM.
Brownie Ice Cream Cake – I haven't tried it yet, but this recipe from Adriana of Living Healthy With Chocolate is on my list of must-make recipes. Looks delish!
Want more delicious, easy recipes?
No problem, I've created a free ebook for you – 35+ Gluten-Free Desserts – as a gift for signing up for my newsletter. Every Sunday you'll get recipes, actionable health tips, and highly-vetted product recommendations delivered fresh to your inbox.
Sign up using the form below.