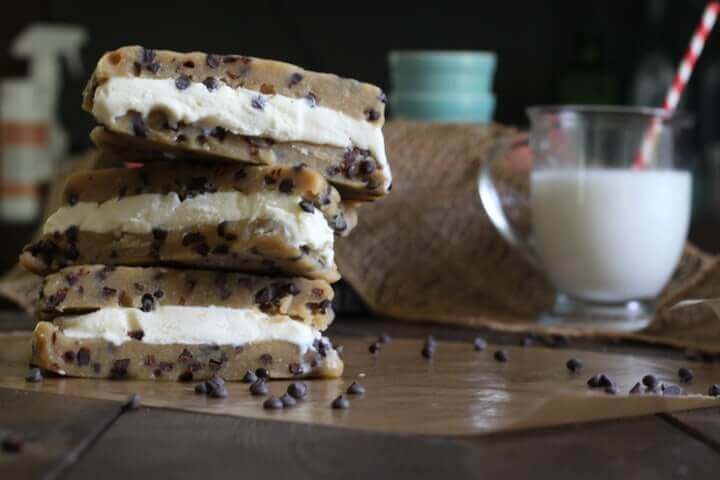 So, my husband might be an alien. Everyone knows that eating cookie dough is better than eating actual cookies – it's practically a law of the universe, like thermodynamics and general relativity, But when I told him I was making cookie dough ice cream bars he looked at me and said, "Why would you want to do THAT?"
See? Alien. I'm going to look in the barn for pieces of his crashed spaceship when he goes to sleep tonight.
Because seriously, the best part of making cookies is sneaking a little of the dough before it gets popped into the oven.
Inspired by that moment of joy from childhood, this egg-free recipe pairs browned butter cookie dough with the creamy goodness of vanilla ice cream. Enjoy!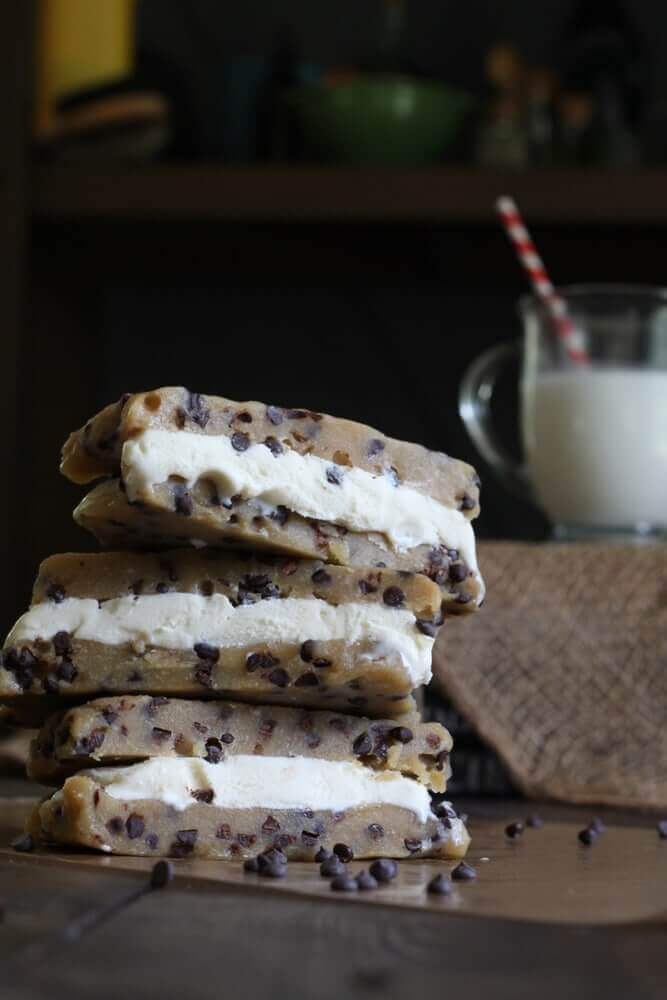 Cookie Dough Ice Cream Sandwiches (Grain-Free)
Equipment
knife

mixing bowl

cookie sheet

wax paper
Instructions
Cut butter into four equal chunks and place in a light colored, shallow pan. Heat pan over medium high heat and stir butter until it is light brown and smells a little like hazelnuts. It's important to watch it closely or it will burn, but browning the butter is what makes the dough so delicious.

See this tutorial

if you're not quite sure what to look for. Allow butter to cool before moving on to the next step or your chocolate chips may melt a little. You can put it in the fridge if you're in a hurry.

Add almond flour, honey/maple syrup, vanilla, browned butter and sea salt to a food processor and mix thoroughly. If you don't have a food processor, add all dry ingredients to a bowl and mix, then add wet ingredient and mix again. I prefer the food processor because the dough is a little more smooth.

Stir chocolate chips into the dough. This step takes a little elbow grease.

On a cookie sheet lined with lightly oil waxed paper, press dough flat into two separate, equal-sized rectangles. Place cookie sheet in the freezer and allow to harden for at least 5 hours. If you can't fit the cookie sheet in the freezer, you can just lay cookie dough layers on the flattest surface you can find in the freezer. It doesn't matter if it's perfectly flat, because the dough will be moldable when it's ready for use. (Kind of like modeling clay)

Remove cookie layers from the freezer and spread ice cream over the top of one of the pieces of cookie dough.

Place second sheet of cookie dough on top to form a sandwich, then press down firmly to evenly distribute the ice cream.

Place cookie dough/ice cream slab in the freezer to firm up, then dip a knife in hot water and cut into bars. Wrap individually in waxed or parchment paper to store in the freezer if desired. Enjoy!
Nutrition
Calories:
0
kcal
|
Carbohydrates:
0
g
|
Protein:
0
g
|
Fat:
0
g
|
Saturated Fat:
0
g
|
Polyunsaturated Fat:
0
g
|
Monounsaturated Fat:
0
g
|
Trans Fat:
0
g
|
Cholesterol:
0
mg
|
Sodium:
0
mg
|
Potassium:
0
mg
|
Fiber:
0
g
|
Sugar:
0
g
|
Vitamin A:
0
IU
|
Vitamin C:
0
mg
|
Calcium:
0
mg
|
Iron:
0
mg
Want more delicious, easy recipes?
No problem, I've created a free ebook for you – 35+ Gluten-Free Desserts – as a gift for signing up for my newsletter. Every Sunday you'll get recipes, actionable health tips, and highly-vetted product recommendations delivered fresh to your inbox.
Sign up using the form below.