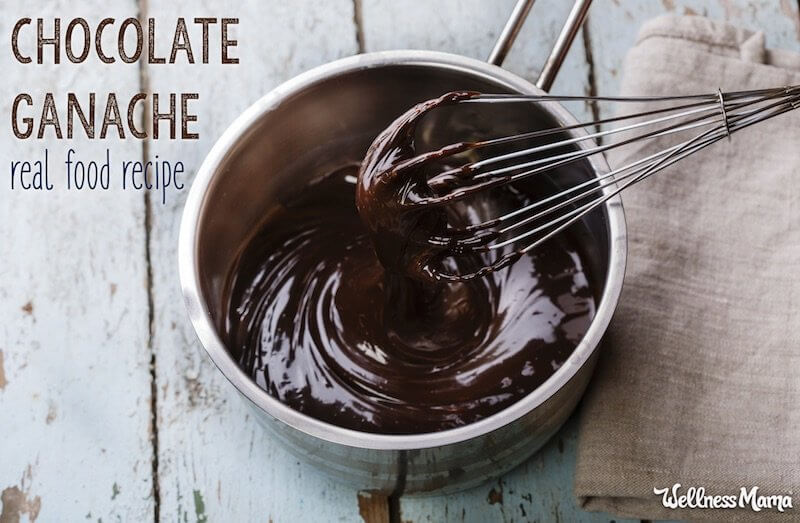 Have you ever heard of ganache or tried to make it? If you are a chocolate lover, then this rich fudgy chocolate ganache recipe is definitely for you.
What Is Ganache?
Ganache is usually just a mixture of heavy cream and melted chocolate. It tastes wonderfully rich and fudgy and is very versatile. While ganache is still slightly warm it can be poured over a cake as a glaze or used as a chocolate fondue to dip fruit in. If allowed to cool it can be whipped into a filling or frosting to be used in cookies and cakes. (Or just eaten by the spoonful!)
You can also use ganache to make dairy-free chocolate truffles. Just chill the ganache until it is firm and then use a melon baller and your hands to make small balls that can be rolled in cocoa powder, coconut, or nuts.
Make Dairy-Free Ganache in Minutes
I wanted to come up with a dairy-free recipe for ganache for those who can't have/avoid dairy. Instead of expensive organic chocolate chips, this recipe uses a more budget-friendly mixture of cocoa powder, honey, and coconut oil, and just a small amount of coconut milk in place of the heavy cream. The taste is very similar to traditional ganache, with just a hint of coconut.
Chocolate Ganache Recipe (Dairy Free)
Rich fudgy dairy-free chocolate ganache that can be used as a glaze, filling, frosting, or truffle base.
Instructions
Heat the coconut oil just until melted, but not warm.

Whisk in the cocoa powder and honey until smooth and thick.

While whisking, slowly add the coconut milk. 

Continue whisking until the ganache is smooth and glossy.

If using as a glaze, allow it to cool slightly just until thick enough to pour without all running off the side. If using as a frosting or filling, chill in the refrigerator and then beat with an electric mixer until it reaches the right consistency, adding more coconut milk if necessary. If using as truffles, refrigerate until completely cool then roll small balls between hands before rolling in desired coating.
Notes
If you need your ganache to be a little thinner, just add a little more coconut milk.
Nutrition
Serving:
1
TBSP
|
Calories:
75
kcal
|
Carbohydrates:
0
g
|
Protein:
0.6
g
|
Fat:
5.6
g
|
Saturated Fat:
5.2
g
|
Polyunsaturated Fat:
0
g
|
Monounsaturated Fat:
0
g
|
Trans Fat:
0
g
|
Cholesterol:
0
mg
|
Sodium:
1
mg
|
Potassium:
0
mg
|
Fiber:
0.9
g
|
Sugar:
5.9
g
|
Vitamin A:
0
IU
|
Vitamin C:
0
mg
|
Calcium:
0
mg
|
Iron:
0
mg
Ideas for using this chocolatey goodness:
Serve over ice cream and garnish with chopped nuts.
Dip strawberries and other cut up fruit in the ganache.
Dip cookies in it (real food cookies, of course!).
Line halved strawberries around the outer rim of a cheesecake and pour ganache in the middle. It will make a lovely gooey chocolate layer on top.
Check out this article for more ways to use ganache… I haven't mastered them all!
Want more delicious, easy recipes?
No problem, I've created a free ebook for you – 35+ Gluten-Free Desserts – as a gift for signing up for my newsletter. Every Sunday you'll get recipes, actionable health tips, and highly-vetted product recommendations delivered fresh to your inbox.
Sign up using the form below.
Have you ever heard of ganache? What's your favorite way to use it?