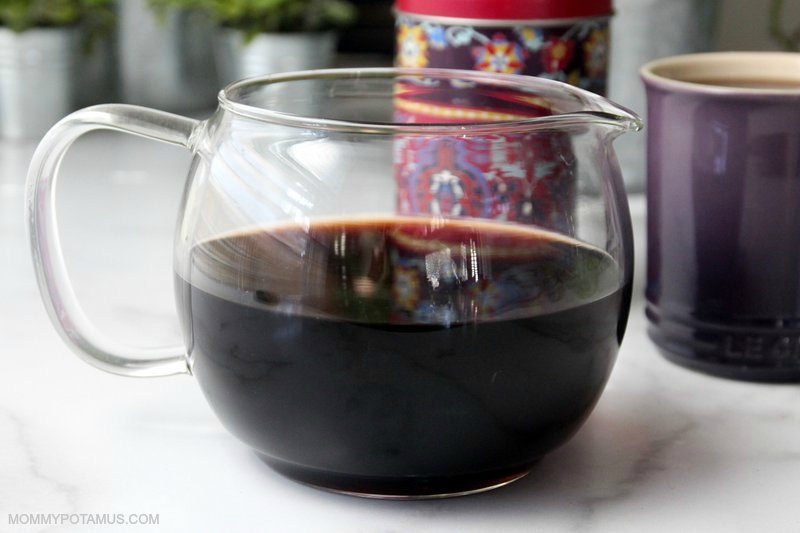 Have I ever told you about the time my entire family came down with Face Punch Disease? That was not what it was actually called, of course, but it perfectly describes what it felt like! We'd been traveling a lot that fall, and not taking our elderberry syrup or our fire cider. This year I'm prepared – I've got our natural remedy kit READY. TO. GO.
Since I ordered a big bag of elderberries, I've been experimenting with new ways to take advantage of their awesome benefits. My kids raved about this elderberry jam, and they're also huge fans of this tea.
3 Benefits of Elderberry Tea
"For more than 1,000 years, herbalists have revered elder's abilities, and mentions of the shrub are included in many important historical texts," writes herbalist Rosalee De La Foret, adding that although it's primarily used to support the body during cold and flu season there are other benefits, too. (Alchemy of Herbs)
What benefits, you ask? Elderberries are rich in several constituents such as flavonoids and anthocyanins, which are highly bioactive antioxidants that:
Help the body absorb vitamin C, which is essential for immune function and processes like collagen synthesis (source)
Have immunomodulatory effects (Support immune function)
Support a healthy inflammatory response – According to tradition, in 1899 an American sailor accidentally discovered that port wine colored with elderberries eased his aches. (source)
Although not technically a benefit, it also happens to be delicious when simmered with a cinnamon stick or a few slices of ginger. Sometimes I change things up and add a squeeze of lemon instead.
Elderberry Tea Recipe
Ingredients
1¼

cups

water

2-3

tsp

dried elderberry

1

cinnamon stick

(or a few slices of fresh ginger)
Instructions
Place elderberries, water and cinnamon/ginger (if using) in a pot. Bring water to a boil, then reduce heat and cover the pot.  Simmer for 20 minutes, then strain out the berries. Sweeten to taste and serve.
Nutrition
Calories:
0
kcal
|
Carbohydrates:
0
g
|
Protein:
0
g
|
Fat:
0
g
|
Saturated Fat:
0
g
|
Polyunsaturated Fat:
0
g
|
Monounsaturated Fat:
0
g
|
Trans Fat:
0
g
|
Cholesterol:
0
mg
|
Sodium:
0
mg
|
Potassium:
0
mg
|
Fiber:
0
g
|
Sugar:
0
g
|
Vitamin A:
0
IU
|
Vitamin C:
0
mg
|
Calcium:
0
mg
|
Iron:
0
mg
This article was medically reviewed by Dr. Scott Soerries, MD, Family Physician and Medical Director of SteadyMD. As always, this is not personal medical advice and we recommend that you talk with your doctor.