When I grow up, I am going to be one of those moms
. . . that remembers to put the sheets in the dryer before it's time to go to bed. One day I will organize the bathroom drawer that babyzilla rifles through every day instead of just wondering why he keeps hunting down pregnancy tests and waving them at me.
But not today.
I love checklists like some people love poetry. It's true. And while it's tempting to rush around doing last minute holiday stuff – like baking gingerbread cookies or making chocolate peppermint freezer fudge – today I'm opting instead for a secret known by Jedi's, aromatherapists and realtors. It's this:
A house can be modern or rustic, clean or cluttered, but if it smells inviting, you win.
Scent activates our limbic system, which is connected to our memories and emotions. It has the power to bring close the warmth and love shared in holidays past.
This season, embrace your inner hostess and welcome your guests with this simmering holiday spice stove top potpourri. The delicious smell will transform every nook and cranny into a place of holiday wonder.

Why Not Just Light A Scented Candle?
That's a great question. While there are some delicious smelling pure beeswax candles available – and you could even make your own if you'd like – most candles and air fresheners are best avoided.
When scented with synthetic fragrances, candles often contain chemicals like "acetone, benzaldehyde, benzyl acetate, benzyl alcohol, camphor, ethanol, ethyl acetate, limonene, linalool, and methylene chloride" (source) Air fresheners often contain phthalates as well, which are  known to cause hormonal abnormalities, birth defects, and reproductive problems." (source) But, of course, companies are not required to tell you that.
While essential oils are a good alternative, during the holidays I love the warmth and charm of this 100% natural and budget-friendly blend simmering on the stove. Plus, it's so simple to customize, so just use what you have on hand. Don't have a fresh rosemary sprig? Grab some fresh pine needles from your yard – or hey, even a sprig from your Christmas tree. No cinnamon sticks? Ground cinnamon will do the trick. No oranges? Use lemon.
It also makes a thoughtful, simple gift for a holiday or housewarming party. Just tie up a batch with a bow and voila, you're done!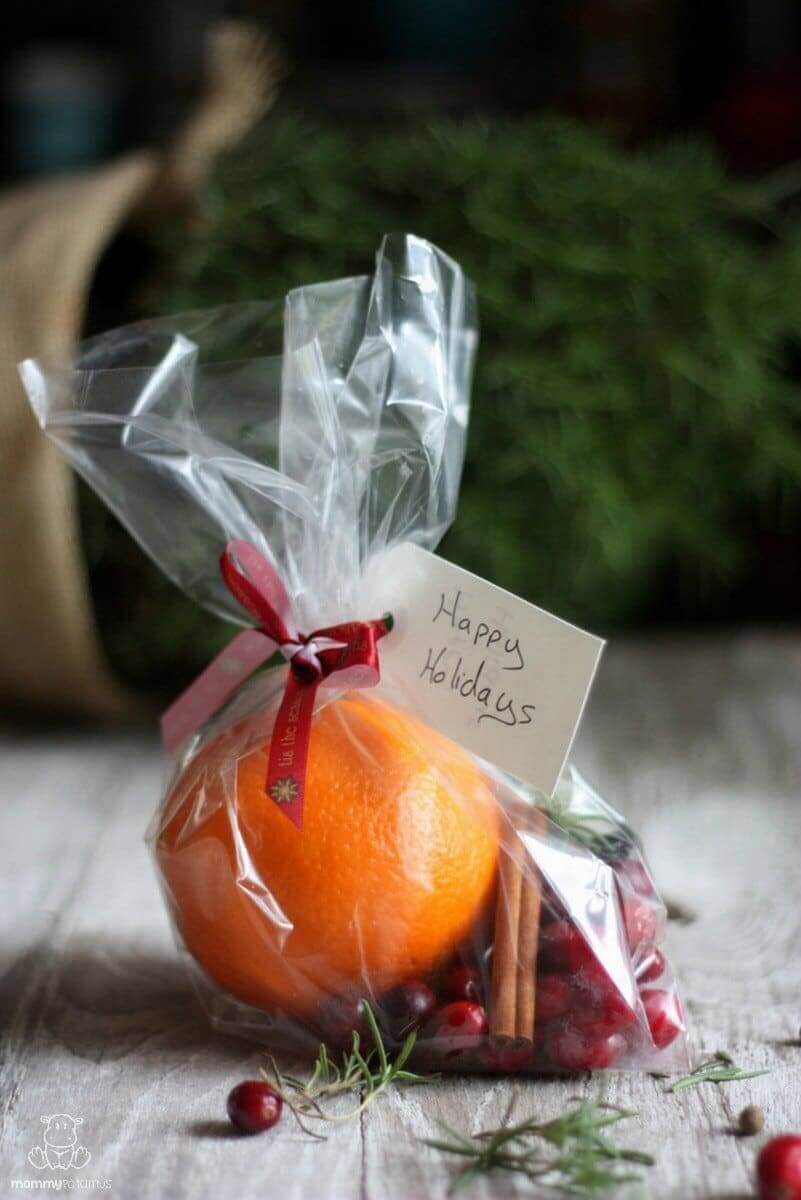 Holiday Stove Top Potpourri
4 cups water
1 cup cranberries
1 orange, sliced
2 sprigs fresh rosemary (or pine needles, or even a trimming from your tree)
1-2 cinnamon sticks (or 1/2 teaspoon ground cinnamon)
2 teaspoons vanilla extract, or 1 vanilla bean
1/2 teaspoon whole allspice (optional)
2-4 whole star anise (optional)
* orange slices are pretty, but if you prefer you can eat the orange and just use the peels
Stove Top Directions
Add ingredients to a pot and bring to a boil, then reduce to a simmer. Allow to simmer uncovered for as long as you like, adding water as needed so the pot doesn't run dry.
Slow Cooker Directions
Add dry ingredients to your crock pot. Bring 4 cups of water to a boil and then add it to the crock pot as well. Set the crock pot to low and add water as needed.
Want non-toxic cleaning recipes that WORK?
I've created a free ebook for you – 7 Non-Toxic Cleaning Recipes That Really Work – as a gift for signing up for my newsletter. We cover seven recipes that you can make in just a few minutes each for squeaky clean windows, sparkling dinnerware,  lemon fresh countertops, and more.