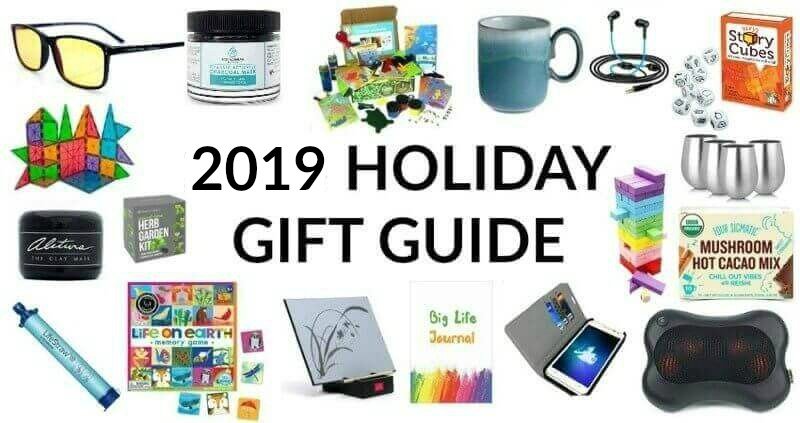 Ahhh, the holidays. A time to deck the halls, trim the tree, and sip hot apple cider while watching a movie. NOT on my to-do list for the season is walking around the mall, saying "no, we don't need a blow-up gorilla" thirty times and leaving the line I've been waiting in for 45 minutes because my little one is doing the potty dance.
If you like to keep things low stress and shop in your pj's too, I've put together this 2019 gift guide for you. Some are past purchases that I've loved and/or given away, and some are on my wish list this year.
Gift Guide For Women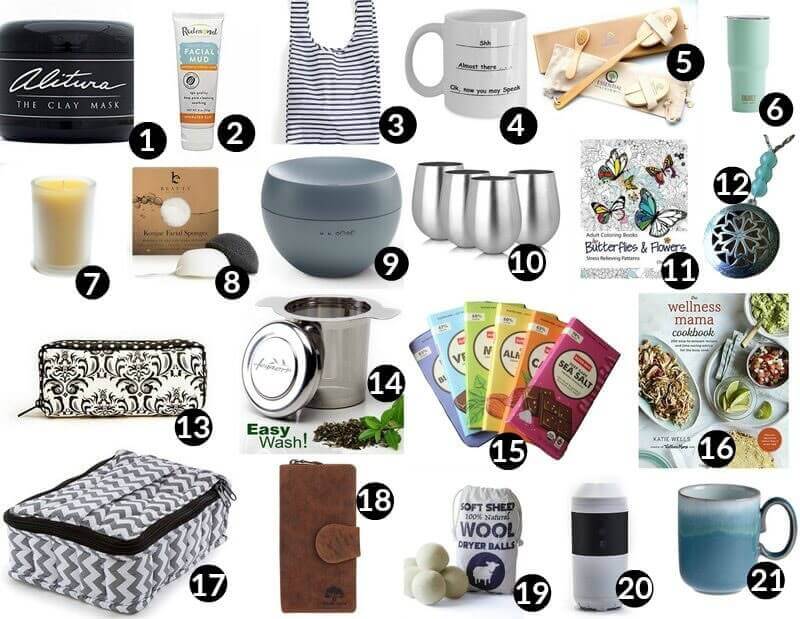 1. Alitura Night Cream – This cream was developed by an actor/model whose jaw was broken in five places when he was hit by a car. He formulated it to help his scars heal and it did an amazing job. (I met him at a biohacking conference.) It includes stem cells from the edelweiss plant and grass-fed colostrum, and it's incredibly rich and luxurious. A little goes a long way, too.
2. Redmond Facial Mud – Perfect for all skin types, this mud deep cleanses pores and leaves skin refreshed. Follow with toner and a good moisturizer like the one above. 🙂
3. Sailor Stripe Reusable Market Tote – It's super cute and can be used as a beach bag, grocery bag or shopping tote. I also love this heavy duty canvas one.
4. Shhh, Almost, Now You May Speak Mug – For the houses that run on laughter, love, and coffee. This mug is lead-free, which is awesome because most mugs with this saying come with a Prop 65 warning that states "This product contains a chemical known to the State of California to cause birth defects or other reproductive harm." Yikes!
5. Dry Skin Brush Trio –  The benefits of dry brushing range from improved skin softness and texture (including decreased cellulite), to immune support, hormone balance and more. The set I use is well made and comes with a stiff brush and a softer one, both of which I love. It also comes with a face brush which I sometimes use and sometimes give to my preschooler so I can get a few minutes to myself.
6. Stainless Steel YETI Insulated Coffee Tumbler – This gorgeous keeps drinks hot or cold for hours and – unlike many tumblers – is dishwasher safe.
7. Beeswax Candles – Unlike paraffin candles – which release carcinogens like toluene and benzene into the air– beeswax candles burn clean and bright while releasing a faint honey scent. This candle is handmade with 100% beeswax and will burn for up to 45 hours.
8. Konjac Sponge Set – Made from a root vegetable, this sponge gently cleanses and exfoliates delicate skin, making it perfect for use on the face or with babies. I love this set, which includes one plain sponge and one that has been blended with activated charcoal, which is helpful for detoxing skin and keeping it clear.
9. Jasmine Essential Oil Diffuser (Several colors available) – I love this one because it can be set to interval mode, where it diffuses for 10 minutes and then turns off for 20 minutes. This allows essential oils to be consistently diffused without becoming overwhelming. Also, it can run in interval mode for 21 hours, so it's basically set-and-forget.
10. Stainless Steel Wine Glasses – I love that these are shatterproof so that I can relax with my four year old helps me unload the dishwasher. They're great for picnics and camping trips. ALSO, if you haven't checked them out yet,  Dry Farm Wines is the healthiest and best collection of wines I've ever tasted.
11. Adult Coloring Book – As you can tell by the 1300+ reviews for this book, coloring isn't just for kids. In adults, it can help with relaxation and creativity. Don't forget to include some colored pencils. 🙂
12. Diffuser Necklace From The Oily Amulet – Scents are deeply interconnected with our limbic system – the part of ourselves that connects, feels, experiences intuition, inspires and motivates. Essential oils can help to soothe and calm us, or invigorate us and lift our mood. Diffuser necklaces are a beautiful way to experience their benefits throughout our day. I have (and love) the Antique Silver Locket with Green Aventurine Beads, the Lava Bead Lotus Necklace, and the Stainless Steel Mother & Child Celtic Knot is on my wish list.
13. Essential Oil Tote – I keep this small tote in my purse for day-to-day use – the sides are linked with little pockets that hold essential oils bottles. It would pair perfectly with a car diffuser as a gift!
14. Basket Tea Infuser – For strong teas or herbal infusions I prefer this tea infuser because it allows herbs to circulate more.
15. Alter Eco Fair Trade Chocolate – I like these bars because they're organic, fair trade and made without emulsifiers.
16. Wellness Mama Cookbook – Every mama should have this cookbook. The recipes are simple enough for an easy weeknight dinner, tasty, and most definitely kid-approved.
17. Essential Oil Carrying Case – For longer trips, this essential oil carrying case is really useful. Depending on the destination it can be helpful to include oils for immune support, restful sleep (super helpful if jet lag is an issue), sunburns (which hopefully won't be needed), etc.
18. Eco-Friendly Leather Wallet – This wallet has RFID blocking fabric sewn in, which is good if your credit card is RFID enabled. Most aren't, though – I just like this wallet because it's roomy and made with eco-friendly materials and it's ethically crafted by an artisan community in the desert region of Rajasthan, India.
19. Wool Dryer Balls – Yes really, because the best part of the week is the five seconds all the laundry is done! These wool dryer balls reduce drying time so that your recipient can get through each load faster. They also soften clothes naturally.
20. Essential Oil Car Diffuser – Oh my goodness, this makes road trips and errand running so much easier with kids!
21. Denby Coffee Mug – I've been on the hunt for an everyday mug . . . you know, the kind that you reach for and over because it just makes you happy. I love Denby mugs because they're so colorful and beautiful, and they use lead/cadmium-free clay and glazes. I emailed them to verify just a few days ago.
Gift Guide For Men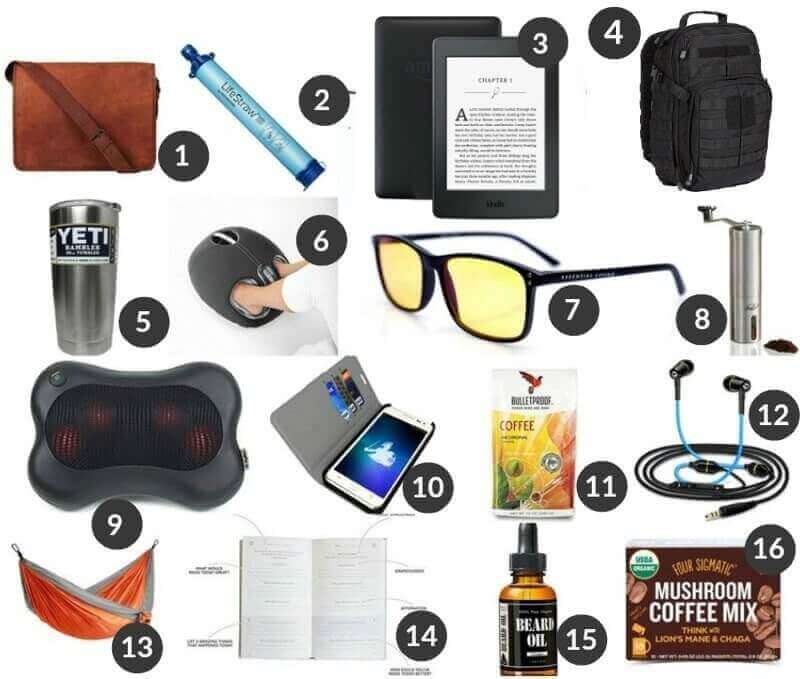 1. Eco-Friendly Leather Messenger/Laptop Bag – This bag is very sturdy and perfect for a laptop (15 inch or smaller) and a few books. It's made with natural tanning techniques and is ethically crafted by an artisan community in the desert region of Rajasthan, India.
2. LifeStraw Personal Water Filter – For the man who likes to be prepared for anything. LifeStraw converts any water supply to clean, drinkable water without a long or complicated filtration process.
3. Kindle Paperwhite – This e-reader is my husband's favorite way to read. After hours on a computer, the Kindle offers convenience without the eyestrain of a computer screen. It's smaller than a tablet and lights up in the dark so he can read without a flashlight. I like that he can add to his library often without us having to install extra bookshelves we don't really have space for. (Fyi, he downloads books via wifi and then reads in airplane mode to keep the device low-EMF.)
4. Tactical / Bug Out Backpack – This rugged, water-resistant backpack features 16 individual compartments, zippered fleece-lined eyewear pocket,  and glove-friendly pull tabs. It's perfect for patrol, outdoor hiking, trekking and camping, survival expedition, or regular daily use.
5. YETI Tumbler – We've had these for years and love how well they keep drinks hot/cold. They're also extremely durable and dishwasher safe.
6. Shiatsu Foot Massager with Heat – I bought a heated shiatsu foot massager for my husband for his birthday and he LOVES it! I borrow it a lot, too. 🙂
7. Blue Blocking Glasses – I'll discuss these in more detail below but they are GREAT for guys. The high-quality, affordable brand I love is out of stock right now, but they should have more next week. The Swanwicks are more expensive but currently available.
8. Stainless Steel Manual Coffee Grinder – For camping and hiking. Because coffee.
9. Shiatsu Pillow Massager with Heat – We have one of these and it's amazing for working on the neck, shoulders, lower back, thighs and calves.
10. Bulletproof Coffee – It's processed and stored in a unique way that reduces mycotoxins, which many people react negatively to. Add in butter, Brain Octane or coconut oil, and grass-fed gelatin for a rich, creamy treat. My husband prefers to buy whole beans and grind his own, but they sell pre-ground, too.
11. Low-EMF Heaphones – These low EMF earbuds significantly reduce exposure without losing sound quality to speaker mode.
12. DefenderShield Phone Case – Independently tested by the FCC, this phone case uses conductive, non-conductive and advanced absorption shielding materials together to block, divert, and absorb EMFs, Radio Frequency (RF) and heat radiation.
13. Portable Hammock – This strong, lightweight hammock is easy to setup and is perfect for beaches, camping, or relaxing in the backyard.
14. Five Minute Journal – This is an awesome journal for goal-setters who want to make the most out of each day, both on a practical level and in relationships/overall happiness. It's especially helpful for people who have a lot on their plate or take on too much, because it helps with identifying what's most important for the moment.
15. Cedarwood Beard Oil – Smells awesome. Softens and tames beard scruff.
16. Four Sigmatic Mushroom Coffee Powder – Infused with adaptogens that support brain function and help the body adapt to stress, this powdered coffee mix just needs to be mixed with water. My husband and I always keep a few stashed away in our bags (my purse, his satchel) for coffee emergencies. 🙂
Gift Guide For People Who Love Good Food
1. Dry Farm Wines – This is hands down the healthiest and best collection of wines I've ever tasted. Every wine they make is grown with organic practices and doesn't contain added sulfites or other ingredients that are commonly used (like sawdust and food coloring, ewww!), and each batch is virtually sugar-free, containing less than 1g/L of total sugars (including fructose and glucose).
2. Four Sigmatic Organic Mushroom Hot Cacao Mix – This powdered mix has two variations: A "Chill Out" version with reishi mushrooms, and a "Dark & Spicy" one with cordyceps mushrooms. Both types of mushrooms are adaptogens that help with stress.
3. Immersion Blender – For blending sauces, making homemade mayo, lotion, and more.
4. Real Plans Membership – Know anyone who could use a personal assistant in the kitchen? Real Plans is way more than a meal generator or menu planner, it's a personalized experience that takes your schedule into account, knows your dietary quirks, and even delivers a shopping list to your phone so you never forget anything. Did I say you? I meant your gift recipient. Or you, if you need an assistant, too!
5. Veggie Spiralizer – For making zucchini pasta and other veggie pastas
6. Colorful Insulated Glasses With Lids – Although I think they're intended for use at the beach or pool, these colorful stainless steel tumblers are on my wish list for anytime use. They're perfect for iced herbal tea, cherry limeade in the summer, and wine.
7. Chemex Glass Coffee Maker – This year I retired my French press after tasting coffee made with the Chemex. As I shared in my post on why I switched, it's much less acidic and more smooth, and there's literally no plastic involved. Don't forget filters!
8. Instant Pot 7-in-1 Programmable Pressure Cooker –  If you're not familiar with the Instant Pot, it's basically a programmable pressure cooker, crockpot/slow cooker, rice cooker and yogurt maker in one. Unlike other products with iffy glazes or non-stick surfaces, the inside of the InstantPot is stainless steel. (Phew!)
9. Smoked Sea Salt – For adding flavor depth to steak, seafood, tomato soup, and just about any dish you can think of.
10. Love You Bottle Stoppers – I'm done talking about wine now. 🙂
11. Thrive Market Membership – Members save 25-55% on organic groceries and natural products that are delivered directly to their door. I order most of my staples through them and it saves me money and time.
12. Stainless Steel Food Dehydrator – For making jerky, fruit roll-ups and yogurt, and also drying fruits and herbs
13. Arcuisine Glass Storage Containers – These storage containers are made from borosicilate glass, which is what the original Pyrex dishes were made of. It's a much more thermally robust material than the cheaper stuff that most baking dishes are made of, which is important to me because I often use these dishes to warm up food in the oven. (The lid is not heat resistant, of course. It's just for keeping food fresh in storage.)
Gift Guide For People Who Love Sleep (My tribe!)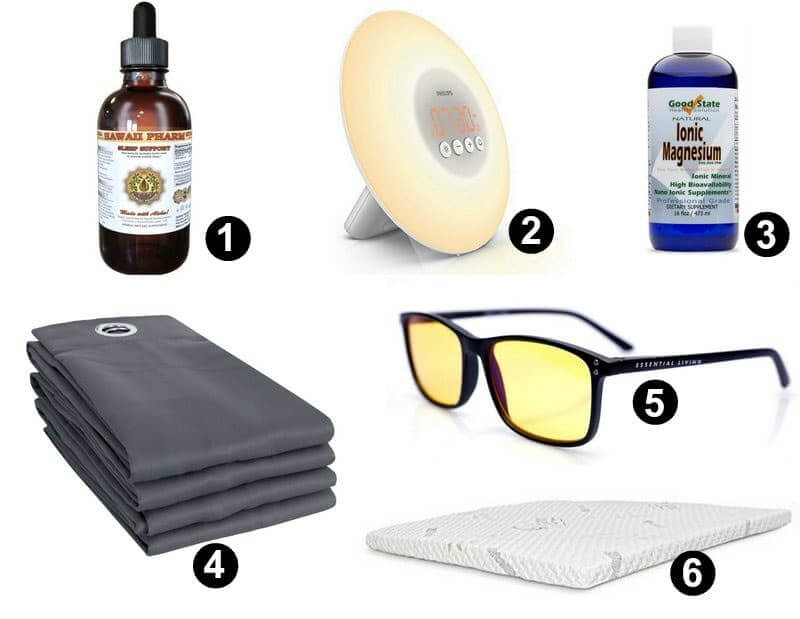 1. Sleep Care Tincture – This blend of valerian root (sometimes called Nature's Valium), wild lettuce, blue vervain and hops is awesome for helping with relaxation and sleep.
2. Wakeup Light – Our circadian rhythms – which orchestrate the ebb and flow of cortisol and melatonin – are tied to light and darkness. This wakeup light simulates sunrise in your bedroom, which helps your body synchronize it's internal clock (which is often dysregulated due to blue light at night, etc.) so that it know when to produce the hormones which produce energy, and when to make the ones that help us drift off to sleep.
3. Ionic Magnesium – Magnesium helps to relax achy muscles, mitigate the effects of stress, and calm the mind by supporting the production of the neurotransmitter GABA. This study also suggests that magnesium may improve sleep quality by increasing melatonin levels and decreasing cortisol levels.
4. Blackout Curtains – In order to avoid the problems associated with too much blue light at night, we need to do more than cover our eyes. We now know that our skin senses light in ways we used to think only the eye could, so light can disrupt our circadian rhythm even when we're wearing a mask. Blackout curtains are a much better option, and they come in lots of colors – even white. Shop All Blackout Curtains Here.
5. Blue Blocking Glasses  – Computer screens, t.v.'s, phones and even regular light bulbs emit blue light, which the body perceives like sunlight. Blue light exposure after sundown can suppresses the release of melatonin, which disrupts our bodies process of preparing for sleep at night. My husband I and both wear these glasses at night – they've definitely helped us fall asleep easier and improved our overall sleep quality. Unfortunately they're out of stock right now, but they should have more next week. The Swanwicks are more expensive but currently available.
6. Organic and Natural Mattresses – My husband and I have bought several Intellibed mattresses. It's our favorite non-toxic mattress for super comfortable sleep. Read about what makes them different here. We had friends visit for Thanksgiving and after one night on our Intellibed they're ready to buy one! My Green Mattress is another great option that's less expensive.
Gift Guide For Teens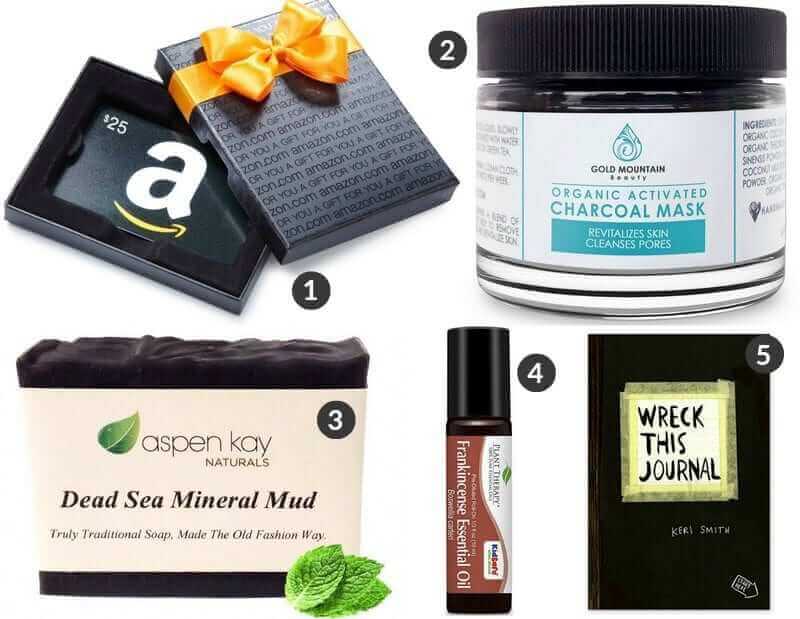 1. Dead Sea Mud Soap With Activated Charcoal – Very helpful for teens with acne prone skin.
2. Organic Activated Charcoal Mask – This mask combines Dead Sea clay and bentonite clay with activated charcoal and skin soothing herbs. It's perfect a weekly deep cleansing session.
3. Manuka Honey – As I wrote about in this post on using honey as a cleanser, manuka honey is amazing for all skin types. It also works really well as a clarifying and moisturizing mask. Just apply to moist skin and let sit for 15 minutes, then rinse with warm water.
4. Pre-Diluted Frankincense Essential Oil Roll-On – Helpful for emotional grounding and immune support. I also use it as a perfume.
5. Wreck This Journal – When our kids are little we teach them how to color inside the lines. It helps them develop patience and excellence, but it can also create anxiety about making "mistakes." Wreck This Journal is about helping kids find their creative voice and redefining mistakes as opportunities for growth, at least that's the gist of what the 2,600 five stars review on Amazon say.
6. Amazon Gift Card – Because Amazon has just about everything.
Gift Guide For Kids

1. Indoor Tent – My kids love to "camp," so a family friend made them a beautiful tent using fabric and wood. This store-bought option uses cotton canvas (with no flame retardants), and includes pockets underneath the window for storage and a carrying case. This one is lovely, too.
2. Kids Cook Real Food eCourse – Your kids learn an essential skill they need in order to eat healthy, and someone makes dinner instead of you. 🙂
3. Interesting Insects Discovery Box from Green Kid Crafts – This award-winning activity box includes eco-friendly activities that promote art, science, imaginative and active play. Green Kid Crafts makes several kits that you can buy individually, but you can have them shipped automatically to you every month. That's why I do, and my kids cheer every time a new box arrives.
4. Big Life Journal: A Growth Mindset Journal For Children – I bought this for my oldest recently and it's wonderful! It's a guided journal that uses stories, quotes, writing prompts and illustrations to help children "learn to embrace challenges, to persevere, and how to grow from feedback. Through stories children will get inspired by failures and successes of people like Elon Musk, J.K. Rowling, Walt Disney, and others."
5. Chronicles of Narnia Audiobook – I love this serious so much I actually talked my boyfriend-now-husband into reading it for the first time in college. Of course I also wanted to share it with my littles, so I bought an audio version to listen to on long care rides and as they fall asleep (after I read to them). They LOVE it and have listened to it countless times.
6. Rainforest Science Discovery Box from Green Kid Crafts – Like the one above, this award-winning box includes eco-friendly activities that promote art, science, imaginative and active play.
7. Life On Earth Memory Matching Game – This is the game we knew as "Memory" growing up, only with gorgeous, vibrant colors and nature-inspired scenes.
8. Piggy Paint Nail Polish – My daughter loves this nail polish It's free of formaldehyde, toluene, phthalates, Bisphenol A, ethyl acetate and acetone.
9. Lewo Wooden Stacking Game – It's like Jenga, only with vibrant colored pieces. Also, you roll dice to determine which color to remove.
10. Essential Oil Diffuser Necklace – I shared this necklace in my gift guide last year and received a very excited message from a reader. Turns out, this necklace is from her online shop, so when you order it you are supporting a mama in our community. It's super cute, too.
11. Gym 1 Indoor Playground With Swing, Plastic Rings and Ladder – I learned about this indoor gym from Katie of Wellness Mama. Or actually, my kids discovered it at her house and had some serious fun with the swing. It's such a great way to keep kids decompress on rainy days and during winter months when it's too cold to go to the park.
12. Edible Gourmet Mushroom Growing Kit – The kids get a fascinating look at the natural world, and you get edible mushrooms. Win win!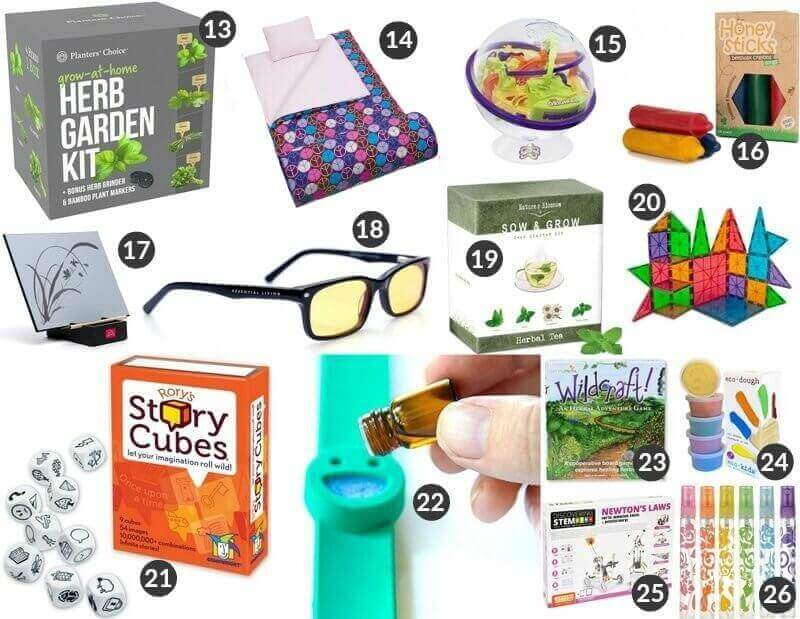 13. Culinary Herb Growing Kit – They get the joy and pride involved in helping something grow, you get fresh basil, cilantro, chives and parsley.
14. Wildkin Sleeping Bags – My kids love to "camp" inside, which is why I was thrilled to find these sleeping bags that have not been treated with chemical flame retardants.
15. Perplexus – This 3D marble maze puzzles challenges children to use spatial reasoning, motor skills, and hand-eye coordination. My son discovered it at a friends house and couldn't put it down!
16. Beeswax Crayons – These crayons come in a thick version (for little hands) and a thin version for older kids. They're made with 100% beeswax and non-toxic pigments.
17. Buddha Board –  This is basically a "Zen Etch-A-Sketch" that allows you to paint and then watch your art fade away like disappearing ink. My daughter selected this as her souvenir on a trip and it was such a hit.
18. Blue Blocking Glasses For Kids – When we wind down a busy day with a movie, I make sure my littles wear blue blocking glasses so that the blue light from the t.v. doesn't make it difficult for them to fall asleep. I want them to be able to fall asleep easily because it's good for them . . and good for me. 🙂
19. Herbal Tea Growing Kit – I don't think it's an accident that three of the four herbs in this kit (catnip, lemon balm and chamomile) are kid-safe herbs that help with sleep, and the other one (spearmint) helps with tummy troubles.
20. Magna Tiles – These were an investment but my boys love them and play with them for hours on end each week.
21. Rory's Story Cubes – The ability to connect seemingly unrelated dots helps with creative problem solving. These cubes are a fun way to nurture that ability. You roll the dice, then create a story inspired by the images you land on, often finding it necessary to weave together seemingly unrelated objects.
22. Essential Oil Diffuser Bracelet – I like this one more than others because the oil is on the outside of the bracelet rather than touching the skin.
23. Wildcraft Board Game – As I mentioned in this IG post of my family playing, Wildcraft teaches about edible and medicinal herbs. Also, the players increase their chances of winning when they help each other. That's a perspective on success I can get behind!
24. Gluten-Free Playdough – This is what I buy when I don't have time to make my own.
25. Newtons Laws – Kids learn all about Newton's Laws of Motion by building working models like a catapult, a drag racer, a balloon powered plane, and more.
26. Small Glass Perfume Spray Bottles – My daughter uses these to make her own "perfumes." Basically you just pour in a 50/50 mixture of water and vodka, then add in a few drops of kid-safe essential oils.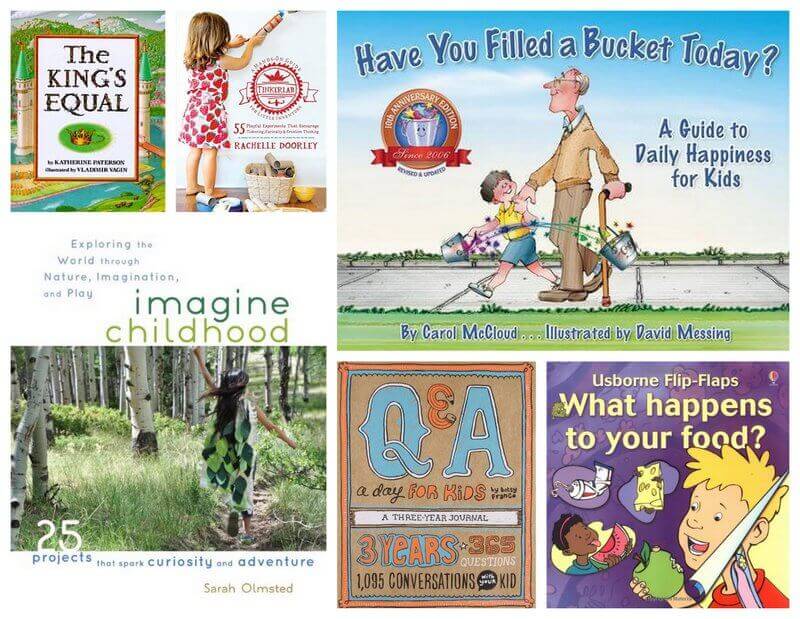 28. The Kings Equal – This is one of my favorite fairy tales, because there's a twist at the end that reveals a different kind of beauty and wealth.
29. Tinkerlab: A Hands-On Guide For Little Inventors – I bought this book for my kids a couple of years ago. It's more than a project book – though it does contain a lot of fun ideas. It's a guide to creating an atmosphere that encourages creativity, exploration, and innovation. It doesn't provide a lot of picture-perfect "final" shots that will leave kids insecure if theirs don't look the same. There is gorgeous photography for sure, but most of it focuses on enjoyment of the process.
30. Have You Filled a Bucket Today? – This book explains that everyone – grandparents, friends, siblings, etc. – has a bucket in which they hold good thoughts and feelings. It talks about how to be a BUCKET FILLER and discusses "bucket dipping" – or trying to fill our buckets by making others feel bad – and why it doesn't work long term. Such a simple concept but I know it's going to help my kids "get it" at a deeper level.
31. Imagine Childhood: Exploring the World through Nature, Imagination, and Play – 25 Projects that spark curiosity and adventure – On my list for this year!
32. Q&A a Day  -Ask your kids one fun question every day for a year and write down their responses. Then the next year, you ask them all the same questions and see how their responses change as they grow.
33. What happens to your food? – My kid love this colorful flap book about the "food tube" (aka the digestive tract).
Family Gifts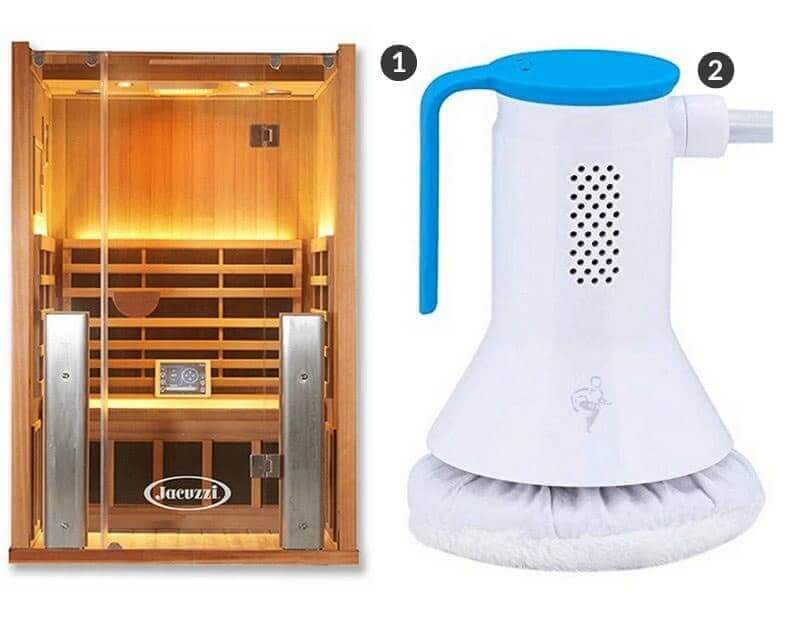 1. Infrared Sauna – I live at the end of a dirt road on 40 acres. My definition of luxury is the fact that Amazon Prime delivers here. So when I decided to order a sauna for myself, I seriously considered not telling you about it. It has been such a huge gift to my whole family, though,  so I decided to share.
Here are eight science-backed benefits of sauna bathing, and this is the sauna that I chose. It's available at a huge discount through December 15th – you'll find the details at the bottom of this post.
2. MyoBuddy – This myofascial release massager is helpful for people who tend to carry a lot of muscle tension, are athletes, or deal with chronic pain. I don't have one, but I got to try it at a biohacking conference recently and it worked wonders on the tension in my neck (from falling asleep in a weird position while traveling.) It does all types of massage: Relaxation, Trigger Point, Deep Tissue, Recovery, Sports, Circulatory, Friction, Percussion, and Mobility.
Know someone who might find this list helpful?
Please share it with them! 🙂