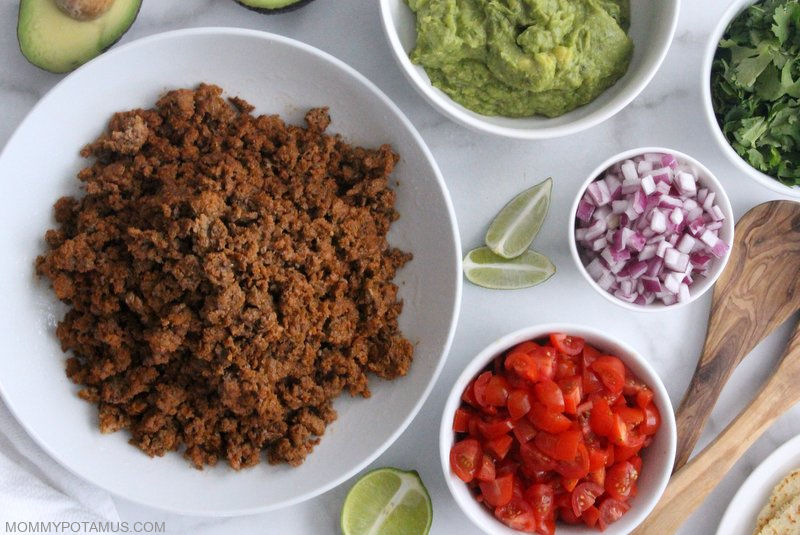 Sautéeing taco meat in a skillet is the easiest thing in the world . . . except when it's not, because you forgot to defrost ground beef for taco night. No worries, though, you can quickly make super delish, perfectly seasoned taco meat in your Instant Pot using frozen meat.
This recipe is ideal for busy weeknights or pretty much anytime you need to get a healthy meal on the table quickly. That's because while the Instant Pot takes care of your main dish, you'll be able to use your time to prep your taco toppings and maybe whip up a side of this flavorful Mexican rice.
So to recap, you're going to love this recipe because:
It's an easy way to transform frozen meat into a quick, yummy meal
Taco meat is incredibly versatile – you can use it to make nachos, wraps, salads, burrito bowls and more
Leftovers can be stored in the fridge for an easy lunch the next day (or frozen for an easy meal later on)
6 Ways To Use Instant Pot Taco Meat
Scooped into these crispy grain-free taco shells
Wrapped in homemade tortillas to make soft tacos or burritos
Loaded into burrito bowls with Mexican rice or cauliflower rice, refried black beans, homemade salsa, guacamole or your mix of favorite toppings.
Served over greens, tomatoes, onion, cilantro and other toppings as a hearty taco salad
Layered over cheesy nachos
Wrapped into large romaine lettuce leaves to make wraps
Topping Ideas for Instant Pot Tacos
When I make this recipe I usually set up a self-serve taco bar with a mix of the toppings below. Everyone gets to customize their meal and I spend less time scooping food onto dishes – it's a win/win. 🙂
Chopped tomatoes
Diced onions
Minced cilantro
Sour cream
Shredded cheese
Guacamole or avocado slices
Lime quarters (for adding a squeeze of juice to tacos, salads, etc.)
Refried beans
Tips for Cooking Frozen Meat In The Instant Pot
When you make this recipe, you'll start by cooking the meat on high pressure and setting the valve to quick release. If the meat is still a little pink on the inside when you open the lid, don't worry. You're going to finish cooking it when you turn on the sauté function and add the spices and tomato paste.
Use frozen meat that is uniform in shape so that it cooks evenly. Both square blocks and cylindrical shapes will work.
You can totally use this method to quickly cook other ground beef dishes like spaghetti. Just follow steps ?? through ??, then instead of taco seasoning add homemade marinara when it's time to sauté the meat.
Doubling a recipe is a huge time-saver because you get multiple meals from a single food prep session. You only have to pull out ingredients once, and there's only one set of dishes to wash. This recipe is already "doubled" for you because it uses the max amount of meat that will fit (2 pounds).
You can cut this recipe in half. If two pounds of meat is too much for you, cut all the ingredients in half except the water (which should stay the same) and prepare according to the exact same instructions. The amount of water stays the same because a minimum of one cup is needed to bring the Instant Pot to pressure.
Make sure to remove all packaging from your ground beef before adding it to the Instant Pot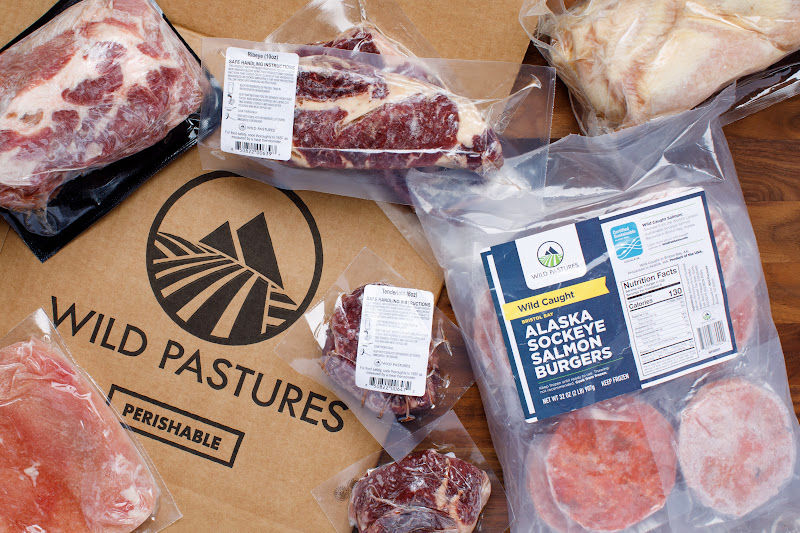 How To Save On 100% Grass-Fed Ground Beef for Taco Meat
Finding ways to trim my food budget without compromising on quality has been one of my top priorities lately, but where I live most of the meat options are expensive, limited in variety, and localish at best.
That's why when I heard that the founders of PaleoValley started a new affordable regenerative meat delivery service that offers 100% pastured meat . . . well, immediately placed an order.
They offer truly grass-fed beef, pasture-raised chicken, pasture-raised pork and wild-caught seafood – all top quality, and all at wholesale prices.
Click here for my full review or here to save $15 on your first box plus an extra 20% off for life.
Instant Pot Taco Meat From Frozen Ground Beef
This flavorful Instant Pot taco meat can be quickly made with frozen ground beef – no thawing needed!
It's easy, kid approved, and perfect for busy weeknights.
Equipment
Instant Pot Pressure Cooker (mine is an 8 quart)

Trivet
Instructions
Place one cup of water in the Instant Pot and place the metal trivet inside.

Add two pounds of frozen ground beef to the Instant Pot. My ground beef comes in large flat squares, so to fit both in I create a "V" shape that leans both squares against the sides and meets in the center.

Close the lid and set the valve to the sealing position. Select the high pressure setting and select a pressure cook time of 20 minutes. Because its frozen the meat will take a little longer than usual to reach pressure – about 10-12 minutes.

When the cook time ends, use a long-handled spoon, spatula or tongs to move the pressure valve to quick release.

Once all the steam has been released and the pin has dropped down, remove the lid.

Remove the ground beef and place it on a plate. My trivet has long handles – which make it easy to use potholders to grab the handles and remove everything at once – but you can also use a spatula to remove each pound individually.

Lift the inner pot out of the IP and pour out the excess liquid, then return it to its place. Turn on the sauté function.

While the Instant Pot is warming up, add the ground beef back in along with 1/2 cup water. Break up the meat a little – a potato masher or meat mallet makes this process super quick. Don't worry if the meat is not as finely minced as what you want in your final dish – the goal is just to spread it out so you can distribute the seasoning more evenly as it sautés.

Once the meat is broken up, sprinkle the taco seasoning over it and add in the tomato paste and oil (if using). Cook as you usually would on the stovetop, breaking up the meat as you go. When the meat is nice and brown, turn off the Instant Pot.

Add salt to taste and additional taco seasoning if desire, then transfer the taco meat to a serving dish. 

Serve immediately and store any leftovers in an airtight container or in a reusable storage bag in the freezer. (I love these silicone ones.)
Notes
Nutrition information is an estimate. Includes coconut oil and optional chicken bone broth as ingredients. 
Nutrition
Calories:
305
kcal
|
Carbohydrates:
2
g
|
Protein:
20
g
|
Fat:
24
g
|
Saturated Fat:
10
g
|
Polyunsaturated Fat:
1
g
|
Monounsaturated Fat:
10
g
|
Trans Fat:
1
g
|
Cholesterol:
81
mg
|
Sodium:
206
mg
|
Potassium:
367
mg
|
Fiber:
1
g
|
Sugar:
1
g
|
Vitamin A:
179
IU
|
Vitamin C:
2
mg
|
Calcium:
23
mg
|
Iron:
2
mg
More Instant Pot Recipes To Try
Instant Pot Chicken Soup – This rich version of a tried-and-true comfort food is so flavorful and easy!
Pressure Cooker Whole Chicken – This recipe yields juicy, flavorful white meat, and fully-cooked dark meat, plus with just five minutes under the broiler you can still get the crispy, golden brown outside, too.
Pulled Pork – This from-scratch recipe with honey chipotle BBQ sauce is so simple and delicious.