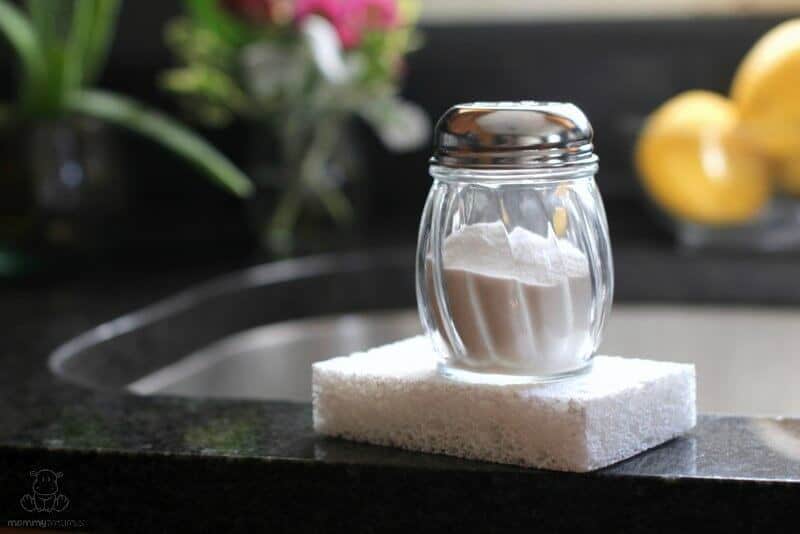 If you could see the ring left on my tub after a bath in the spring/summer after my kids play outside, you'd know that I can't settle for so-so when it comes to surface cleaners. Although I love my homemade soft scrub recipe and use it often, this easy scouring powder is perfect for a quick cleaning session on busy days. It works incredibly well, takes just a minute or so to make, and can be adapted to use ingredients you probably already have on hand.
Why make your own scouring powder?
Because when the Environmental Working Group analyzed one of the most popular scouring powders on the market, they found that it "emitted 146 different chemicals, including some that have been linked to cancer, asthma and reproductive disorders. The most toxic chemicals detected – formaldehyde, benzene, chloroform and toluene – are not listed on the label." (source)
Overall, they gave it a safety rating of "F" and noted that it may be harmful to the environment. Yep, seriously. (source) Fortunately, it's super easy to make an effective scouring powder with non-toxic ingredients that you probably already have in your pantry. (And if you're not into making your own, I know of one pre-made non-toxic option.)
The scouring powder recipes below are perfect for:
countertops
tubs
porcelain, stainless steel, or composite sinks
pots and pans
About the ingredients
In the two recipes below I've included ingredients that are inexpensive, easy to find, and versatile in how they can be used in the home. Here's a breakdown of why they're helpful in a scouring powder.
Baking Soda – I've written before about the many uses of baking soda for cleaning, personal care, and natural remedies. It works beautifully as a gentle abrasive, especially when paired with the ingredients below.
Washing Soda – Although it's very similar to baking soda – in fact, you can actually convert baking soda to washing soda in your oven – washing soda is more coarse in texture. The two work well together because washing soda tends to clump on it's own, but it adds extra cleaning oomph when added to baking soda.
Diatomaceous Earth – Like baking soda, there are a lot of uses for diatomaceous earth (DE). One of the oldest is as a polish for silverware, serving pieces and jewelry before buffing – it's used in this way because it's superfine powder works as a gentle abrasive that doesn't leave surfaces looking scratched. (source 1, source 2) One thing to be aware of when cleaning with DE is that it turns brown when wet, so it will kind of feel like you're cleaning with dirt. However, the upside is that it does polish beautifully and it's easy to see where to rinse when you're done.
Lemon Essential Oil (optional) – Works as a degreaser.
Cream of Tartar (optional) – Used as a natural beaching agent.
Salt (optional) – Adds extra scrubbing power. However, can scratch some surfaces so do a patch test before using.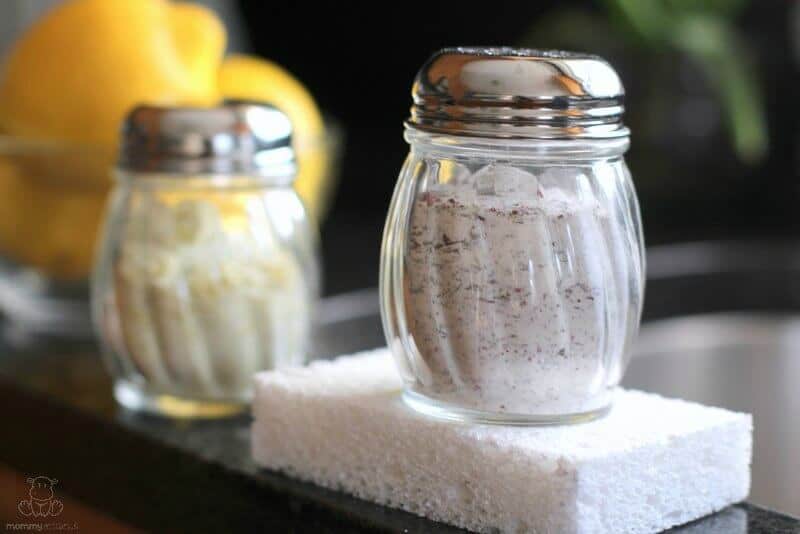 Want to make an extra-special batch?
If you're putting together a housewarming gift of natural cleaners – maybe this Lemon & Lavender All-Purpose Cleaner, Natural Laundry Detergent or my homemade "Fresh Laundry" Air Freshener & Linen Spray, the scouring powder recipes below make a delightful addition.
I like to put everything in one of these metal buckets along with some of the items above and bottle of wine from Dry Farm Wines – the healthiest option I've ever found. Because wine. 🙂
To make these scouring powders extra special, you can add 1-2 tablespoons of ground lavender buds, rose petals, lemon/lime peel or rosemary to the mixture. I grind the lavender, rose petals and rosemary in my coffee grinder before adding them in.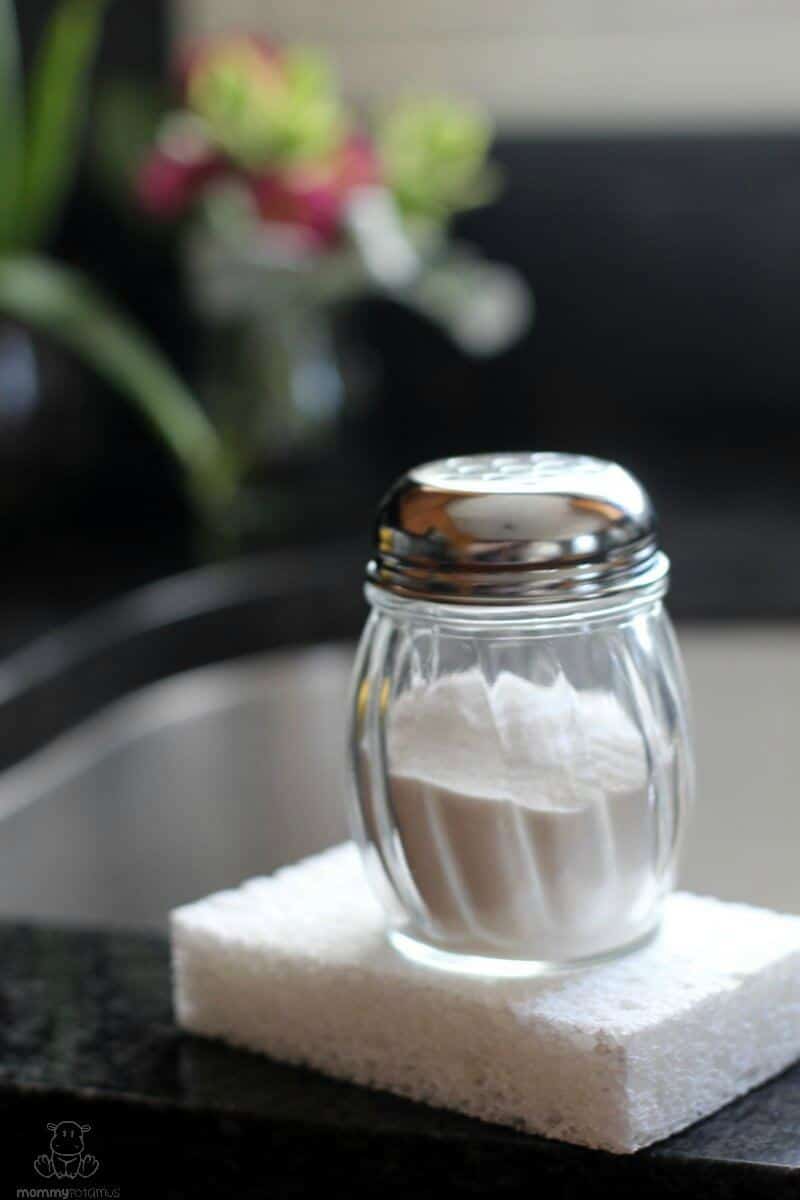 Homemade Scouring Powder Recipe
The recipe below will fill two of these spice jars.
Ingredients
To Make
1. Mix ingredients until well combined, then pour into a clean container. If using herbs in your mixture, I recommend grinding them in a coffee grinder before mixing them in – this is the one I use.
2. Store in a clean jar or a spice shaker like this one.
To Use
Sprinkle on surface and scour with a moist sponge. Rinse thoroughly with warm water.
Want a FREE ebook of non-toxic cleaning recipes that WORK?
I've created a free ebook for you as a gift for signing up for my newsletter. 7 Non-Toxic Cleaning Recipes That Really Work covers seven recipes that you can make in just a few minutes each for squeaky clean windows, sparkling dinnerware, lemon-fresh countertops, and more. Subscribe to my newsletter below and you'll be redirected to a download page for immediate access to this PDF ebook.