They Say A Load A Day Keeps The Chaos Away
Obviously they've never been to my house, where chaos is pretty much inevitable. Frogs clog pipes, goats escape their pens and eat my rosebushes, and babyzilla tries to topple his older brother's building block masterpieces.
Fortunately, despite protests from certain potami who would prefer never to wear pants, I do manage to keep everyone in clean clothes with this homemade borax-free laundry detergent.
I've been using it for years and am so happy with it – it's affordable, easy to make, and if you read the comments you'll see that it really gets clothes clean.
Unfortunately, I recently discovered that the tutorial on how to make washing soda that I'd linked to had been made private – oops! No worries, though, in this post I'll show you how easy it is.
What Is Washing Soda?
A powerful cleanser and water softener, washing soda has a long history of traditional use. It's rich in sodium and can be made from the ashes of seaweed, kelp and other vegetation, though these days it's usually derived from limestone.
Also known as soda ash or soda carbonate, washing soda can be used to remove grease, oil and even wine stains. It competes with magnesium and calcium ions in hard water, which prevents the magnesium and calcium from bonding with the laundry soap and rendering it ineffective. In other words, it's used as a booster to make homemade laundry soap more effective.
Can I Buy Washing Soda?
I recently heard that Arm & Hammer's Super Washing Soda contains optical brighteners, which can consist of anything from benzene to disulfonic acid (both of which are considered extremely toxic)." (source)
Optical brighteners "are bioaccumulative, meaning they stick together to form sludge in high concentration, killing aquatic life and even causing mutations in bacterial cells adding to the problem of resistant bacteria. According to a report by the European Ecolabel Commission on criteria for laundry detergents in 2011, 'as optical brighteners undergo photo degradation, numerous metabolites may be produced that are not yet identified, which means we may not know the true potential impacts upon the environment.'" (source)
Oh, and in order for them to "brighten" clothes they actually have to stick to them after they come out of the wash, which means that they're coming into  direct contact with your skin.
Obviously we want to avoid optical brighteners, but does Arm & Hammer's Super Washing Soda really contain them? I checked their website and found that the only ingredient listed was "100% sodium carbonate" – aka washing soda. However, I decided to call and ask not one, not two, but three times. Because, yeah, I have trust issues with corporations. Anyway, all three different company representatives told me that Arm & Hammer's Super Washing Soda does not contain optical brighteners. Pfew!
So go ahead and buy it worry-free, or if you'd prefer to order from a different company you can buy 100% pure washing soda here.
You don't necessarily need to, though, because it's easy to make your own from baking soda!
How To Make Washing Soda From Baking Soda
Ingredients & Equipment Needed
Baking soda
Baking pan/cookie sheet with a lip around the outside
Heat-proof spoon or spatula
Instructions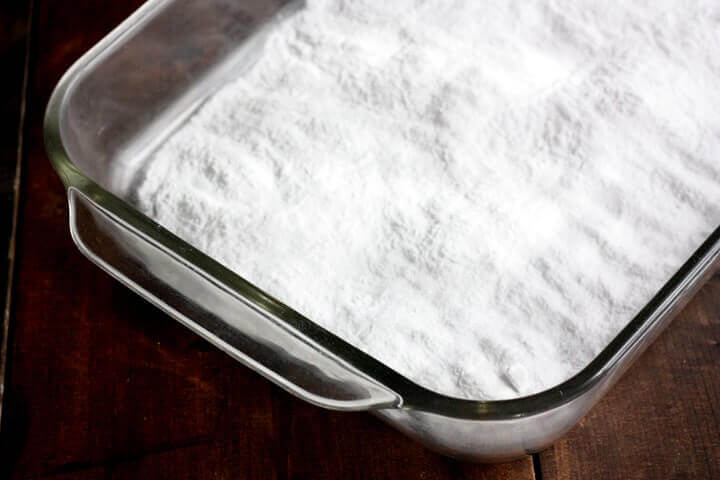 Step 1: Preheat your oven to 400-450F. Spread 2-3 cups of baking across a baking pan or baking sheet.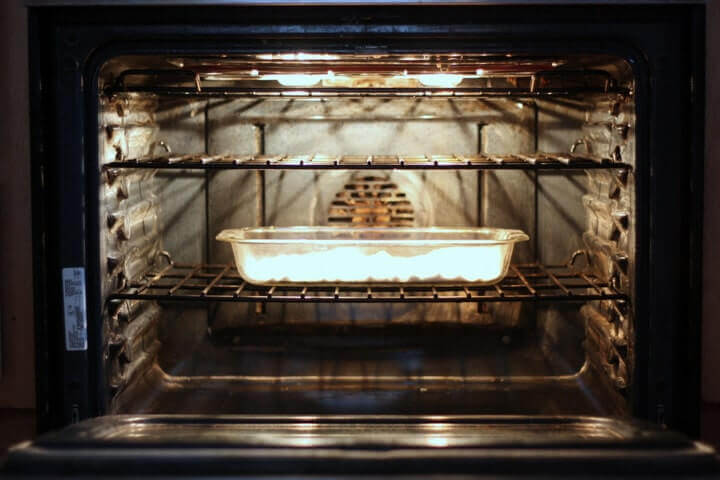 Step 2: Bake for about an hour, stirring well at least once around the halfway mark. The baking soda needs to reach 400F to convert to washing soda, so the exact amount of time needed will vary based on whether your oven runs hot/cold and how thick the baking soda layer is in your pan.
How To Know When Your Washing Soda Is Ready
Baking soda is light and fluffy, while washing soda is flat and grainy. In the photo below,  baking soda is on the left and washing soda is on the right.
It may be helpful to compare your washing soda with baking soda to see the difference until you get a feel for how long the conversion takes with your oven.
Want a FREE ebook of non-toxic cleaning recipes that WORK?
I've created a free ebook for you as a gift for signing up for my newsletter. 7 Non-Toxic Cleaning Recipes That Really Work covers seven recipes that you can make in just a few minutes each for squeaky clean windows, sparkling dinnerware, lemon-fresh countertops, and more. Subscribe to my newsletter below and you'll be redirected to a download page for immediate access to this PDF ebook.