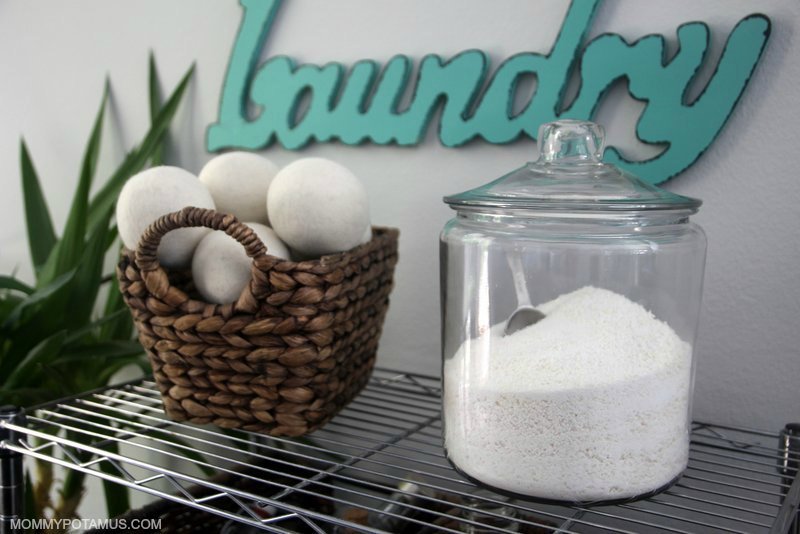 I've done my share of lumpy laundry. Newborn clothes with the tags and hangers still on? Check. "Gifts" from my helpers, including a trojan poopy diaper in my whites? Oh yeah.
As you can imagine, I've been more than happy just to be able to keep clean underoos in the house at all times for the past few years. Buying "eco-friendly" laundry detergent seemed like a pretty good option until I re-read my brands ingredient list recently. Undisclosed proprietary ingredients? No thanks!
I did eventually find one non-toxic detergent, but not before I learned to make a simple homemade powder version that WORKS. The basic recipe is nearly identical to this one, but for some reason every time I share this link with someone it seems to create more questions than answers. It makes perfect sense to me, but for what it's worth here is exactly. what. I. do.
But first, let's talk ingredients!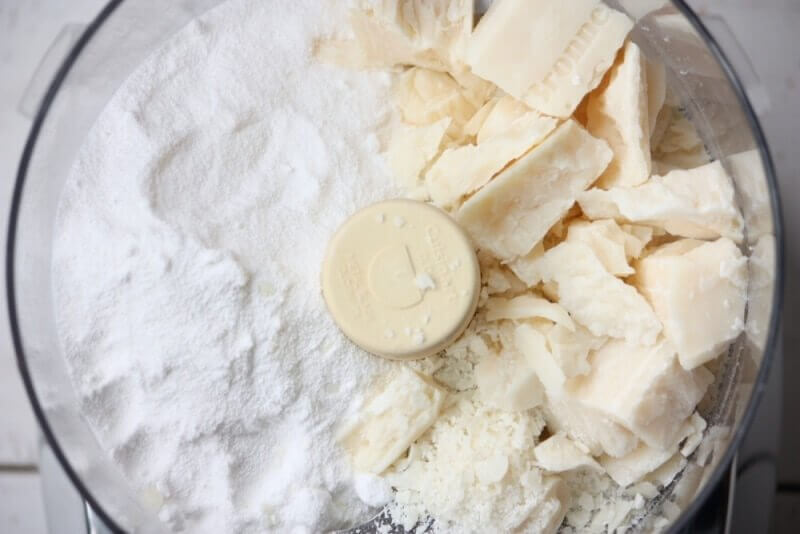 Powdered Laundry Detergent: What You Really Need
Bar Soap (ALWAYS) – Coconut oil-based soaps are best, but tallow and lard can also be used. (here's how to make it, here's where to buy it, and here's another brand that also works well). Click here to learn how to render tallow.
Baking Soda (SOMETIMES) – No one uses this in commercial formulas . . . not even Arm & Hammer! According to this post, "Baking soda is only half as strong as washing soda at softening water and doesn't allow the cleaning pH to go nearly as high. And if you have a stronger product on hand, why dilute it with a weaker one?" Fortunately, if you have some on hand you can use it to make washing soda.
Borax (NOPE)- Opinions are split on whether this product is safe, so I avoid it when possible. Fortunately, according this post washing soda perform the same function, so you're not missing out on anything. (Plus, from what I hear Borax only works well in hot water)
Lemon Essential Oil (DEFINITELY) – Works well as a stain remover and de-greaser. I just dab a few drops on stains as I find them and then throw them in the wash. (Where to buy lemon essential oil)
Vinegar (YEP) – Though not a part of the main recipe, I use 1/2 cup vinegar as a rinse for two reasons:
Laundry detergent has a very alkaline pH, which can irritate skin. Using a vinegar rinse resets the pH to a skin-friendly level
It helps dissolve excess detergent and salts off clothes
Powdered Oxygen Bleach Without Fillers (SOMETIMES) – For brightening whites. This brand is pure sodium percarbonate (powdered hydrogen peroxide) which is non-toxic. It says it contains 99% pure sodium percarbonate, but it's totally pure. The other 1% is moisture.
What To Buy When You Don't Want To DIY
Molly's Suds Laundry Powder is very similar to my recipe below and comes in unscented and peppermint. 
Meliora Laundry Powder is also similar and comes in unscented, lemon and lavender.
Quick note: I don't find that clothes smell particularly like the laundry powder scents after they are washed and dried. Essential oils don't stick to clothes in the same way that synthetic perfumes do.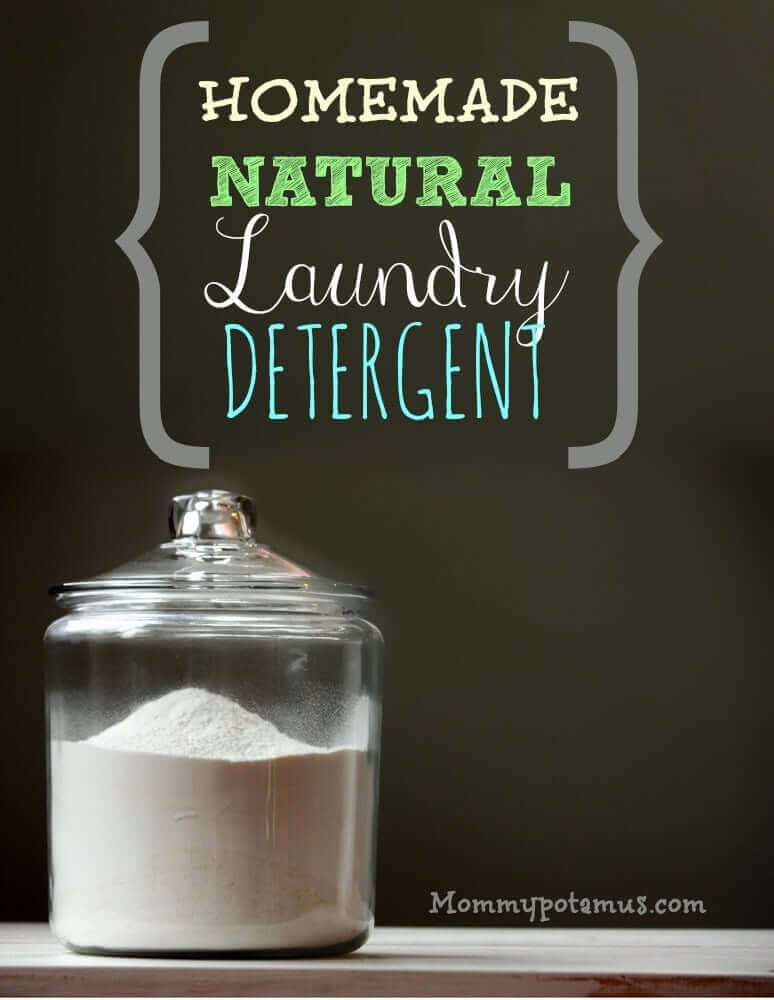 How To Make Laundry Detergent
Ingredients
Additional Items You'll Want To Have On Hand:
More on what to do with this stuff in the instructions below
To Make:
Cut soap into small chunks. Add to the food processor along with the washing soda.
Blend until you have a fine powder. You may want to lay a dish towel over the top of your food processor to prevent a fine mist of powder from floating into the air. Also, let it settle a bit before opening the container or the powder will float onto your kitchen counter!
Pour into a clean container (keep the essential oil next to the jar and add 5 drops with each load)
To Use:
These instructions are for a top loader. I don't have any experience with front loaders, sorry!
Add 2-3 tablespoons laundry detergent per load ( If you are washing in cold water, dissolve it in hot water before adding it in. I prefer to start each load with a little hot water to dissolve and then put my laundry in)
If desired, add about five drops of lemon essential oil as a degreaser
If washing whites, add a scoop of powdered oxygen bleach or pour 1/2 cup peroxide in the bleach compartment
Add 1/2 cup vinegar to a Downy ball or the fabric softener compartment
For extra fabric softening goodness and a shorter drying time, toss some wool dryer balls in the dryer with your clothes.
Is This HE Safe?
This soap is low-sudsing, so theoretically it should be fine for HE washers. A very similar recipe found on the Kirk's Castile Soap website is said to be safe and offers the following information and tips:
"This powered recipe is great for High Efficiency washers because it is very low sudsing.
It is important that you grate the bar soap very finely for HE washers."[i]
Special notes:
 As with other detergents, it is recommended that you cut the amount used in half for HE machines.
Be sure to check your owner's manual – using certain types of products may void your warranty.
Is This Septic System Safe?
Yes, all of the ingredients in this recipe are considered septic system safe.
Want a FREE ebook of non-toxic cleaning recipes that WORK?
I've created a free ebook for you as a gift for signing up for my newsletter. 7 Non-Toxic Cleaning Recipes That Really Work covers seven recipes that you can make in just a few minutes each for squeaky clean windows, sparkling dinnerware, lemon-fresh countertops, and more. Subscribe to my newsletter below and you'll be redirected to a download page for immediate access to this PDF ebook.