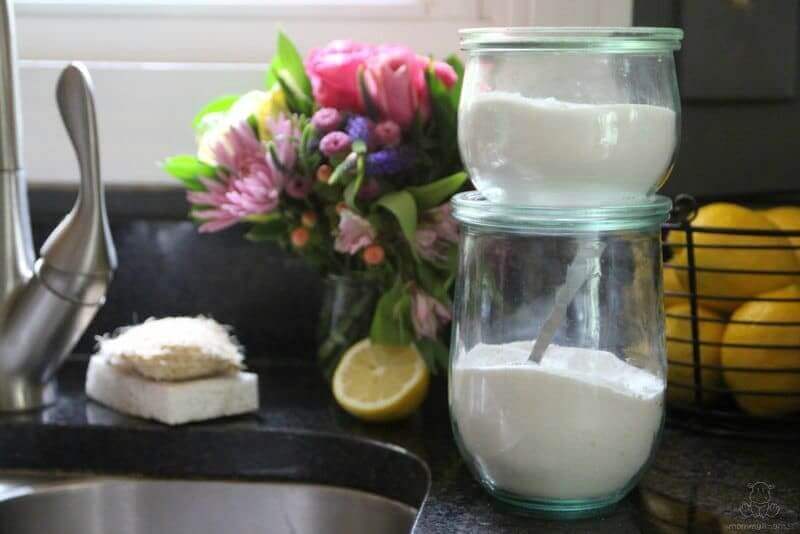 Inside: How to make a natural dishwasher rinse aid that works synergistically with homemade dishwasher detergent.
New dishwashers. Old dishwashers. Purple dishwashers. Dishwashers with lima beans stenciled on the front. In 2010 it didn't matter what kind of dishwasher you had – they all seemed to break overnight.
As it turns out, the problems weren't mechanical. Seventeen states had recently banned the use of phosphates, prompting detergent manufacturers to reformulate their products without them. While this was a great move for our waterways – phosphates create algae blooms and starve fish of oxygen – the new detergents were less than stellar.
Phosphates help rinse away silt and hard water deposits, leaving dishes shiny and glassware crystal clear. So are we doomed to cloudy glasses without them? No way! Citric acid is a waterway-safe alternative that delivers great results, and in this post I'm going to show you how to use it.
Prefer a Non-DIY Option?
Eco Me makes a rinse aid with just four ingredients, vinegar, citric acid, coconut-derived soap and plant-derived solubilizer – the soap and stabilizer both score a "1" with the Environmental Working Group, which is the safest rating possible. You can find the rinse aid here. Another option with good ingredients is this one, which earns and A from EWG.
They also make a wonderful non-toxic dish soap – they have one that is scented with essential oils and one that is unscented.
Can I use vinegar as a rinse aid?
Do-it-yourselfers have been raving about the sparkling results they get from straight vinegar for years, but is it safe for the dishwasher? According to some manufacturers and industry experts, commercial rinse aids may be substituted with vinegar as long as it's no more than 5% acetic acid, which is exactly the ratio you'll find with most commercially sold vinegar. (source 1, source 2)
However, some newer dishwashers have rubber in the rinse aid compartment, which may be damaged by straight vinegar. Check with your manufacturer for information on whether it is recommended for your particular model. If straight vinegar is not an option, there are a few natural rinse aids you can purchase which use citric acid and vinegar along with coconut derived clarifiers to reduce the acidity of the formula. You can find a link to the one I recommend here.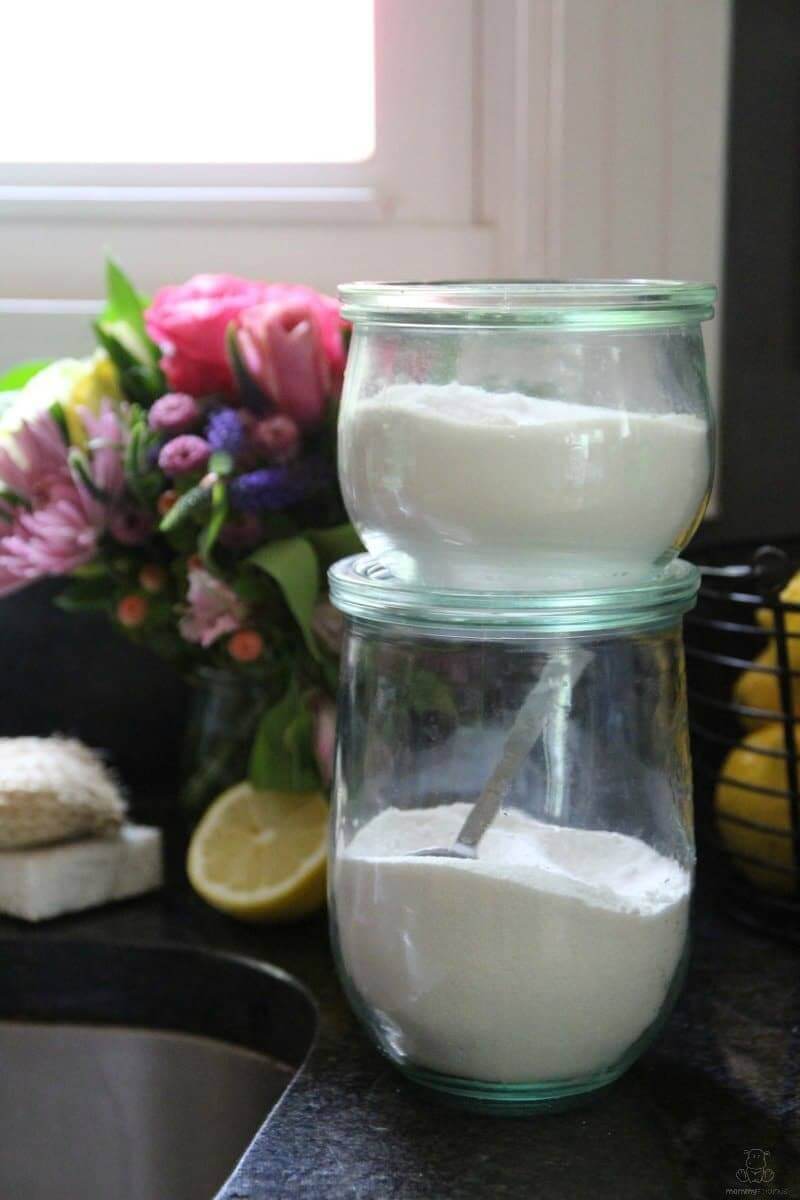 Preparing Your Dishwasher
Before using the citrus shine rinse aid for the first time it's important to clear away deposits from your dishwasher. Otherwise, the citric acid will loosen them and they will redeposit on your dishes.
To prepare your dishwasher, place 1⁄4- 1⁄2 cup citric acid in the bottom of your empty dishwasher and start a cycle. Allow to run for 3-5 minutes and then turn the dishwasher off. Let the water/citric acid solution soak for 3-4 hours and then allow the cycle to resume.
Homemade Natural Dishwasher Rinse Aid
The photos above were taken of my kitchen sink, where I keep one large Weck tulip jar full of homemade dishwasher detergent and one smaller Weck jar full of the natural rinse aid recipe below. I keep a measuring spoon in the larger jar to scoop both into my dishwasher – super easy!
Ingredients
To Make
Combine citric acid and essential oils and stir until there are no clumps. Pour into a jar and seal tightly with a lid.
To Use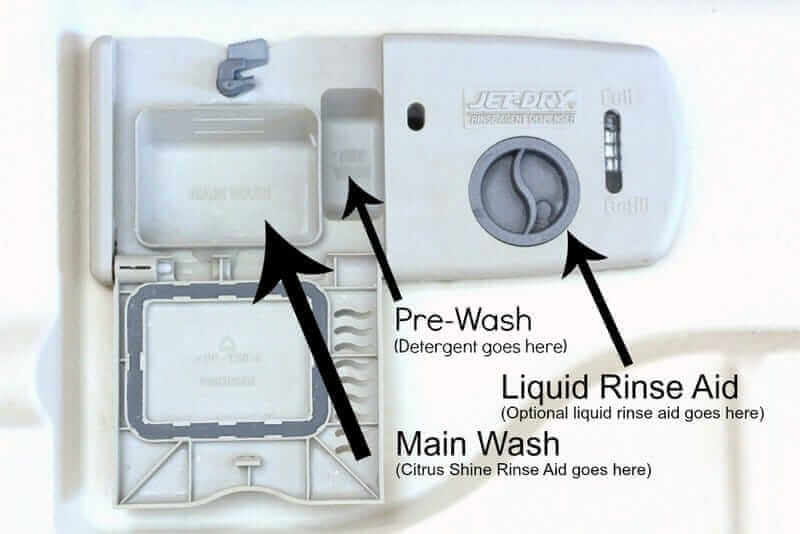 If your dishwasher has a pre-rinse and main wash receptacle but not a rinse receptacle, place 1 tablespoon rinse aid in the main wash receptacle and place your detergent in the pre-wash receptacle. This ensures that the Citrus Shine Rinse Aid does not interfere with the cleaning power of your detergent, but instead activates after your dishes are clean to remove sediment/ hard water deposits.
If deposits remain, increase the amount used to 2 tablespoons and/or add the liquid rinse aid if recommended by your manufacturer.
Storage
Store in a dry place.
Troubleshooting
If you have very hard water, you may want to consider preventing future buildup by putting 1⁄4 cup citric through a wash cycle (while the dishwasher is empty) once-per-month.
If your rinse aid becomes clumpy, add two tablespoons of bentonite clay in a pouch or small sock. This prevents the citric acid from clumping in high humidity areas. It's placed in a pouch because it's not meant to mix with the citric, just absorb excess moisture. However, it's very rarely necessary. I never use a clay pouch in the jar I keep next to my sink and I have no issues with clumping.
Want a FREE ebook of non-toxic cleaning recipes that WORK?
I've created a free ebook for you as a gift for signing up for my newsletter. 7 Non-Toxic Cleaning Recipes That Really Work covers seven recipes that you can make in just a few minutes each for squeaky clean windows, sparkling dinnerware, lemon-fresh countertops, and more. Subscribe to my newsletter below and you'll be redirected to a download page for immediate access to this PDF ebook.