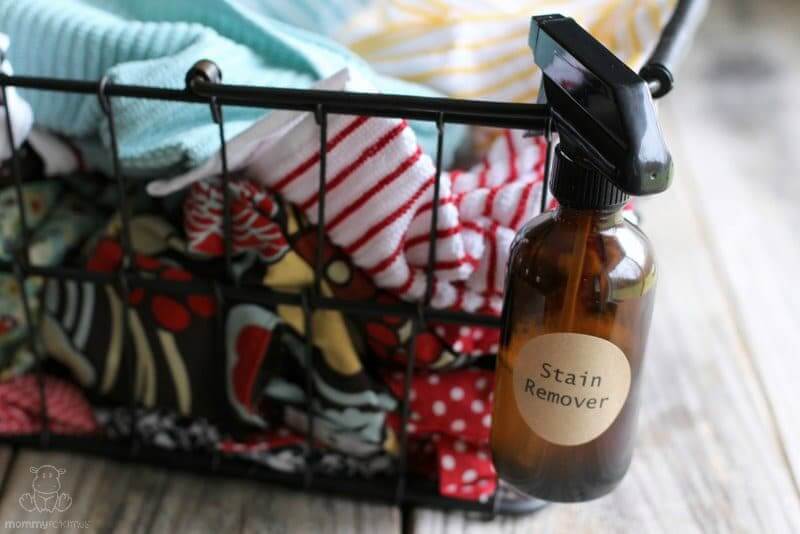 I've been using the same tried-and-true homemade powdered laundry detergent for years, and recently I discovered a simple liquid version that I love. (Happy accident – I was trying to make shampoo!)
Unfortunately, as the potami get older – and MESSIER – I've found myself losing more and more battles to the stain monster. My old stain remover recipe just wasn't up to the task – especially when it comes to oil stains – so I've been testing a few variations with ingredients like hydrogen peroxide, castile soap, glycerin, cornstarch/arrowroot flour, and lemon essential oil.
Using the leftovers from my potholder project, I rubbed all kinds of things (ketchup, grass, oil) on several t-shirt strips. After letting the stain set, I sprayed them with several different recipes and then rinsed the cloth in the sink. Formula #3 was by far the best – especially in dealing with oil stains – so that's what I'm sharing with you today. It's worked beautifully for me in removing ketchup, oil stains, grass stains, and a few mystery stains.
Below is a before/after photo of one of my son's favorite shirts. The stains are many months old so I wasn't expecting much when I started using the new recipe, but just spraying the shirt and letting it sit overnight before washing has made a huge difference. (I've sprayed it three times so far.) There are still a few very light spots that I'll continue to spray before washing, but this shirt has moved from the "only at home" category to "wear in public." (I'm not the only one who has those categories, right?)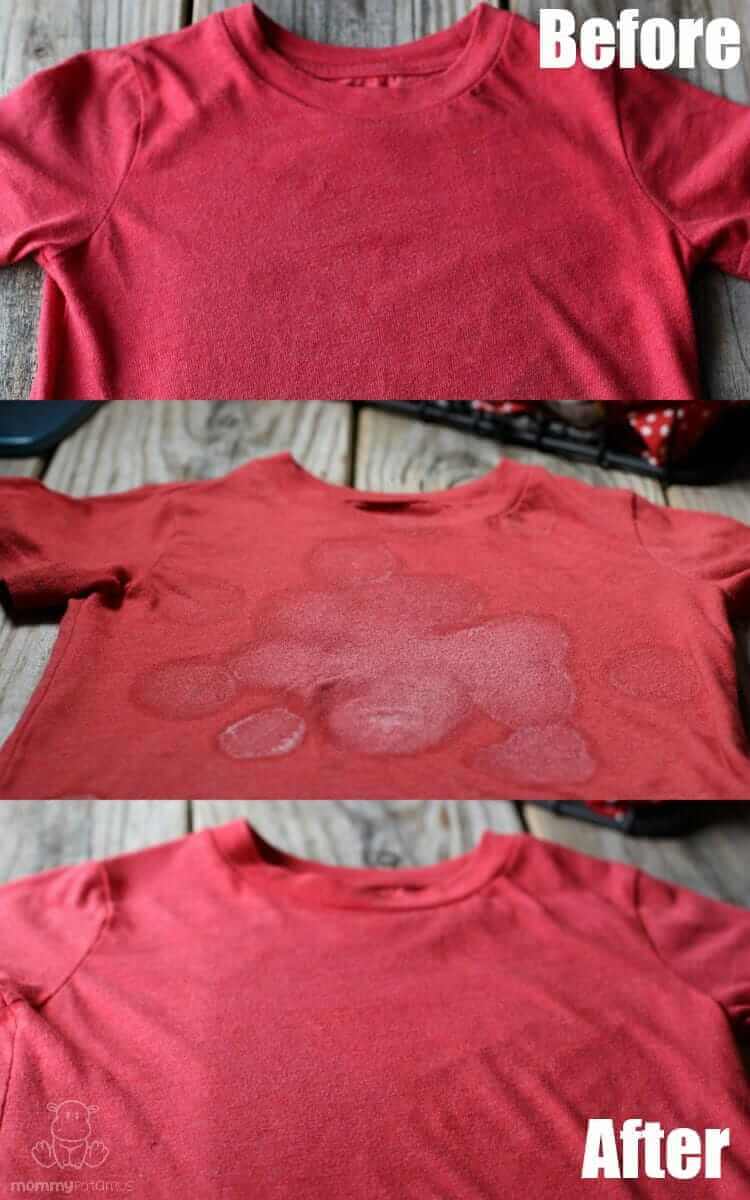 The science behind homemade stain removers
So why does it work? Hydrogen is a weak acid, and castile soap is a base. Normally when you mix the two together they cancel each other out, so I was shocked that this was the winner. I wouldn't have even tried putting the two together, but I'd seen so many sites recommend Dawn dish soap mixed with hydrogen peroxide that I had to see what all the fuss was about. (This recipe is based on that formula, only with natural castile soap instead of Dawn and the addition of lemon essential oil for extra degreasing oomph.)
It's possible that the soap dampens the effect of the hydrogen peroxide just enough to make it a color-safe form of oxygen bleach. (Most "color-safe" bleaches contain stable ingredients that turn into hydrogen peroxide when added to water. Still, it's important to do a patch test before applying just in case – some fabrics will fade even with color-safe products.)
Or maybe the soap works as a degreaser while the hydrogen peroxide lifts the stain and breaks down organic components. I'm not sure. All I know is it works way better than my old recipe!
Oil Stain Tip
Sometimes, when I have an oil stain that is particularly stubborn, I'll spray this stain remover on it and then sprinkle it with diatomaceous earth, arrowroot powder or cornstarch. The powder will help absorb the oil from the stain.
Don't Want To Make Your Own?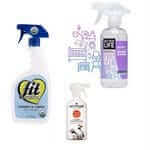 When you're short on time, sometimes it's better to buy a pre-made option so that you can focus on other priorities.
It's pretty challenging to formulate a really clean stain remover. Fit Organic Laundry & Carpet Stain Remover has the best ingredients that I know of but is not great at getting tough stains out.
Better Life is more effective in my opinion, but it contains a tiny amount (0.01%) of a preservative I don't love because it's associated with allergic reactions. Attitude Stain Remover's ingredient looks a lot less natural than the others, but it's actually rated higher than Better Life's by the EWG and works pretty well. The only downside is that you're supposed to treat the stain immediately, not spray it and set it aside to wash later.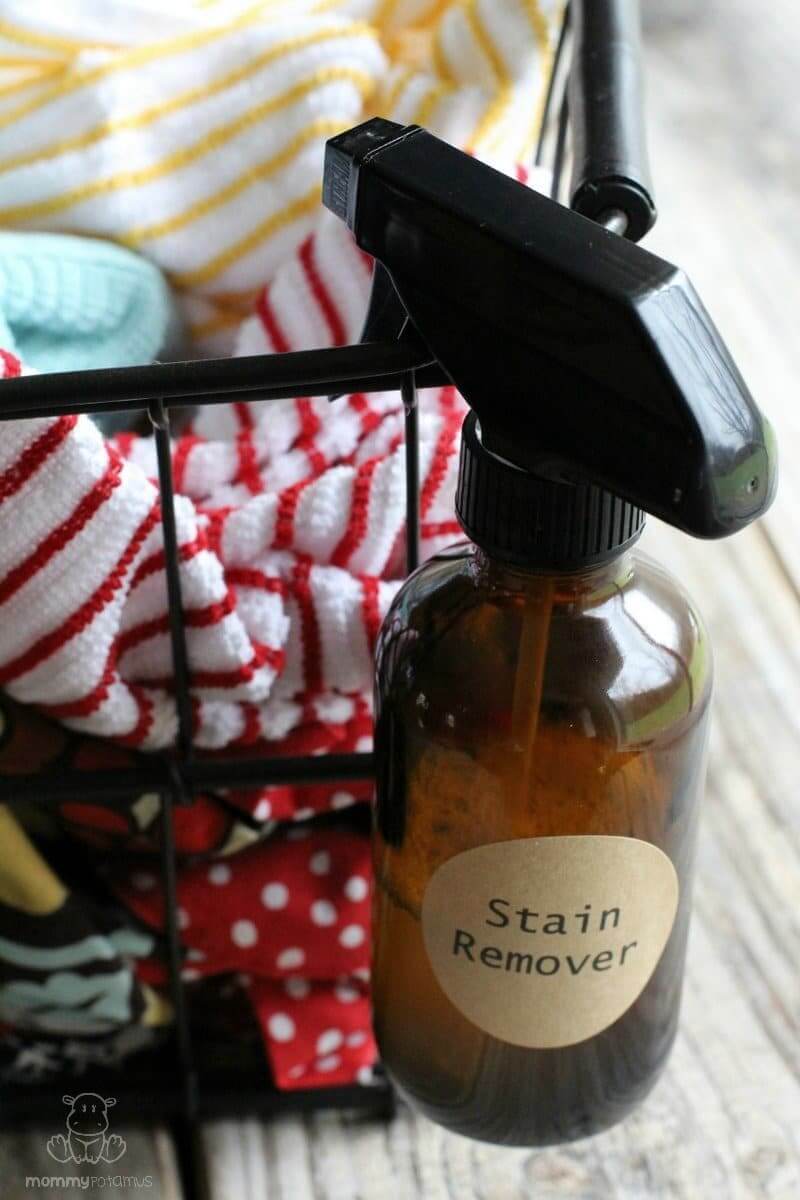 Homemade Stain Remover
Ingredients
To Make
Combine ingredients and pour into a dark glass spray bottle. Hydrogen peroxide is sensitive to light so a dark bottle is essential for maintaining potency.
To Use
Shake well, then spray stain remover on the affected area – do a patch test first if there is any concern about colorfastness. I sometimes allow it to sit for about 5 minutes, then rinse while rubbing/scrubbing the fabric, then reapply and repeat until the stain is gone. Other times, I just spray it on and just throw it in the wash.
Want a FREE ebook of non-toxic cleaning recipes that WORK?
I've created a free ebook for you as a gift for signing up for my newsletter. 7 Non-Toxic Cleaning Recipes That Really Work covers seven recipes that you can make in just a few minutes each for squeaky clean windows, sparkling dinnerware, lemon-fresh countertops, and more. Subscribe to my newsletter below and you'll be redirected to a download page for immediate access to this PDF ebook.