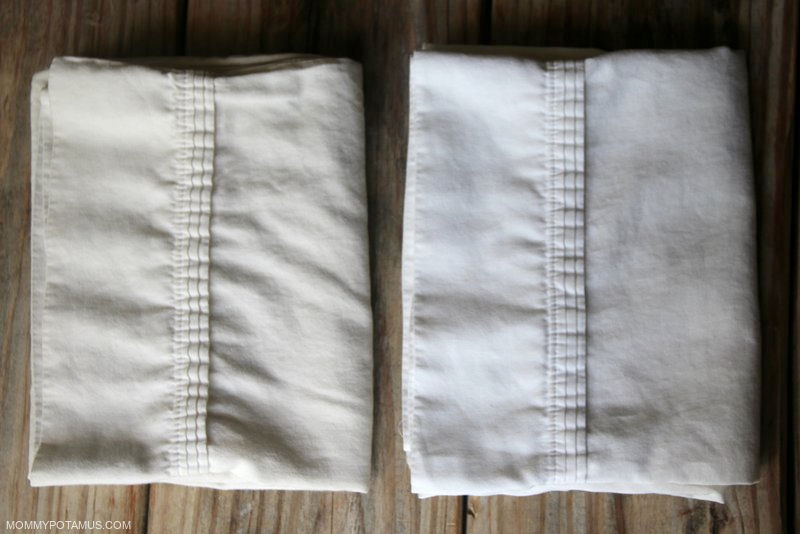 Natural bleach alternative (noun) – Various concoctions that are said to whiten and brighten clothes, but rarely work in real life. See also: Laundry unicorns.
If that's how you feel after trying a few bleach alternative recipes, I get it. I've tested everything from citric acid and lemon juice to vinegar and peroxide to whiten my clothes. Peroxide alone worked beautifully for awhile . . . and then it didn't. When we moved to a homestead with spring water a few years ago, all my whites started to become dingy. Now, I adore all the lovely minerals in my water – I just don't want them creating a yellow buildup on my sheets!
Why avoid bleach?
So was I tempted to cave and treat them with bleach? NO! Yes . . yes I was. Here's the deal, though: As mentioned in this article from certified Building Biology practitioner Andrea Fabry,  a study conducted at the University of Leuven in Belgium – which included 9,000 children – concluded that:
Passive exposure to cleaning bleach in the home may have adverse effects on school-age children's health by increasing the risk of respiratory and other infections. The high frequency of use of disinfecting irritant cleaning products may be of public health concern, also when exposure occurs during childhood."
I could seriously go on, but the bottom line is this: There are a number of reasons to be concerned about the use of bleach, both in how it affects individuals and the environment. In contrast, the recipe I'm sharing with you contains only three simple ingredients:
hydrogen peroxide, which breaks down into plain water after the extra oxygen atom is released
washing soda, which breaks down into soda ash
lemon essential oil
Finally, something that works!
Alright, back to my predicament with the yellow sheets. After a little research on homemade bleach alternatives, I discovered that the two active ingredients in store-bought oxygen bleaches are nothing more than sodium percarbonate (powdered hydrogen peroxide) and washing soda. Yep, that's it!
I was already using washing soda in my homemade laundry detergent along with the occasional addition of peroxide, but in order to really have an effect on my whites I found I needed to increase the concentration significantly. This week, while I'm washing sheets, I decided to grab two pillow cases from my attic to show you how well it works. Here's what they looked like before I put one in a bucket with this homemade bleach alternative – both pretty dingy!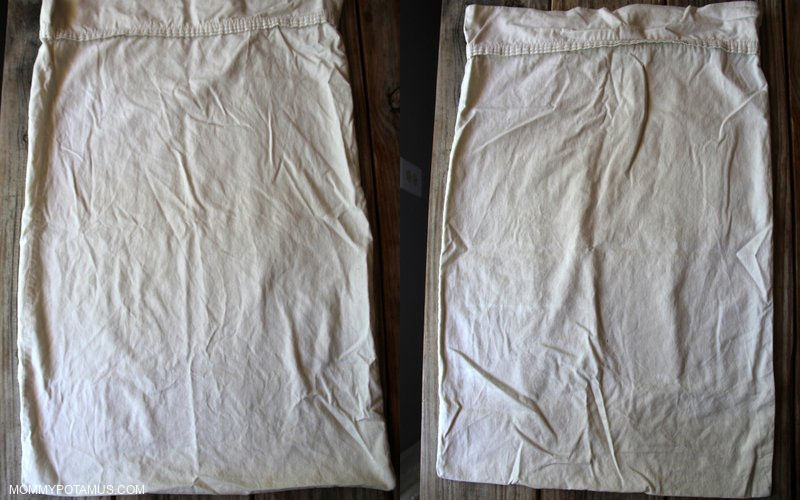 Here's how different they were after: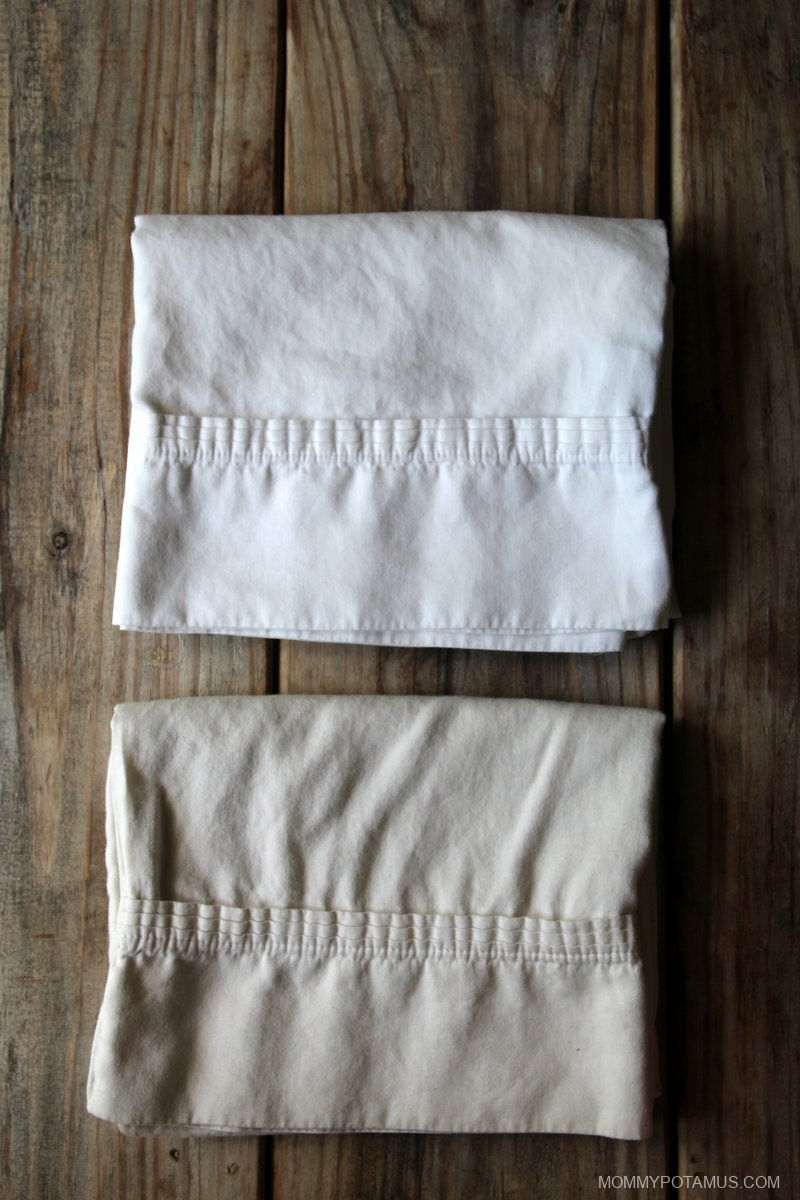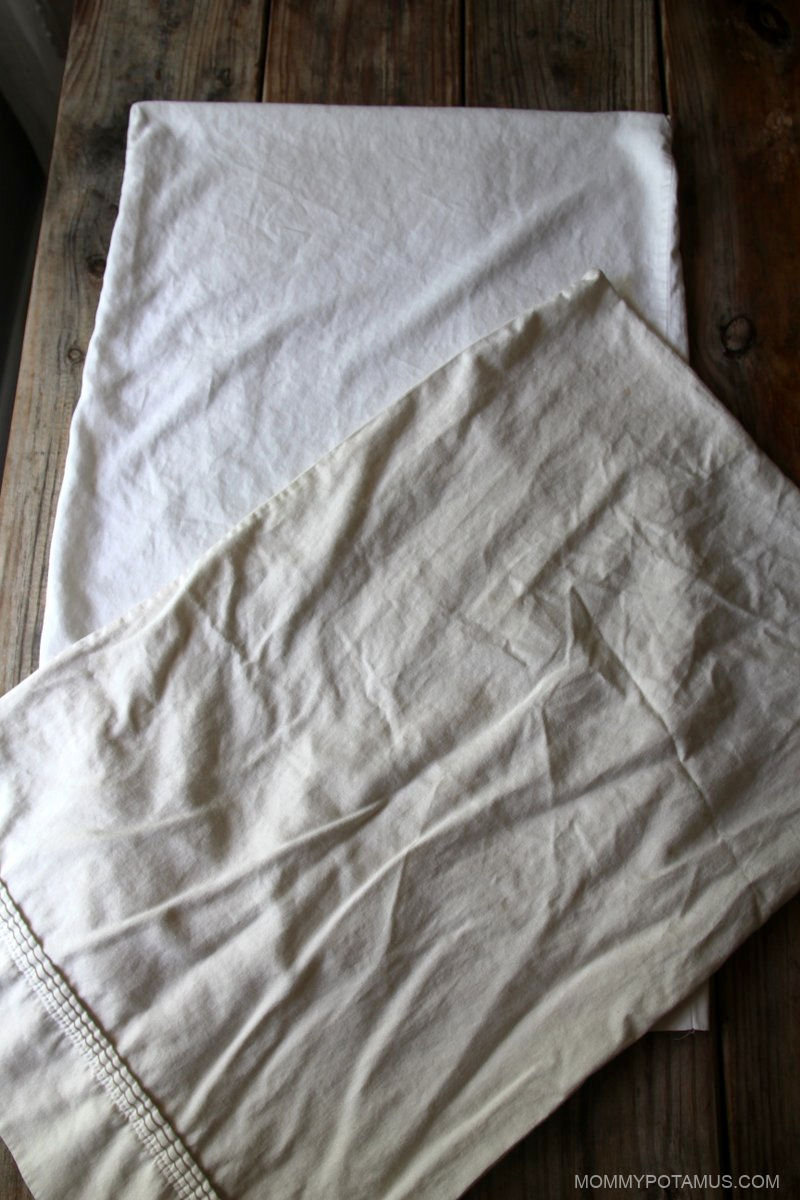 Now, it's not magic fairy dust. Your whites will not be so bright that they practically glow in the dark and you may need to treat them more than once, but I have had great results with this recipe.
So, is it colorfast?
Oxygen bleach is considered color safe, but not all clothing is colorfast. and therefore may be negatively affected by the bleach. Thanks to my adorable helpers, color clothes (and legos!) sometimes make it into a load of whites, and so far it's been fine. However, I recommend testing for colorfastness in an inconspicuous area by soaking it in the mixture before using.
Your recipe says not to use hot water. Why?
In the instructions below you'll see that hot water is used to dissolve the washing soda, but mainly room temperature water is used. I know this is pretty much contrary to everything we've been taught, but here's the deal: Hot water weakens the active ingredient in both hydrogen peroxide and bleach. (source 1, source 2) Both substances degrade over time with exposure to light/air, and heat accelerates that process. Using room temperature water is going to feel weird – like having 10 minutes to yourself without any questions weird – but trust me, it will work out.
Update: Two Non-Toxic Store-Bought Options
When life gets busy and you don't want to DIY, you don't have to settle for the toxic stuff. Molly's Suds Oxygen Whitener and Eco-Me Natural Laundry Whitener Brightener are both very similar to my recipe below.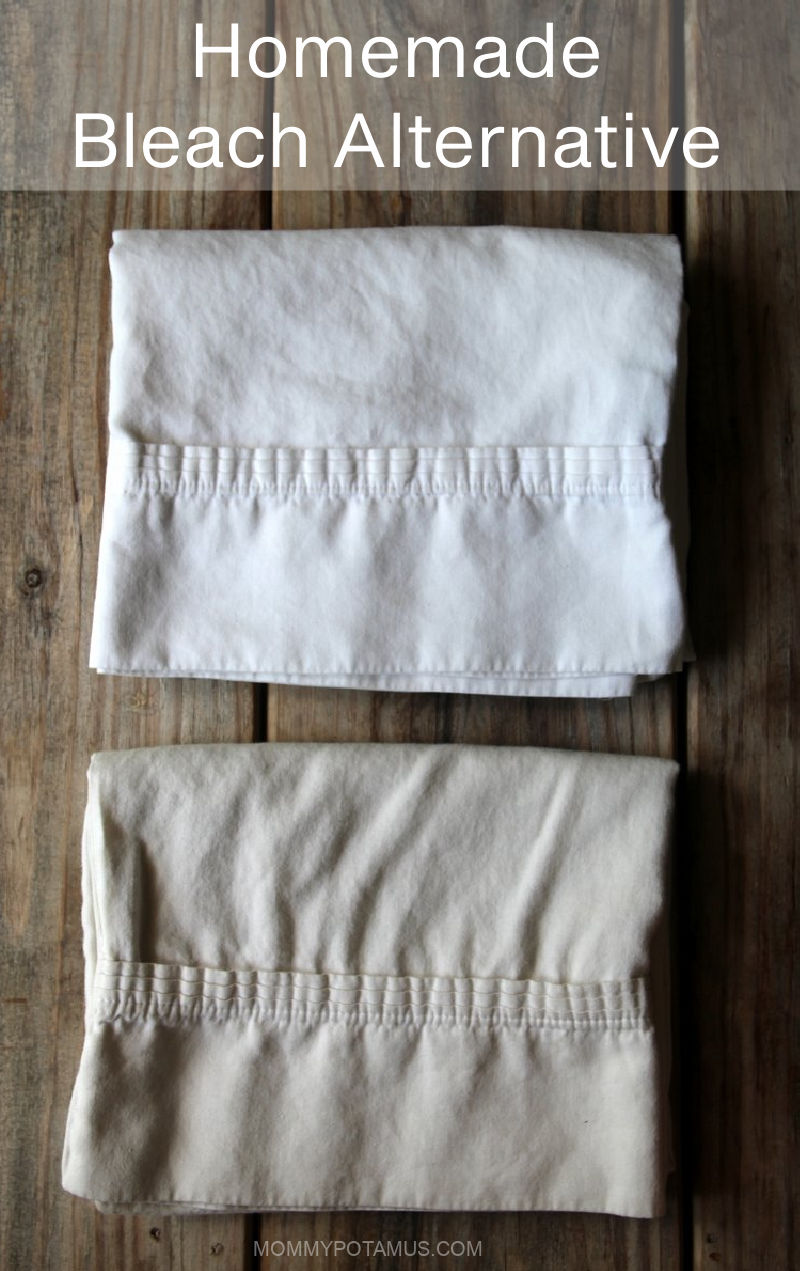 Homemade Bleach Alternative
Ingredients/Equipment
3-5 gallon bucket (optional)
How To Make
Add essential oil to washing soda and stir thoroughly until the drops are well distributed. Add washing soda/lemon oil to hot water and stir until the washing soda is completely dissolved. In a separate container, measure out 1-2 cups hydrogen peroxide.
How To Use
I prefer to use this bleach alternative in concentrated form, so I pour the hot washing soda mixture into a large bucket (3-5 gallons), then add 28 cups room temperature water and 1-2 cups of hydrogen peroxide. I place my laundry in the bucket and soak overnight, then wash as normal. If needed, I repeat the process – old, set-in stains sometimes need more time to loosen up.
For a less concentrated form, you could add the washing soda mixture to your washing machine and select the "small" setting for your load size. Cool/room temperature water is best, because heat degrades the hydrogen peroxide. When the cool water has mixed with the hot water, add in the hydrogen peroxide. Place clothes in the washing machine and allow to soak before washing as usual – I find that overnight is best.
Storage
Because minerals found in water can accelerate the breakdown of hydrogen peroxide, I recommend making up batches as needed so that the hydrogen peroxide is as strong as possible.
Want a FREE ebook of non-toxic cleaning recipes that WORK?
I've created a free ebook for you as a gift for signing up for my newsletter. 7 Non-Toxic Cleaning Recipes That Really Work covers seven recipes that you can make in just a few minutes each for squeaky clean windows, sparkling dinnerware, lemon-fresh countertops, and more. Subscribe to my newsletter below and you'll be redirected to a download page for immediate access to this PDF ebook.