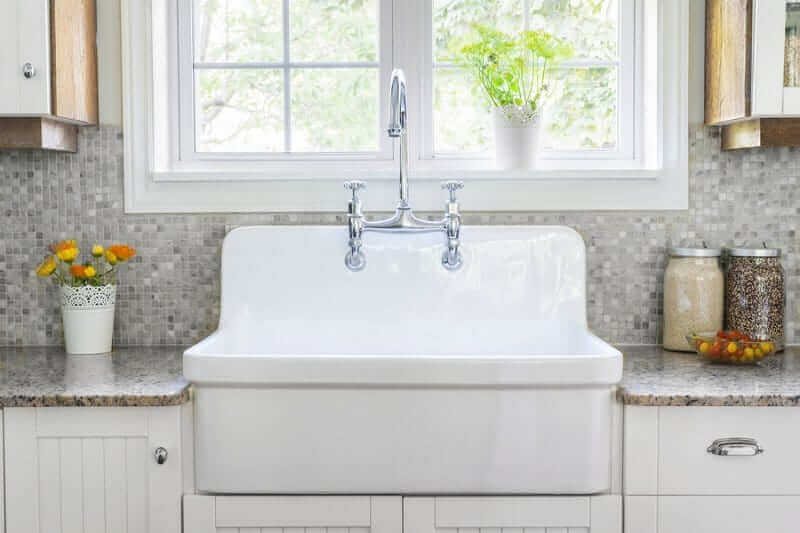 Inside: 12 non-toxic cleaning recipes that really work, plus what to buy when you don't want to DIY. For more non-toxic home and personal care recommendations, check out my shopping guide.
Let's play a game. You choose any cleaning product on the shelf at your local market and tell me what's in it. Easy, right? All you need to do is read the label. There's only one problem – ingredients are not required to be listed unless they're already known to be harmful, and pretty much no one's checking to find out if they are.
The government only requires companies to list 'chemicals of known concern' on their labels. The key word here is 'known'," consumer advocate Sloan Barnett told Scientific American. "The fact is that the government has no idea whether most of the chemicals used in everyday cleaning products are safe because it doesn't test them, and it doesn't require manufacturers to test them either."
Here's What We Do Know
A study done by the EPA found that about 85% of chemicals approved don't come with any safety data. (Alderton et. al.) However, when evaluated by independent third parties, many of the cleaners on the grocery store shelves are found to contain neurotoxins, endocrine disruptors, and carcinogens. (EWG) That's not good for us our our environment, which is why there's been so much demand for safer options lately.
Problem is, just because something has a green leaf or a recycle logo slapped on it does not mean it's truly safe.
Natural Cleaners: What To Make And What To Buy
Below are twelve non-toxic cleaning recipes that really work, plus what to buy when you don't want to DIY. As you'll see, there are several brands represented because I chose each product based on ingredients and not the manufacturer. Some of these companies include problematic ingredients in other products, so make sure to read the label before popping them in your cart.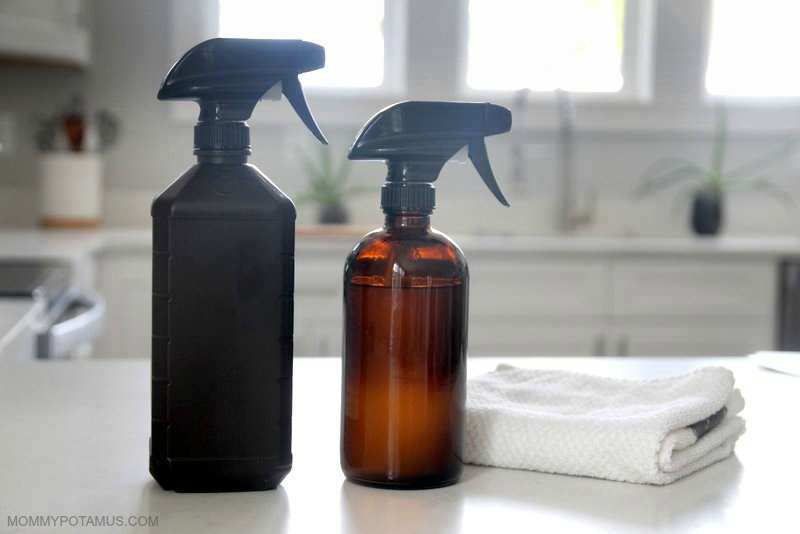 All-Purpose Cleaners
What To Make:
I use these cleaners on kitchen counters, the dinner table, the bathroom counters, and for dusting.
DIY Vinegar + Hydrogen Peroxide All-Purpose Cleaner – Non-toxic and affordable, hydrogen peroxide is classified by the CDC as "a stable and effective disinfectant" for hard surfaces. When used in tandem (BUT NOT MIXED WITH) vinegar it becomes part of a dynamic duo that food scientist Susan Sumner described this way:
If the acetic acid [active component of vinegar] got rid of 100 organisms, the hydrogen peroxide would get rid of 10,000, and the two together would get rid of 100,000"
The method in this article was pioneered by Sumner while she was working at the University of Nebraska.
DIY All-Purpose Cleaner With Lemon And Lavender – The bright, fresh scent of this all-purpose cleaner is perfect for everyday use and spring cleaning. It's super easy to make, too.
Citrus Splash All-Purpose Cleaner – This simple mixture smells fabulous, but don't let its great smell fool you – it's amazingly effective!
Tip: Essential oils are wonderful to clean with, but unfortunately they may cause plastic bottles to leach. No worries, though, it's super easy to make your own glass spray bottle.
What To Buy:
Meliora All-Purpose Cleaner – This company uses the absolute purest ingredients. When you buy the glass spray bottle found here it comes pre-loaded with one batch of powder, so all you have to do is add warm water and shake until dissolved. You can order 18 refills on the same page for the cost of about $0.71 per 16 ounce bottle including shipping.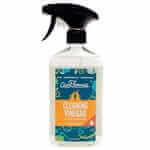 Aunt Fannie's Cleaning Vinegar – Like Meliora, this cleaner earns an A from the Environmental Working Group. It's made from food-based ingredients and comes in four scents: Sweet Mandarin, Lavender, Fresh Lime Mint, and Eucalyptus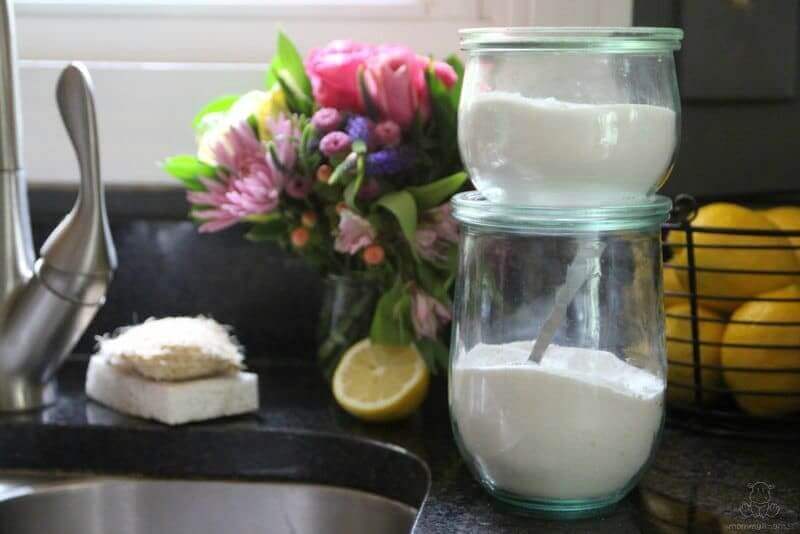 Dishes
What To Make
Homemade Dishwasher Detergent – If you've ever tried making homemade dishwasher detergent and been disappointed with the results, chances are you were closer to a great recipe than you thought. Most DIY formulas use the same basic ingredients, but there's a trick to getting them to work.
Natural Dishwasher Rinse Aid – Hard water deposits and sediment are no problem for this natural homemade dishwasher rinse aid. It's easy to make, too – you only need ONE ingredient!
What To Buy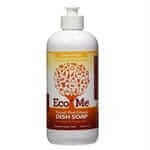 Eco-Me Lemon Fresh Dish Soap – Although I have a liquid dish soap recipe that works beautifully in my kitchen, it doesn't seem to produce consistent results due to regional variations in water types (hard water, soft water, pH, etc.) The Eco-Me liquid soap gets an A from the Environmental Working Group and works well on greasy pans and dishes.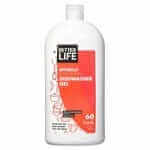 Better Life Dishwasher Gel – When I set out to find a store-bought alternative to my homemade dishwasher detergent, I thought for sure the best option would be another powdered detergent. Turns out, though, that this liquid gel is one of the highest rated for both safety and performance.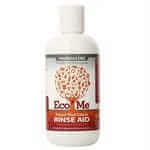 Eco-Me Rinse Aid – This rinse aid is made with just four ingredients – vinegar, citric acid, coconut-derived soap and plant-derived solubilizer – the soap and stabilizer both score a "1" with the Environmental Working Group, which is the safest rating possible.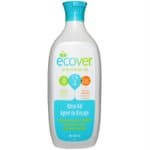 Ecover Rinse Aid – A lot of rinse aids get an "F" from the Environmental Working Group due to the use of toxic ingredients and not disclosing the full ingredient list. Ecover, on the other hand, earns an A.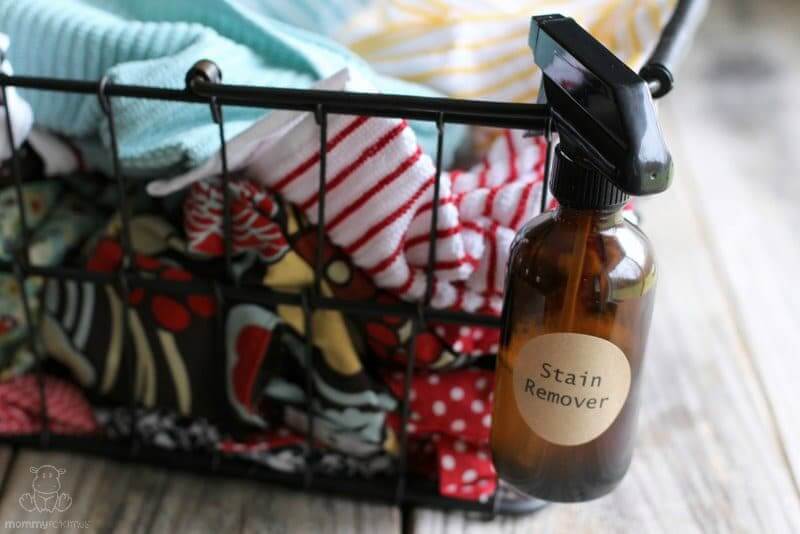 Laundry
What To Make
Natural Laundry Detergent – Here's what a couple of y'all have had to say about this recipe.
"I tried your recipe, just because I had the ingredients on hand and I was curious. What really surprised me is how well it works. My laundry is not only clean, but it feels softer and cleaner than when I used regular laundry detergent." ~ Kelli
"I just finished washing my clothes with this recipe & I love it. I'm never going back to store bought detergent again."
Homemade Bleach Alternative – If finding a homemade bleach alternative that WORKS feels a little like hunting for a mythical laundry unicorn, I think you'll like this simple recipe.
Homemade Stain Remover – As my kids have gotten older – and MESSIER – I've found that my old stain remover recipe just couldn't cut it. After testing several variations, I'm loving this one.
It's worked beautifully on ketchup, grass stains, oil stains, and those mystery stains you don't notice until something has already been washed and dried.
Homemade Wool Dryer Balls – They reduce drying time, soften clothes without chemicals, and save money.
What To Buy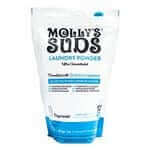 Molly's Suds Laundry Powder – This formula is very similar to my homemade laundry detergent and works well. 1 tablespoon sized scoop of Original Laundry Powder deep cleans and gently deodorizes 1 load of clothes. Totally safe ingredients, of course! Comes in unscented and peppermint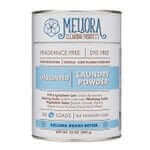 Meliora Laundry Powder – This concentrated laundry powder is very similar to the formula above – it comes in unscented and lavender. It's dye-free, preservative-free, and brightener-free. 1/2 tablespoon per high efficiency (HE) load – or 1 tablespoon per standard load – of laundry.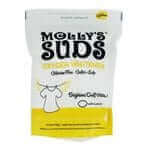 Molly's Suds Oxygen Whitener – This is very similar to my bleach alternative recipe with the addition of enzymes that help with whitening. Chlorine-free and color-safe. Sprinkle into toilet bowls, porcelain sinks, and bathtubs to naturally remove hard water stains and give white porcelain some sparkle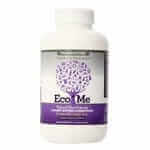 Eco-Me Natural Laundry Whitener Brightener – This is very similar to my bleach alternative recipe and the formula above except it uses enzymes that help with whitening instead of essential oil.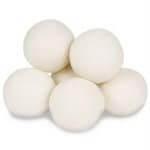 Dryer Balls – I like these eco-friendly wool dryer balls because they're well-made and affordable.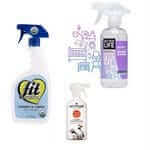 Stain Removers – It's pretty challenging to formulate a really clean stain remover. Fit Organic Laundry & Carpet Stain Remover has the best ingredients that I know of but is not great at getting tough stains out.
Better Life is more effective in my opinion, but it contains a tiny amount (0.01%) of a preservative I don't love because it's associated with allergic reactions. Attitude Stain Remover's ingredient looks a lot less natural than the others, but it's actually rated higher than Better Life's by the EWG and works pretty well. The only downside is that you're supposed to treat the stain immediately, not spray it and set it aside to wash later.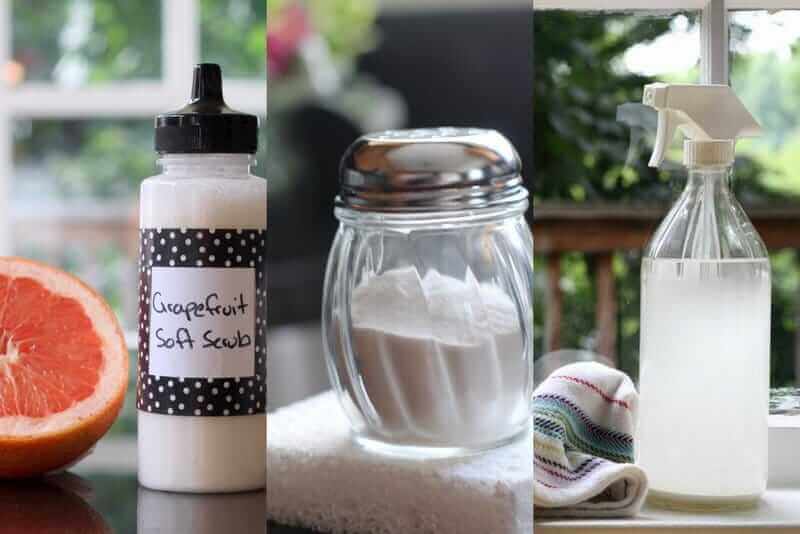 Mirrors, Tubs & Toilet Bowls
What To Make
Streak-Free Homemade Window Cleaner – It's easy, it works, and the most popular store bought brand gets a D from the Environmental Working Group.
Homemade Scouring Powder – When when the Environmental Working Group analyzed one of the most popular scouring powders on the market, they found that it "emitted 146 different chemicals, including some that have been linked to cancer, asthma and reproductive disorders. The most toxic chemicals detected – formaldehyde, benzene, chloroform and toluene – are not listed on the label." (CBS News)
Skip it and make your own instead with this quick and easy recipe – or buy the safer option below!
Homemade Soft Scrub – Wipe away grime and restore shine with this gentle soft scrub. It works just as well as store brands, and chances are you already have the ingredients to make it!
Toilet Scrub – Mix 1/2 cup baking soda with 8 drops lemon or tea tree essential oil (if desired) and sprinkle into toilet bowl. Allow the mixture to sit for about 30 minutes, then scrub.
What To Buy

Attitude Window & Mirror Cleaner – This streak-free spray brand is made from plant- and mineral-based ingredients. It gets an "A" from the Environmental Working Group (EWG), is hypoallergenic, and it actually works.

Sonnet Organic Scouring Powder – Uses the gentle action pumice powder with sodium carbonate, clay, soap derived from plant oils, and natural essential oils of sage and cajeput to clean without causing scratches.
GreenShield Certified Organic Toilet Bowl Cleaner – Naturally scented with organic essential oils and gets an A from the Environmental Working Group.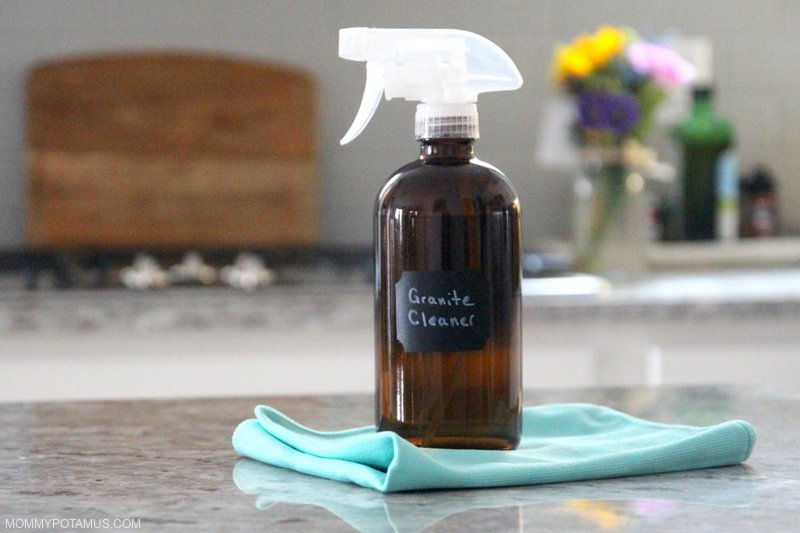 Granite Countertops
What To Make
Non-Toxic Granite Cleaner – This natural homemade granite cleaner won't etch countertops like vinegar or lemon juice, and works beautifully without leaving streaks or a filmy residue. So easy to make, too!
What To Buy
Eco-Me Granite And Marble Cleaner – Although this one is not specifically rated by the EWG, it contains two plant-derived soaps that are rated as an A, plus aloe vera, radish root ferment (which is antimicrobial), and a food-grade preservative.
A few other very handy cleaning tools I ♥
Twist Scrub Sponges – I love these natural, compostable sponges. They work well and be run through the dishwasher for easy cleaning.

Microfiber Cloths – These save money and last longer than other cleaning cloths. They remove up to 99% of bacteria on surfaces when used in conjunction with an effective cleaner. They're perfect for dusting, mirrors, countertops, everything!
More Tips & Tricks
Want a FREE ebook of non-toxic cleaning recipes that WORK?
I've created a free ebook for you as a gift for signing up for my newsletter. 7 Non-Toxic Cleaning Recipes That Really Work covers seven recipes that you can make in just a few minutes each for squeaky clean windows, sparkling dinnerware, lemon-fresh countertops, and more. Subscribe to my newsletter below and you'll be redirected to a download page for immediate access to this PDF ebook.
Sources for this article:
1. Alderton, Steve. (2010, February) EPA Needs a Coordinated Plan to Oversee Its Toxic Substances Control Act Responsibilities. Retrieved from https://www.epa.gov/sites/production/files/2015-11/documents/20100217-10-p-0066.pdf.
2. Environmental Working Group (2012) EWG Cleaners Database Hall of Shame. Retrieved from http://static.ewg.org/reports/2012/cleaners_hallofshame/cleaners_hallofshame.pdf