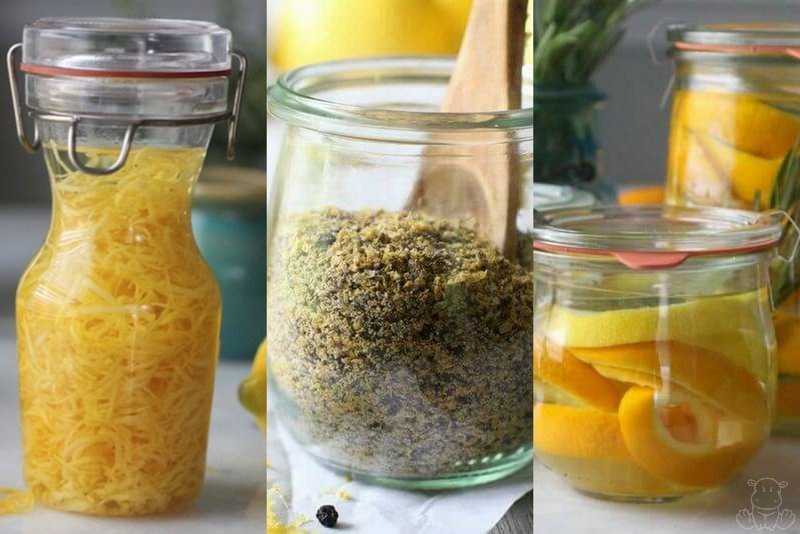 Ready to bring a little sunshine into your life? Well then, take the lemon peels left over from your newfound gummy star addiction and whip up a mouthwatering seasoning, flavoring extract, luster-boosting furniture polish or all-purpose cleaner!
It's a great way to flex your expense-busting DIY muscles without investing a lot of hands-on time, so let's get started, shall we?
Here are nine ways to use leftover lemon peels . . .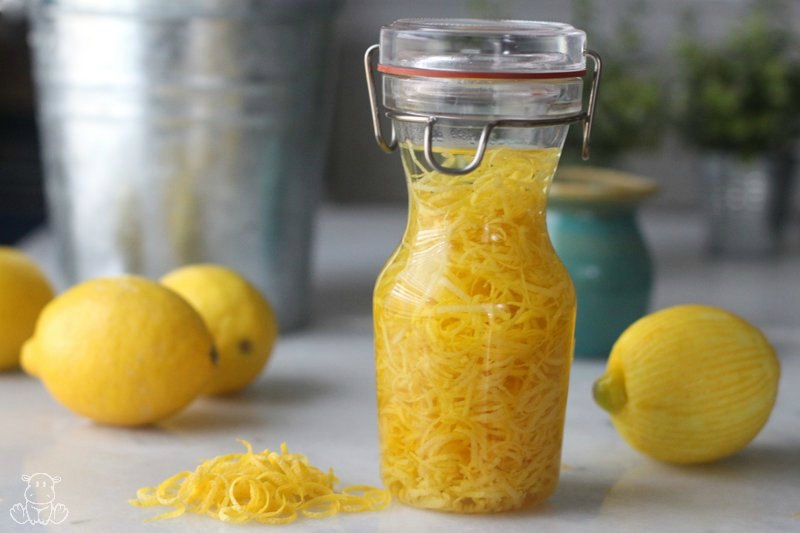 1. Homemade Lemon Extract
Lemon peels and vodka are all that are needed to create a lemon flavored extract for poppyseed muffins, lemon bread with vanilla glaze, and chewy lemon and coconut macaroons.
Get the recipe for lemon extract here.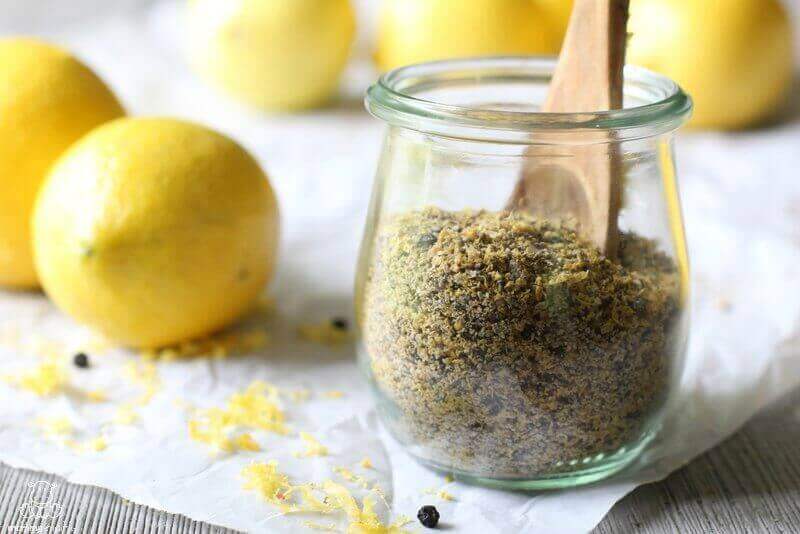 2. Easy Peasy Lemon Pepper Seasoning
The bright flavor of lemon in this seasoning melds perfectly with the deep, spicy notes of peppercorns, and it's super easy to make.
I don't even bother with drying my lemon zest in the oven – I just let them dry on a towel overnight and then grind them up in a coffee grinder the next day. So good with chicken, seafood, and roasted veggies!
Here's how to make my easy lemon pepper seasoning.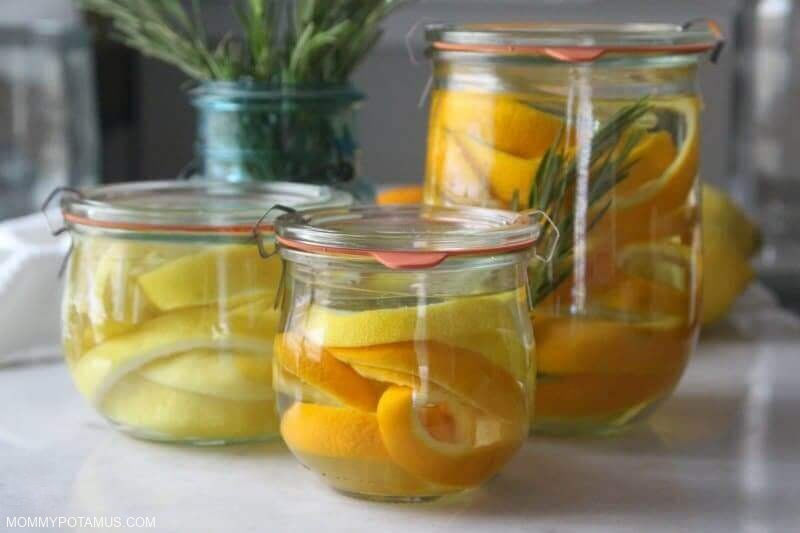 3. Citrus-Infused Cleaning Vinegar
Turn your leftover peels into an inexpensive, all-purpose cleaning vinegar that's perfect for kitchens and bathrooms, removing buildup and grime, and more.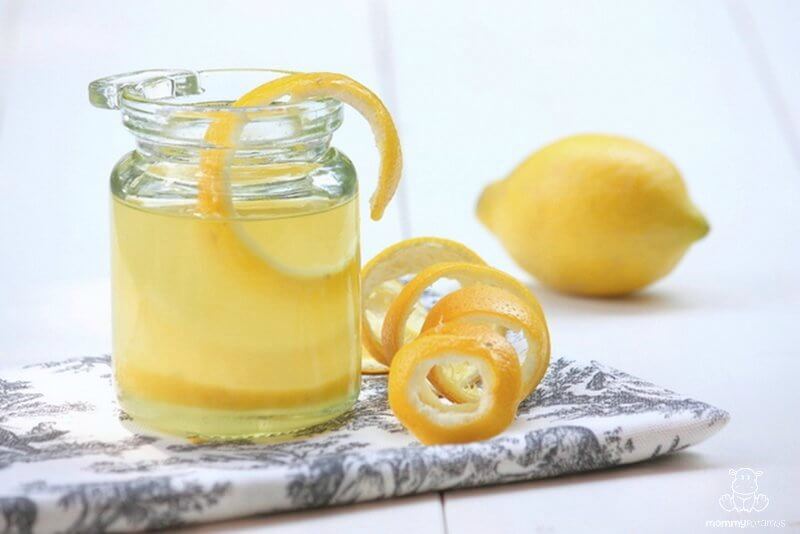 4. Homemade Furniture Polish
Lemon-infused oil is a wonderful way to restore luster wood furniture? Just dab a little on a cloth, rub it in, and buff with a clean cloth! (Note: This polish may not be suitable for every type of wood finish. I haven't had a problem with the furniture in my house but I recommend doing a test spot in an obscure area before applying.)
To make lemon-infused furniture polish, you'll need:
Lemon peels, preferably organic
Instructions:
Wash and dry lemons. Next, using a vegetable peeler, cut thin slivers of the yellow skin in long ribbons. (Or if you have a zester, use that!) Make sure not to peel off the bitter white pith, just the outside. Pack the peels snugly in a jar, then pour in just enough olive oil to cover. Seal the jar tightly and place in a dark cabinet for 1-2 months, shaking every few days. Strain peels and pour oil into a jar. Store in a dark cabinet or the fridge.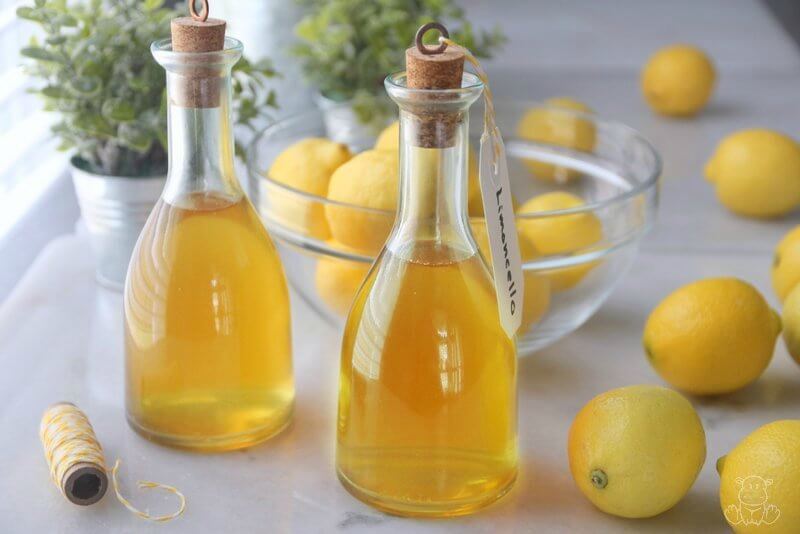 5. Limoncello
The lemony tartness of this limoncello recipe is balanced with just the right amount of sweetness for a smooth, refreshing after dinner digestif. It was likely first concocted in Italian monasteries and convents, and has long been used therapeutically to support digestion after a heavy meal.
5 More Uses For Lemon Peels
Put them in the dishwasher – "They naturally and very effectively leave the dishwasher smelling fresh in between wash loads and the dishes smell divine too." (This tip comes from Dreamcatcher in the comments of this post)
Make a scented simmering pot – Throw them in a pot and simmer during the winter months to replace lost moisture from the air. Add a little rosemary for extra fragrant goodness.
If your home suffers from dry heat in the winter, you can put lemon peels in a pot of water and simmer on the lowest stove-top setting to humidify and scent the air."
Grate the zest and freeze it for future cooking/baking projects
Make candied lemon peel – Find a recipe for naturally sweetened candied lemon peel here.
Make tea – Let the lemon peels dry and brew them into a tea with mint leaves or dried hibiscus.
Want a FREE ebook of non-toxic cleaning recipes that WORK?
I've created a free ebook for you as a gift for signing up for my newsletter. 7 Non-Toxic Cleaning Recipes That Really Work covers seven recipes that you can make in just a few minutes each for squeaky clean windows, sparkling dinnerware, lemon-fresh countertops, and more. Subscribe to my newsletter below and you'll be redirected to a download page for immediate access to this PDF ebook.