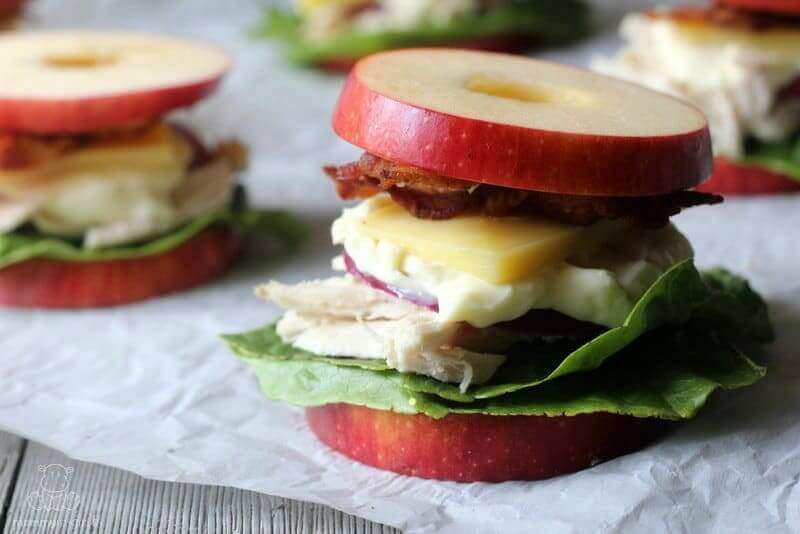 Me on Monday: Look, I baked you this hot, fresh loaf of paleo bread!
Me on Friday: Here's a sandwich, yes I know that's an apple. It's just like bread basically. I don't know what kind of bread. Somewhere there is bread like this.
Sound familiar? If you love real food but you don't always love how much time it takes to pull together meals, I have just the recipe for you. Or actually, UNrecipe, because it's so simple it can't really be called a proper recipe.
These delicious and easy apple sandwiches work well for a quick lunch at home, or they can be packed for school or work. And I do really mean delicious, too – the first time I sent one with my husband for the road he actually texted me to rave about it.
Now, here's the best part about this recipe . . .
Although I've provided rough measurements below for using leftover roast chicken, as long as you have apples and a protein they can really be made with whatever you can find in a five minute fridge clean out. . . organic deli meat, tuna, cheese, that lettuce hiding way back in the crisper, etc.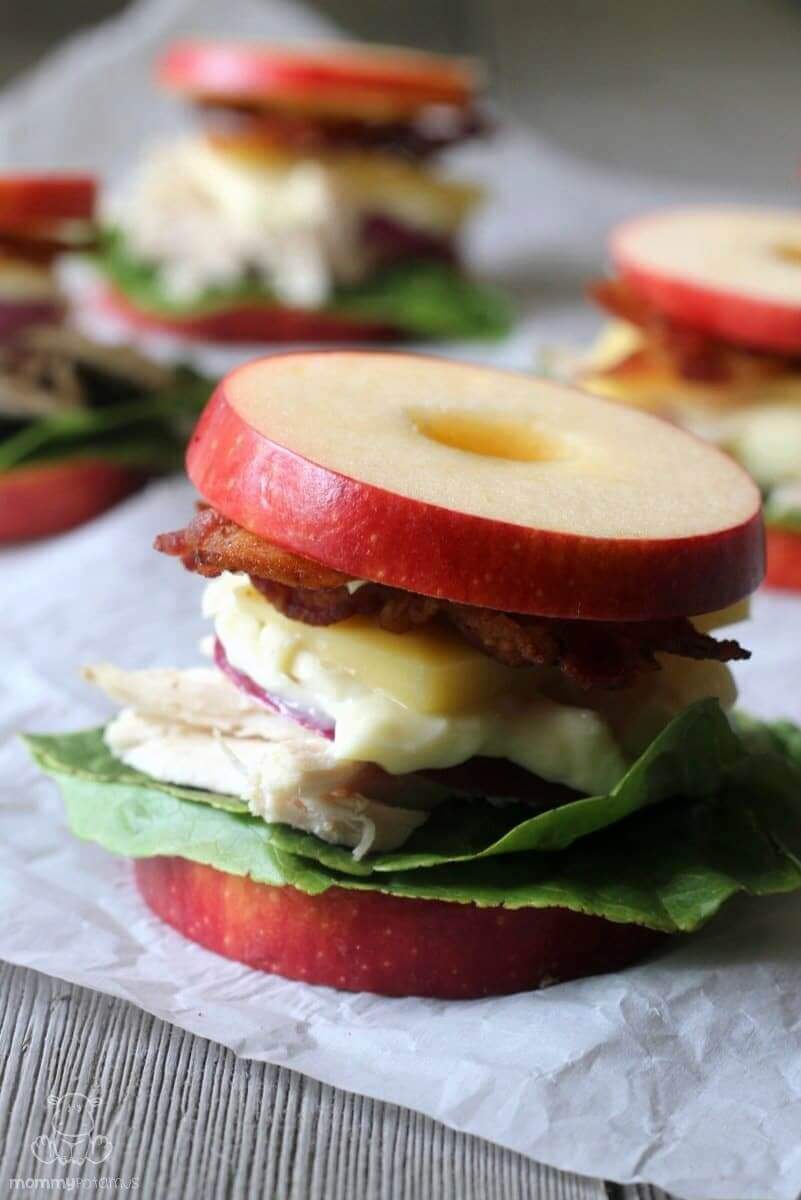 Easy Apple Sandwiches Recipe
Ingredients
2

medium apples

(and an apple corer)

1 ½

cups

chicken

(shredded – about ¼ pound)

1

lemon

6

slices

cheese

(I use raw cheddar)

sliced onion

mayo ( I use my homemade recipe)

6

slices

bacon

(optional – I often have some leftover from breakfast that I throw on top of the cheese)

6

leaves

lettuce

(optional)
Instructions
Core apples using an apple corer and slice them into approximately 12 pieces – I sometimes end up with a few extra pieces, which I just serve on the side.

Cut the lemon into four pieces. Pick up one piece and give it a gently squeeze to release some of the juice. Rub the lemon on the outside of the apple to prevent browning and repeat

Put half of the apple slices on a plate and set aside the other half for later.

Divide the chicken equally between the slices on the plate.

Divide the cheese equally between the slices on the plate, then add additional toppings if desired.

Top the apple slices, bacon/deli meat, cheese and any additional toppins with the remaining apple slices to complete your sandwich, then serve.
Nutrition
Carbohydrates:
0
g
|
Protein:
0
g
|
Fat:
0
g
|
Saturated Fat:
0
g
|
Polyunsaturated Fat:
0
g
|
Monounsaturated Fat:
0
g
|
Trans Fat:
0
g
|
Cholesterol:
0
mg
|
Sodium:
0
mg
|
Potassium:
0
mg
|
Fiber:
0
g
|
Sugar:
0
g
|
Vitamin A:
0
IU
|
Vitamin C:
0
mg
|
Calcium:
0
mg
|
Iron:
0
mg
Need more quick and healthy meal ideas?
I've put together a list of 25+ quick health meals here, and there are several healthy pre-made options listed in this post on packing real food lunches.