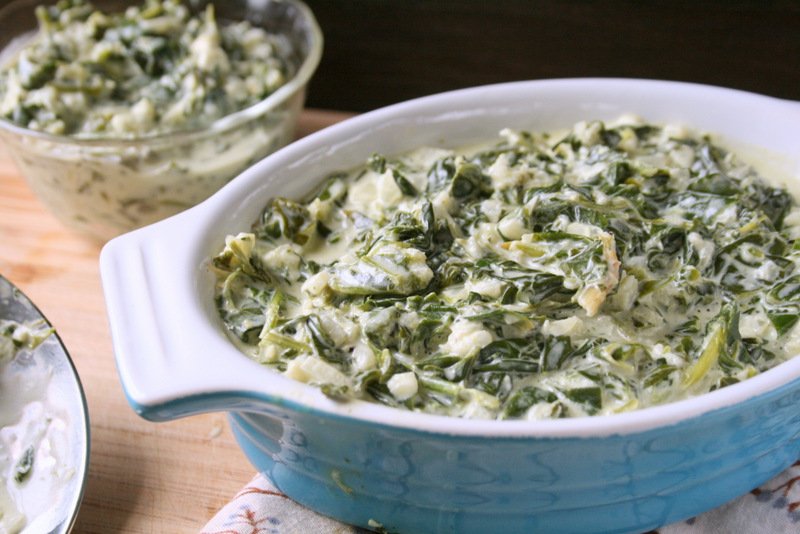 Note from Mommypotamus: Today's delightfully creamy addition to our comfort food collection comes from Loriel of Naturally Loriel. If you haven't checked out her blog before, you totally should. Thanks for joining us today, Loriel!
Healthy Spinach Dip (Kid Approved!)
How do you make just about every food taste better? With cheese, and cream, and butter, and bone broth of course.
You could possibly choose one of the four listed above, but chances are, if you add ALL of them together… you get a major flavor boom and everyone will be licking their lips in contentment.
Bland rice noodles? Add all of the above. Sauce feeling a little dreary? Choose your ingredients from above. Veggies lacking… flavor? If you guessed adding the above ingredients, you are totally right! Wholesome butter, cream, cheese, and nourishing bone broth are a fix-all in my eyes. Especially for spinach.
Growing up, I never really liked spinach — something about it's green leafy-ness turned me off. Don't be fooled, I didn't turn my nose up to all green veggies. For example, I loved me some lettuce but only if it was doused in cheese, creamy dressing, and crunchy croutons. Green beans were a favorite too, but they had to be covered in butter.
See where I'm going with this?
Plain spinach? Not so much. But when my mom would pull out that pre-packaged box of creamed spinach, microwave it to just the right temperature, and season it with just the right salt and pepper… well, I was all over that. I couldn't resist the creamy, cheesiness.
Now that I'm a little older and aware, I make sure I check the ingredient label of a food product before I buy it. You can never really know what's lurking in a seemingly innocent piece of food — if you know what I mean.
Just for giggles, I decided to check the ingredient list of the creamed spinach I used to eat with my mom. Holy GMO and artificial ingredients batman! Knowing what I now know, I would never buy this creamed spinach for my family. And no hard feelings towards my mom — she didn't know any better. I'm thankful for that microwaved creamed spinach because it left an lasting impression of a happy childhood memory for me.
Fortunately, creamed spinach can absolutely be made from scratch; without GMOs, without artificial flavors and mono-diglycerides, and without a microwave.
In fact, re-making this old childhood memory in a more, organic type of way was incredibly easy!
Made with organic spinach, this creamed spinach is first sautéed with butter, onions, and garlic to add dimensions to the flavor. Cream cheese, homemade bone broth, and parmesan cheese add depth and the distinct creaminess that brings the memory of my childhood to life.
You can easily freeze the leftovers in a freezer safe container for later use.
Of course a dip needs chips, but if you're avoiding grains or trying to up your veggie intake, here are some other tasty bites to serve on the side:
cucumber slices
carrot or celery sticks
radish slices
broccoli or cauliflower florets
jicama
plantain chips
sweet potato or vegetable chips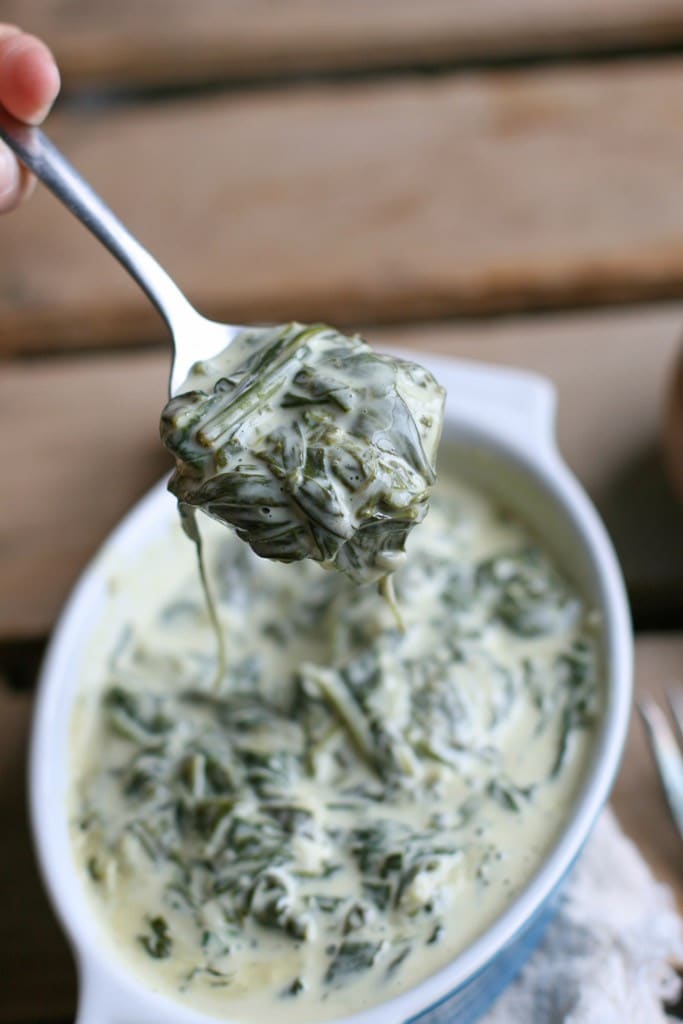 Creamy Spinach Dip Recipe
Creamy and delicious spinach dip that's easy to make up for a snack or appetizer.
Ingredients
10

oz

fresh or frozen spinach

2

tbsp

pastured butter

2

tbsp

onion

(diced)

2

cloves

garlic

6

oz

cream cheese

¼

cup

chicken broth

½

cup

parmesan cheese

(grated)

salt

(to taste)

black pepper

(to taste)
Instructions
Dice the onion and mince the garlic.

In a large pan, melt the butter over medium heat.

Add the onion to the pan and cook for 3 minutes, stirring occasionally.

Add the minced garlic and saute for 1 minute.

Add the spinach and cream cheese and cook for 5-7 minutes, allowing the cream cheese to completely melt and mix with the spinach.

Add the chicken broth and simmer for 5 minutes.

Stir in the grated Parmesan cheese and cook an additional 3-5 minutes.

Taste and season with salt and pepper.

If you prefer the creamed spinach to contain less liquid, let the broth simmer for a little longer.
Notes
If you want your spinach dip to be more creamy simmer for a little longer after adding the broth. If you like it a little looser, simmer it less to leave more liquid in.
Nutrition
Calories:
533
kcal
|
Carbohydrates:
11
g
|
Protein:
19
g
|
Fat:
48
g
|
Saturated Fat:
28
g
|
Cholesterol:
141
mg
|
Sodium:
995
mg
|
Potassium:
955
mg
|
Fiber:
3
g
|
Sugar:
4
g
|
Vitamin A:
14984
IU
|
Vitamin C:
44
mg
|
Calcium:
525
mg
|
Iron:
4
mg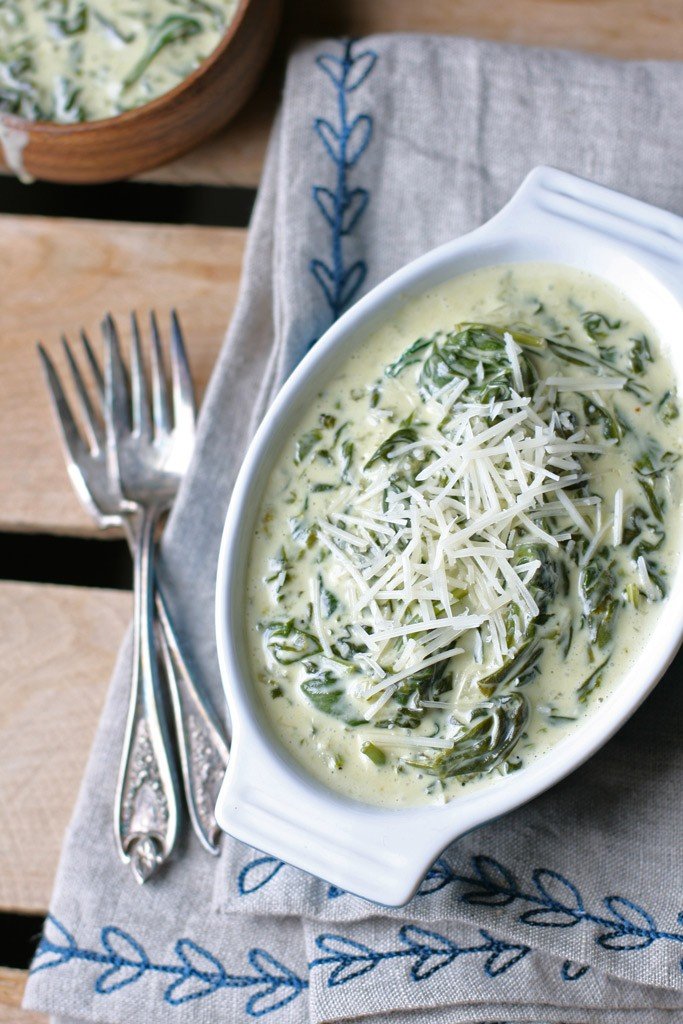 What's your favorite spinach dip recipe? Will you try mine?