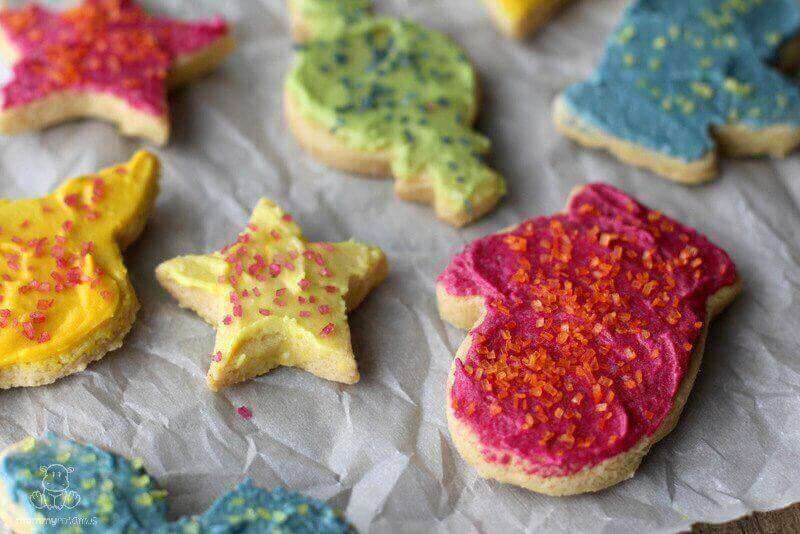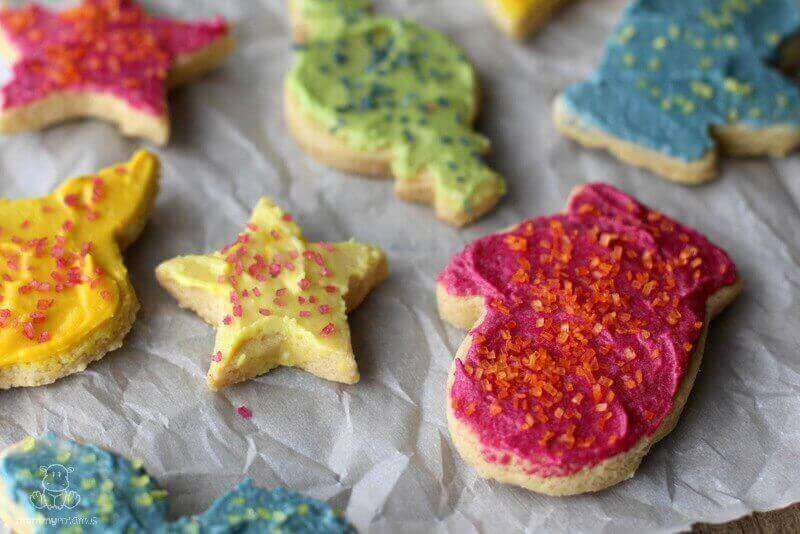 Do you remember what you got for Christmas when you were sixteen? Neither do I, but I can tell you that was the year my mom ended a huge argument between us by shoving her fist into a raw chicken, treating it like a puppet, and refusing to answer questions unless I directed them TO THE CHICKEN.
And she can't tell you what she got for Christmas when she was seven, but she's never forgotten the time her mom brought a horse in the house to cheer her up during a long recovery from pneumonia. (The horse never forgot, either. It started breaking in and making itself sandwiches in the kitchen.)
It's so easy to get preoccupied with wrapping presents (which I love giving) and checking off lists this time of year. So easy, in fact, that we can forget to give our kids the one thing that will last a lifetime: MEMORIES.
Some of my favorite childhood memories happened in the kitchen: baking, throwing pasta against the wall, and even once turning our tile floor into a slip n' slide. Unfortunately, those memories were also filled with neon cereal and fake cheese, which contributed to the health struggles I faced later on.
With my kids, I want to bring all the magic and none of the junk, which is why we spent one of our mornings this week baking up sugar cookies. Since it's pretty much the best time of year to bake, I thought I would share the recipe with you.
It's adapted from this paleo chocolate chip cookie recipe, but I've dialed up the vanilla and made the dough a bit more firm so that it's easier to roll. The dough and frosting are not super sweet, because I wanted my littles to be able to use sugar sprinkles liberally without the cookie becoming too sweet, so you'll want to adjust the sweetness using sprinkles or even just plain rapadura, maple or coconut sugar over the top.
Now, I'm not saying it's going to be perfect
Making memories is messy. You might end up mixing the frosting with a lopsided hand mixer and splatter it all over the wall.
You might carefully bob and weave to prevent countless kid spills, then dump salt all over the kitchen table. You might even drop your phone in a bowl of frosting.
But your kids won't remember that. They'll remember sprinkles, and icing, and laughter, and the way the preschooler shouted, "Yay, we're going to eat humans!" when you suggest gingerbread men.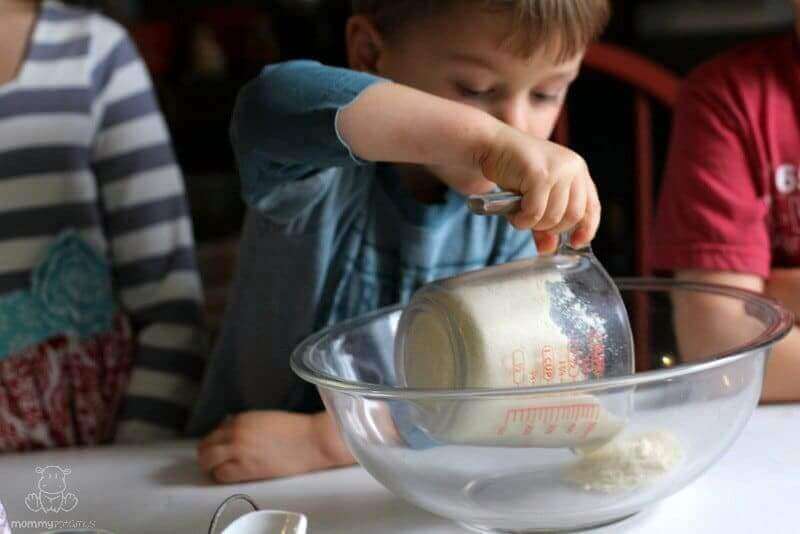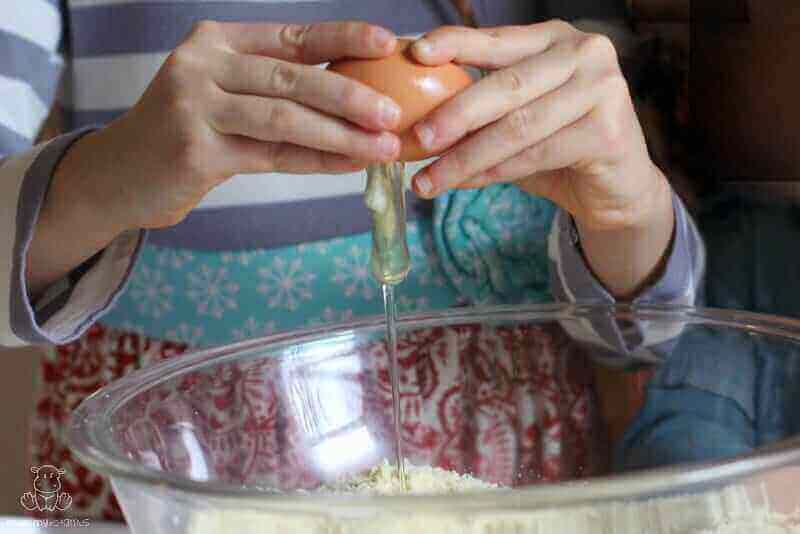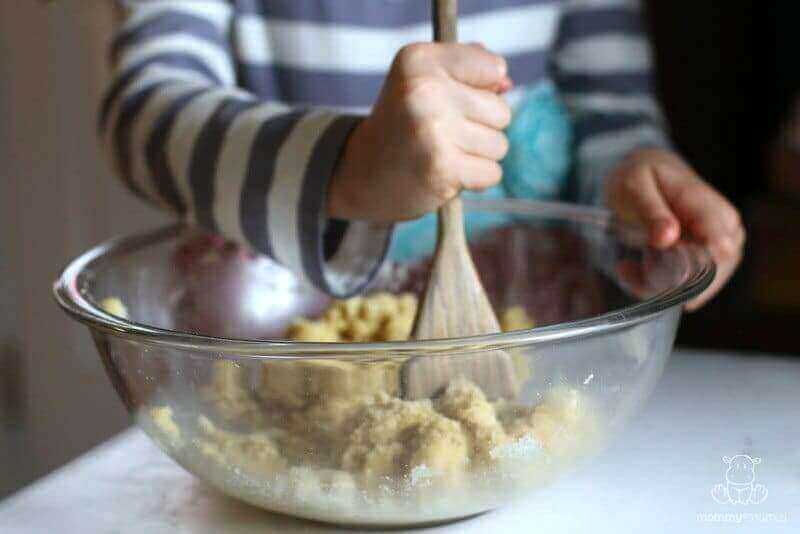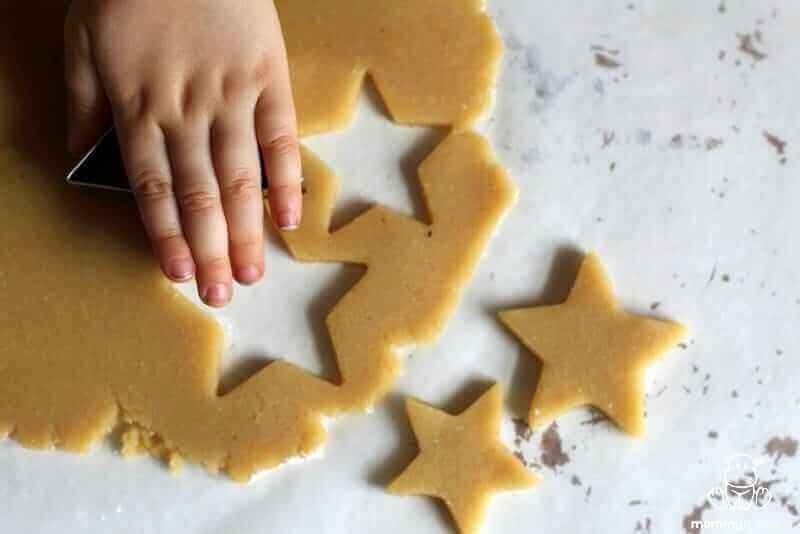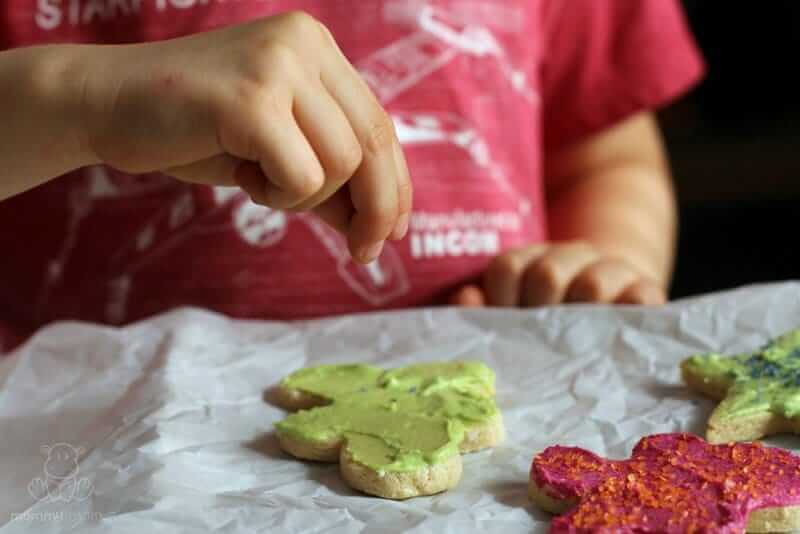 They'll remember YOU, guiding the way they roll out the dough and talking with them about what's on their mind. And that's exactly as it should be.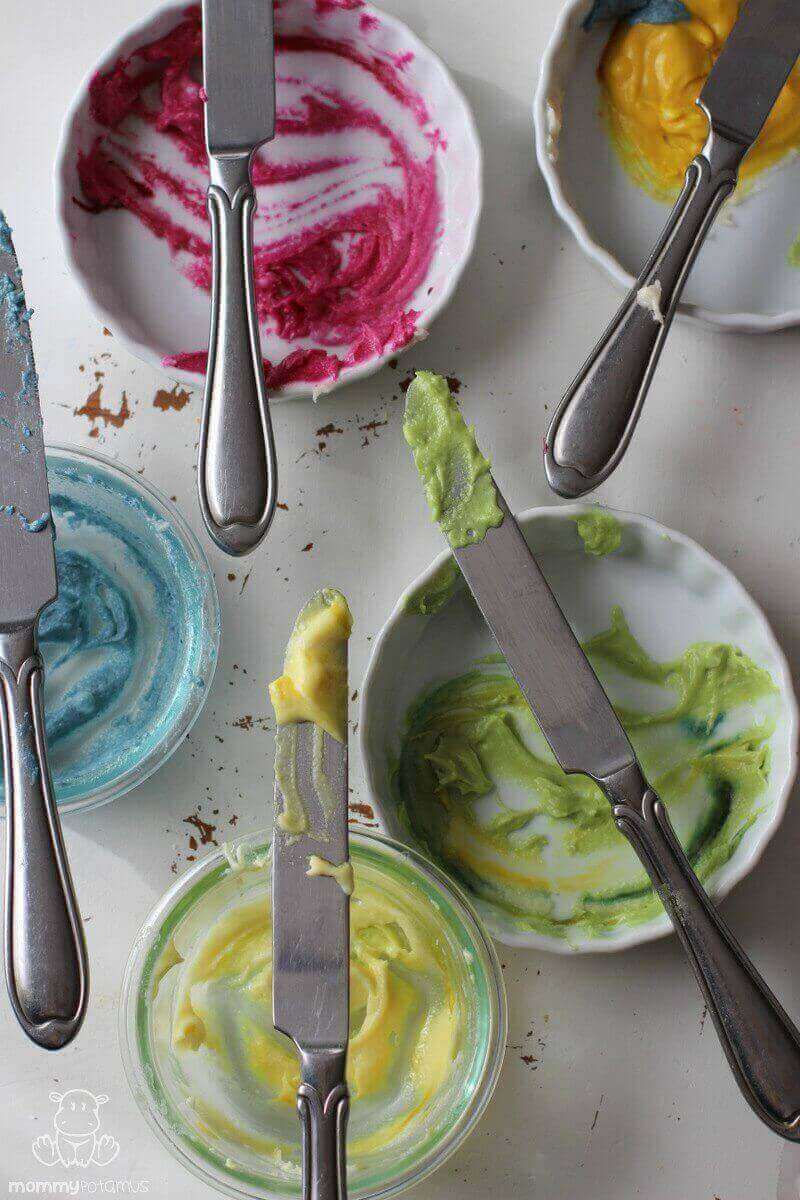 A note on decorating
Regular food dye poses a "rainbow of risks" – cancer, hyperactivity, and more. I'd much prefer to create beautiful colors with naturally derived plant, fruit, and veggie extracts, thankyouverymuch. To decorate, we used:
This natural food dye to color our frosting. For yellow we used a little of the yellow dye, and for orange we used double the amount. For green, we mixed yellow and blue.
Sugar Cookie Recipe (Gluten-Free, Paleo)
Decorated with naturally colored sprinkles and natural food dye, these gluten-free sugar cookies are super easy to make and fun to decorate!
Equipment
mixing bowl

stirring spoon

cookie cutters

spatchula

cookie sheet
Instructions
Combine dry ingredients in a bowl.

Add wet ingredients and stir well.

Roll dough into a ball and chill it in the fridge for 20 minutes.

Remove the dough from the fridge and place it on parchment paper or wax paper. Dust your rolling pin with arrowroot flour, sprinkle the dough, and roll it to about ⅛ inch thick. Cut out shapes using your cookie cutters, then use a spatula to place the cookies on a greased cookie sheet (or one that has been lined with parchment paper.)

Bake for 10-12 minutes, then allow to cool before decorating.
Nutrition
Calories:
3166
kcal
|
Carbohydrates:
149
g
|
Protein:
106
g
|
Fat:
261
g
|
Saturated Fat:
33
g
|
Cholesterol:
225
mg
|
Sodium:
853
mg
|
Potassium:
194
mg
|
Fiber:
50
g
|
Sugar:
54
g
|
Vitamin A:
947
IU
|
Calcium:
1083
mg
|
Iron:
19
mg
Easy Frosting
Ingredients
6

tbsp

pastured butter

(This is a slightly yellow buttercream frosting. For a whiter frosting you'll want to use ½ cup sustainably harvested palm shortening but although the palm version is pictured my kids ended up really preferring the butter flavor)

¼

cup

arrowroot powder

(or more if needed to thicken the frosting)

¼

cup

thick honey

pinch

sea salt

natural food dye

(optional)
Instructions
Combine all ingredients except the optional food dye in a bowl and mix using a fork (or hand mixer) until well-combined.

Add optional food dye until the desired color is reached. The dye tends to thin out the frosting a bit and make it more spreadable. If not using food dye, add a bit more butter or palm shortening until desired consistency is reached.
Nutrition
Calories:
908
kcal
|
Carbohydrates:
78
g
|
Protein:
1
g
|
Fat:
68
g
|
Saturated Fat:
43
g
|
Cholesterol:
181
mg
|
Sodium:
603
mg
|
Fiber:
1
g
|
Sugar:
49
g
|
Vitamin A:
2099
IU
|
Calcium:
33
mg
|
Iron:
1
mg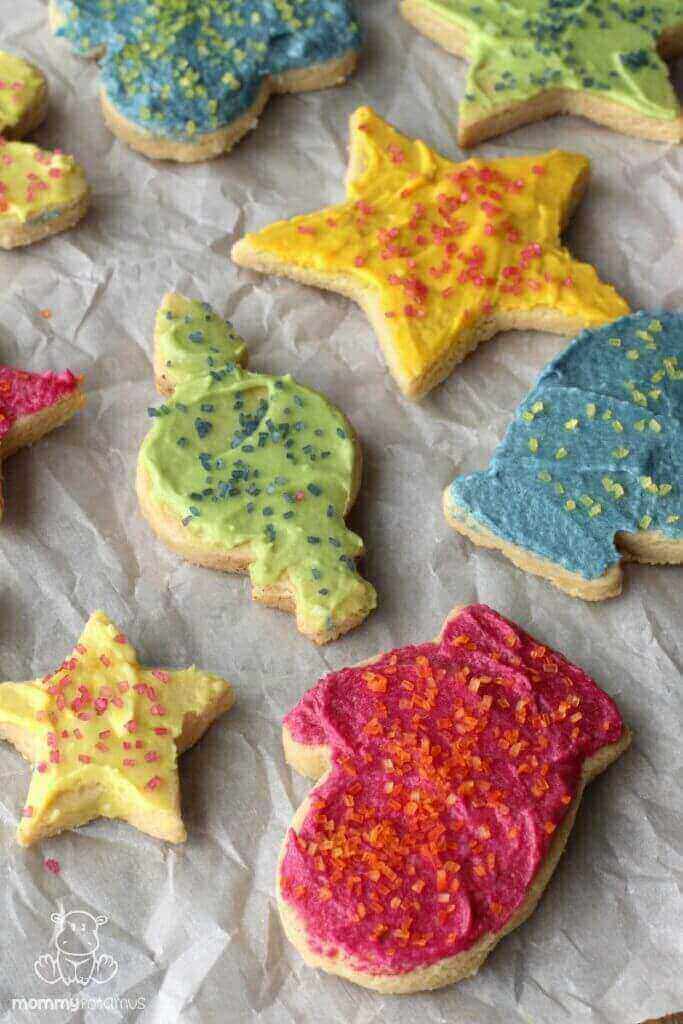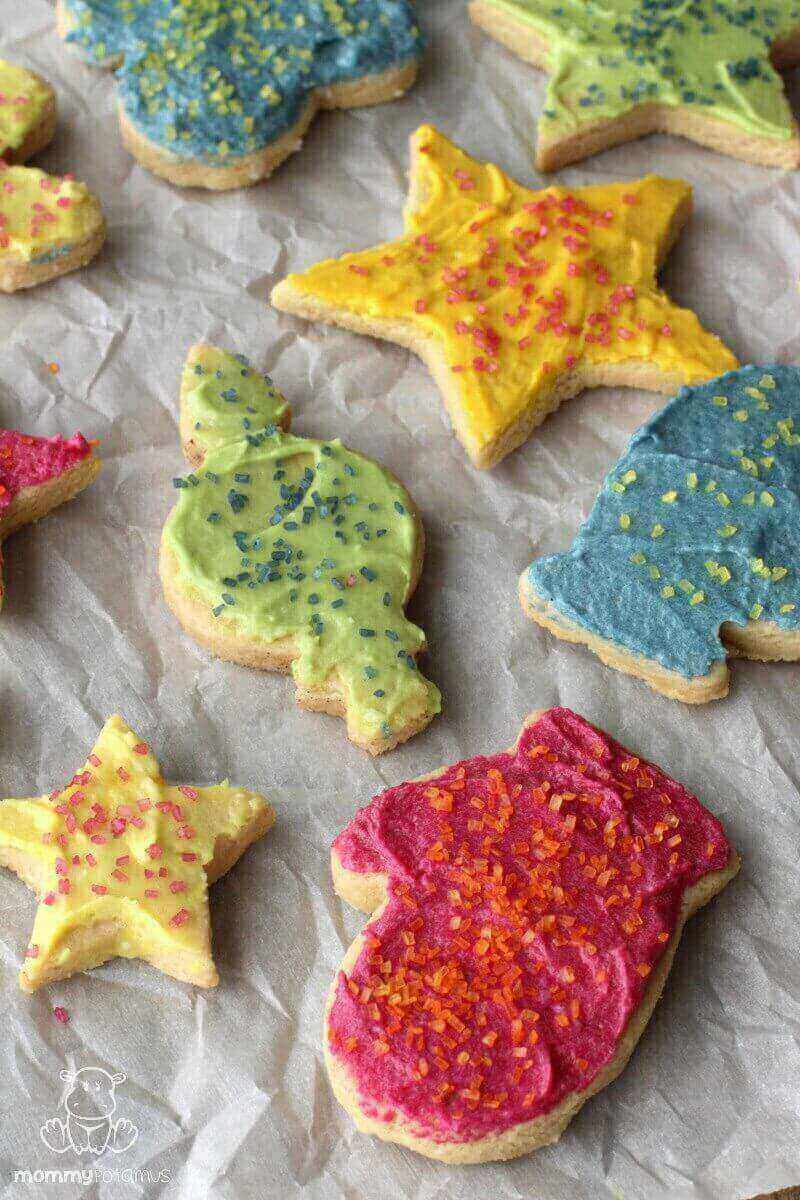 Want more delicious, easy recipes?
No problem, I've created a free ebook for you – 35+ Gluten-Free Desserts – as a gift for signing up for my newsletter. Every Sunday you'll get recipes, actionable health tips, and highly-vetted product recommendations delivered fresh to your inbox.
Sign up using the form below.