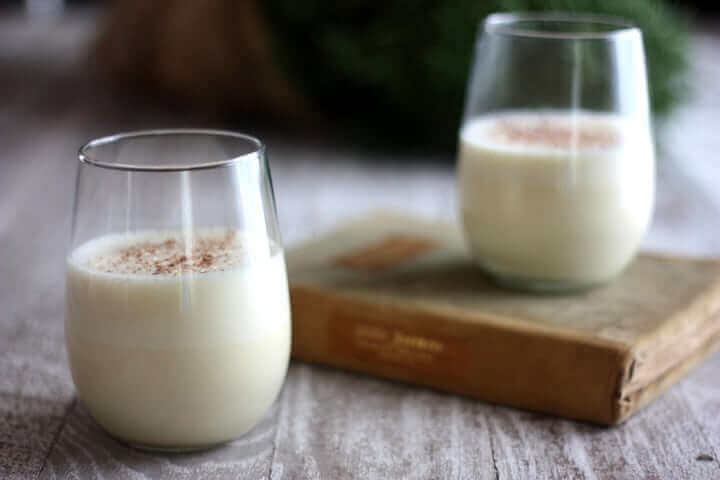 Tis' the season to whip up a batch of eggnog just like our ancestors used to make – with loads of high fructose corn syrup, artificial flavors, preservatives, stabilizers and carrageenan. What, no? You say that's not how they made it, and they didn't make hot chocolate from a pouch, either?
Well then, I think you're going to love this recipe. Made from wholesome ingredients, this traditional homemade eggnog is smooth, creamy, perfectly spiced, and so easy to make.
There's one important thing we need to cover about traditional eggnog recipes, though. Most blend raw eggs with cream, sugar, spices and bourbon or rum . . . but are eggs safe to consume raw? What about salmonella?
So, about using raw eggs . . .
No nog lover will be left behind by my recipe, which includes several variations to fit different comfort levels and preferences. We'll dive into the details in a bit, but here's some general info I came across while researching awhile ago.
Statistically speaking, it's estimated that about 1 in 20,000 eggs are contaminated with salmonella, which according to the congressional testimony of Dr. Michael Jacobsen means that the average consumer would encounter a contaminated egg once every 84 years. (1) Other sources say it may be one in 10,000 eggs, which would be about one every 42 years.
Also, melons are more likely to be contaminated with salmonella than eggs . . . weird right? (2)
That's not to say I'm cavalier about safety. When I kept chickens and knew every single thing about how they were raised, how the eggs were collected, and how they were stored, I had a different comfort level with raw eggs than I do when I buy them at the grocery store (even if they are organic and pastured).
That's not to say I haven't had a bite of raw cookie dough or cake batter since then, but specifically regarding eggnog safety here are some perspectives I've found helpful:
The University of Minnesota recommends using pasteurized eggs – meaning they have been light heat treated to kill bacteria – or cooking the eggnog to a minimum temperature of 160F. (3)
This article in Popular Science says we shouldn't fear eggnog as long as we make it like our ancestors did – with ample quantities of rum and bourbon that kill bacteria. More on that below.
Other sources say that eggs harvested from pasture-raised hens are far less likely to be contaminated with salmonella than caged hens. Some research does indicate that salmonella rates are higher in caged hens than free-roaming hens (which may or may not have outdoor access), but I'm not aware of any specific research regarding pastured hens.
Given that, here are some independently validated options for making safer nog:
Use pasteurized eggs
Cook the eggnog
Add alcohol (See the next section)
The Rockefeller Christmas Eggnog Experiment
This might surprise you, but for over fifty years a group of microbiologists from Rockefeller University's Laboratory of Bacterial Pathogenesis and Immunology have been making eggnog with raw egg yolks and then letting it age for six weeks before finishing it off. (4) MIcrobiologists, y'all.
"I've been here almost 50 years, and we've made it every year," professor and lab head Vincent Fischetti told ABC News. "We usually make it about a week or so before Thanksgiving, sip it to cheer Thanksgiving, and finish it at the Christmas party."
The recipe contains bourbon and rum, which has an antimicrobial effect as the eggnog ages. Out of curiosity, the microbiologists actually added salmonella bacteria to one batch to see what would happen, and the salmonella died as the eggnog aged. (They didn't serve that batch at the holiday party, though.)
In another experiment, one Rockefeller microbiologist made a batch of nog with 14% rum and bourbon, then let it sit out at 98.6F for just 24 hours. When they compared their homemade eggnog to one they bought at the grocery store, they found the homemade version was completely sterile while the store-bought one was "teeming with a range bacteria."
Now, the researcher noted that the bacteria were likely harmless, and personally I go out of my way to cultivate good bacteria in my food (in probiotic-rich yogurt, for example). So I'm not saying sterile food is the goal here, only that the alcohol seems to have had a big impact on the microbial population.
With that said, the researcher noted that the experiment would need to be repeated under a variety of conditions in order to definitely prove whether or not spiked eggnog with raw eggs is safe. Fortunately, both raw egg yolks and alcohol are optional in the recipe below.
Oh and also, 14% alcohol can add a pretty strong punch to eggnog, but there's a way to make it safely with less. (See my recipe notes)
Quick Tips
If you love nutmeg, feel free to add more. If you're not a huge fan, use less and consider adding some cinnamon.
If possible, chill your eggnog in the fridge overnight to let the flavors meld together.
If you want to make a dairy-free version, use coconut cream and coconut milk instead of regular cream and milk. The eggnog will have a slight coconut flavor, but it's barely noticeable if you're adding rum or bourbon. If you don't want to add liquor and feel like it's a little to coconut-flavored, try adding a little more vanilla and nutmeg.
This recipe uses egg yolks only, but you can use the leftover egg whites to make Zimtsterne cinnamon star cookies.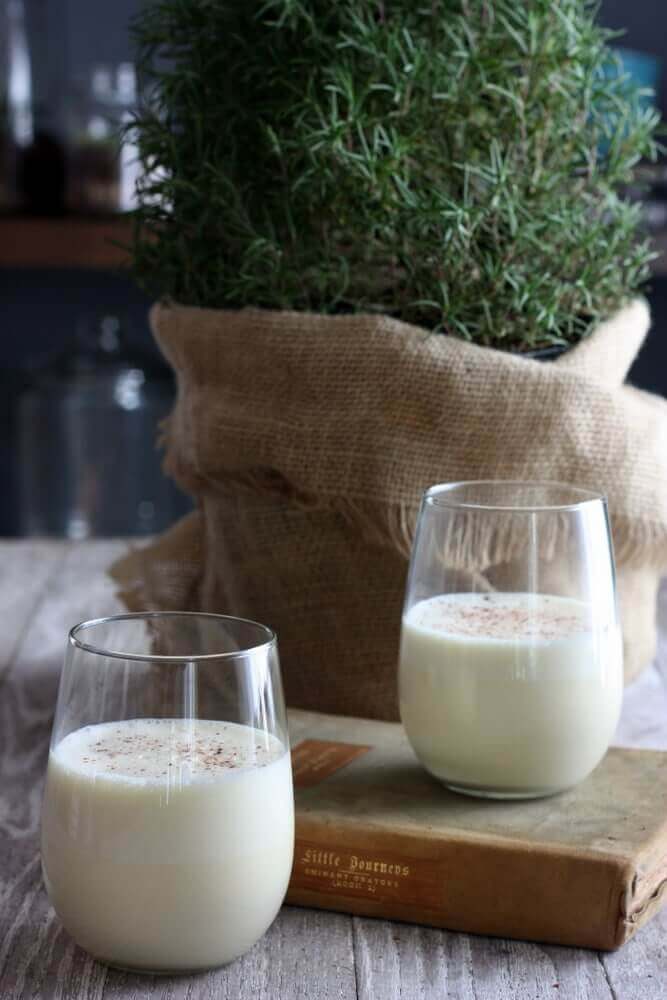 Homemade Eggnog Recipe
Made from wholesome ingredients, this traditional homemade eggnog recipe is smooth, creamy, perfectly spiced, and so easy to make.
Equipment
Candy thermometer (for cooked version)
Ingredients
2

cups

cream

(Or coconut cream)

2

cups

milk

(Or coconut milk)

6

egg yolks

(Raw or pasteurized)

1/3

cup

maple syrup (Or more to taste)

¾

tsp

nutmeg

(Or more to taste)

1

pinch

sea salt

bourbon or rum

(Optional – See Notes section for more information)
Instructions
No-Heat Blender Method
Add the milk, cream, egg yolks, maple syrup, vanilla extract and salt to a blender.

Blend everything together for about a minute, then add alcohol if using and blend for another 10-15 seconds. Pour the eggnog into a jar with a lid, then place it in the refrigerator to chill. If possible, allow the eggnog to chill overnight so the flavors meld together even more.

Sprinkle with nutmeg and garnish with a cinnamon stick if desired before serving. Stir before serving.
Cooked Eggnog Method
In a medium bowl, whisk the egg yolks together with the maple syrup until well-combined.

Place the milk and cream in a saucepan and on the stovetop until it is steaming but not boiling.

Take the milk/cream mixture and S-L-O-W-L-Y pour it into the egg mixture while whisking continuously. This is called tempering the eggs, which basically means you're heating them without accidentally scrambling them in the process.

Return the mixture to the stove top set to low/medium heat. Place the candy thermometer in the pot and continue to heat until the temperature reads 160F, then immediately remove it from heat.

Stir in the vanilla, nutmeg and salt, then transfer it to a jar and place it in the fridge to cool. If you're adding liquor, wait at least an hour to stir it in.

Pour the eggnog into a jar with a lid, then place it in the refrigerator to chill. If possible, allow the eggnog to chill overnight so the flavors meld together even more. Stir before serving.
Notes
Nutrition facts are estimates. 
Raw eggs are optional in this recipe. They can increase the risk of foodborne illness. Older adults, pregnant women, infants, and immunocompromised people should avoid eating raw eggs or foods that contain raw eggs.
Notes On Adding Rum Or Bourbon
You can add rum or bourbon to taste, or if you're interested in using alcohol to increase the eggnog's safety profile you can adapt this method described by Cook's Illustrated.
It tastes pretty strong, so when I made it with this method I ended up diluting the final product just before serving with a little more cream, maple syrup and nutmeg to taste. 
The process looks like this: 
Use at least 1.5 ounces of 80-proof liquor for every egg (Three yolks are roughly equivalent in volume to one whole egg, so for the six egg yolks in this recipe the amount of 80-proof liquor to use would be 3 ounces. )
Mix the alcohol, eggs, and maple syrup together and don't add the dairy. Allow mixture to age.
When you're ready to serve, add the dairy, vanilla, nutmeg and salt to a blender along with the egg mixture and whip on high for one minute. 
In the Cook's Illustrated version,  the egg/liquor mixture is aged for three weeks to mellow out the flavor and give the alcohol time to do its job. However, in a similar experiment done by a microbiologist at the Rockefeller lab only 24 hours was needed.
Nutrition
Calories:
2610
kcal
|
Carbohydrates:
115
g
|
Protein:
42
g
|
Fat:
221
g
|
Saturated Fat:
129
g
|
Cholesterol:
1873
mg
|
Sodium:
492
mg
|
Potassium:
1360
mg
|
Fiber:
1
g
|
Sugar:
92
g
|
Vitamin A:
9345
IU
|
Vitamin C:
3
mg
|
Calcium:
1117
mg
|
Iron:
3
mg
More Recipes
Eggnog Latte – Based on the eggnog recipe above, this latte has been adapted a little to help the flavor blend better with coffee.
Hot Apple Cider – This spiced cider is super easy to make and can also serve as the base for buttered rum.
Sources
1. Senate hearing. Egg Safety: Are There Cracks In The Federal Food Safety System?
2. Popular Science (2017) Don't worry about eggs—these other foods are way more likely to give you Salmonella
3. University of Minnesota. Making homemade egg nog that's safe.
4. Popular Science (2013) Why You Shouldn't Fear The Eggnog