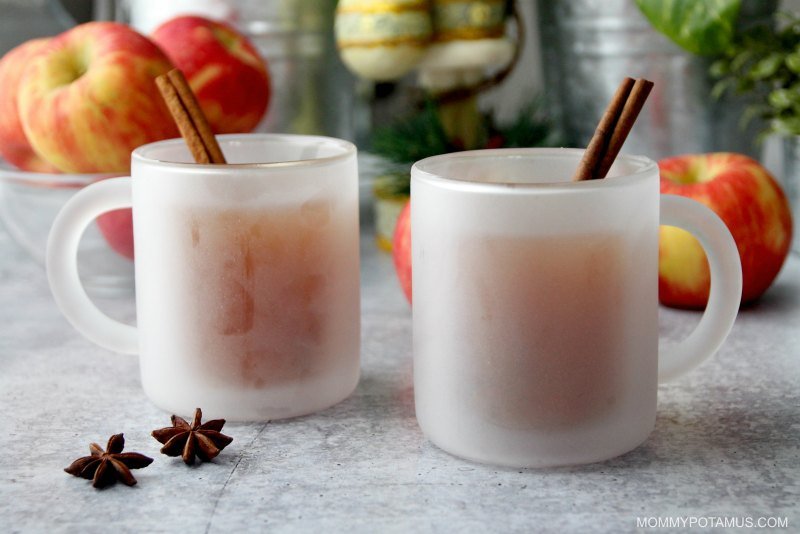 My littles love playing outside even when there are permanent icicles adorning the spring behind our house. Although I usually warm them up with herbal tea when they come in, sometimes I surprise them with this hot apple cider recipe. Like our homemade hot chocolate, it's a rare treat, but it's one that comes with a bonus: It serves as the base for hot buttered rum. 🙂
One quick note: I'll be sharing my buttered rum recipe later this week and didn't want to confuse you with two photos that looked pretty much the same, but after I make the traditional apple cider you see in the photo I add one more thing: butter. Not only does it taste amazing, it helps keep my littles ones blood sugar stable while they sip on their cider.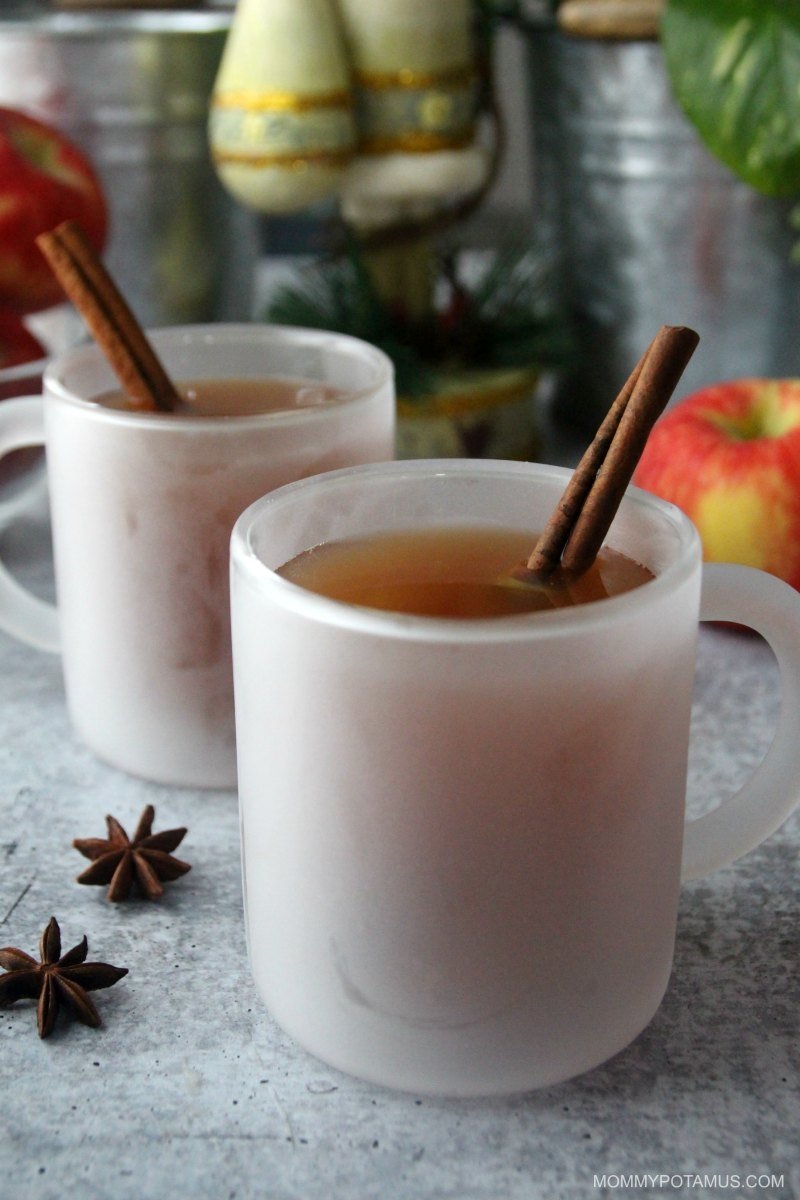 This recipe makes 4 cups, which is about 1/2 cup for each of my littles, plus a little over a cup each for my husband and I to use in buttered rum.
Hot Apple Cider Recipe
Quarter the apples (no need to seed or core them) and place in a medium pot. Add water and bring pot to a boil. Reduce heat to simmer and cover. The water wont' cover all the apples at first - that's okay. As they release their liquid and become softer, just mash them down using a potato masher. Allow the mixture to cook for one hour and then mash the apples again before straining them out using a cheesecloth. The sweetness of your cider base will vary based on the apples used - if desired, you can add a bit of honey or maple syrup to make it sweeter.
Ingredients
5

apples

4

cups

water

(or sub 4 cups apple juice for apples and water)

4

whole cloves

4

cardamom pods

(optional)

8-16

tbsp

pastured butter

(optional - I know that seems like a lot but it's only 2-4 tbsp per cup)
Instructions
If you're making your own apple cider base using fresh apples, see the summary notes above for instructions.

Place apple cider and spices in a medium pot and bring to a simmer. Cover, reduce heat to low and let the flavors infuse for about 30 minutes. After thirty minutes, strain out the spices. Blend with butter if desired. I usually just pour the apple cider back in the pot, add the butter, and blend with an immersion blender, but you could pour the cider/butter into a traditional blender and mix it up that way, too. Serve with cinnamon sticks or star anise for garnish if desired.
Nutrition
Calories:
0
kcal
|
Carbohydrates:
0
g
|
Protein:
0
g
|
Fat:
0
g
|
Saturated Fat:
0
g
|
Polyunsaturated Fat:
0
g
|
Monounsaturated Fat:
0
g
|
Trans Fat:
0
g
|
Cholesterol:
0
mg
|
Sodium:
0
mg
|
Potassium:
0
mg
|
Fiber:
0
g
|
Sugar:
0
g
|
Vitamin A:
0
IU
|
Vitamin C:
0
mg
|
Calcium:
0
mg
|
Iron:
0
mg