Did you know that the Pumpkin Spice Latte is the official beverage of Autumn? Okay, maybe not *official,* but considering the fact that Forbes and other sites are actually covering the release date of the you-know-who-bucks version, I'd say it's pretty close.
Personally, I prefer to make my pumpkin spice lattes at home, both because it's more convenient and because I can use quality ingredients while still paying less than  I would for store-bought versions.
This recipe blends cinnamon, nutmeg, ginger, allspice, vanilla, and my "secret" ingredient to bring snuggly autumnal delight to your coffee drinking experience. (The secret ingredient is a pinch of salt, which really makes the flavors pop.)
I hope you love it as much as my husband and I do, and that it tides you over until Peppermint Mocha and Eggnog Latte season. 🙂
P.S.
I snapped this photo of my husband's latte before he headed out to the barn today. I thought it was pretty, and apparently the dog thought it was pretty tasty because he stole it while he wasn't looking. Making another one now!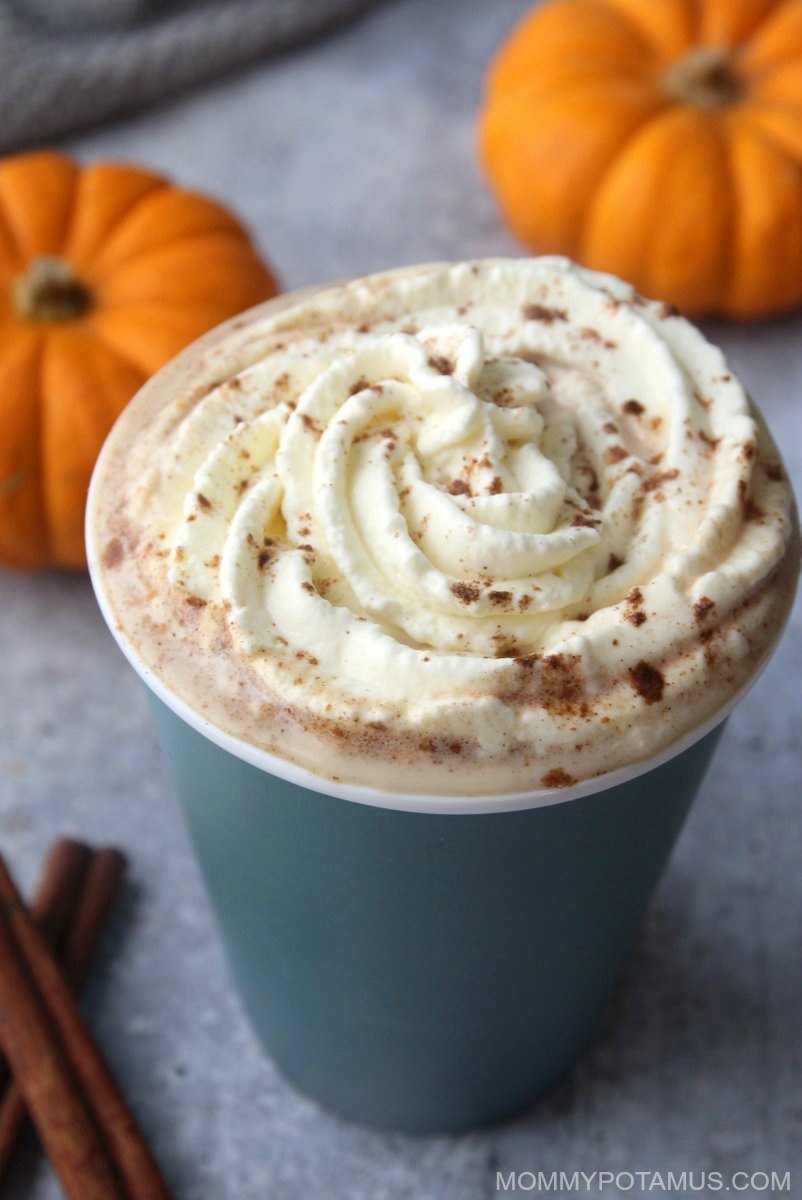 Pumpkin Spice Latte Recipe
Instructions
Add all ingredients (except optional whipped cream and sweetener) to a small pot and place over medium heat, whisking once to mix them together.

When the mixture is the temperature you prefer your coffee to be, remove from heat and place in a blender. (I pour mine in a jar and use my immersion blender.) Blend, sweeten to taste, and top with whipped cream if desired.
Notes
*If you've never made your own coconut milk, check out this tutorial. You'll definitely want to strain it before using it in this recipe.** If you want to use fresh pumpkin (my fave!), I recommend roasting and pureeing, then freezing the extra in ice cube trays for later. When you need them, just pop them out and add them directly to the hot coffee.
Nutrition
Calories:
0
kcal
|
Carbohydrates:
0
g
|
Protein:
0
g
|
Fat:
0
g
|
Saturated Fat:
0
g
|
Polyunsaturated Fat:
0
g
|
Monounsaturated Fat:
0
g
|
Trans Fat:
0
g
|
Cholesterol:
0
mg
|
Sodium:
0
mg
|
Potassium:
0
mg
|
Fiber:
0
g
|
Sugar:
0
g
|
Vitamin A:
0
IU
|
Vitamin C:
0
mg
|
Calcium:
0
mg
|
Iron:
0
mg