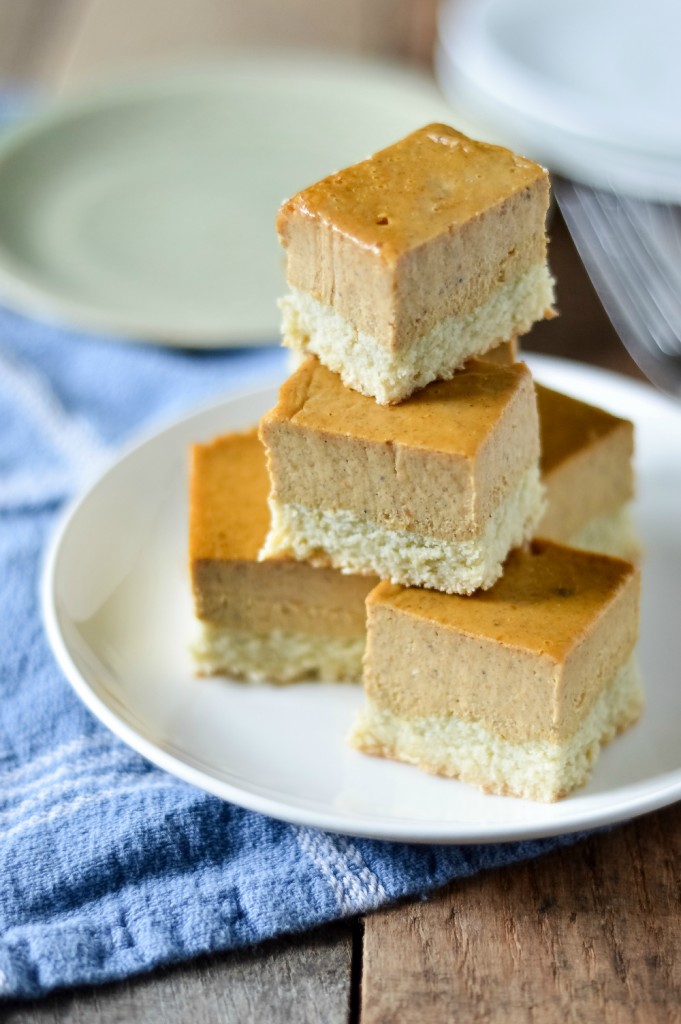 Love pumpkin spice lattes and pumpkin pie? Then I think you're going to adore this recipe from dessert creator extraordinaire, Carol Lovett of Ditch The Wheat. Thank you, Carol!
Pumpkin Custard Bars (Grain-Free & Dairy-Free)
I love baking fall inspired treats. Pumpkin pie is one of my favorite fall flavors, and so far I've been making pumpkin treats weekly. For this guest post I wanted to share with you a pumpkin custard bar that you can serve at your Thanksgiving meal. Your family and friends will enjoy the creamy custard, infused with maple syrup and pumpkin pie inspired spices like cinnamon, nutmeg and ginger. The crust is allergy friendly. I made the crust out of coconut flour and it is scrumptious!
Don't be intimated by making a custard. It's really easy. All you are doing is heating up, in this case the coconut cream and maple syrup, and adding in little amounts the hot liquid to your egg yolks while whisking fast. This is called tempering. If you added the hot liquid all at once to the egg yolks you would cook the yolks and end up with scrambled eggs, which isn't my kind of dessert (and I'm assuming not yours either).
Once you do that you are almost done making pumpkin custard bars. You must remember to be patient and let the final baked bar rest in the fridge for at least 4 hours. The results of the fully cooled custard is worth waiting.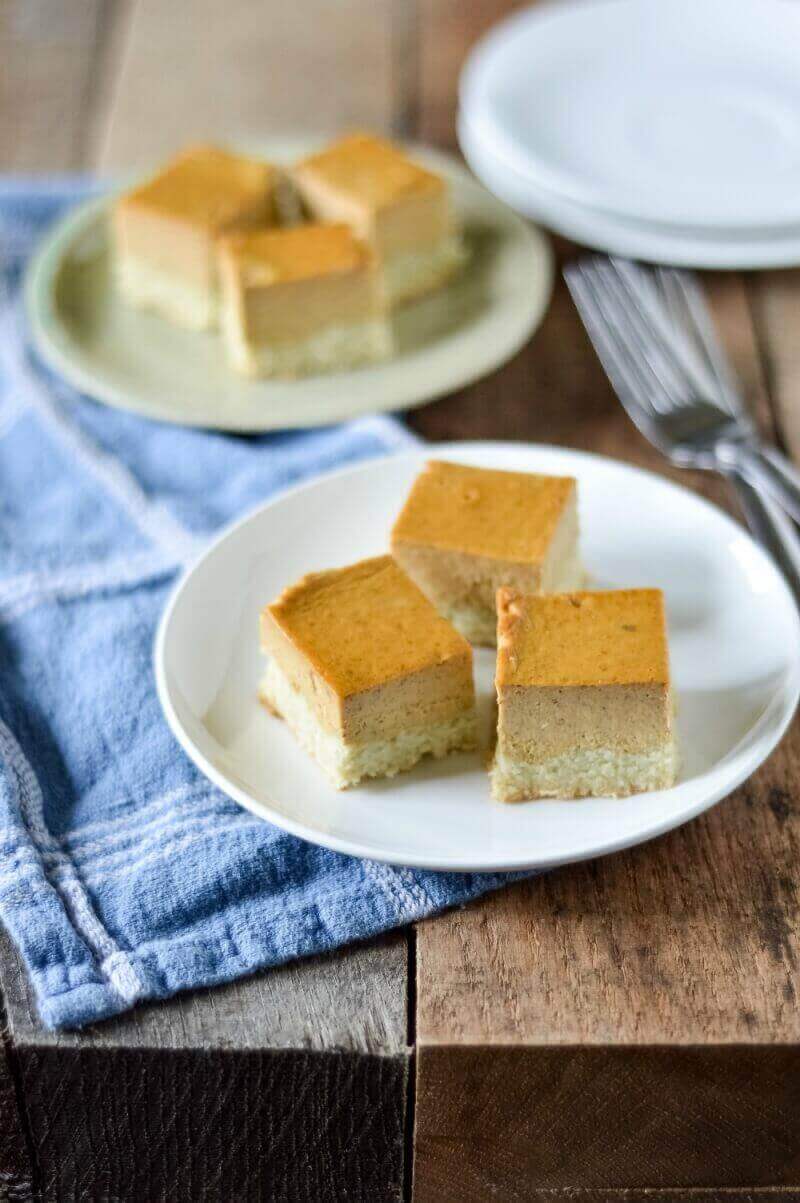 Pumpkin Custard Filling
Instructions
Preheat the oven to 325 degrees F.

In a medium saucepan, whisk coconut cream and maple syrup. Simmer over medium-high heat for about 5 minutes. Remove from the heat.

In a small bowl, whisk the egg yolks. Now you need to temper the egg yolks before adding them to the heated coconut cream. Do this by slowly adding 1 tbsp of the hot cream/maple syrup mixture, whisking constantly. Then add another tbsp of the hot mixture to the egg yolks, whisking constantly. Add another tbsp of the hot mixture. Add the egg mixture to the remaining hot cream, and whisk.

Add the vanilla, cinnamon, nutmeg, ginger, sea salt and pumpkin. Whisk until smooth. Pour over the baked crust.

Bake until the custard is set in the center but not stiff which is about 45 minutes to 55 minutes. Remove from the oven and refrigerate for at least 4 hours.

Slice into bars.
Coconut Flour Crust
Ingredients
2

tbsp

extra virgin coconut oil

1

tbsp

maple syrup

2

large eggs

1/4

cup

+ 2 tbsp coconut flour

sifted (37.5 grams)

1/8

tsp

sea salt
Instructions
Preheat oven to 350°F. In a medium bowl, cream the coconut oil and maple syrup until smooth and well mixed.

Add eggs and mix until smooth.

Add coconut flour and salt and mix until well incorporated. Line a 4x8 inch dish with parchment paper.

Press the dough mixture into the dish.

Bake for 20 minutes or until done.
About Carol
Carol Lovett is a twenty-something young woman living in Ontario, Canada. Carol started eliminating gluten from her diet in 2011. Since then she went on to form the popular blog, Ditch The Wheat, and write her grain free dessert cookbook, Indulge. Carol is known for her baking recipes that feature coconut flour.
How To Save 30% on Indulge: 70 Grain-Free Desserts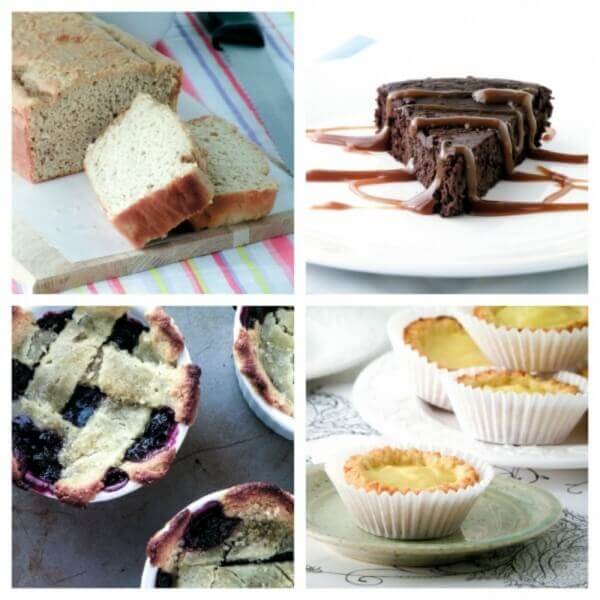 Just in time for holiday baking, Carol has offered a generous discount on her popular book, Indulge. It's a lovely collection of 70 grain-free desserts that even sourdough-loving families like mine adore: apple fritters, mini- blueberry pies, flourless brownies, Sunday special coffee cake, and lemon bars. (Hey, no one's looking, so now is the perfect time to wipe the corner of your mouth. It's okay, I drooled the first time, too)
Use coupon code MOMMYPOTAMUS30 to save 30%.
(Click here to buy Indulge)