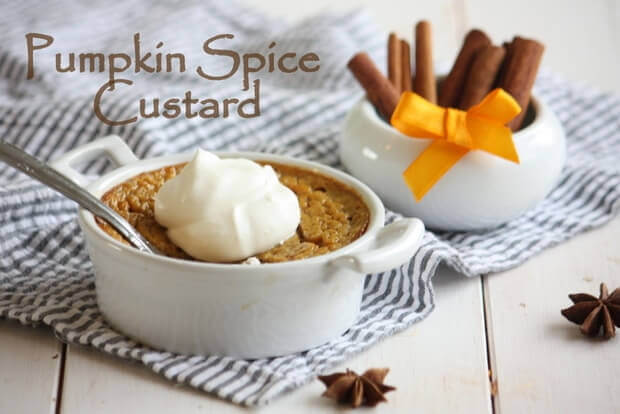 Spiced With Cinnamon, Cloves & Ginger . . .
This pumpkin custard is the fall edition of our beloved coconut custard, a deeply satisfying staple in our home. Rich and subtly sweet, this dish also contains immune boosting marrow, wholesome fats, protein, calcium, iron, zinc, phosphorous, B-Vitamins, Vitamin K and Vitamin A.
If you love pumpkin pie but are looking for something a little different this year, grab a spoon, a cup of chai, and give this recipe a whirl. Gorgeous view of changing leaves swirling in the wind optional but recommended. 🙂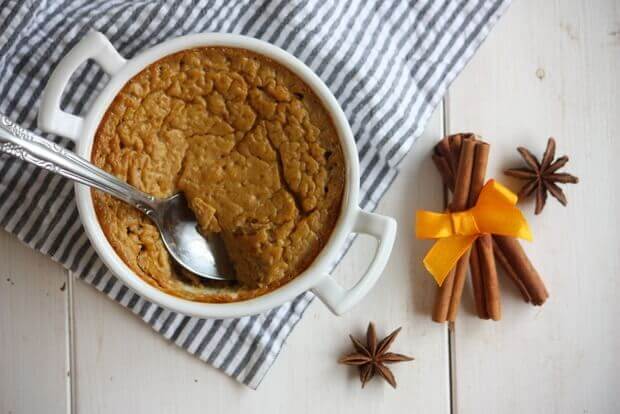 Pumpkin Spice Custard With Marrow Infusion
Instructions
Preheat oven to 350 degrees.

Cut -pumpkin in half and scoop out seeds.

Place pumpkin halves cut side down in a baking dish and add 1/4 inch water. Remove from the oven when you can easily pierce the shell with a fork (about 45 minutes - 1 hour)

While the pumpkin is baking, bring marrow bones to a boil and let simmer for 10 minutes. When the marrow is ready, scoop the bones out with a slotted spoon and place in a bowl to drain. After they've cooled a bit use a butter knife to extract the marrow. Place it in a small bowl.

Spoon marrow - but not the oil that has collected at the bottom of the bowl - in with the eggs, milk/coconut milk, cinnamon, ginger, cloves, salt and honey. Puree until smooth.

When the pumpkin is cooked through, scoop out the flesh and add it to the egg mixture. Blend until smooth.

Place mixture in ramekins or a large oven-safe dish and bake at 375. Custard placed in small ramekins should be ready in about 35-45 minutes. Large casserole dishes take about 45-minutes to an hour. Watch carefully and remove when it is set in the center.

Serve with whipped cream if desired.
Nutrition
Calories:
0
kcal
|
Carbohydrates:
0
g
|
Protein:
0
g
|
Fat:
0
g
|
Saturated Fat:
0
g
|
Polyunsaturated Fat:
0
g
|
Monounsaturated Fat:
0
g
|
Trans Fat:
0
g
|
Cholesterol:
0
mg
|
Sodium:
0
mg
|
Potassium:
0
mg
|
Fiber:
0
g
|
Sugar:
0
g
|
Vitamin A:
0
IU
|
Vitamin C:
0
mg
|
Calcium:
0
mg
|
Iron:
0
mg
More Delicious Pumpkin Goodness
Easy Pumpkin Baked Oatmeal With Vanilla Glaze – Infused with warming spices, sweetened with pure maple syrup, and drizzled with vanilla glaze, this baked pumpkin oatmeal is easy to make and so satisfying.
Pumpkin Spice Latte – Pumpkin is basically the official flavor of fall, and who are we to argue with that? This recipe is one of my favorite ways to enjoy it.
Pumpkin Spice Granola – If you miss breakfast cereal, this easy granola is delicious with milk, almond milk, or oat milk. It also makes a great on-the-go snack.
Want more delicious, easy recipes?
No problem, I've created a free ebook for you – 35+ Gluten-Free Desserts – as a gift for signing up for my newsletter. Every Sunday you'll get recipes, actionable health tips, and highly-vetted product recommendations delivered fresh to your inbox.
Sign up using the form below.