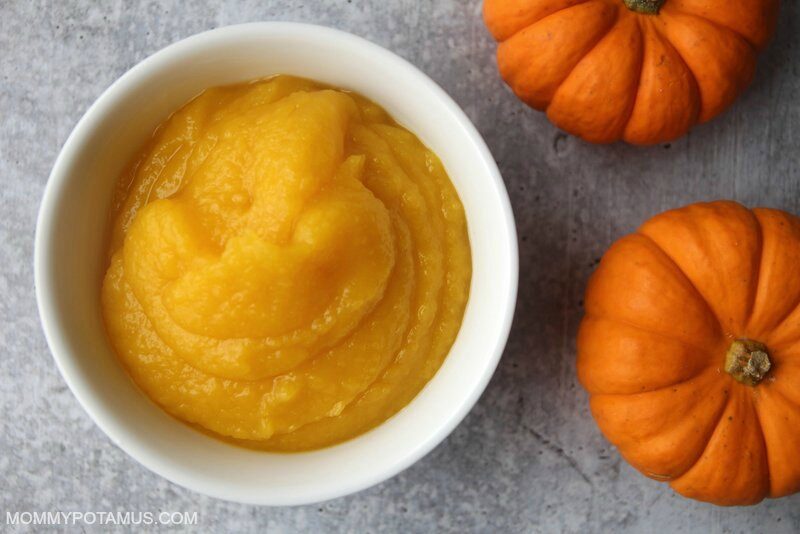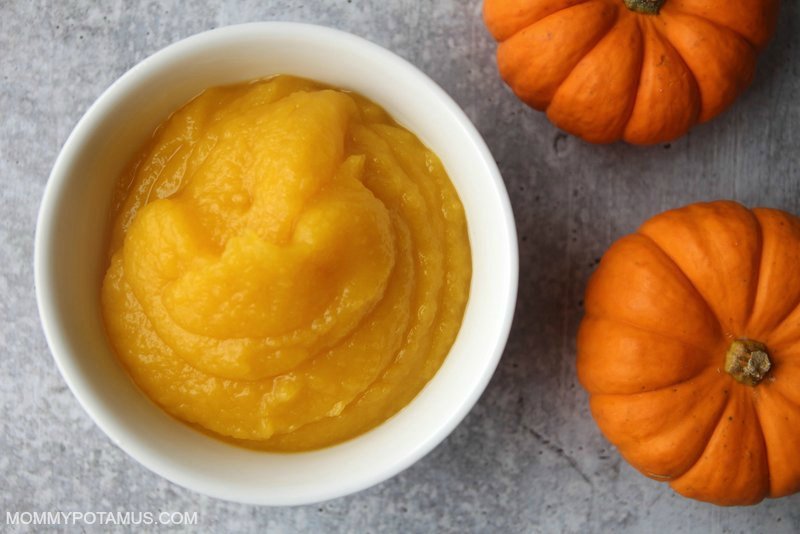 Pumpkins are the official herald of fall, even on the beach where we wear shorts to the pumpkin patch.:) A few days ago I made my first pumpkin spice latte of the season this week and – just for fun – decided to do a taste test challenge between canned pumpkin and homemade pumpkin puree.
It was no contest – fresh pumpkin puree all the way. The flavor is sweeter, richer, and pure pumpkin, which can't be said for some canned versions that use different types of squash as filler.
Now, maybe you're thinking that homemade pumpkin puree sounds nice in theory, but also sounds like a lot of work – it's not! At least not if you do it using my easy three step method:
Pop a whole pumpkin in the oven until it's so soft you can cut it with a butter knife
Scoop out the seeds
Puree the flesh in a food processor until smooth
Yep, that's it. Most recipes call for cutting the pumpkin in half and then placing the cut side down on a baking sheet before popping it in the oven. However, I've found that it works just as well to skip all those steps and just pop the whole pumpkin in.
Tip: How To Keep Fresh Pumpkin Puree On Hand
The great thing about canned pumpkin is, of course, that you can stash it in your pantry until you need it. Since making puree isn't possible every time I want to make a latte, I make a big batch at the beginning of fall and then freeze it in ice cube trays so that I can pop out just what I need when I need it.
Ways To Use Homemade Pumpkin Puree
How To Make Pumpkin Puree From Scratch (Easy Method)
Ingredients
1

baking pumpkin such as a pie pumpkin or sugar pumpkin
Instructions
Preheat oven to 350°F. Place whole pumpkin on a baking sheet and pop it in the oven. Bake until the shell is soft enough to be pierced with a fork – usually about 45 minutes to 1.5 hours depending on the size of the pumpkin.

Remove the pumpkin from the oven and let it cool for awhile, then cut it in half. (You can cut it right away if you'd like, but be careful that you protect your hand/harm in case it releases a stream of hot steam.)

After you've cut it in half, use an ice cream scoop or large spoon to scoop out the seeds and stringy stuff. Set the seeds aside if you wish to make toasted pumpkin seeds.

Next, use your spoon / ice cream scoop to remove the pumpkin flesh.

Place the pumpkin pieces into a food processor or blender and puree until smooth.

Optional step: If you want your pumpkin puree to be thick like the canned stuff, line a mesh strainer with some cheesecloth and place the puree in it. Set the strainer over a bowl and allow it to drain for 1-3 hours.

Store in the fridge for up to 1 week or in the freezer for 3-6 months.
Nutrition
Calories:
354
kcal
|
Carbohydrates:
88
g
|
Protein:
14
g
|
Fat:
1
g
|
Saturated Fat:
1
g
|
Sodium:
14
mg
|
Potassium:
4624
mg
|
Fiber:
7
g
|
Sugar:
38
g
|
Vitamin A:
115777
IU
|
Vitamin C:
122
mg
|
Calcium:
286
mg
|
Iron:
11
mg
Frequently Asked Questions
How much pumpkin puree will this make? 
It depends on the size of the pumpkin you start with. When I use one small pie pumpkin it usually yields at least three cups.
How long does this pumpkin puree last in the fridge or freezer? 
Up to 1 week in the fridge and 3-6 months in the freezer.
What kind of pumpkin should I use? 
Smaller baking pumpkins – which are usually called pie pumpkins or sugar pumpkins – yield the sweetest, most flavorful puree.

However, the pumpkins used to make Jack-o-lanterns will also work. If they're very large you probably won't be able to fit them in your oven whole. If needed, cut them in half and place them cut-side-down on a baking sheet before roasting.