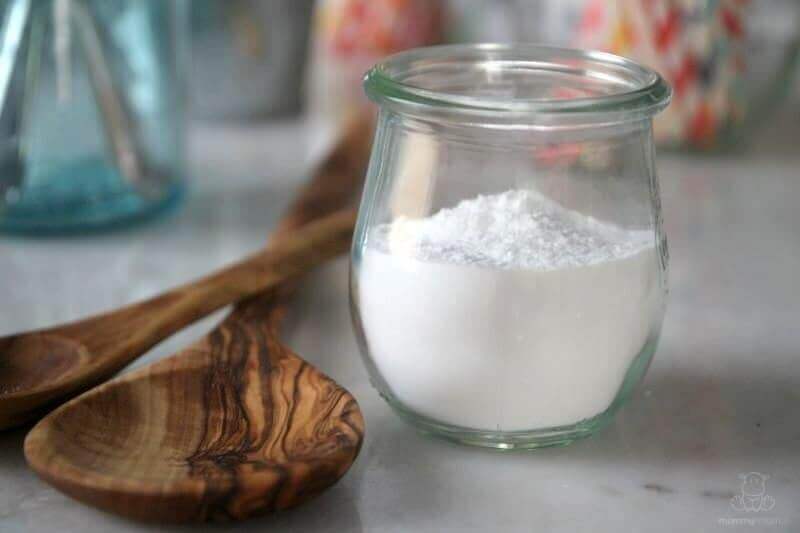 Whether it's a batch of banana walnut muffins or a short stack of buttermilk pancakes, sometimes you just need to grab a whisk, some eggs, and . . . ruh roh, you're out of baking powder.
Or are you? [awkward stare]
Although it may seem like magical fairy dust made from a carefully guarded proprietary recipe, it's actually super easy to make a baking powder substitute using just a few ingredients you probably already have in your pantry.
And by baking powder substitute, I mean a substitute for the store-bought stuff. This is actual baking powder, just formulated in your kitchen instead of a huge manufacturing facility.
The Difference Between Baking Powder & Baking Soda (And Why It Matters)
If you've ever wondered why some recipes call for baking soda and others call for baking powder, here's the deal:
Baking powder and baking soda are both leavening agents, which cause baked goods to rise. They do this via a chemical reaction that releases carbon dioxide bubbles. As the dough (or batter) cooks, the bubbles create air pockets that yield a light, fluffy texture.
So what causes this chemical reaction? Remember the volcano-making science experiment from school, when we learned that mixing acids with bases causes the release of carbon dioxide gas? This is the same thing, only we need to make delicate little air bubbles in our homemade goodies instead of a big mess.
Baking soda is a base, so when you mix it with something acidic it becomes activated and – voila – fluffy deliciousness. Some recipes include acidic ingredients like honey, sour cream or lemon juice, and therefore don't need anything extra to activate the baking soda.
Some don't, though, and if you try to get them to rise with just baking soda you'll end up with a dense, brick-like finished product. That's where baking powder comes in – it's baking soda mixed with an acid (cream of tartar) that will activate when the ingredients are mixed with a liquid.
Manufacturers also usually include cornstarch or something similar to keep the mixture from caking, so I've factored that into the recipe below as well. If you leave it out, you end up with baking powder that is more concentrated than what is sold in stores and can therefore cause too much of a rise.
Also, Stale Baking Soda & Baking Powder Can Cause Recipes To Flop . . .
Here's a quick test you can do to check if yours is still fresh.
How To Make Baking Powder Substitute (Homemade Baking Powder)
Instructions
Thoroughly mix ingredients together. Store in a tightly sealed container.

If you prefer you can make more or less than this recipe calls for – just mix 1 part baking soda, 1 part arrowroot powder/cornstarch, and 2 parts cream of tartar.
Nutrition
Calories:
210
kcal
|
Carbohydrates:
50
g
|
Protein:
1
g
|
Fat:
1
g
|
Sodium:
6597
mg
|
Potassium:
9755
mg
|
Fiber:
1
g
|
Iron:
2.2
mg