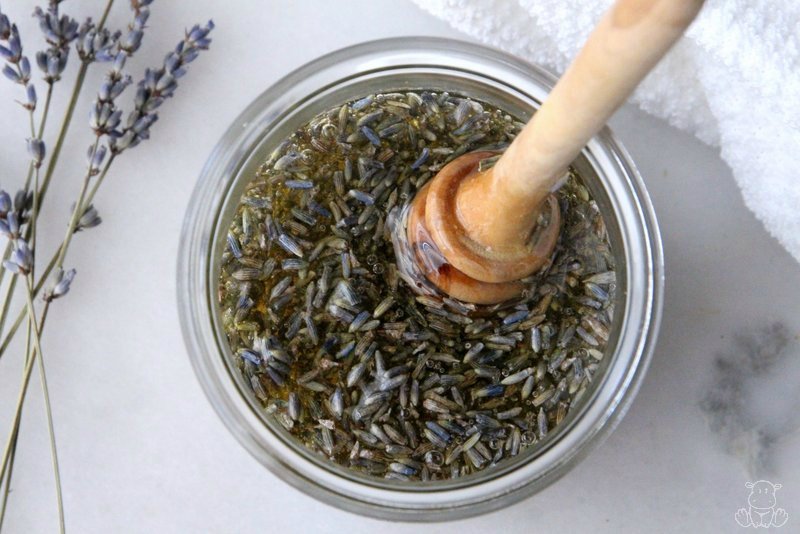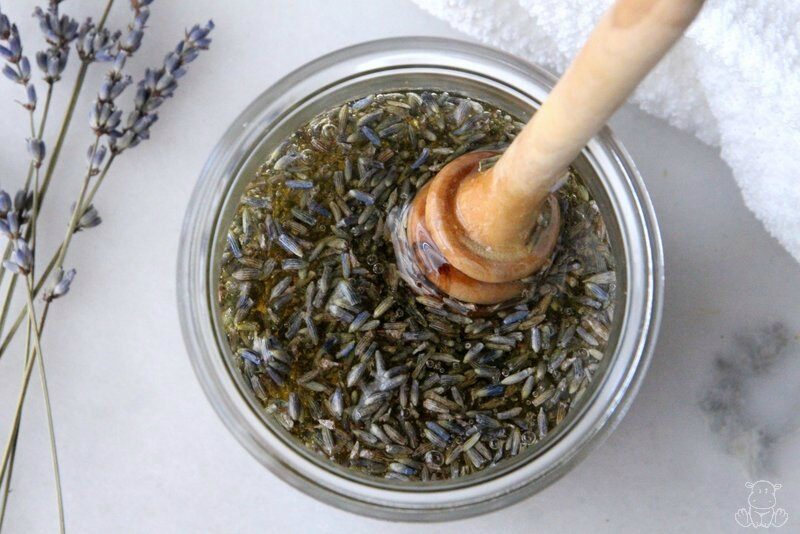 When my husband first brought home a jar of wildflower honey from our local beekeeper, I subsequently gave him the look . . . you know, the one that says "Honey is honey. Why is this the bees knees?" Then I opened the jar – it smelled faintly of tender flower buds and was absolutely delicious drizzled over figs and goat cheese.
If you're new to wildflower and other varietal honey's, here's what you need to know. They're unique because honeybees make it primarily with the nectar from a single variety of flower. Orange blossom, clover, blueberry, and alfalfa are all popular ones.
Another varietal, buckwheat, has been shown in one study to ease nighttime coughing, which is why I use it in my homemade cough syrup.
Bees famously buzzing through the fields of Provence in Southern France gather the lavender honey varietal. I was super curious about it, so I decided to make herbal honey infused with lavender blossoms.
Therapeutic Benefits of Herbal Honey
Although delicious drizzled over warm biscuits and many other ways we'll discuss below, herbal honeys are more than just culinary delights. According to Herbal Medicine for Beginners:
Herbal honeys are profoundly medicinal – and they taste great. When herbs are infused into honey, the honey absorbs all the water-soluble components of the herb and all the volatiles (essential oils), as well. This yields an excellent extraction of the herb's complex chemistry and preserves it very well."
Lavender in particular is well-known for it's stress-relieving, sleep enhancing properties, making this particular honey perfect for unwinding at the end of a long day.
Herbal honey's can be taken straight off the spoon, stirred into tea, or used to make homemade cough syrup, herbal syrups, elixirs or oxymels. Below you'll find recipes for lavender, lemon-ginger, and rosemary-thyme infused honey. They each bring unique flavors (and therapeutic components) to the table, and all make delicious housewarming, birthday or holiday gifts.
7 Ways To Use Lavender Honey
Stirred into tea
Slathered over warm gluten-free biscuits
Drizzled over brie and crackers
Stirred into yogurt
Drizzled on fresh fruit
Externally, it can be used to soothe skin irritations (for example, as a burn salve)
For skincare, it can also be used to make a clarifying and moisturizing face wash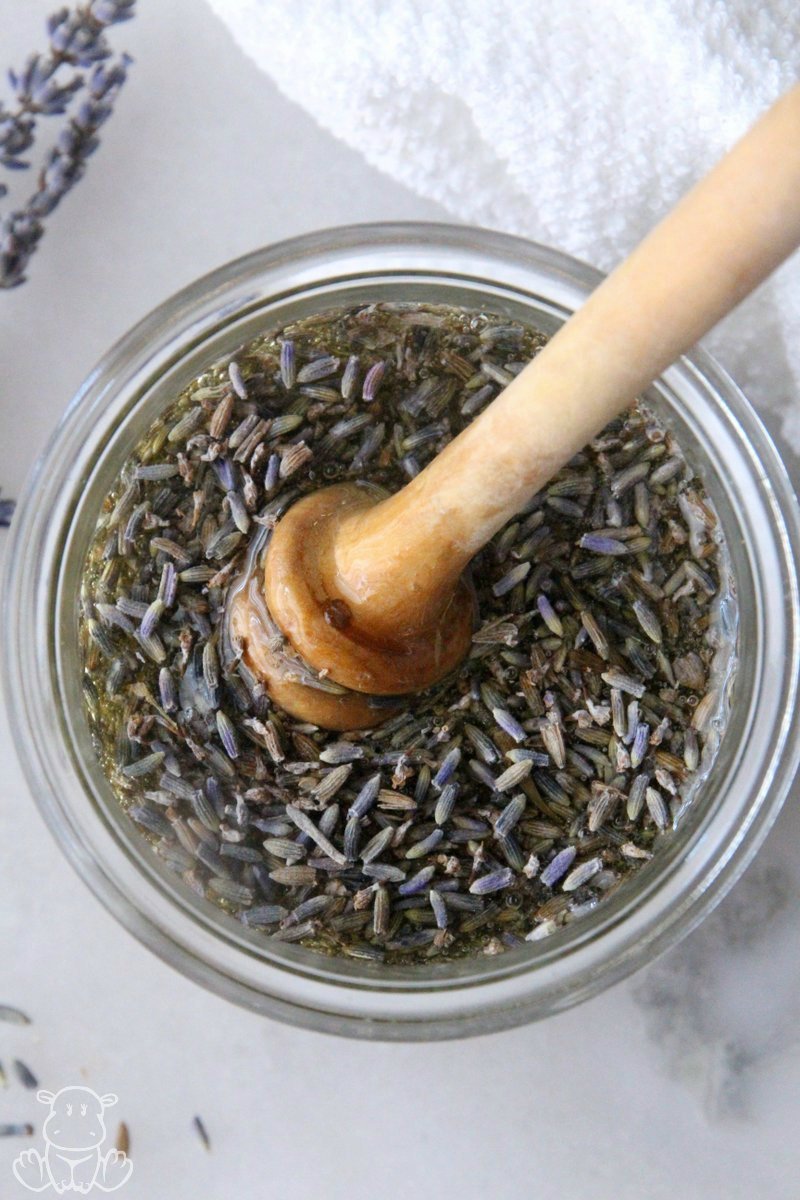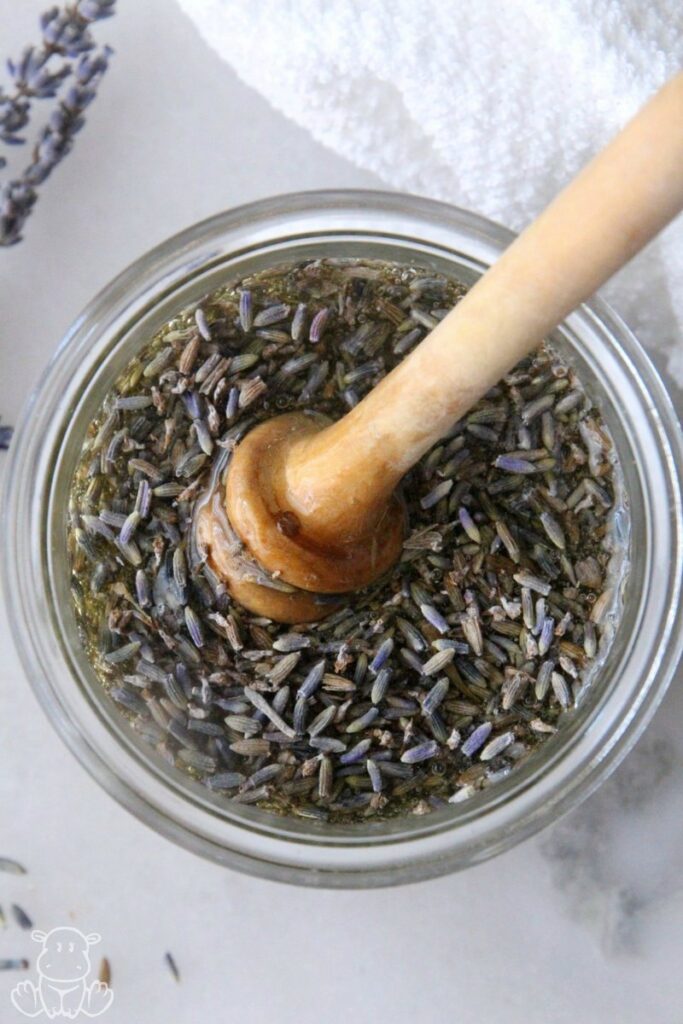 Lavender Honey Recipe (Herbal Honey)
Instructions
Pour the honey over the blossoms and then stir to make sure the honey and blossoms are well-combined. 

Place the jar in a warm spot away from direct sunlight. The top of the fridge is a good, warm spot. 

Allow the honey to infuse for 1-4 weeks, turning the jar over every day to redistribute the blossoms. 

When the honey has reached the flavor intensity that suits you, place a mesh strainer over a medium bowl and pour the honey mixture into the strainer. Because honey is so thick it will take a long time to strain, so wait a few hours before checking on it. 

Once you've finished straining out the lavender buds, don't toss them! Store them in the fridge and stir them into tea for an extra flavor boost. 
How To Make Lemon Ginger Honey
Lemon and ginger are excellent sore throat soothing herbs. Stir this honey into tea or take directly off the spoon to help coat an irritated throat.
Ingredients:
Instructions:
Make according to the lavender honey instructions listed above.
How To Make Rosemary-Thyme Infused Honey
Rosemary and thyme are both excellent herbs for respiratory support, so stir this blend into a cup of tea and inhale deeply.
Ingredients:
2 tablespoons dried thyme
2 tablespoons dried rosemary
1 cup honey
Instructions:
Infuse according to the lavender honey instructions listed above.
More Ingredients To Consider for Herbal Honey
Rose petals
Chamomile
Whole cloves
Sage
Cinnamon
Vanilla
Star anise
Orange peel
Curious about the difference between herbal honeys, tinctures, teas, oxymels and more?
16 Ways To Make Herbal Remedies explains the differences between the most common herbal extracts and what each type is used for, plus recipes to get you started.
This article was medically reviewed by Madiha Saeed, MD, a board certified family physician. As always, this is not personal medical advice and we recommend that you talk with your doctor.