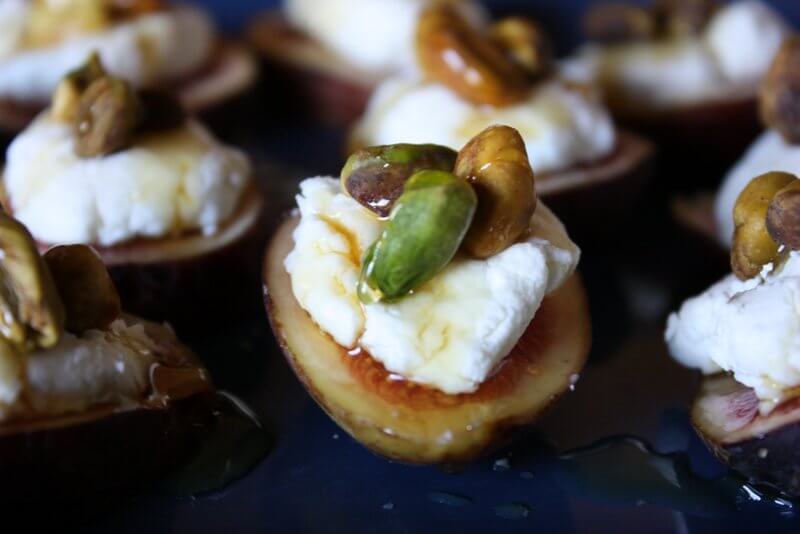 Need a quick and easy hors d'oeurve . . .
For your grownup party AND something your toddler will gobble up like a turkey prepping for Thanksgiving? Look no further. These elegant little appetizers are a real crowd pleaser . . . at least they would be if Katie and I would stop eating them all before the crowd arrives. 🙂
Special thanks to my husband for bringing home the wrong figs that resulted in this happy accident . . . er, recipe. The juicy sweetness of the honey-drizzled figs is the perfect contrast to the creamy tartness of the goat cheese, and the pistachio adds a bit of crunch. So easy and delicious!
Fresh Figs With Goat Cheese, Pistachios And Honey
Instructions
Slice figs about 1/8 inch thick

Using your hands, press a small amount of chevre onto each fig

Press pistchios into chevre

Drizzle canapes with honey

Enjoy!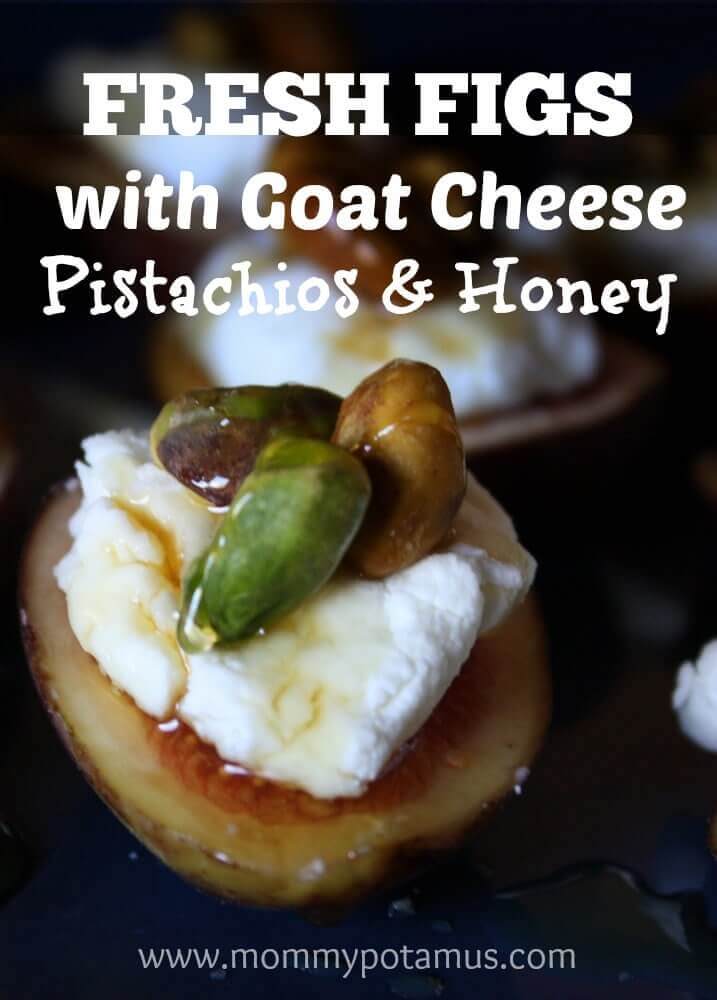 Want more appetizer ideas?
Here are a few of my favorites:
1. Jalapeno Poppers – Cheesy and smokey with just the right amount of heat, these jalapeno poppers are perfect for game days and movie nights.
2. BLT Stuffed Cherry Tomatoes – Crispy bacon, cream cheese and some finishing ingredients make these BLT stuffed cherry tomatoes irresistible.
3. Black Bean Dip – When cooked and cooled, beans are surprisingly high in resistant starch – a type of starch that is indigestible to us, but a favorite food of the beneficial bacteria that lives in our digestive tract.
This resistant starch black bean dip nourishes our good guys and is super yummy, too. My husband's official review for it is WHOA, which is basically five stars in his book. 🙂
4. Bacon-Wrapped Dates With Goat Cheese & Pistachios – Sweet and salty and oh-so-good!