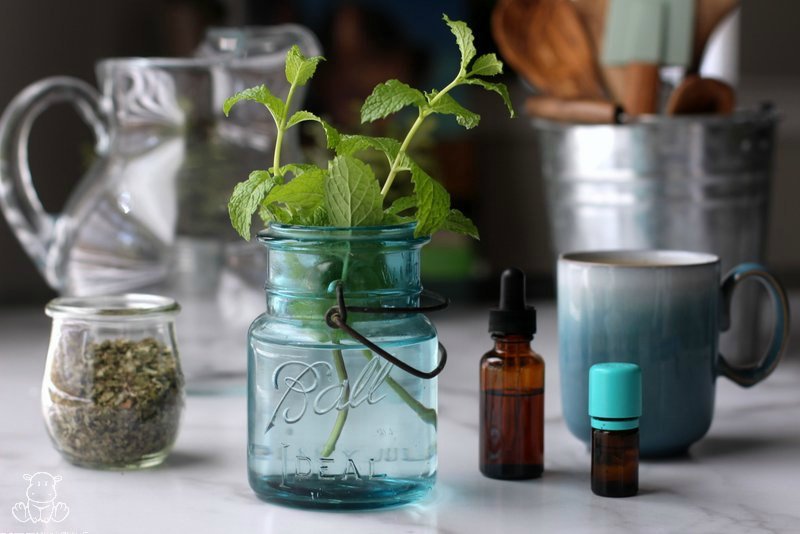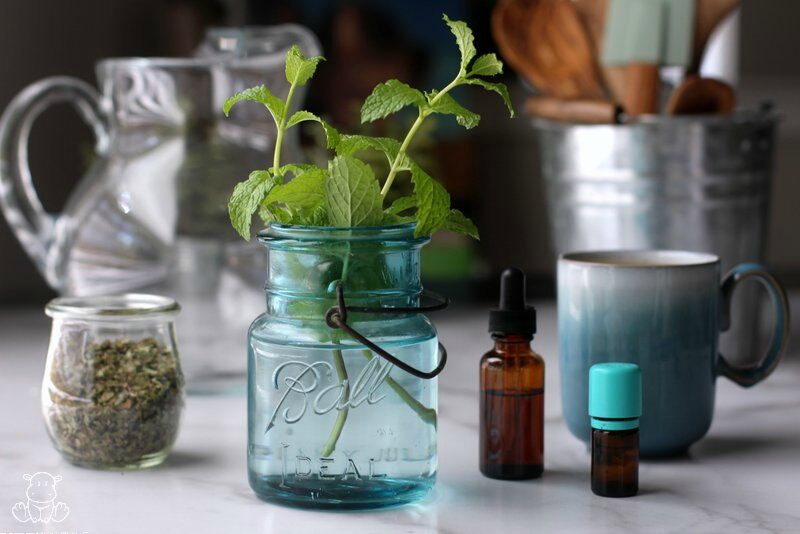 Do you ever need a natural little pick-me-up to lift your mood after a draining week, or something to help get a better night's sleep, or even something to soothe a child's upset tummy . . . lemon balm can help with all of that! Although I included it as an ingredient in my sleep dust recipe, I didn't go into much detail on the benefits of lemon balm.
So what is this herb that Paracelsus once called "the elixir of life" and Dioscorides used for "sweetening the spirit?" (1) Today we'll dive deep into:
What lemon balm is
Ten therapeutic benefits
How to use it to make lemon balm tea, tincture and more
Special uses and considerations for lemon balm essential oil
What you need to know about safety
So, what is lemon balm?
Also called bee balm, English balm, balm mint, heart's delight and honey plant, lemon balm (Melissa officinalis) is a fragrant herb that's a delight to the senses. It's light and lemony, and – as you may have guessed by its names – is a favorite of honey bees as well.
This lemony member of the mint family is rich in essential oil constituents such as citral, citronellal and geranial. It also contains polyphenols, tannins, vitamin C, calcium, magnesium, resins, and flavonoids that contribute to its therapeutic properties.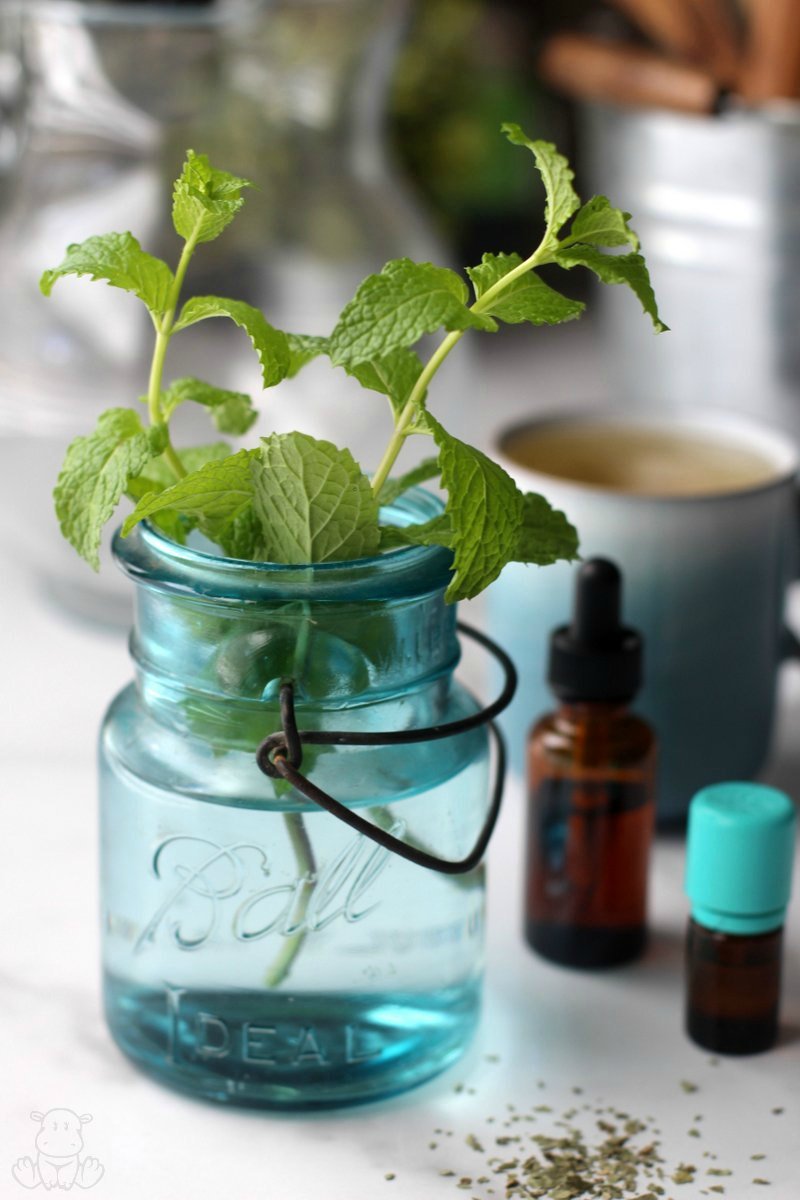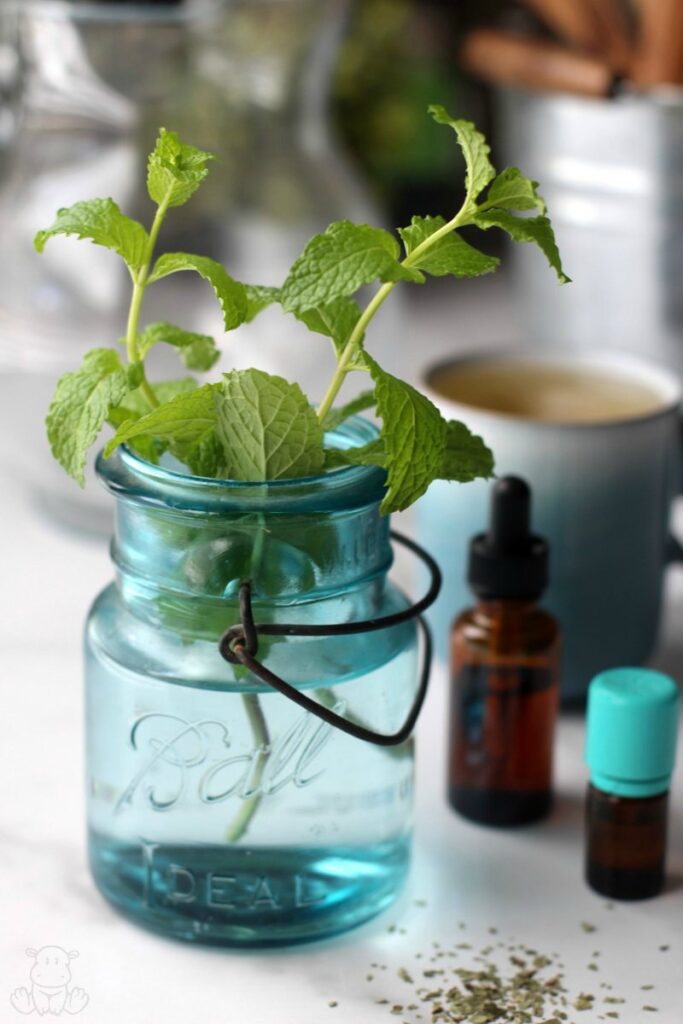 8 Lemon Balm Benefits
Gentle yet potent, lemon balm is perfect for use with kids and adults. Here are the top traditional benefits, plus what modern research has to say about them.
1. Promotes Relaxation
Lemon balm is considered a nervine, which is an herb that relaxes, soothes and supports the nervous system. (2) Nervine's are often used synergistically with adaptogens, which are herbs that help us adapt to stress. The idea is that the adaptogens help with stress resilience and the nervines help us unwind.
In this study, researchers found that lemon balm eased the negative mood effects of lab-induced psychological stress. Another herb that blends well with lemon balm and helps with easing stress is lavender blossom – the two make a lovely tea when blended together. (Recipe below)
We'll talk more about cognitive function later on. For now, I just want to mention that for easing stress and overall tension, lemon balm blends well with lavender blossoms in tea.
2. Mood Lifting
In the study I just mentioned above, participants who received lemon balm were not only more resistant to stress – they experienced an improvement in both mood and cognitive function. They reported feeling calmer and more alert, and an independent measure of their cognitive function found "significant increase in the speed of mathematical processing, with no reduction in accuracy."
Also, research suggests that aromatherapy with lemon balm essential oil creates a potent "exhilarant" effect that helps to lift one's mood, reduce agitation, and enhance relaxation. (6)
3. Helps With Sleep Quality
Lemon balm has been found to help with sleep in both kids and adults. "In one study a combination of valerian and lemon balm was shown to support healthy sleep cycles in menopausal women. (5) In another study the same combination was shown to benefit children who suffered from restlessness." (2)
4. Immune Support
"While human studies are limited, in vitro studies show promise for this herb in helping to promote a healthy immune system by initiating a healthy immune response and promoting health of the cell wall." (8)
5. Helps With Cognitive Function
Remember that study I mentioned earlier which showed that participants who received lemon balm experienced a "significant increase in the speed of mathematical processing, with no reduction in accuracy"?
Well, it's not the only one by a long shot. For example, in this study, participants who received lemon balm did better on tasks involving memory, math, and concentration than those who didn't.
Because it's gentle yet powerful, lemon balm (sometimes combined with valerian root) is often used with kids who need a little extra help with attention and focus.
6. Digestive Support
"A tea made of lemon balm and chamomile is an excellent remedy for stomach distress and nervous exhaustion." (1)
Lemon balm has been traditionally used for easing symptoms of dyspepsia (aka indigestion) and bloating. Although not a lot of research has been done in this area, one small study did find that participants who ate a dessert infused with lemon balm had fewer digestive issues than those who didn't.
For digestive upset, it can be combined with chamomile, hops or meadowsweet. (4)
7. First Aid
One drop of lemon balm essential oil diluted in 1¼ teaspoons of carrier can help soothe bug bites and bee stings. You can also use a poultice made from fresh leaves – step-by-step instructions are in the recipe section below.
8. Eases Head & Muscle Tension
Lemon balm's mild vasodilating properties are thought to be the mechanism by which it helps with head and body tension. There's also some research which suggests that it can be helpful for easing menstrual cramps as well. According to this study, girls who received lemon balm for three consecutive menstrual cycles reported less discomfort.
Lemon Balm Herbal Remedies & Recipes
Now that we've covered some of the benefits of lemon balm, let's talk about how to use it!
Lemon Balm Tea Recipe
"Lemon balm makes a delightful tasting tea that can be drunk simply for pleasure or for its mood elevating and nervine effects." (5)
Ingredients:
Directions: Pour boiling water over the leaves and let them steep for 5-10 minutes. Strain out the leaves and sweeten with honey, maple syrup, or any other sweetener if desired, then serve.
Note: Lavender blossoms work synergistically with lemon balm for easing stress and overall tension. If you'd like to include lavender in this tea, add 1 teaspoon of dried blossoms.
Lemon Balm Tincture Recipe
Tinctures are one of the easiest ways to incorporate herbs into a full schedule. I like to add a dropperful of lemon balm tincture along with an adaptogen like eleuthero to help me stay calm, focused and stress-resilient during the day.
Ingredients:
½ cup freshly chopped lemon balm leaves or ¼ – ⅓ cup of dried lemon balm leaves
1 cup of 80-proof vodka
Directions: Place the lemon balm leaves in a clean 16-ounce mason jar. Next, pour the vodka over the leaves. Once the leaves have settled, there should be at least ½ an inch of alcohol covering the top of the leaves – if not, then add more to meet that amount. Securely place the lid of the jar and shake well. Place the jar in a cool, dark place for 4-6 weeks. When the tincture is ready, strain out the lemon balm and label the jar.
How To Make A Lemon Balm Poultice For Bug Bites, Bee Stings, & Scrapes
As I mentioned in this post on plantain herb benefits, the simplest way to support wound healing is to pluck some fresh from your garden, chew it, and pop it onto a bee sting, scrape, etc. While lemon balm is a delight to chew, not everyone is a fan of spit poultice's (including my kids).
With that in mind, here's another way to make a poultice:
Use a mortar and pestal or your food processor/blender, mix the fresh lemon balm leaves with just enough water to make a slurry.
Once the slurry is ready, place it on the affected area (if it is a sting, ensure there is no stinger left behind). Cover with cheesecloth and bind with gauze wrap to secure it in place. Leave the poultice on for 20-30 minutes. Refresh with a new poultice if desired, then clean the area.
A couple of things to note: If you are allergic to lemon balm and have a dermatitis reaction to it (aka, you break out in a rash when you come in contact with the plant), you shouldn't use it as a poultice. Also, while lemon balm could be used for small cuts, most of the time it's safer and cleaner to use lemon balm poultices on small closed wounds, bumps, and scrapes (essentially when it is no longer bleeding).
Culinary Uses of Lemon Balm
You can brew it into tea (recipe above), use it instead of lemon in soups and sauces, or add it to marinades and salads. Here are a few more easy (and delicious!) ideas:
Benefits of Lemon Balm Essential Oil (And How To Use It)
Known as melissa when in essential oil form, lemon balm has been found to create a potent "exhilarant" effect that helps to lift one's mood, reduce agitation, and enhance relaxation. (6) Applied topically, it may help soothe irritation associated with cold sores.
Something to keep in mind, though, is that the maximum dilution recommended for topical use is 0.9%. To get a 0.9% dilution, you need to add 0.9 drops to 1 teaspoon carrier oil. Since that's impossible to measure, I usually add 1 drop to 1¼ teaspoons which is a 0.8% dilution – pretty close! Click here to learn more about diluting essential oils.
Does lemon balm have side effects?
Lemon balm, whether fresh or dried, can be consumed regularly in varying quantities." – Rosalee de la Foret, Alchemy of Herbs
According to the Botanical Safety Handbook, 2nd edition, it's a Safety Class 1A herb – the safest rating possible. It is described as:
"Herbs that can be safely consumed when used appropriately.
History of safe traditional use
No case reports of significant adverse events with high probability of causality
No significant adverse events in clinical trials
No identified concerns for use during pregnancy or lactation
No innately toxic constituents
Toxicity associated with excessive use is not a basis for exclusion from this class
Minor or self-limiting side effects are not bases for exclusion from this class"
A few additional notes:
Regarding safety during pregnancy and lactation, herbalists like David Hoffmann recommends lemon balm for morning sickness, and Herbal Medicine: Expanded Commission E Monographs do not list any warnings for lemon balm usage in pregnant and breastfeeding women. But, as always, pregnant and lactating women should speak with their healthcare provider before using lemon balm or any medicinal herb. (3)
Another consideration is that in vitro (petri dish) studies suggest that – in large amounts – lemon balm may lower thyroid function. There have been no in vivo (in the body) studies which demonstrate this effect, and James Duke "states that lemon balm (and similar effective herbs) seem to normalize high or low thyroid hormone levels." (7)
Given the need for more data on this point, I'm going with herbalist Rosalee de la Foret recommendation that "if you have an underactive thyroid, avoid consuming this plant in excess." (2)
Growing lemon balm
In the garden: Lemon balm is super easy to grow, and many garden centers carry the young plant itself or a seed packet. This hardy perennial (meaning it grows back every year) survives well in Zone 4 or 5 (and potentially Zone 3 if mulched). (3)
Lemon balm can thrive in full sun to partial shade, depending on the variety. It grows in many types of soil but prefers well-drained loam with a pH between 4.5 and 7.6. Mulching around the base of your plant can protect its roots for the winter, and aids in preventing weeds. If planted in a garden, it can be watered once a week. Fertilizer isn't necessary when planted in a garden. (3)
Indoors: Lemon balm does well in pots and containers, making it a good option for growing in a sunny window. Use a container that isn't too small, preferably around 15-18 inches tall. The container should have a way to drain, and while lemon balm prefers moist soils, you don't want to overwater it. Potted lemon balm can benefit from some organic liquid fertilizer up to four times a year. (3)
Got a question about lemon balm that wasn't covered in this article? Please leave it in the comments below!
Sources:
1. Gladstar, Rosemary (2012) Rosemary Gladstar's Medicinal Herbs: 33 Healing Herbs to Know, Grow and Use
2. De la Foret, Rosalee (2017) Alchemy of Herbs: Transform Everyday Ingredients into Foods and Remedies That Heal
3. The Herb Society of America. (2007). Lemon Balm: An Herb Society of America Guide. Kirtland, OH: Author.
4. Hoffman, David (2016) The Complete Herbs Sourcebook
5. Winston, David and Maimes, Steven (2007) Adaptogens: Herbs for Strength, Stamina & Stress Relief
6. Shakeri, A., Sahebkar, A., & Javadi, B. (2016). Mellisa officinalis L. – A review of its traditional uses, phytochemistry and pharmacology, 188(2016), 204-228
7. Pursell, JJ (2015) The Herbal Apothecary: 100 Medicinal Herbs and How To Use Them
8. Gaia Herbs. Lemon Balm