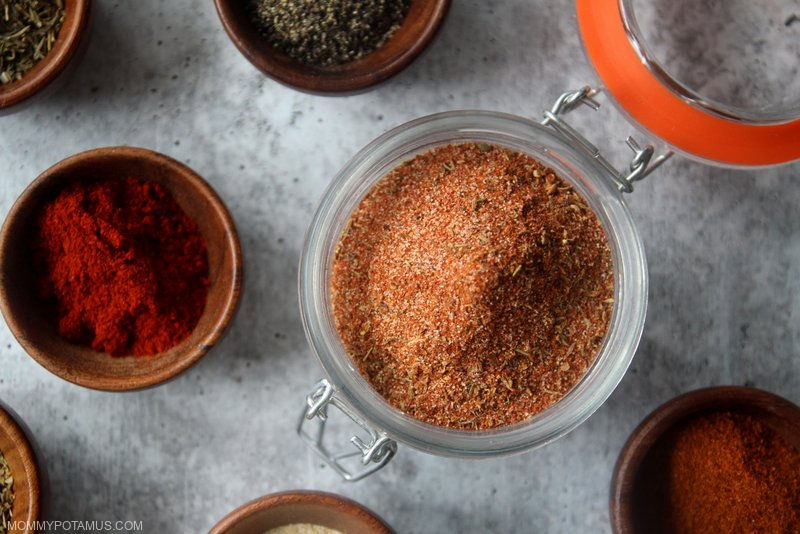 I tasted my very first beignets, shrimp creole and dirty rice in Louisiana's French Quarter, but they were far from my last. Through college, I worked as a server in a Cajun restaurant, where I gulped down gumbo between shifts and learned all I could from the cooks.
It was there that I learned to shuck oysters, make roux-based sauces, and of course put Cajun seasoning on just about everything. Because seriously, there is nothing quite like the zesty, savory and delicious depth of flavor it brings to a dish.
Seriously, it's amazing when sprinkled on hot french fries, stirred into homemade ranch dressing, and in so many other dishes that might surprise you.
Why make your own Cajun seasoning?
Although there are some decent pre-made Cajun spice mixes available, I prefer to make my own because::
Despite its bold flavor it's actually a pretty basic blend of common spices and herbs, so you probably already have what you need to make it
You can make it in five minutes or less
The heat level can be adjusted to your family's preference. If you like things on the milder side, dial down the cayenne pepper. If hot sauce runs through your veins, dial it up.
What's in cajun seasoning?
Just like with homemade stuffing and other traditional recipes, there are a lot of strong opinions about what should go into cajun seasoning. The most common ingredients tend to be a blend of peppers like paprika, cayenne, and black pepper, plus garlic powder, salt, and oregano.
Onion powder and thyme are often included, and then every once in awhile you'll also see some cumin, coriander, white pepper, basil, and even fenugreek seed mixed in.
Personally, I like a more classic version so you won't see coriander or other less-common ingredients in the recipe below, but you can always add them to taste if you'd like.
That said, I have a few quick notes
Some recipes use a lot of salt, while others leave it out completely so that you can increase the flavor intensity without accidentally over-salting. I like to add salt, but you can leave it out if you'd like and salt your dishes individually.
If you have smoked paprika on hand, you may want to experiment with replacing some of the sweet paprika that I call for in the recipe. It adds a wonderful, smoky flavor but is not necessary to create a delicious spice blend.
My recipe uses much less cayenne pepper than most recipes so that it's kid-friendly, but as I mentioned above the benefit of making your own is that you can adjust the heat level to fit your family's preferences.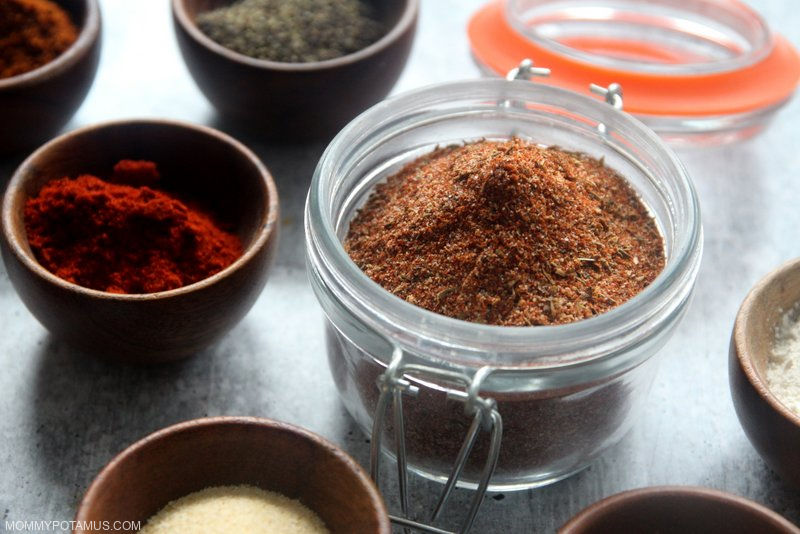 14 Ways To Use Cajun Seasoning
Sprinkle it over french fries
Make a marinade: Add 1 tablespoon of your seasoning blend to 1/4 cup olive oil, 1/4 cup lemon juice or apple cider vinegar, 1 teaspoon minced garlic, 1 teaspoon of maple syrup or honey, and salt (to taste) to create a marinade that works with chicken, steak, shrimp and veggies.
Use it as a dry rub for grilled, baked, or pan-seared meat or seafood (chicken, steak, pork, fish shrimp, etc.)
Stir it into homemade ranch or bleu cheese dressing and serve over a chicken salad
Season homemade croutons with it (this boule bread works well to make them)
Toss veggies in oil and seasoning, then roast them in the oven
Make cajun shrimp tacos
Stir into red beans and rice
Use as gumbo, jambalaya, or creole seasoning
Dust it over freshly popped popcorn
Mix into creamy potato salad
Stir it into the creamy topping used to make deviled eggs, then add a dash or two on top for an extra pop of flavor
Sprinkle over homemade dairy-free alfredo sauce
Use it to season crispy baked chicken wings
DIY Homemade Cajun Seasoning Recipe
Zesty, savory and so delicious, this cajun seasoning recipe is amazing as a dry rub for pan seared meat, sprinkled on hot french fries,  stirred into homemade ranch dressing, and in so many other dishes that might surprise you. 
Makes approximately 1/2 cup.
Instructions
Add all spices to a jar and mix well with a fork.

Taste and add additional cayenne or other seasonings as desired.

Store spice mixture in an airtight container.
Nutrition
Calories:
7
kcal
|
Carbohydrates:
1
g
|
Protein:
1
g
|
Fat:
1
g
|
Saturated Fat:
1
g
|
Sodium:
292
mg
|
Potassium:
38
mg
|
Fiber:
1
g
|
Sugar:
1
g
|
Vitamin A:
530
IU
|
Vitamin C:
1
mg
|
Calcium:
10
mg
|
Iron:
1
mg
More Spice Mix Recipes
3 Ingredient Lemon Pepper Seasoning – The bright flavor of lemon in this seasoning melds perfectly with the deep, spicy notes of peppercorns, and it's super easy to make. All you need are lemons, peppercorns, and salt.
Taco Seasoning – Magic in a pan. <– That's what my husband calls this super easy homemade taco seasoning. It's perfect for making taco meat, Mexican rice and fajitas.