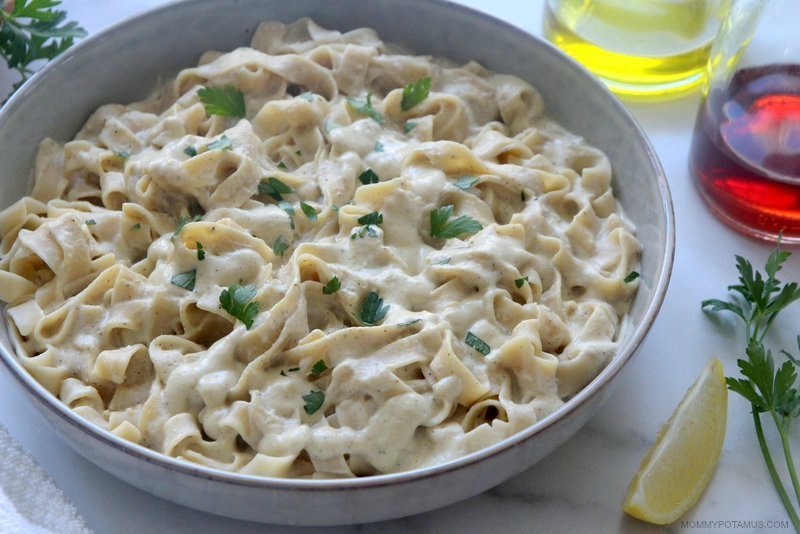 If an alien shapeshifter tried to impersonate my husband, you know how I would know? Fettuccine alfredo. Other people like alfredo, but my husband loves it. So if the shapeshifter sat down with my family and didn't immediately dive for the bowl creamy goodness, I'd 1000% know something was up.
Making alfredo has been tricky recently, because I'm temporarily dairy-free as part of my healing journey. Fortunately, this rich, creamy, and garlicky dairy-free alfredo sauce is such a hit that my littlest literally kissed me the first time he tasted it. (I had to wipe the sauce off my cheek!)
While traditional alfredo sauce gets its flavor and texture from heavy cream and parmesan cheese, this sauce gets its "cheesy" creaminess from caramelized garlic, nutritional yeast, velvety whipped cashews, and a handful of other ingredients. I know, it sounds like it wouldn't work, but it does . . . . even my husband approves.
4 Ways To Use Dairy-Free Alfredo Sauce
Dairy-Free Alfredo Sauce Recipe
This rich, creamy, perfectly garlicky dairy-free alfredo sauce is easy to make and so delicious. Makes approximately 1 cup.
Instructions
Place cashews in a heat-resistant bowl. Bring three cups of water to a boil and pour them into the bowl with the cashews. Set a timer for 15 minutes.

Add olive oil to a skillet and saute the onions and garlic over medium heat until they are lightly caramelized. Place them in the blender along with the nutritional yeast, salt, black pepper and lemon juice.

When the cashews have soaked for 15 minutes, drain the water from the bowl and add the cashews and chicken broth to a high-speed blender. Puree until smooth. Taste and add additional salt, pepper, or lemon juice if desired.

Serve over fettuccine noodles and garnish with fresh parsley if desired. 
Nutrition
Calories:
181
kcal
|
Carbohydrates:
12
g
|
Protein:
7
g
|
Fat:
13
g
|
Saturated Fat:
2
g
|
Sodium:
605
mg
|
Potassium:
286
mg
|
Fiber:
2
g
|
Sugar:
2
g
|
Vitamin C:
5
mg
|
Calcium:
24
mg
|
Iron:
2
mg
Frequently Asked Questions
Can I use coconut milk or almond milk instead of water/chicken broth?
I tested this recipe with a variety of non-dairy milk options, including coconut, unsweetened almond and homemade unsweetened oat milk. The coconut milk version was too sweet, but the other two worked well.
Do I need a high-speed blender to make this?
I find they really help get this sauce super smooth, but if you have a lot of patience and can spend some extra time pureeing a regular blender will probably work, too.