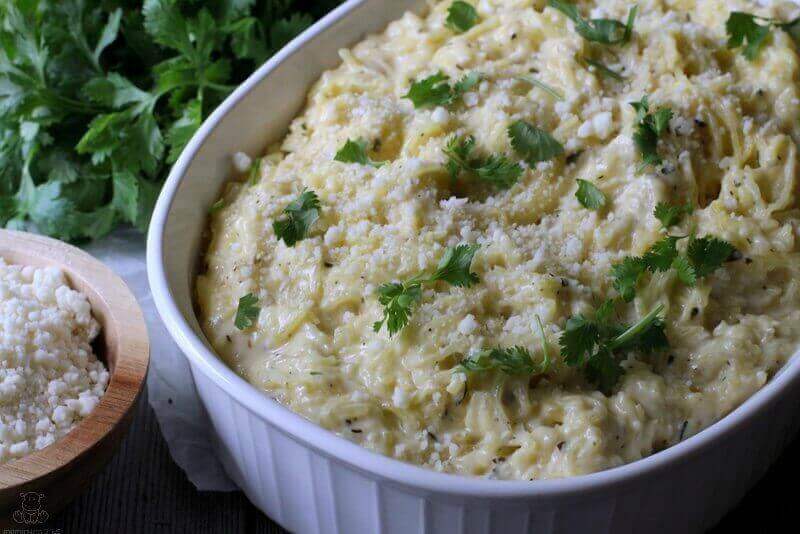 Kids and veggies go together like Tacos and Tuesday, Lucy and Ethel, and bees and honey. At least that's true in my house when I find the right combination. Salty and crispy kale chips? Yep! Kohlrabi fritters? Absolutely. Steamed beets . . . . not so much.
This creamy spaghetti squash alfredo is always a huge hit. It's filling, simple to make, and can easily be doubled so you can spend less time in the kitchen making side dishes throughout the week. I hope your family loves it as much as we do!
Spaghetti Squash Alfredo Recipe
Ingredients
1

large spaghetti squash

4

tablespoons

butter

1

cup

heavy cream

1

cup

Parmesan-Reggiano

plus more for sprinkling if desired

1

cup

mozzarella cheese

2

cloves

garlic

minced

1/4

teaspoon

dried oregano

where to buy

1/4

teaspoon

dried basil

where to buy

1/4

teaspoon

dried thyme

where to buy

1/4

teaspoon

dried parsley

where to buy

1/4

teaspoon

pepper

where to buy

1.5

teaspoons

arrowroot powder

where to buy

2-4

tablespoons

fresh minced parsley or basil for garnish

optional

Salt to taste

this is what I use
Instructions
Preheat your oven to 400F.

Cut the spaghetti squash in half lengthwise and scoop the seeds out.

Place the squash cut side down in a baking dish and add about 1/4 inch of water. Bake until tender - about 45 minutes. You'll know it's ready when you can easily pierce the outer skin and inner part with a fork.

While you're waiting on the squash to cook, melt the butter over medium heat in a large pan and add the garlic, saute for 2-3 minutes, then add the cream and bring to a simmer. While the cream is simmering, slowly whisk in the cheese and herbs, then continue simmering on low for 5-7 minutes, then sprinkle arrowroot over the top while whisking constantly. Turn off the burner but leave the pan where it is. The sauce will continue to thicken as it slowly cools, so don't worry if it's a bit thin at first.

When the squash is ready, remove it from the oven. Scoop out the squash and place it in a bowl, pouring off any excess water that collects at the bottom. Pour over the alfredo sauce and mix together. Add salt to taste (if needed) and garnish with fresh parsley or basil and extra Parmesan-Reggiano if desired, and serve.